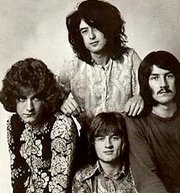 Led Zeppelin was a British band noted for their innovative, influential approach to heavy blues-rock and as one of the most popular and influential bands of all time. They both helped define and transcended the then-emerging heavy metal sub-genre.
Early days
The band was originally formed in 1968 by guitarist Jimmy Page under the name The New Yardbirds in order to fulfill some performance commitments booked in Scandinavia before the break up of the original Yardbirds. Vocalist Robert Plant, known from his work with The Band of Joy, was himself on the verge of a record deal when Page saw him perform at West Midlands College of Education with a pickup band of art students and drafted him into the new band. Plant brought with him drummer John Bonham. Bassist John Paul Jones was informed by his wife that Page was forming a group; Jones and Page knew each other well from their days as session musicians and Jones contacted Page who asked him then to join the band.
After some concerts as the New Yardbirds, the band's name was changed to Led Zeppelin, after Keith Moon, drummer with The Who, said, 'With that lineup you'll go down like a lead balloon'. The word 'lead' is misspelled deliberately to avoid confusion, fearing Americans might pronounce it 'lead Zeppelin' (as in 'lead singer'), as opposed to a zeppelin constructed of lead.
Note: Although the story about Led Zeppelin playing under the name 'The New Yardbirds' is so common as to be nearly canonical, there is actually some controversy about this. Fans who attended those early Scandinavian shows have indicated that the band was billed simply as The Yardbirds in 1968. These reports are backed up by ads in Swedish newspapers of the period, in which they are billed as The Yardbirds, and even an autographed photograph of the band with the word Yardbirds signed next to each name (the word New being conspicuously absent).
Shortly after their first tour, the group's first eponymous album was released on January 12, 1969. Its combination of blues and rock influences with distorted amplification made it one of the pivotal records in the evolution of heavy metal music. The immediate success of the first album kick-started the band's career, especially in the United States, where they would frequently tour and where their album sales totals are second only to the Beatles. The second record, simply titled Led Zeppelin II, followed in the same style later that year and included the bludgeoning riff of 'Whole Lotta Love', which, driven by the rhythm section of John Bonham on drums and John Paul Jones on bass, defined their sound at the time.
Jimmy Page and Robert Plant were blues fanatics; two of Led Zeppelin's early hits, 'Whole Lotta Love' and 'You Shook Me', were very similar to earlier songs by Willie Dixon. (The band were subsequently accused of using his lyrics without crediting Dixon, and it was not until Chess Records brought suit 15 years later, that proper credit—and a monetary settlement—was given.) The band also loved American rock and roll, and would perform songs originally made famous by Elvis Presley and Eddie Cochran. Onstage, Led Zeppelin concerts could last over three hours; expanded, improvised live versions of their song repertoire often incorporated tight workouts of James Brown, Stax, and Motown-influenced soul music and funk (favourites of bassist Jones and drummer Bonham).
For the recording of their third album, Led Zeppelin III, the band retired to Bron-Yr-Aur, a remote house in Wales. This would result in a more acoustic sound (and a song 'Bron-Yr-Aur Stomp'—misspelled as 'Bron-Y-Aur Stomp' on the album cover) which was strongly influenced by Celtic and folk music, and it also revealed a different side of guitarist Page's prodigious talent. In November of 1970, Led Zeppelin's record label, Atlantic Records, released 'Immigrant Song' against the band's wishes. It included their only b-side, 'Hey Hey What Can I Do'. The band had nine other singles released all without their consent, as they saw their albums as indivisible. Curiously, 'Stairway to Heaven' was never released as a single, in spite of its massive success on radio (part of the band's frustration about singles came from manager Peter Grant's aggressive pro-album stance, and the fact that Atlantic had earlier released an edited version of 'Whole Lotta Love' which cut the 5:34 song to 3:10). The group also resisted television appearances, which left any ability to control their presentation and sound quality out of their own hands (with often disappointing or embarrassing results). Lack of Led Zeppelin TV exposure also enforced the band's preference that their fans hear and see them live, in person.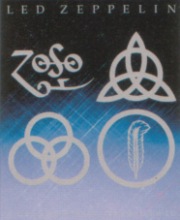 'The Biggest Band in the World'
The band's varying musical tendencies were fused on their untitled fourth album, which is usually called either 'Zoso,' 'Runes,' 'Four Symbols,' or just 'Led Zeppelin IV.' (Not only is the album itself without a name: on the original packaging, there is no indication of the name of the band.) Released November 8, 1971, this record included hard rock such as 'Black Dog', Tolkienesque folksy mysticism on 'The Battle of Evermore', and a combination of both genres in the lengthy song 'Stairway to Heaven', a massive FM radio hit that has been acknowledged by many as the all-time greatest classic rock song. The album winds up with one of their best blues songs, a Memphis Minnie cover titled 'When the Levee Breaks'.
Their next studio record, 1973's Houses of the Holy, featured further experimentation: longer songs, expanded use of synthesisers and string sections arranged by Jones. With songs like 'The Song Remains the Same', 'No Quarter' and 'D'yer Mak'er' (pronounced 'Jer-maker,' derived from Jamaica, which was fitting, given the song's reggae feel. This is also a play on words, based on the joke where a man mistakes his friend saying the word Jamaica, for 'Did You Make Her?'). Led Zeppelin was again pushing the limits defining rock music. Their 1973 tour of the U.S. again broke records for attendance: at Tampa Stadium, Florida they played to 56,800 fans (more than the Beatles' 1965 concert at Shea Stadium). Three sold out New York shows at Madison Square Garden were filmed for a concert motion picture, but this project would be delayed for several years.
In 1974, Led Zeppelin launched their own record label called Swan Song, named after one of only five songs that the band never recorded for commercial release (the track was re-tooled as 'Midnight Moonlight' by Page's post-Zeppelin band The Firm on their first album). Besides using it as a vehicle to promote their own albums, the band expanded the label's roster, signing artists such as Bad Company, Pretty Things, Maggie Bell, Detective, Dave Edmunds, Midnight Flyer, Sad Café and Wildlife.
1975 saw the release of Physical Graffiti, their first double album set, on the Swan Song label. The album included songs recorded in studio sessions from the last three albums plus new songs. Again the band showed impressive range with songs like the melodic 'Ten Years Gone', the acoustic 'Black Country Woman', the driving 'Trampled Underfoot' and the thundering, Middle Eastern tinged 'Kashmir'.
Shortly after the release of Physical Graffiti, the entire Led Zeppelin catalogue of six albums was simultaneously on the top 200 album chart, a feat never before accomplished. The band embarked on another U.S. tour, again playing to record-breaking crowds. To top off the year, they played five sold out nights at the UK's Earl's Court (these shows were recorded, portions of which would be released on DVD some 28 years later). At this peak of their career, Led Zeppelin was the biggest rock band in the world.
If the band's popularity on stage and record was impressive, so too was their reputation for excess and off-stage wildness. Zeppelin travelled in a private jet, rented out entire sections of hotels, and became the subjects of many of rock's most famous stories of debauchery: trashed hotel rooms, sexual escapades, and heavy use of drugs including alcohol. Several people associated with the band - perhaps embellishing more often than they should - would write books about the wild escapades of the group, while band members themselves have disavowed many of the tales.
Latter days
In 1976 the band took a break from the road and began filming 'fantasy' segments for the as-yet-unreleased concert film. During this break, Robert Plant and his wife were in a car crash while vacationing in Greece which broke Plant's ankle. Unable to tour, the band returned to the studio and, with Plant sitting on a stool during the sessions, they recorded their seventh studio album Presence. The album was a platinum seller, but marked a change in the Zeppelin sound as straightforward, guitar-based jams such as 'Nobody's Fault But Mine' had replaced the intricate arrangements of previous albums. A highlight of the album was the epic-length 'Achilles Last Stand' featuring a driving bassline and thundering drums, melodic Page riffs and a magnificent guitar solo. Overall the album received mixed responses from critics and fans, with some appreciating the looser style and others dismissing it as sloppy and lazy; some critics speculated that the band's legendary excesses may have caught up with them at last.
Late 1976 finally saw the release of the concert film The Song Remains the Same and its soundtrack. Though the concert footage was from 1973, this would be the only filmed document of the group available for the next 20 years. The soundtrack of the film had some songs missing and some added compared to the film, and also some songs are different cuts from the 3 nights the band performed at Madison Square Garden. The album is generally not considered a great live album, but would remain the only official live document of the band until the eventual release of the BBC Sessions in 1997.
In 1977, Led Zeppelin embarked on another massive U.S. tour, again selling out up to 5 nights in cities like Chicago, Los Angeles and New York. (Seattle and Cleveland shows from this tour were the basis for highly regarded bootleg albums.) Following a show at the 'Day on the Green' festival in Oakland, the news came that Robert Plant's son Karac had died from a stomach infection. The rest of the tour was cancelled, and superstitious critics whispered of a 'curse' said to be related to Page's interest in the occult.
The band did little recording or live work during 1978; the sombre mood was extended with the death of their friend, Who drummer Keith Moon.
The summer of 1978 saw the group recording again, this time at Swedish Polar Studio; this album would be titled In Through the Out Door and would highlight the talent of drummer John Bonham on the epic 'Carouselambra' and the tropical 'Fool In The Rain'. The album also featured rockers like 'In The Evening', and the balladic tribute to Plant's son, 'All My Love'. John Paul Jones had a lot of influence over the album and it consequently features many synthesisers. After a decade of recording and touring, the band was now considered a dinosaur in some quarters, as mainstream musical tastes had moved in favour of disco and critical focus had turned to punk rock. Nevertheless, the band still commanded legions of loyal fans, and the album reached #1 in the US and UK.
In the summer of 1979, after two warm-up shows in Copenhagen, Led Zeppelin was booked as headliner at England's Knebworth Festival in August. Close to 400,000 fans witnessed the return of Led Zeppelin and, with the release of In Through the Out Door in November, they were ready to tour again, planning a short European tour followed by another American tour.
The 1980 American tour was not to be, however. On 25 September 1980, shortly before embarking on the U.S. leg of the tour, drummer John Bonham died of an accidental asphyxiation after an alcohol binge.
Because of Bonham's death, the remaining band members determined they could not continue as Led Zeppelin. For many years after, there had been ongoing rumours of a reunion and plans for various collaborative projects.
Coda
Two years after Bonham's death, the band released Coda, a collection of out-takes from previous recording sessions. In the years to follow, a steady stream of boxed sets and greatest-hits collections would keep the band on the charts, as Led Zeppelin continued to garner heavy airplay on rock radio.
Reunions and ongoing success
On 13 July 1985, Led Zeppelin reunited at the Live Aid concert for a short set featuring Page, Plant and Jones, with drummers Tony Thompson and Phil Collins standing in for the late John Bonham. The performance included three songs ('Rock and Roll', 'Whole Lotta Love',and 'Stairway to Heaven') and a myriad of difficulties. A year later in 1986, Page, Plant and Jones gathered at Bath, England for rehearsals with drummer Thompson with a view to play again as a group, but a serious car accident involving Thompson put an end to that plan. However, Zeppelin did reunite again in 1988, with Jason Bonham (standing in for his father, John) joining the remaining three for Atlantic Records' 40th Anniversary concert. In addition, they played with Jason at Carmen Plant's (Robert's daughter) 21st birthday party, and Jason's wedding. In 1990, Robert Plant and Jimmy Page played a brief set together at the Knebworth music festival, which included the rarity off of Coda, 'Wearing and Tearing'.
Page and Plant, without Jones, reunited in 1994 for an MTV Unplugged performance (dubbed Unledded) which eventually led to a world tour with a Middle Eastern orchestra, and two albums.
1997 saw the release of the first Led Zeppelin album in over 15 years— BBC Sessions. This two-disc set included almost all of the band's recordings for the BBC, though fans noticed the absence of one session from 1969 that included the unreleased 'Sugar Mama'. At this time Atlantic also released a single edit of 'Whole Lotta Love' making it the only Led Zeppelin CD single.
The British press reported in 2002 that Plant and Jones had reconciled after a 20-year feud that had kept Led Zeppelin apart, and rumours surfaced of a reunion tour in 2003. Drummer Dave Grohl of the Foo Fighters was named as a potential replacement for Bonham, a claim later denied by Page.
2003 saw yet another resurgence of the band's popularity with the release of a live album featuring material from the band's heyday (see How the West Was Won album and Led Zeppelin DVD). At year's end, the DVD had sold more than 520,000 copies, easily making the list of the most popular DVDs of the year.
In 2004, The band came out with another DVD named No Quarter Unledded, with a reunion of Page and Plant
It was announced in early 2005 that Led Zeppelin will receive a Grammy Lifetime Achievement Award on February 13, 2005.
Samples and covers
Beginning in the 1980s, the iconic nature of many Zeppelin riffs made them a popular target for sampling, initially unauthorised but later sanctioned by the surviving band members, to mixed reactions from fans. Hip-hop group the Beastie Boys sampled Bonham's crushing beat from 'When the Levee Breaks', and also borrowed parts of 'The Ocean' for 'She's Crafty'. For the movie Godzilla (1998), guitarist Jimmy Page collaborated with P. Diddy, reworking the famous riff from 'Kashmir' in the hit song 'Come With Me'—Page also has a brief vocal part in this song. Tool (band) has covered 'No Quarter' and a riff from the song can be found in Sublime's 'Smoke Two Joints'. Another band featuring Tool vocalist Maynard James Keenan, A Perfect Circle, covered When the Levee Breaks on their eMOTIVe album in 2004. The rock/comedy duo Tenacious D strategically used pieces of 'Stairway to Heaven' in the original version of their song 'Tribute'.
Led Zeppelin songs have been the subject of cover versions on occasion; American band Dread Zeppelin have made a career out of covering and parodying Zeppelin tunes. A cover version of 'Whole Lotta Love', by Alexis Korner, was, for many years, used as the theme music for the BBC's chart show Top of the Pops. Tina Turner covered Led Zeppelin II 's 'Whole Lotta Love' and the London Philharmonic Orchestra released an orchestral tribute to Led Zeppelin that includes versions of 'Stairway to Heaven', 'When The Levee Breaks' and 'Kashmir'. In 1995 a tribute album entitled Encomium: A Tribute to Led Zeppelin was released featuring covers performed by modern rock acts, notably a hit version of 'Dancing Days' performed by Stone Temple Pilots.
The Davis, California band Little Roger and the Goosebumps made news in 1978 by putting the words to the theme of the 1960s US television show Gilligan's Island to an adapted and condensed 'Stairway to Heaven.' Legal action by representatives of Led Zeppelin soon followed, and the single was withdrawn from the sale.
Unlike many of their contemporaries, the band has been very protective of its catalog of songs and seldom allowed them to be licensed for other uses. In recent years this position has softened somewhat and Led Zeppelin songs can be heard in movies such as Almost Famous and School of Rock. Furthermore, the Led Zeppelin song 'Rock and Roll' can be heard in Cadillac television and radio ads.
Members
The band has often cited influential manager Peter Grant as a 'fifth member' And a young guitarist named Ryan Browning on some very early recordings.
Discography
Before recording Led Zeppelin, all four members participated in the sessions for P.J. Proby's 1969 album Three Week Hero. The only song on which all four members appear is 'Jim's Blues'.
The following albums were issued after the band ceased recording:
Hit singles
1970 'Whole Lotta Love' #4 US
1971 'Immigrant Song' #16 US
1972 'Black Dog' #15 US
1973 'D'yer Mak'er' #20 US
1975 'Trampled Under Foot' #38 US
1980 'Fool in the Rain' #21 US
1997 'Whole Lotta Love' #21 UK
Films, DVDs
References
Lewis, Dave (1991). Led Zeppelin: A Celebration. London & New York: Omnibus Press. ISBN 0-7119-2416-3
Lewis, Dave & Pallett, Simon (1997). Led Zeppelin: The Concert File. London & New York: Omnibus Press. ISBN 0-7119-5307-4
Welch, Chris (1985). Led Zeppelin: The Book. London: Proteus Pub Co. ISBN 0-86276-1131
External links
This biography is published under the
GNU Licence