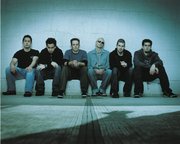 Linkin Park is a six-piece California nu metal band in the vein of Korn and Limp Bizkit.
Band History
The band saw its and first beginings in emcee/vocalist Mike Shinoda's small bedroom studio, where he and Brad Delson recorded the band's first material in 1996. The two had attended high school together, where they met the band's drummer, Rob Bourdon. Shinoda hooked up with DJ Joseph Hahn while studying illustration at Art Center College in Pasadena. Meanwhile, attending UCLA, Delson shared an apartment with bassist Phoenix, who left the band after college and returned a year later. At this point, they named themselves Xero and recorded several demo tracks. They never got signed, and the project floundered. Then Shinoda decided to hire a vocalist, and put out an ad. They got Chester Bennington, a transplanted Arizona native who started making records when he was 16. 'When I was two, I used to run around singing Foreigner songs - there's tapes of me doing that... since I learned how to talk I've been telling everybody I was gonna grow up to be a singer.' laughs Bennington.
The band called itself Hybrid Theory after the addition of Bennington (the idea being that they were a hybrid of rock and rap), however, due to a trademark issue with a band called Hybrid, they were forced to change their name. Some discarded ideas (serious or not) were Clear (the band's favorite), Probing Lagers (which they thought was the lamest), Ten PM Stocker (because they would record every night at 10 pm at a place on Stocker Street) and Platinum Lotus Foundation. Eventually, they settled on Lincoln Park, suggested by Bennington because after band practice he would have to drive past there to get home. However the domain 'lincolnpark.com' cost more than the band could afford, so they changed the spelling to Linkin Park. However, it has also been suggested that the name 'Linkin Park' was suggested so that the band would appear right next to Limp Bizkit at record stores.
Working with an independent label, the band recorded the album Hybrid Theory EP, which featured 'Carousel', 'Technique', 'Step Up', 'And One', 'High Voltage', 'Part of Me'.
After being signed to Warner Brothers in 1999 their first album, Hybrid Theory, was released in 2000. It was the top-selling album in the United States and New Zealand in 2001, with the hit singles 'One Step Closer', 'Crawling', 'Papercut', 'In The End' and 'Points of Authority'. The album is notable for its absence of profanity, in contrast to many other nu metal bands' songs.
Linkin Park were part of the Ozzfest in 2001, touring along side Marilyn Manson, Slipknot, Crazy Town, Papa Roach, and Disturbed. Linkin Park have also created their own tour - Projekt: Revolution, and on it have toured with Cypress Hill, Adema, DJ Z-Trip, Xzibit, Mudvayne and Blindside.
In 2002, they released a remix album of their Hybrid Theory album, called Reanimation, as well as releasing a remix version of their song, 'Points Of Authority'.
In 2003 their new studio album was released, titled Meteora, which debuted at #1 in the US and UK, and #2 in Australia. It contained the singles, 'Somewhere I Belong', 'Faint', 'Numb', 'From The Inside' and 'Breaking The Habit'. Later in the year, they joined forces with fellow nu-metal band Limp Bizkit and Metallica for the Summer Sanitarium Tour 2003. From this tour, Linkin Park released a new CD/DVD set called Live in Texas. This set contains tracks from their three previous records, and was filmed on location at their Summer Sanitarium performances in Dallas and Houston, Texas .
In 2004, Linkin Park created the Meteora World Tour. This tour included Linkin Park, P.O.D., Hoobastank, and Story of the Year.
In 2004, Linkin Park was touring with Snoop Dogg, The Used, Korn, and Less Than Jake on the main stage, and No Warning, Ghostface, Funeral For A Friend, M.O.P., and Downset on the second stage as part of Projekt Revolution 2004. They also had a travelling DJ, Z-Trip with them, along with Irvin the Urban Action Figure.
On November 30, 2004, Linkin Park released Collision Course, a collaboration with rapper Jay-Z featuring rap-style remixes ('mash-ups') of songs from Meteora and Hybrid Theory using lyrics from Jay-Z's repertoire. Collision Course debuted at #1 in the US, but only got to # 17 in the UK. In Holland Collision Course made it to a 7th place. Their first Collision Course hit single 'Numb/Encore' reached #1 at the Free Record Shop Download Charts in Holland.
Members
Discography
Albums
Hybrid Theory EP (1998) US Sales: 1000 (only 1000 printed)

500 copies reprinted for the first 500 people to join LPU

Hybrid Theory (2000) #2 US, #4 UK, US Sales: 8,000,000
Reanimation (2002) (remix album including Hybrid Theory and older tracks) #2 US, #3 UK, US Sales: 1,000,000
LP Underground v2.0 (2002) Unedited songs A.06, Dedicated (Demo 1999) & My December, Pts.Of.Athrty (The Crystal Method Remix) & With you & High Voltage live (Gift to join in LP Fan club)
LP Underground v2.5 (2003) Fixed Hybrid Theory EP & LP Underground v2.0 songs, two Reanimation Songs & a New High Voltage Remix (Gift to join in LP Fan club)
Meteora (2003) #1 US, #1 UK, US Sales: 4,000,000
   Meteora was released as a combo pack including a 'behind the scenes' DVD disc,   as well as just the Meteora album. 
Live in Texas (2003) #23 US, US Sales: 500,000
LP Underground v3.0 (2003) Audio Tracks of DVD Live In Texas (Gift to join in LP Fan club)
LP Underground v4.0 (2004) Sold My Soul To Yo Mama Mr. Hahn's Instrumental (with partials of Papercut), Standing In The Middle, Live versions of Breaking the Habit, 1Stp Klosr & a mix of Step Up/Nobody's Listening/It's Goin' Down (Gift to join in LP Fan club)
Collision Course - (Mash-up album featuring rapper Jay-Z's mixes of songs from Meteora and Hybrid Theory) (2004)
Hit singles
from 'Hybrid Theory'

2001 'One Step Closer' #24 UK
2001 'Crawling' #16 UK
2001 'Papercut' #14 UK
2001 'In the End' #2 US, #8 UK
2002 'Points Of Authority'

from 'Reanimation'

2002 'High Voltage/Points of Authority' #9 UK

from 'Meteora'

2003 'Somewhere I Belong' #32 US, #10 UK
2003 'Faint' #15 UK
2004 'Numb' #5 US, #14 UK
2004 'From The Inside'
2004 'Breaking the Habit' #20 US, #39 UK

from 'Collision Course'

2004 'Numb/Encore' (with Jay-Z) #11 US, #14 UK
Videos
One Step Closer
Crawling (at the Dragon Festival)
Crawling (The Brothers Straus)
Papercut (International)
In The End
Points Of Authority Live footage (International)
Pts.OF.Athrty (Points Of Authority Remix), CGI
Enth E Nd (In The End Remix)
P5hng Me A*wy (Pushing Me Away Remix)
FRGT/10 (Forgotten Remix), CGI
Wth>You (With You Remix), photographic animation
Somewhere I Belong - live-action plus CGI. This video for features some surrealistic creatures moving from a painting that may have been inspired by Salvador Dalν's works - possibly The Temptation of Saint Anthony (1946) or The Elephants (1948).
Faint - monochrome concert-like footage, directed by Mark Romanek
Lying From You (Live in Texas)
Numb
From The Inside (International)
Breaking The Habit, traditional anime
Numb/Encore (live)
Points of Authority/99 Problems/One Step Closer (live)
Awards and nominations
Won Favorite Artist - Alternative Music; 31st Annual American Music Awards; Sept 16, 2003
Won Best Group, Best Hard Rock; 2002 MTV Europe Music Awards. Nominated for Best Website.
Won Best Foreign Rock; Swedish Hit Music Awards; November 17th, 2002.
Won Best Rock Video; 2002 MTV Video Music Awards (In The End). Nominated for Best Video of the Year (In The End), Best Group Video (In The End).
Won Best International Nu-Metal/Alternative Artist; ECHO 2002 awards in Germany.
Won Best Hard Rock Performance (Crawling); 2001 Grammys. Nominated for Best Rock Album, Best New Artist.
Won Best Foreigner Artist of The Year; Finland's 2001 Emma Awards.
Won Best International Newcomer; 2001 Kerrang Awards. Nominated for Best Video, Best Album, Best Band in the World.
Nominated for Favorite Artist - Alternative Music; 30th Annual American Music Awards; Sept 1, 2002
Won Best Rock Video (Somewhere I Belong); 2003 MTV Video Music Awards.
Nominated for Best Rock Video (Breaking The Habit); 2004 MTV Video Music Awards.
Won Viewer's Choice Award (Breaking The Habit); 2004 MTV Video Music Awards.
Won Song of the Year — Rock Alternative Radio (Numb); 2004 Radio Music Awards
Won Artist of the Year — Rock Radio; 2004 Radio Music Awards
External links
This biography is published under the
GNU Licence