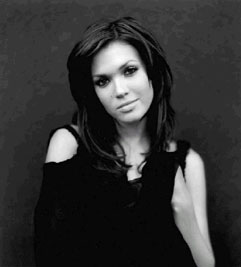 Amanda Leigh 'Mandy' Moore (born April 10, 1984 is an American pop singer and actress. She was born in Nashua, New Hampshire, but grew up in Orlando, Florida.
Biography
The first single, 'Candy', from the CD So Real (1999), was released when Moore was only 15 years old and is a 'fine' example of the kiddy-Britney-Spears-pop-wave that dominated most of the charts in 1999 and 2000. The second single was 'Walk Me Home'. Her second CD effort, I Wanna Be With You (2000) featured both new material and a few tracks from 'So Real'. I Wanna Be With You spawned the hit 'I Wanna Be With You', which was featured in the movie Center Stage.

Moore ventured into Hollywood when she appeared as a mean, blonde, popular cheerleader Lana Thomas opposite Anne Hathaway and Julie Andrews in the movie The Princess Diaries (2001). (Previously she had appeared in the straight-to-video children's movie 'Magic Al and the Mind Factory' and had done a voice role for 'Dr. Doolittle 2'.) In the movie, Moore, as Lana, performs with friends Anna and Fontana. The song, 'Stupid Cupid,' can also be found on the movie's soundtrack.

Next, Moore released a self-titled album. The singles from Mandy Moore (2001) released in the U.S. were 'In My Pocket,' 'Crush,' and 'Cry.' The songs '17' and 'Saturate Me' were both released as singles overseas. This album also showed her more mature and developed voice, in comparison to her past releases.

Shortly after the release of her album, Moore portrayed Jamie Sullivan, her first starring role, opposite Shane West in A Walk to Remember (2002). The movie, based on the novel by Nicholas Sparks, revolves around the developing romance between social outcast and devout Christian, Jamie, and West as bad boy Landon Carter. Although the movie was by no means a critical hit, it did cement Moore's status as a genuine actress. The soundtrack featured four songs by Mandy (Cry, Someday We'll Know, It's Gonna Be Love, and Only Hope).

In her second movie release, she stars as Halley Martin in How to Deal (2003). Allison Janney, Peter Gallagher, Alexandra Holden, and Trent Ford also star. Halley is a troubled teen who decides to abandon love after witnessing her parents' (Janney and Gallagher as Lydia and Len) divorce, her best friend's (Holden as Scarlett) unexpected incident, and her sister's rocky engagement. Macon (Ford) comes along and restores Halley's faith in finding happiness when in love. Her other movies include box office flop Chasing Liberty (2004) and indie religious satire Saved! (2004). Upcoming roles include the movies Romance & Cigarettes and Racing Stripes.

Moore returned to her music and released a fourth album titled Coverage (2003), an album consisting entirely of covers of old songs that Moore was influenced by as a child, and songs she recently discovered. Her first single off the album is 'Have a Little Faith in Me.' In the Philippines, 'Can We Still Be Friends', 'Moonshadow', and 'Breaking Us in Two' were also released. A video was made for the song 'Drop the Pilot', and supposedly released as a single somewhere in South America. When her contract with Epic Records ended, Mandy signed with Warner Brothers Records.

Early in her career it was reported in British newspapers that she was a relative of the British actor Ian Lavender, who played Private Pike in the sitcom Dad's Army. Moore is a Neutrogena spokesperson, appearing in commercials on television as well as print ads. (Neutrogena produces mainly facecare products, such as the Oil-Free Acne Wash that Moore advertises.)

Sony released a 'Best Of' compilation in November of 2004 consisting of the best songs off her 4 previous albums and various soundtrack contributions. It featured her six TOP 40 and two HOT 100 hits. Overall, Moore has had a successful musical career in North America. She has sold about four million albums.
However, her single releases were only hits in United States and Australia (her single 'Candy' was certified platinum in Australia. Her single 'I Wanna Be With You' was certified gold in Australia, probably because her voice resembles Australia's Kylie Minogue's voice), they did little in other parts of the world. The same goes for her movies. None of them, except for Racing Stripes and Dr. Dolittle 2 (where her voice was dubbed), were released in Europe.
Filmography
Albums
Best Of (2004)
Coverage (2003)
Mandy Moore (2001)
I Wanna Be With You (2000)
So Real (1999)
External links
This biography is published under the
GNU Licence