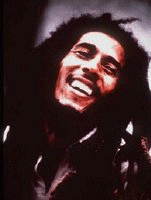 Robert Nesta Marley (February 6, 1945 - May 11, 1981), better known as Bob Marley, was a singer, guitarist, songwriter from the ghettos of Jamaica. He is the best known reggae musician of all times, famous for popularising the genre outside of Jamaica. Much of his work deals with the struggles of the impoverished and/or powerless. He has been called the Charles Wesley of the Rastafarian faith for the way he spread Rastafari through his music.
He was the husband of Rita Anderson Marley (who was one of the I Threes, who acted as the Wailers' back up singers after they became a global act). She had 4 of his 9 children, including David Ziggy Marley and Stephen Marley who continue their father's musical legacy in their band The Melody Makers. Another of his sons Damien Marley (aka 'Jr Gong') has also started a career in Music.
Biography
Bob Marley was born on February 6, 1945 in Jamaica to Norval Marley, a middle-aged white plantation overseer from England, and Cedella Booker, a black teenager from the north country. Cedella and Norval were to be married on June 9th, 1944. Approximately a week before the wedding, however, Norval informed Cedella that his chronic hernia had begun to trouble him and as a result he would be changing jobs and moving to Kingston. Norval never really knew his son because of the white upper class' disdain for interracial relationships. As a youth, Bob Marley was often the object of bitter ridicule by both white and black Jamaicans for his mixed heritage.
Musical career
Marley started his musical experimentation in ska and gravitated towards reggae as the music evolved, playing, teaching and singing for a long period in the 1970s and 1980s. Marley is perhaps best-known for work with his reggae group 'The Wailers', which included two other celebrated reggae musicians, Bunny Wailer and Peter Tosh. Livingstone and Tosh later left the group and went on to become successful solo artists.
Much of Marley's early work was produced by Coxsone Dodd at Studio One. That relationship later deteriorated due to financial pressure, and in the early 1970s he produced what is believed by many to be his finest work with Lee Perry. This pair also split apart, this time over the assignment of recording rights. They did work together again in London, though, and remained friends until Marley's death.
Marley's work was largely responsible for the mainstream cultural acceptance of reggae music outside of Jamaica. He signed to Chris Blackwell's Island Records label in 1971, at the time a highly influential and innovative label. Island Records boasted a retinue of successful and diverse artists including Genesis, John Martyn and Nick Drake. Though many people believe that Blackwell interfered with what Marley wanted to do with his own music, truth is that the knowledge this producer brought to the scene was critical in Marley's wish to bring reggae to the world.
Religious and political convictions
Marley was well known for his devotion to the Rastafarian religion. It was his wife Rita who first inspired him in his faith, and he then received teachings from Mortimer Planner. He served as a de facto missionary for the faith (his actions and lyrics suggest that this was intentional) and brought it to global attention. Through his music he preached brotherhood and peace for all of mankind. Towards the end of his life he was also baptised into the Ethiopian Orthodox Church with the name Berhane Selassie.

As a Rasta, Bob Marley was a great defender of cannabis which he used as a sacrament. On the cover of Catch a Fire he is seen smoking a big spliff, and the spiritual use of cannabis is mentioned in many of his songs.
In 1976, just two days before a scheduled free concert that Marley and the then Jamaican PM Michael Manley had organized, Marley, his wife Rita and manager Don Taylor, were shot inside the star's 56 Hope Road home. Marley received minor injuries in the arm and chest. Don Taylor took most of the bullets in his legs and torso as he accidentally walked in the line of fire. He was registered in serious condition after he was rushed to the hospital but fully recovered later. Rita also recovered of the head wound she received that night. It is generally believed that this shooting was politically motivated. Jamaican politics being somewhat violent at the time, especially when close to elections time as it was then. The concert was seen as being in support of the progressive prime minister of Jamaica, Michael Manley. It is widely held that he was shot by supporters of the conservative political party of Jamaica, the Jamaica Labour Party. However, there is little evidence to support this. Though the police never caught the gunmen, Marley devotees later 'caught up' with them on the streets of Kingston.
Marley was known to have connections with the Twelve Tribes of Israel sect of Rastafari, and he expressed this with a biblical quote about Joseph, son of Jacob on the album cover of Rastaman Vibration. The tribe of Joseph is Aquarius
Battle with cancer
In July 1977, Marley was found to have a wound on his right big toe, which he thought was from a soccer injury. The wound would not completely heal, and his toenail later fell off during a soccer game. It was then that the correct diagnosis was made. Marley actually had a form of skin cancer, malignant melanoma, which grew under his toenail. He was advised to get his toe amputated, but he refused because of the Rastafarian belief that doctors are samfai, confidence men who cheat the gullible by pretending to have the power of witchcraft. He also was concerned about the impact the operation would have on his dancing; amputation would profoundly affect his career at a time when greater success was close at hand. Still, Marley based this refusal on his Rastafarian beliefs, saying, 'Rasta no abide amputation. I and I don't allow a mon ta be dismantled.' Catch a Fire, Timothy White He did have surgery to try to excise the cancer cells. The cancer was kept a secret from the wider public.
The cancer spread to his brain, his lungs and his stomach. While on tour in the summer of 1980, he collapsed while jogging in NYC's Central Park after a series of shows at Madison Square Garden. The illness made him unable to continue with the large tour planned. Marley sought help, mostly from the controversial cancer specialist Josef Issels, but it was discovered that his illness was terminal. A month before his death, he was awarded Jamaica's Order of Merit. He wanted to spend his final days in Jamaica but he became too ill on the flight home from Germany and had to land in Miami. He passed away at Cedars of Lebanon Hospital in Miami, Florida on May 11, 1981. His funeral in Jamaica was a dignified affair with combined elements of Ethiopian Orthodoxy (he had secretly been baptized into the Ethiopian Orthodox Church as Bernahe Selassie) and Rastafarianism. He is buried in a crypt at Nine Miles, near his birthplace. His early death brought him nearly mythic status in music history similar to that of Elvis Presley and John Lennon. His image and music continue to produce a huge stream of revenue for his estate. He was awarded the Grammy Lifetime Achievement Award in 2001.
Recent events
In January 2005, it was reported (http://news.bbc.co.uk/2/hi/entertainment/4168883.stm) that Rita Marley is planning to have her late husband's remains exhumed and reburied in Shashamane, Ethiopia. In announcing the decision to move Marley's remains to Ethiopia, Rita Marley said: 'Bob's whole life is about Africa, it is not Jamaica.' There is as lot of resistance to this proposal in Jamaica, including from the establishment, who contradicted Rita by saying that Bob was entirely a product of Jamaican culture. The birthday celebrations for what would have been his 60th birthday on February 6th 2005 were celebrated in Shashamane for the first time, having previously always been held in Jamaica. Bob Marley birthday celebrations marked by dispute over possible reburial
1 (http://news.bbc.co.uk/1/hi/world/africa/4225239.stm)
Rewards and honors
Discography
Simmer Down (1964) (Single)
Catch a Fire (1973)

'Concrete Jungle'
'Midnight Ravers'
'Stir It Up'

African Herbsman (1973)

'Small Axe'
'Trench Town Rock'

Burnin' (1973)

'Get Up, Stand Up'
'I Shot the Sheriff'

Natty Dread (1974)

'Lively up yourself'
'No Woman No Cry'
'Natty Dread'
'Talking blues'
'Revolution'

Live! (1975)

'No Woman No Cry' (the famous live version)

Rastaman Vibration (1976)

'Crazy Baldhead'
'Rat race'

Exodus (1977)

'Exodus'
'Jammin'' (1977)
'Natural mystic'
'One Love / People Get Ready'
'Three Little Birds'
'Waiting in Vain'

Kaya (1978)

'Is This Love'
'Kaya'
'Satisfy My Soul'

Survival (1979)

'So Much Trouble In The World'
'Zimbabwe'
'Top Rankin''
'Babylon System'
'Survival'
'Africa Unite'
'One Drop'
'Ride Natty Ride'
'Ambush In The Night'
'Wake Up And Live'

Uprising (1980)

'Could You Be Loved'
'Redemption Song'

Chances Are (1981)

'Reggae On Broadway' (earlier single (by CBS))

Confrontation (1983)
Sound samples
External links
Bibliography
Timothy White. Catch a Fire: The Life of Bob Marley. Owl Books (NY), 1998.
Filmography
Rebel Music: The Bob Marley Story
See also
Roots reggae, Rastafarianism, Ras Tafari, Jamaican English, Amharic, Ethiopia, List of reggae musicians.
This biography is published under the
GNU Licence