| | |
| --- | --- |
| | Dave Matthews |
Dave Matthews Biography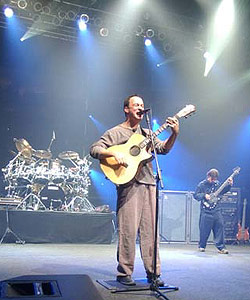 Dave Matthews (born January 9, 1967 in Johannesburg, South Africa) is the vocalist and guitarist from Dave Matthews Band.
At the age of two, Matthews and his family immigrated to Westchester County, New York, where his father, a physicist, went to work for IBM. Then, in the early 1970s, he moved to Cambridge, England, before returning to New York—where his father died in 1977. The family moved back to South Africa in 1980, where Matthews went to a few different schools.
The key move for Dave Matthews was when he relocated in 1986 to Charlottesville, Virginia, where his parents had lived before he was born. Though he also logged time back in South Africa and in Amsterdam, it was in Charlottesville where Matthews—who took piano lessons as a child before picking up the guitar at age nine—became part of the local music community and hatched the idea for his own band.
Dave formed The Dave Matthews Band in early 1991 while he was working as a bartender at Miller's in Charlottesville. The band's first gig was on May 11th 1991, at a private rooftop party in downtown Charlottesville.
Matthews released a solo album in late 2003, Some Devil, which was moderately successful; its single, 'Gravedigger,' won a Grammy Award in 2004.
Dave and his wife Ashley have twin girls, Stella and Grace, and live in Seattle, Washington.
This biography is published under the
GNU Licence
Items to buy by Dave Matthews
| | |
| --- | --- |
| | Just The Riffs For Violin (Just the Riffs). By Dave Matthews Band. For violin. Instrumental. Pop Rock and Instructional. Instructional book (violin excerpts only). Instructional text. 32 pages. Published by Cherry Lane Music |
| | |
| --- | --- |
| | Just the Riffs For Saxophone "By Dave Matthews Band. For saxophone. Instrumental. Pop Rock. Difficulty: medium. Instructional book (saxophone excerpts only - in C). Standard notation, instructional text and introductory text. 32 pages. Published by Cherry Lane Music" |
| | |
| --- | --- |
| | Best Of Dave Matthews Band - Easy Guitar "By Dave Matthews Band. For easy guitar and voice. EZ Guitar. Pop Rock. Difficulty: easy-medium. Easy guitar tablature songbook (simplified guitar/vocal arrangements). Standard guitar notation, guitar tablature, vocal melody, lyrics, chord names, guitar c |
| | |
| --- | --- |
| | Best Of The Dave Matthews Band For Drums "By Dave Matthews Band. For drum set. Personality. Pop Rock. Difficulty: medium. Drum/vocal songbook. Vocal melody, lyrics, drum notation and drum notation legend. 93 pages. Published by Cherry Lane Music" |
| | |
| --- | --- |
| | Crash Into Me By Dave Matthews Band. Pop; Rock. Piano/Vocal/Guitar. 11 pages. Published by Hal Leonard - Digital Sheet Music |
| | |
| --- | --- |
| | You & Me By Dave Matthews Band. Love; Pop; Rock; Wedding. Piano/Vocal/Guitar. 9 pages. Published by Hal Leonard - Digital Sheet Music |
| | |
| --- | --- |
| | Crash "By Dave Matthews Band. For guitar and voice. Guitar Personality. Pop Rock. Difficulty: medium. Guitar tablature songbook. Standard guitar notation, guitar tablature, vocal melody, lyrics, chord names, guitar chord diagrams and guitar notation legend. 112 |
| | |
| --- | --- |
| | Dave Matthews & Tim Reynolds: Live at Luther College Vol. 2 "By Dave Matthews and Tim Reynolds. For guitar and voice. Play It Like It Is. Pop Rock. Difficulty: medium. Guitar tablature songbook. Guitar tablature, standard notation, vocal melody, lyrics, chord names, guitar chord diagrams and guitar tab glossary. 1 |
| | |
| --- | --- |
| | I'm Alive By Dave Matthews and Kenny Chesney. Piano Vocal. 8 pages. Published by Hal Leonard |
| | |
| --- | --- |
| | Live At Luther College "By Dave Matthews Band and Tim Reynolds. For guitar and voice. Play It Like It Is. Pop and Pop Rock. Difficulty: medium. Guitar tablature songbook. Standard guitar notation, guitar tablature, vocal melody, lyrics, chord names, guitar chord diagrams and gu |
| | |
| --- | --- |
| | Crash Into Me By Dave Matthews Band. For guitar. Pop; Rock. Easy Guitar. 5 pages. Published by Hal Leonard - Digital Sheet Music |
| | |
| --- | --- |
| | Best of Dave Matthews Band for Easy Guitar - Volume 2 "By Dave Matthews Band. For easy guitar and voice. EZ Guitar with Riffs & Tab. Pop Rock. Easy guitar tablature songbook. Guitar tablature, easy guitar notation, vocal melody, lyrics, chord names, guitar chord diagrams and guitar notation legend. 72 pages. |
| | |
| --- | --- |
| | Satellite By Dave Matthews Band. For guitar. Pop; Rock. Guitar TAB. 8 pages. Published by Hal Leonard - Digital Sheet Music |
| | |
| --- | --- |
| | Some Devil "By Dave Matthews. For voice, piano and guitar (chords only). Piano/Vocal/Guitar Artist Songbook. Pop Rock. Difficulty: medium. Songbook. Vocal melody, lyrics, harmony part, piano accompaniment, chord names, guitar chord diagrams and introductory text. 96 |
| | |
| --- | --- |
| | Lullaby "By Josh Groban. By Dave Matthews, Jochem Van Der Saag, and Josh Groban. Arranged by Mac Huff. SATB. Pop Choral Series. 8 pages. Published by Hal Leonard" |
| | |
| --- | --- |
| | Lullaby "By Josh Groban. By Dave Matthews, Jochem Van Der Saag, and Josh Groban. Arranged by Mac Huff. TTBB. Pop Choral Series. 8 pages. Published by Hal Leonard" |