Felix Mendelssohn
Artist:
Felix Mendelssohn
Summary:
German Romantic composer, although one who espoused the wore the classical influence of Mozart more than the impassioned Romanticism of Beethoven. His most popular works are concert overtures and desciptive symphonies like the Italian and the Scotch.
Felix Mendelssohn Biography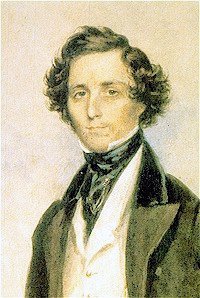 Jacob Ludwig Felix Mendelssohn-Bartholdy, always known simply as Felix Mendelssohn (February 3, 1809 – November 4, 1847) was a German composer of the early Romantic period. He was perhaps the greatest child prodigy after Mozart.
Biography
Mendelssohn was born in Hamburg, the son of a banker, Abraham, who was himself the son of the famous Jewish philosopher, Moses Mendelssohn. Felix's family, however, converted to Lutheranism, and moved to Berlin in 1812. His sister was Fanny Mendelssohn (later Fanny Hensel), who was a well known pianist and amateur composer herself.
Mendelssohn began taking piano lessons from his mother when he was six, and at seven was tutored by Marie Bigot in Paris. From 1817 he studied composition with Carl Friedrich Zelter in Berlin. He probably made his first public concert appearance at the age of nine, when he participated in a chamber music concert. He was also a prolific composer as a child, writing his first published work, a piano quartet, by the time he was thirteen. The elderly Goethe met the young Mendelssohn and took quite a shine to him, saying to him 'When I am sad, come and cheer me with your playing.'
As a teenager, his works were performed at home with a private orchestra for the elites and intellectuals of Berlin. Mendelssohn wrote his first twelve symphonies in his early teens (more specifically, from ages twelve to fourteen; these works were then lost for over a century, but are now played with regularity), growing with confidence until he wrote his first symphony for full orchestra (and first acknowledged), his opus 11 in C minor the year after; and at seventeen he wrote an overture to Shakespeare's A Midsummer Night's Dream, which is probably the earliest well known work by him (he later wrote more incidental music for the play). In 1827 he saw the first production of one of his operas, Die Hochzeit des Camacho, having written several others before then.
Mendelssohn brought the music of Johann Sebastian Bach to the public's notice, from its position of relative obscurity at that time. In particular, a performance of Bach's St. Matthew Passion in 1829 under Mendelssohn's direction was a great success. This was the first performance of the work since Bach's death and earned Mendelssohn an international reputation at age twenty.
Mendelssohn knew Hector Berlioz from their stay at the French arts academy in Rome, Italy. They also met later in life in Germany. These meetings are described in Berlioz's memoirs. Mendelssohn's personal life was fairly conventional compared to many composers of note. He was happily married and had four children. He performed as a pianist, organist and conductor in Germany as well as in England where his music was especially popular.
In 1835, he was appointed as conductor of the Leipzig Gewandhaus Orchestra. In 1846, the oratorio Elijiah premiered in Birmingham. At age thirty-eight, he founded the Leipzig Conservatory.
Mendelssohn suffered from bad health in the final years of his life, and it is said he was greatly depressed by the death of his sister Fanny in May 1847. Felix Mendelssohn died later that same year after a series of strokes, on November 4, 1847, in Leipzig.
Musical influence
As well as orchestral music, Mendelssohn wrote chamber music, including the string octet in 1825, organ sonatas, solo piano music, including the Songs Without Words, and two large oratorios, St. Paul in 1836 and Elijah (or Elias) in 1846. These works, in particular, were greatly influenced by Bach.
As well as reviving interest in Bach, Mendelssohn also kept the work of Franz Schubert before the public. It was he who conducted the premiere of Schubert's Ninth Symphony, more than a decade after the composer's death. In all, Mendelssohn wrote five symphonies. He also wrote two piano concertos and one famous violin concerto which is often seen as an essential piece for young prodigies to play.
Mendelssohn wrote the concert overture The Hebrides in 1830, otherwise known as Fingal's Cave, a piece which remains popular today. The work was inspired by visits he made to Scotland around the end of the 1820s, though its main theme is now known to have been sketched before this. These visits also inspired his Symphony No 3, The Scottish, which was written intermittently between around 1830 and 1842. Unlike most pieces about nations written in that day, Mendelssohn did not base his Scottish Symphony on Scottish folk tunes, but rather how visiting Scotland made him feel. Mendelssohn travelled widely in Europe throughout his life, and a visit to Italy inspired one of his best known works, the Symphony No 4 in A major, known as the Italian, the final version of which was completed in 1834.
Mendelssohn's renowned Violin Concerto in E Minor, op. 64 was written in 1844. This is a piece played too many times to be counted. Many of the great violinists of our time have performed it with respectable orchestras. This is not to say that only the best can play the concerto. All students who wish to become an accomplished violinist must play this piece at one point in their life. Jascha Heifetz, one of the greatest violinists of the twentieth century, played the concerto before the age of ten.
Piano Concerto No. 1 in G Minor, op. 25 and Piano Concerto No. 2 in D Minor, op. 40 are two more of Mendelssohn's compositions that have accrued great fame over the years. For the first piano concerto, the mighty, thunderous tones of the piano that ring out with the vibrant, powerful sounding orchestra brings a song meant to evoke excitement and thrill within all who listen. The second, more delicate piano concerto, is also very moving and, like its predecessor, brings out strong feelings of exhilaration. Also, this piano concerto, just like its counterpart, sends forth the feeling of a touch of sadness, mingled with relaxing tones, merging into a great work of music.
In 1842, Mendelssohn wrote incidental music for the Shakespeare play, A Midsummer Night's Dream, including the famous Wedding March that is played as the recessional at many weddings. The first time it was used at a wedding was when Dorothy Carew wed Tom Daniel at St Peter's Church, Tiverton, UK, on 2 June 1847. However it did not become popular at weddings until it was selected by Victoria, The Princess Royal for her marriage to the Crown Prince of Prussia on January 25, 1858.
References
Kamien, Roger. Music : An Appreciation. Mcgraw-Hill College; 3rd edition (August 1, 1997) ISBN 0070365210
This biography is published under the
GNU Licence