Metallica
Metallica Biography

Metallica is an American heavy metal band active from the 1980s to the 2000s. After building a loyal following through its role in the development of thrash metal in the 1980s, Metallica successfully broadened its audience in the early 1990s. Accordingly, the band stood as the most commercially visible example of the metal genre for most of that decade. However, Metallica's vastly increased commercial success was accompanied by stylistic changes that fostered accusations of 'selling out' by some long-time fans. In 2003 Metallica released St. Anger, a collection of the most aggressive music they'd written in a decade, to deeply divided critical reviews and comparatively mediocre sales figures. Nevertheless, extensive and successful tours throughout 2003 and 2004 reinforced the band's reputation as a top-notch live act.
Formation and early work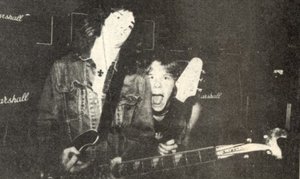 Metallica was formed in Los Angeles, California in 1981 by drummer and former tennis prodigy Lars Ulrich, and guitarist and vocalist James Hetfield, who met after each had separately placed classified advertisements in the American publication The Recycler. Bassist Ron McGovney was also an original member, and the band used a few transient guitar players, such as Brad Parker and Jef Warner, in the course of settling on a four-person lineup. Metallica got its name when drummer Lars Ulrich was helping San Francisco-area metal promoter Ron Quintana pick out a name for a new magazine to promote metal and the NWOBHM (New Wave Of British Heavy Metal) bands. Quintana came up with a suggestion 'Metallica,' but Lars quickly suggested another and decided to use that name for the band he and James Hetfield had just started.
In early 1982, Metallica recorded 'Hit the Lights' for the first Metal Massacre compilation. Guitarist Lloyd Grant was brought in to do the lead guitar solos on the track but was never a full member of the band. Desperate for a full-time lead guitarist, Ulrich posted an ad in the local newspapers. Dave Mustaine, a guitarist from the band Panic responded, and upon arrival started a sound check. Ulrich and Hetfield were so impressed with Mustaine's soundcheck that they immediately asked him to join. A few months later the band recorded a full demo, No Life Till Leather, which quickly drew attention on the underground tape trading circuit. By this point bassist Cliff Burton had also joined Metallica, lured from his band Trauma in exchange for the other members of Metallica relocating to the San Francisco area.
Upon arriving in San Francisco, the group quickly built a healthy local following in the Bay Area Thrash scene via word-of-mouth and live performances. Metallica then travelled to New York in 1983 at the urging of local promoters Jon and Marsha Zazula, and after a few gigs the band signed with the Zazulas' brand new label, Megaforce Records. Megaforce released Metallica's first two albums. Shortly after arriving in New York, however, Mustaine was fired due to alcoholism and other addictions, and Kirk Hammett was drafted from Exodus to replace him. Mustaine would go on to create the speed metal band Megadeth.
Metallica's first album, Kill 'Em All, set the template that they would follow throughout the 1980s, prominently featuring the heavy vocals and rhythm guitar of James Hetfield. A year later, the next album, Ride the Lightning, expanded and improved their form with longer songs that featured both instrumental pyrotechnics and lyrics which rose above some of the more puerile songs on Kill 'Em All. Perhaps the most significant feature of Ride the Lightning was the inclusion of 'Fade to Black,' a slower, more interior song that mused on the thoughts of someone contemplating suicide, written after a series of band setbacks including the 1984 theft of the equipment used to record Kill 'Em All. Indeed 'Fade to Black' is the first such song in a tradition of these kinds of songs that would come to include 'Welcome Home (Sanitarium)' and the band's first single to receive a video, 'One.' The inclusion of these slower, introspective songs distinguished Metallica from most other thrash metal bands such as Anthrax, Slayer, and Megadeth.
Metallica's formation was seen by some fans as a direct reaction to the prevalent rock and roll music of the early 1980s. Inspired by bands such as Motörhead, Diamond Head and Saxon, the so-called New Wave of British Heavy Metal, as well as hardcore punk like the Misfits and Discharge, Metallica were single-minded in their desire to break the grip of soft metal on heavy metal fans.
Popular success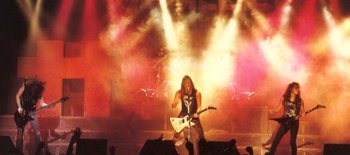 After signing a major label deal with Elektra Records in 1985, Metallica went on to produce another album, Master of Puppets, released in 1986 and regarded by many of their fans as their best work. However, on September 27th of that year, during a European leg of shows, bassist Cliff Burton was killed in a tour bus accident in Ljungby, Sweden. As something of a psychological defense against the potentially debilitating grief that now surrounded them, the band immediately found a new bassist in Jason Newsted, formerly of Flotsam and Jetsam. Shortly thereafter Metallica released The $5.98 EP: Garage Days Re-Revisited as a preliminary effort with their new member. This album continued the band's interest in recording obscure songs by relatively obscure (to American audiences) British metal and hardcore bands. In 1988 they recorded ...And Justice for All, an album full of some of the band's most structurally complex music. Critics regarded ...And Justice for All as a milestone in the history of metal, noting its intense focus on topics related to personal control and independence. Importantly, many writers also celebrated this album (and, by extension, Metallica itself) for the way it appeared to divorce hard rock from the blues in ways bands such as Mötley Crüe or Poison resisted.
In 1991, their self-titled album, Metallica (popularly known as The Black Album) broadened the band's horizon again. The record was co-produced with Bob Rock, whose resume included work on albums by such pop-metal acts as Bon Jovi and Motley Crue, to create a more commercially viable product. The album featured a black cover that evoked humorous comparisons to Spinal Tap. The album featured the hits 'Enter Sandman', which exemplified the radically pared-down style of songwriting across the album, and 'Nothing Else Matters', a more plaintive, acoustic ballad that outraged some of their more hardcore fans. The album was a massive crossover hit, bringing Metallica firmly into the mainstream, and it was with this album that band first encountered significant accusations of having 'sold out.' Charges of selling out would follow Metallica throughout the 1990s.
Burnt out from almost three years of touring upon the Black Album's success, Metallica took a respite until late 1995, when they came back into the studio with a new zest for recording. Ulrich and Hetfield, both of whom were very strict on Hammett and Newsted in previous endeavours, claimed to have loosened the reins somewhat. The resulting albums, Load (1996) and Reload (1997) represented a significant musical change for Metallica. The band's breakneck metal tempos and layered guitar compositions had largely been replaced by bluesy rock songs, full of bent notes, warm guitar tone, slide guitar, and shuffle and swing rhythms. Hetfield's vocals took a larger role than ever before, and several songs (such as 'Mama Said' and 'Low Man's Lyric') showed the band's willingness to experiment with drastic stylistic changes. The intricacy and intelligence of Metallica's songwriting had not been watered down, but it had been presented in a radically different - or perhaps simply radically more varied - stylistic package.
Many of these changes had been anticipated by earlier experiments (especially on the Black Album), but listeners generally regard Load and Reload as the band's turning point. This perception may be due to the fact that with these albums, Metallica also reinvented their visual image: the CD booklet for Load contained many controversial photographs of the band, taken by Anton Corbijn. The band members - who had recently cut their hair - were depicted wearing pimp suits, smoking cigars, and sipping brandy, sometimes wearing heavy makeup.
In spite of, or because of, these changes, Load and ReLoad spawned a plethora of radio hits, including 'Fuel,' 'Until it Sleeps,' and 'The Memory Remains.' Many in the band's speed metal fanbase remained hostile and cited them as 'proof' that the band had sold out. Metallica, according to them, was no longer playing metal. Rather than the fan base shrinking, though, it actually swelled, fueled by a turnover stratified by taste that was somewhat akin to a change in generations. For each disappointed headbanger that regarded Load as Metallica's worst offering, there was a new listener who had been grabbed by it and saw it as their best.
In 1998 Metallica returned briefly to its role as a cover band and compiled a double CD called Garage Inc.. The first CD contained newly recorded tracks, ranging from obvious Metallica influences such as Danzig, Thin Lizzy and Sabbath to more unexpected choices such as Bob Seger and Nick Cave. The second CD gathered together previously released covers, including the complete Garage Days Re-Revisited EP, which had at that point become a scarce collectors' item, as well as a collection of b-sides going as far back as 1984.
On April 21-22, 1999, Metallica recorded two performances with the San Francisco Symphony Orchestra, then conducted by Michael Kamen. Kamen, who had previously worked with the band on 'Nothing Else Matters' from The Black Album, had approached the band shortly after that collaboration with the idea of pairing Metallica's music with a symphony orchestra. Kamen and his staff composed additional orchestral material for a number of Metallica songs, and the concerts featured a collection of tracks dating as far back as Ride the Lightning. Metallica also wrote (and Kamen scored) two brand new songs for the event, 'No Leaf Clover' and '− Human.' The recording was eventually released as the album S&M in November 1999 on CD, VHS, and DVD.
Napster controversy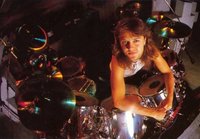 In 2000, Metallica discovered that a demo of their song 'I Disappear' had been floating across the Napster file-sharing network. They soon discovered that their entire catalogue was also freely available. The band immediately determined to sue Napster and in the process asked that 300,000 Napster users found to be trading Metallica songs be kicked off the network. In 2001 Metallica and Napster agreed to an out-of-court settlement, and the band never actually sued any fans for copyright infringement. Nevertheless, the controversy created a public relations nightmare. In particular, Lars Ulrich found himself portrayed as a greedy and pretentious rock star completely out of touch with his fans.
Still some support him when it comes to illegal music sharing, believing that he tried to do what he could to save the music industry. He is posted as a symbol against illegal music on the internet and the phrase 'The man who started the fight against illegal file-sharing' is used. The people who support him believe that piracy and illegal file-sharing are damaging the music industry.
Newsted leaves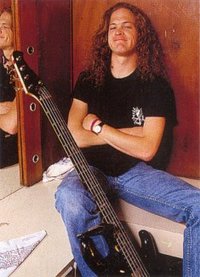 Before they went into the studio to record their next album in 2001, Jason Newsted left the band, ostensibly due to 'the physical damage I have done to myself over the years while playing the music that I love.' However, subsequent interviews with Newsted and the remaining members revealed that Newsted's desire to release and tour with his Echobrain side-project — and Hetfield's intense resistance to such an idea — was the primary cause of Newsted's departure.
This began a low-point in recent Metallica history, as Hetfield soon entered rehab due to 'alcoholism and other addictions' in July, 2001. For nearly a year the entity known as 'Metallica' ceased to function in any meaningful way, and Ulrich and Hammett for the first time seriously considered the possibility that Metallica might be finished. Upon Hetfield's return, though, the band slowly and cautiously continued as an incomplete 3-piece throughout the writing and recording of their next album. Longtime producer Bob Rock handled bass duties for the sessions. Metallica eventually found a new member in early 2003, bassist Rob Trujillo (ex-Suicidal Tendencies), who was then playing with Ozzy Osbourne's band. In an interesting turn of events, Jason Newsted, who had joined Canadian heavy metal band Voivod, filled Rob's shoes playing bass for Ozzy during the Ozzfest 2003 tour (which Voivod also supported).
In June 2003, Metallica released their eighth full-length studio album, St. Anger. The album debuted at number one on the album charts, heralded as the band's most aggressive album in over a decade. Metallica seemed to have recorded an intentionally 'raw' and unpolished album as a response to critics' complaints that they had lost their edge. Harsh criticism followed, however, for the record's underproduced sound (notably the sound of Ulrich's snare drum and Hetfield's 'flexible' sense of pitch), overwrought songs, and total lack of guitar solos. Nevertheless, Metallica won a Grammy in 2004 for St. Anger, the band's sixth such award.
Audio
DVD & Video
Line-ups
Early Lineups
Early Lineup 1 (No Life 'Til Leather demo)
Early Lineup 2 (various tracks and contributions in Kill 'Em All and Ride The Lightning)
James Hetfield
Dave Mustaine
Lars Ulrich
The work of this lineup is scattered throughout Metallica's early works and is very controversial. The sole difference between this lineup and Metallica's first major lineup is Dave Mustaine as lead guitarist. Mustaine wrote many of the lead guitar parts in several songs on Kill 'Em All, as well as some of the riffs on Ride The Lightning (such as 'The Call of Ktulu'). Mustaine claims to have also written parts of 'Leper Messiah' (Master of Puppets) and 'Dyer's Eve' (...And Justice for All). None of those claims has ever been acknowledged by the other members of Metallica.
Recording Lineups
1983-1986 (Kill 'Em All, Ride The Lightning, Master of Puppets)
James Hetfield
Cliff Burton
Lars Ulrich
1986-2001 (...And Justice For All, Metallica, Load, Reload, Garage Inc., S&M)
James Hetfield
Kirk Hammett
Lars Ulrich
2001-2003 (St. Anger)
James Hetfield
Kirk Hammett
Bob Rock (temporary bassist, also the band's producer)
Lars Ulrich
2003-present (no albums currently recorded by this lineup)
James Hetfield
Kirk Hammett
Lars Ulrich
Discography
The band also contributed one track, 'I Disappear', to the Mission: Impossible II soundtrack.
See also
External links
This biography is published under the
GNU Licence