Charles Mingus
Charles Mingus Biography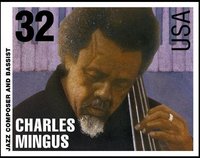 Charles Mingus (April 22, 1922 - January 5, 1979) was a jazz bassist, composer, bandleader, and occasional pianist. He is also known for his activism regarding racial segregation.
Mingus's legacy is enormous: He is generally ranked among the finest jazz composers and performers; some consider him perhaps greatest bassist in jazz history. Many Mingus albums are easily available; most are highly regarded. Dozens of musicians passed through his bands and later went on to impressive careers. His songs – though melodic and distinctive – are sometimes underrecorded by later musicians, due in part to their challenging nature.
Mingus is nearly as well known for his volatile temperament as for his ambitious music. His refusal to compromise his musical integrity led to many onstage explosions, though it has been argued that his temper grew also from his desire to vent frustration. Ironically, a perfect show could irritate him by closing this outlet.
Mingus was prone to depression (possibly manic-depression). He tended to have brief periods of extreme creative activity, intermixed with fairly long periods of greatly decreased output.
Most of Mingus's music retained the hot and soulful feel of hard bop, and drew heavily from black gospel music while sometimes drawing on elements of Third Stream Jazz and free jazz. Yet Mingus avoided categorization, forging his own unique brand of music that fused tradition with unique and unexplored realms of jazz.
Mingus is often considered the heir apparent to Duke Ellington, for whom he expressed unqualified admiration.
Early Life
Mingus was born in Nogales, Arizona, but raised largely in the Watts area of Los Angeles, California.
His mother allowed only church-related music in their home, but Mingus developed an early love for jazz, especially Ellington's music. He studied trombone, and later cello. Much of the cello technique he learnt was applicable to double bass when he took up the instrument in high school.
Even in his teen years, Mingus was writing a considerable number of rather advanced songs; many are similar to Third Stream Jazz. A number of these pieces were recorded in 1960 with conductor Gunther Schuller, and released as Pre-Bird.
Early Career
Mingus gained a reputation as something of a bass prodigy, and toured with Louis Armstrong in 1943. He gained attention while in Lionel Hampton's band in the late 1940s: Hampton performed and recorded a few of Mingus's songs. A popular trio with Red Norvo and Tal Farlow in 1950 and 1951 received considerable acclaim.
After Oscar Pettiford broke his arm playing baseball, Mingus stepped in to replace him at the famed 1953 'Jazz At Massey Hall' concert. He joined Dizzy Gillespie, Charlie Parker, Bud Powell and Max Roach in what is widely regarded as one of the finest live jazz recordings.
Mingus was later a member of Ellington's band, and Mingus's notorious temper reportedly led to his being the only musician personally fired by Ellington.
In 1952 Mingus cofounded Debut Records with Roach, in order to conduct his recording career as he saw fit.
Pithecanthropus Erectus
Mingus had already recorded about ten albums as a bandleader, but 1956 was a breakthrough year, with the release of Pithecanthropus Erectus: Arguably his first major work as both a bandleader an composer. Like Ellington, Mingus wrote songs with specific musicians in mind, and his band for Erectus included adventurous, though distincly blues-oriented musicians, especially saxophonist Jackie McLean and piano player Mal Waldron. The title song is a ten minute tone poem, depicting the rise of man: From his hominid roots (Pithecanthropus Erectus) to an eventual downfall. A section of the piece was improvised free of structure or theme. This album was the first to feature drummer Dannie Richmond, who played with Mingus for the next twenty years, until the bassist's death. He and Mingus formed one of the most impressive and versatile rhythm sections in jazz: Both were accomplished performers seeking to stretch the boundries of their music while staying true to its roots; when joined by pianist Jaki Byard, they were dubbed 'The Almighty Three'. 1 (http://www.fantasyjazz.com/catalog/mingus_c_cat.html)
The following decade is widely regarded as Mingus's most productive and fertile era. Impressive new compositions and albums appeared at an astonishing rate: Some thirty records in ten years, for a number of record labels (Debut, Candid, Impulse Records and others), a pace perhaps unmatched by any musician or group, excepting Ellington.
Mingus often worked with a mid-sized ensemble (around 8-10 members) of rotating musicians known as the Jazz Workshop. Mingus broke new ground, constantly demanding that his musicians be able to explore and develop their perceptions on the spot. Those tapped to join the Workshop (or Sweatshops as they were colorfully dubbed by the musicians) were skilled musicians yearning for a taste of the big time. Mingus shaped these promising novices into a cohesive improvisational machine that in many ways preceded free jazz.
Jazz Workshop members included:
Only one misstep occurred in this era: 1962's Town Hall Concert. An ambitious program, it was unfortunately plagued with troubles from its inception.2 (http://www.villagevoice.com/issues/0023/santoro.php) Mingus' vision was finaly realized in 1989, see Epitaph (Mingus).
Charles Mingus Presents Charles Mingus
Mingus witnessed Ornette Coleman's legendary – and controversial – 1960 appearances at New York City's Five Spot jazz club.
Though he initially expressed rather mixed feeling's for Coleman's innovative music, Mingus was in fact a prime influence of the early free jazz era. He formed a quartet with Richmond, trumpeter Ted Curson and saxophonist Eric Dolphy. This ensemble featured the same instruments as Coleman's quartet, and is often regarded as Mingus rising to the challenging new standard established by Coleman. Charles Mingus Presents Charles Mingus – the quartet's sole album – is frequently included among the finest in Mingus's catalogue.
The Black Saint and the Sinner Lady
In 1963, Mingus released The Black Saint and the Sinner Lady, a sprawling, multi-section masterpiece, described as 'one of the greatest achievements in orchestration by any composer in jazz history.' 3 (http://www.allmusic.com/cg/amg.dll?p=amg&uid=UIDSUB040405070932540817&sql=A4f867ur070jd) The album was unique in that Mingus asked his psychotherapist to provide notes for the record.
1963 also saw the release of an unacompanied album Mingus Plays Piano. His piano technique – though capable and expressive – was somewhat unrefined when compared to, perhaps Ahmad Jamal or other contemporary jazz pianists, but the album is still generally well regarded. A few pieces were entirely improvised, and drew on classical music as much as jazz, preceding Keith Jarrett's landmark The Köln Concert in that regard by some twelve years.
Changes
Mingus's pace slowed somewhat in the late 1960s and early 1970s. In 1974 he formed a quintet with Richmond, pianist Don Pullen, trumpeter Jack Walrath and saxophonist George Adams. They recorded two well received albums, Changes One and Changes Two.
Cumbia and Jazz Fusion in 1976 sought to blend Cumbian music with more traditional jazz forms.
Later career
By the mid-1970s, Mingus was suffering from Amyotrophic lateral sclerosis (popularly known as Lou Gehrig's disease) a wastage of the musculature. His once formidable bass technique suffered, until he could no longer play the instrument. He continued composing, however, and supervised a number of recordings before his death.
He died in Mexico, where he had travelled for treatment and convalescence, and his ashes were scattered in the Ganges River.
After his death, singer Joni Mitchell released a tribute album to Mingus featuring Eddie Gomez on bass.
Mingus's temper
As respected as Mingus was for his musical genius, he was often feared for his sometimes violent onstage temper, which was at times directed at members of his band, and other times aimed at the audience. He was physically large – prone to obesity, especially in his later years – and was by all accounts often intimidating and frightening when expressing anger or displeasure.
When confronted with a nightclub audience talking and clicking ice in their glasses while he performed, Mingus stopped his band and loudly chastized the audience, stating 'Isaac Stern doesn't have to put up with this shit.' 4 (http://www.swing2bop.com/articles.html) While on stage at a memorial concert he reportedly attempted to crush his pianist's hands with the instrument's keyboard cover, then punched trombonist Jimmy Knepper in the mouth. Jackie McLean once stabbed Mingus after Mingus punched him, fearing the bassist was about to kill him. Mingus's onstage destruction of an $800 bass, prompted British rockers The Animals – avid fans who witnessed Mingus's characteristic explosion at a London show – to emulate the outburst, starting a trend of rampant outro destruction of musical equipment in 'rock theater' popularized by Jimi Hendrix and The Who, which continues to this day.
Samples
Partial discography
Major works include:
Of these, Mingus Ah Um and The Black Saint and the Sinner Lady are arguably his best works. Mingus Mingus Mingus Mingus Mingus, although derivative of his earlier works, is a whole lot of fun.
His autobiography, Beneath the Underdog, presents a vibrantly boastful and possibly apocryphal account of his early career as a pimp.
The music of Charles Mingus is currently being performed and reinterpreted by the Mingus Big Band, which plays every Thursday in New York City, and often tours the rest of the United States and Europe.
A documentary by Ray Davies entitled Weird Nightmare was released in 1991. It contains footage of Mingus and interviews with artists making Hal Willner's tribute album of the same name, including Elvis Costello, Charlie Watts, Keith Richards, and Vernon Reid.
External links
This biography is published under the
GNU Licence