Norah Jones

Artist:
Norah Jones
Born:
March 30, 1979, New York City
Summary:
Norah Jones is a multi-Grammy Award winning pianist and singer-songwriter whose career was launched with her successful 2002 debut album Come Away With Me, a jazz piano album with a soul/folk tinge, that sold 18 million copies worldwide and received 8 Grammy awards.

Popular Sheet Music:
on 8notes.com




Norah Jones Biography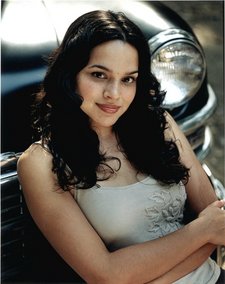 Norah Jones (born Geetali Norah Jones Shankar on March 30, 1979; she changed her name officially to Norah Jones at age 16, with her father's permission) is a multi-Grammy Award winning pianist and singer-songwriter whose career was launched with her successful 2002 debut album Come Away With Me, a jazz piano album with a soul/folk tinge, that sold 18 million copies worldwide and received 8 Grammy awards.
Jones was born in New York City, the daughter of Indian sitarist Ravi Shankar, but she spent her childhood with her mother, Sue Jones, who moved to Dallas, Texas, when Norah was four. Jones attended the Booker T. Washington High School for the Performing and Visual Arts and the University of North Texas, where she majored in jazz piano. In 1999, two years into the program, Norah left for New York City, where she performed with the band Wax Poetic.
Jones performs frequently with guitarist Charlie Hunter. Her music is often compared to that of Billie Holiday and Nina Simone.
Norah Jones walked away from the Grammy Awards of 2003 with 8 awards, including Best New Artist. Her sophomore album, Feels Like Home, was released on February 9, 2004. Rather than repeat the softer mood of Come Away With Me, her second album was more influenced by country music. Within a week of its release, Feels Like Home had sold over a million copies. In that same year, TIME magazine listed Jones among the Most Influential People of 2004. Jones received 3 awards at the Grammy Awards of 2005, two for her Record of the Year collaboration with Ray Charles on the song Here We Go Again.
Discography
External links
This biography is published under the
GNU Licence
Items to buy by Norah Jones
| | |
| --- | --- |
| | Come Away With Me "By Norah Jones. For voice, piano and guitar chords. Piano/Vocal/Guitar Artist Songbook. Pop Vocal and Jazz. Difficulty: medium. Songbook. Vocal melody, piano accompaniment, lyrics, chord names and guitar chord diagrams. 88 pages. Published by Hal Leonard |
| | |
| --- | --- |
| | Don't Know Why "By Norah Jones. For voice, piano and guitar chords. Piano Vocal. Pop Vocal. Difficulty: medium. Single. Vocal melody, piano accompaniment, lyrics, chord names and guitar chord diagrams. 8 pages. Published by Hal Leonard" |
| | |
| --- | --- |
| | Play Piano With Norah Jones - Book/CD "(Piano Play-Along Vol. 121). By Norah Jones. For piano. Piano/Vocal/Guitar Artist Songbook. Pop Vocal, Jazz, Instructional and Play Along. Instructional book and accompaniment CD. Chord names and musical examples. 40 pages. Hal Leonard #AM84229. Publishe |
| | |
| --- | --- |
| | Come Away With Me "By Norah Jones. For piano, voice, and guitar (chords only). Jazz; Pop. 4 pages. Published by Hal Leonard - Digital Sheet Music" |
| | |
| --- | --- |
| | Come Away With Me - Easy Piano "By Norah Jones. For voice, easy piano and guitar chords. Easy Piano Personality. Pop Vocal and Jazz. Difficulty: easy to easy-medium. Songbook. Vocal melody, piano accompaniment, lyrics and chord names. 80 pages. Published by Hal Leonard" |
| | |
| --- | --- |
| | Feels Like Home "By Norah Jones. For voice, piano and guitar chords. Piano/Vocal/Guitar Artist Songbook. Pop Vocal and Jazz. Difficulty: medium. Songbook. Vocal melody, piano accompaniment, lyrics, chord names and guitar chord diagrams. 79 pages. Published by Hal Leonard |
| | |
| --- | --- |
| | E-Z Play Today #259 - Norah Jones: Come Away With Me "(E-Z Play Today Volume 259). For voice and keyboard. Hal Leonard E-Z Play Today. Pop Vocal and Jazz. Difficulty: easy. Keyboard/vocal/chords songbook (big note notation). Big note notation, lyrics, chord names and registration guide. 48 pages. Published |
| | |
| --- | --- |
| | Don't Know Why "By Norah Jones. For piano, voice, and guitar (chords only). Jazz; Pop. 6 pages. Published by Hal Leonard - Digital Sheet Music" |
| | |
| --- | --- |
| | Don't Know Why "By Norah Jones. Arranged by Paul Murtha. For jazz ensemble (vocal solo, alto sax 1, alto sax 2, tenor sax 1, tenor sax 2 (opt.), baritone sax, trumpet 1, trumpet 2, trumpet 3, trumpet 4 (opt.), trombone 1, trombone 2, trombone 3 (opt.), trombone 4 (opt.) |
| | |
| --- | --- |
| | The Nearness Of You By Norah Jones and Hoagy Carmichael. Jazz; Standards. Piano/Vocal/Guitar. 6 pages. Published by Hal Leonard - Digital Sheet Music |
| | |
| --- | --- |
| | Don't Know Why By Norah Jones. Arranged by Paris Rutherford. For SATB chorus and piano accompaniment (SATB). Jazz Chorals. Choral. Pop Vocal and Jazz. Difficulty: medium. Octavo. Chord names. 8 pages. Published by Hal Leonard |
| | |
| --- | --- |
| | Norah Jones - The Fall By Norah Jones. Piano/Vocal/Guitar Artist Songbook. Softcover. 88 pages. Published by Hal Leonard |
| | |
| --- | --- |
| | The Nearness Of You "By Norah Jones and Hoagy Carmichael. For piano, voice, and guitar (chords only). Jazz; Love; Standards. 4 pages. Published by Hal Leonard - Digital Sheet Music" |
| | |
| --- | --- |
| | Turn Me On "By Norah Jones. For piano, voice, and guitar (chords only). Pop. 4 pages. Published by Hal Leonard - Digital Sheet Music" |
| | |
| --- | --- |
| | Don't Know Why - Easy Piano "By Norah Jones. For voice and easy piano. Hal Leonard Easy Adult Piano. Pop Vocal and Jazz. Difficulty: easy-medium. Single. Vocal melody, easy piano notation, lyrics and chord names. 6 pages. Published by Hal Leonard" |
| | |
| --- | --- |
| | Not Too Late "By Norah Jones. For voice, piano and guitar (chords only). P/V/C. Pop vocal and jazz. Songbook. Vocal melody, lyrics, piano accompaniment, chord names and guitar chord diagrams. 82 pages. Published by Hal Leonard" |
| | |
| --- | --- |
| | Come Away With Me By Norah Jones. For easy piano. Jazz; Pop. 5 pages. Published by Hal Leonard - Digital Sheet Music |
| | |
| --- | --- |
| | Don't Miss You At All "By Norah Jones. For piano, voice, and guitar (chords only). Jazz; Pop. 5 pages. Published by Hal Leonard - Digital Sheet Music" |
| | |
| --- | --- |
| | Sinkin' Soon "By Norah Jones. For piano, voice, and guitar (chords only). Jazz; Pop. 6 pages. Published by Hal Leonard - Digital Sheet Music" |