Red Hot Chili Peppers
Red Hot Chili Peppers Biography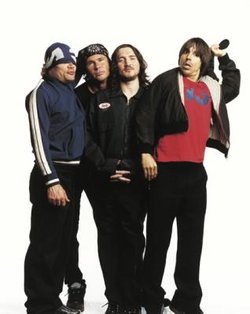 Red Hot Chili Peppers are a Californian rock band who have combined aspects of funk and hip-hop with rock and roll, pioneering funk metal. The band started in 1984.
One critic has summarized their lyrics as 'sex, good times, rock and roll and more sex' with some truth, though some of their biggest hits, such as Under The Bridge, have been considerably more introspective. Perhaps the most distinctive feature of their sound is the bass playing of Flea, whose flashy, slap-heavy playing not only provides a groove but is also the source of many musical flourishes. They are also well known for playing bare chested, in fact Flea often goes one step further and performs naked on stage.
Red Hot Chili Peppers' label were originally signed to an EMI subsidiary known as EMI Manhattan. Epic Records offered the band a contract where each member would be paid a million dollars, but through some odd fate, the deal did not fall through and the Red Hot Chili Peppers signed with Warner Brothers Records. Their breakthrough record Blood Sugar Sex Magik as well as all subsequent records were released on Warner Brothers Records and were produced by Rick Rubin.
Their earlier work was a fusion of funk and punk rock with a party attitude. After the sobering death of guitarist Hillel Slovak, the Red Hot Chili Peppers would also lose Jack Irons, which would lead to the addition of current members, John Frusciante and Chad Smith.
See also: Chain Reaction and Anthym (bands before Red Hot Chili Peppers)
Members
The current members of the band are:
Other guitarists who have played with the band are;
Other drummers who have played with the band are;
founding drummer Jack Irons (1982; 1986-1988), who went on to play with Pearl Jam and has recently released a solo album titled 'Attention Dimension'
Cliff Martinez (1982-1985) played on the first and second albums when Jack Irons was bound to a different record company
D.H. Peligro (1988-1989), drummer with Dead Kennedys
Discography
| | |
| --- | --- |
| | Red Hot Chili Peppers (1984) - True Men Don't Kill Coyotes, Baby Appeal, Buckle Down, Get Up and Jump, Why Don't You Love Me, Green Heaven, Mommy Where's Daddy, Out in L.A., Police Helicopter, You Always Sing, Grand Pappy du Plenty |
| | Freaky Styley (1985) (produced by George Clinton) - Jungle Man, Hollywood, American Ghost Dance, If You Want Me to Stay, Nevermind, Freaky Styley, Blackeyed Blonde, The Brothers Cup, Battle Ship, Lovin' and Touchin', Catholic School Girls Rule, Sex Rap, Thirty Dirty Birds, Yertle the Turtle |
| | The Uplift Mofo Party Plan (1987) - Fight Like a Brave, Funky Crime, Me and My Friends, Backwoods, Skinny Sweaty Man, Behind the Sun, Subterranean Homesick Blues (Bob Dylan), Special Secret Song Inside, No Chump Love Sucker, Walkin' On Down the Road, Love Trilogy, Organic Anti-Beat Box Band |
| | The Abbey Road E.P. (1988) - Fire, Backwoods, Catholic School Girls Rule, Hollywood, True Men Don't Kill Coyotes |
| | Mother's Milk (1989) - Good Time Boys, Higher Ground (Stevie Wonder), Subway to Venus, Magic Johnson, Nobody Weird Like Me, Knock Me Down, Taste the Pain, Stone Cold Bush, Fire (Jimi Hendrix), Pretty Little Ditty, Punk Rock Classic, Sexy Mexican Maid, Johnny Kick a Hole in the Sky |
| | Blood Sugar Sex Magik (1991) - The Power of Equality, If You Have to Ask, Breaking the Girl, Funky Monks, Suck My Kiss, I Could Have Lied, Mellowship Slinky in B Major, The Righteous & the Wicked, Give It Away, Blood Sugar Sex Magik, Under the Bridge, Naked in the Rain, Apache Rose Peacock, The Greeting Song, My Lovely Man, Sir Psycho Sexy, They're Red Hot |
| | What Hits!? (greatest hits, 1992) - Higher Ground, Fight Like a Brave, Behind the Sun, Me and My Friends, Backwoods, True Men Don't Kill Coyotes, Fire, Get Up and Jump, Knock Me Down, Under the Bridge, Show Me Your Soul, If You Want Me to Stay, Hollywood, Jungle Man, The Brothers Cup, Taste the Pain, Catholic School Girls Rule, Johnny Kick a Hole in the Sky |
| | Out In L.A. (rarities and b-sides, 1994) |
| | One Hot Minute (1995) - Warped, Aeroplane, Deep Kick, My Friends, Coffee Shop, Pea, One Big Mob, Walkabout, Tearjerker, One Hot Minute, Falling into Grace, Shallow Be Thy Game, Transcending |
| | Californication (1999) - Around the World, Parallel Universe, Scar Tissue, Otherside, Get on Top, Californication, Easily, Porcelain, Emit Remmus, I Like Dirt, This Velvet Glove, Savior, Purple Stain, Right on Time, Road Trippin' |
| | By the Way (2002) - By the Way, Universally Speaking, This Is the Place, Dosed, Don't Forget Me, The Zephyr Song, Can't Stop, I Could Die For You, Midnight, Throw Away Your Television, Cabron, Tear, On Mercury, Minor Thing, Warm Tape, Venice Queen |
| | Greatest Hits (2003) - Under the Bridge, Give It Away, Californication, Scar Tissue, Soul to Squeeze, Otherside, Suck My Kiss, By the Way, Parallel Universe, Breaking the Girl, My Friends, Higher Ground, Universally Speaking, Road Trippin', Fortune Faded, Save the Population |
| | Live in Hyde Park (2004) - CD1: Intro, Can't Stop, Around The World, Scar Tissue, By The Way, Fortune Faded, I Feel Love, Otherside, Easily, Universally Speaking, Get On Top, Brandy, Don't Forget Me, Rolling Sly Stone; CD2: Throw Away Your Television, Leverage of Space, Purple Stain, Zephyr Song, Californication, Right On Time, Parallel Universe, Drum Homage Medley, Under The Bridge, Black Cross, Flea's Trumpet Treated by John, Give It Away |
This biography is published under the
GNU Licence