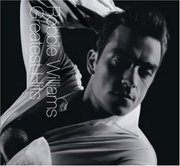 Robert Peter Williams (born February 13, 1974 in Burslem, Stoke-on-Trent, Staffordshire) is a British pop singer. Originally a member of boy band Take That, he split from the group in 1995 and launched a solo career, following a highly publicized battle with drug and alcohol addiction during which he put on nearly 40 pounds (18 kg) and was often seen in public poorly dressed, dirty and unshaven.
Solo career
Before his rising as a superstar, Robbie used to hang in 1996 with the Gallagher brothers - Noel and Liam of then-famous Britpop stars Oasis. Robbie expected to get some Noel-written songs so he could start a career. After few months with cocaine-fueled parties, the loud-mouthed brothers showed him the door.
In 1996 he released his first solo single 'Freedom', a cover of the 1990 George Michael hit. Though this was a success it was not until the release of the single 'Angels' that his solo career took off in Europe. Although it reached number one in many countries, it only managed to get to number four in the official UK singles chart in December 1997 – he would have to wait until September 19, 1998 for his first number one with 'Millennium', which also charted in the USA. The song was built around a sample from the theme to the James Bond film 'You Only Live Twice', and the accompanying video featured numerous 007 references.
Williams quickly became a major celebrity in the UK with numerous top ten singles. In 1999 he collaberated with singer Tom Jones for a track on the album Reload.
He broke the United States in 2000 with his hit song 'Rock DJ'. The video featured Williams in a roller disco as he stripped nude and then proceeded to strip off his own flesh, muscle tissue and organs until he was a dancing skeleton. It is said that the frontal nudity was edited out in the US while the gore was left in, whereas the opposite was true for the UK. The video's ending was cut by many TV stations around the world and the whole video was forbidden in some countries (VH1 Europe even made their own video out of recording studio footage). Williams has built quite a reputation for appearing nude (or nearly nude) in photographs, videos and live performances.
His global success was cemented after a duet cover version of the Frank and Nancy Sinatra song 'Somethin' Stupid' with Australian actress Nicole Kidman, who was fresh off of her Oscar-nomnated performance in Moulin Rouge. In 2002 he released an album called Swing When You're Winning in which his image was tamed down and he sang jazz, blues and pop standards from the fifties. Williams' cover of the Bobby Darin classic 'Beyond the Sea' was included in the Finding Nemo soundtrack.
In 2002 he stopped working with his long-term writing partner Guy Chambers, who had co-written most of his singles. However, they regrouped again after six months during the making of his next album, Escapology, which was released in late 2002. The first single from it, 'Feel', had big success arround Europe. The video for the next single, 'Come Undone', featured Williams having sex at a party (actually with his pants on), and also images of insects and reptiles. Therefore a censored version was released that MTV Networks Europe chose to edit a little more and to play it only to the half.
Williams appears in the 2002 List of the '100 Greatest Britons' (sponsored by the BBC and voted for by the public). He toured Australia and New Zealand in December of 2003 with Duran Duran and performed the title song for the movie Johnny English. An official biography, 'Feel', has become an instant bestseller in the UK since its publication in September 2004. Williams currently lives in Los Angeles.
His Greatest Hits album was released on 18th October, 2004. The first new single to be taken from the album was called 'Radio' (has an 80s new wave feel), which went straight to number one, selling just over 40,000 copies in the first week. The other new track on the album is called 'Misunderstood' and did not fair as well as expected, making a mere #8, due to high sales of Band Aid 20 keeping it away from the top, on which he did perform. It is featured on the soundtrack to Bridget Jones's Diary 2.
Williams' private life is always under intense scrutiny in the British media, and his romances are always guaranteed column inches. However, due to his new relationships often co-inciding with his singles releases, and bearing in mind the persistent rumours of his homosexuality, much news surrounding him can often be attributed to his publicity agents.
Discography
Albums
UK hit singles
The highest position in the US charts was #41 for 'Angels'.
External links
This biography is published under the
GNU Licence