| | |
| --- | --- |
| | Santana |
Santana Biography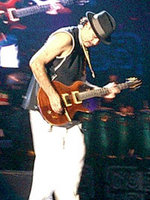 Carlos Santana (born July 20, 1947) is a famous Mexican rock and roll guitarist, originally from Autlan de Navarro, Jalisco. He became famous in the 1960s with his eponymous band Santana.
Carlos Santana's father was a mariachi violinist and young Carlos learned the violin originally, but switched to the guitar when he was eight years old. After a family move to Tijuana, Santana began playing in clubs and bars; he remained in Tijuana when his family moved to San Francisco, California, but soon joined them. In 1966, he helped found the Santana Blues Band, eventually shortened to simply Santana. The band started playing at the Fillmore West, where many of the great San Francisco bands began. Santana's recording debut occurred on The Live Adventures of Mike Bloomfield and Al Kooper with Al Kooper and Mike Bloomfield.
Soon signed to Columbia Records, Santana released a self-titled album, Santana, the group at this point consisting of Carlos Santana (guitar), Gregg Rolie (keyboards and vocals), David Brown (bass guitar), Michael Shrieve (drums), Jose Areas (percussion) and Michael Carabello (percussion). On the tour to support the album, the band played at Woodstock; the set was legendary and vastly increased Santana's popularity. Santana became a huge hit, as did Abraxas (1970) and Santana III (1971). The original Santana band then disbanded. Rolie went on to become a founding member of Journey.
Carlos Santana himself never sings in this band, and his partner Buddy Miles does not sing either. They only play instrumental music in the early songs, which they became #1 on the U.S. singles charts. However, Carlos Santana has continued on playing his electrical guitar, while many of the musical guest stars sing their own songs on the U.S. singles charts, since 1999.
Carlos Santana used the name and a series of changing musicians to continue to tour around the country, releasing several albums. During this period, Carlos took the name 'Devadip', bestowed upon him by spiritual leader Sri Chinmoy. Many albums followed in the 1970s and 80s, including collaborations with Willie Nelson, Herbie Hancock, Booker T. Jones, Wayne Shorter, Ron Carter and The Fabulous Thunderbirds. In 1991, Santana made a guest appearance on Ottmar Liebert's album 'Solo Para Ti', on the songs 'Reaching Out 2 U' and a cover of his own song, 'Samba Pa Ti'. He was inducted into the Rock and Roll Hall of Fame in 1998.
Carlos Santana dramatically returned to popular consciousness in 1999, upon the release of Supernatural, which included collaborations with Rob Thomas, Eric Clapton and Lauryn Hill. Supernatural was Santana's best-selling album ever, reaching number one on the Billboard albums chart, and won nine Grammy Awards.
In 2001 Santana released Shaman, revisiting the Supernatural format of guest artists including P.O.D., Seal, and Michelle Branch.
External links
This biography is published under the
GNU Licence
Items to buy by Santana
| | |
| --- | --- |
| | 101 Montunos By Rebeca Mauleon-Santana. Edited by Rebeca Mauleon-Santana. For Piano. The ultimate resource for the aspiring as well as the seasoned Afro-Caribbean pianist. Afro-Caribbean. Book and 2 CD Package. Published by Sher Music Company |
| | |
| --- | --- |
| | Ultimate Santana (Piano/Vocal/Chords). By Carlos Santana. For Keyboard; Piano; Voice. This edition: Piano/Vocal/Chords. Artist/Personality; Personality Book; Piano/Vocal/Chords. Latin. Book. 108 pages. Published by Alfred Music Publishing |
| | |
| --- | --- |
| | Europa - Earth's Cry Heaven's Smile "By Carlos Santana. By Carlos Santana and Tom Coster. For solo guitar. This edition: Guitar/TAB/Vocal. Artist/Personality; Guitar Sheet; Guitar TAB; Solo. Rock and Pop Rock. Difficulty: medium-difficult. Guitar tablature single. Guitar tablature, standard |
| | |
| --- | --- |
| | Santana's Greatest Hits "By Santana. For guitar, voice, bass guitar, organ, drum set and percussion. Hal Leonard Transcribed Scores. Rock, Pop Rock and Latin. Difficulty: medium. Complete score songbook. Guitar tablature, standard notation, vocal melody, lyrics, chord names, gui |
| | |
| --- | --- |
| | Jam with Carlos Santana "(Guitar/Vocal). By Carlos Santana. For guitar. This edition: Guitar/Vocal. Artist/Personality; Guitar Method or Supplement. Jam with.... Rock and Pop Rock. Difficulty: medium. Instructional book and accompaniment CD. Guitar tablature, standard notation, |
| | |
| --- | --- |
| | Ultimate Santana (Authentic Guitar TAB). By Carlos Santana. For Guitar. This edition: Authentic Guitar TAB. Artist/Personality; Authentic Guitar TAB; Guitar Personality; Guitar TAB. Latin. Book. 184 pages. Published by Alfred Music Publishing |
| | |
| --- | --- |
| | Santana -- Guitar Heaven (The Greatest Guitar Classics of All Time (Authentic Guitar TAB)). For Guitar. This edition: Authentic Guitar TAB. Artist/Personality; Authentic Guitar TAB; Book; Guitar Personality; Guitar TAB. Latin. 144 pages. Published by Alfred Music Publishing |
| | |
| --- | --- |
| | Smooth "By Carlos Santana and Rob Thomas. By Rob Thomas and Itaal Shur. For voice, piano and guitar chords. This edition: Piano/Vocal/Chords. Artist/Personality; Piano/Vocal/Chords; Sheet; Solo. Original Sheet Music. Rock and Pop Rock. Difficulty: medium. Single |
| | |
| --- | --- |
| | Carlos Santana -- Easy Guitar Anthology By Carlos Santana. For Guitar. This edition: EZ (Easy) Guitar. Artist/Personality; Guitar Personality. Latin. Book. 64 pages. Published by Alfred Music Publishing |
| | |
| --- | --- |
| | Samba Pa Ti By Santana. By Carlos Santana. For guitar. Latin; Rock. Guitar TAB. 7 pages. Published by Hal Leonard - Digital Sheet Music |
| | |
| --- | --- |
| | Santana "(Authentic Guitar TAB). By Carlos Santana. For guitar and voice. This edition: Authentic Guitar TAB. Artist/Personality; Authentic Guitar TAB; Guitar Personality; Guitar TAB. Rock and Pop Rock. Difficulty: medium. Guitar tablature songbook. Guitar tablat |
| | |
| --- | --- |
| | Oye Como Va "By Santana, Percy Faith, and Tito Puente. For piano, voice, and guitar (chords only). Disco; Latin; Pop; Rock. Piano/Vocal/Guitar. 3 pages. Published by Hal Leonard - Digital Sheet Music" |
| | |
| --- | --- |
| | Santana's Greatest Hits "By Santana. For guitar and voice. Hal Leonard Guitar Recorded Versions. Rock, Pop Rock and Latin Pop. Difficulty: medium. Guitar tablature songbook. Guitar tablature, standard notation, vocal melody, lyrics, chord names, guitar chord diagrams, guitar not |
| | |
| --- | --- |
| | The Game Of Love "By Santana and Michelle Branch. For piano, voice, and guitar (chords only). Pop. Piano/Vocal/Guitar. 6 pages. Published by Hal Leonard - Digital Sheet Music" |
| | |
| --- | --- |
| | Oye Como Va By Santana and Tito Puente. For easy guitar. Easy Guitar with TAB. Latin; Pop; Rock. Easy Guitar with TAB. Standard notation with tablature. 3 pages. Published by Hal Leonard - Digital Sheet Music |
| | |
| --- | --- |
| | Oye Como Va By Santana. By Tito Puente. Arranged by Paul Murtha. Discovery Jazz. Grade 1.5. Book with CD. Published by Hal Leonard |
| | |
| --- | --- |
| | Supernatural "(Authentic Guitar TAB). By Santana. For guitar and voice. This edition: Authentic Guitar TAB. Artist/Personality; Authentic Guitar TAB; Guitar Personality; Guitar TAB. Rock, Pop Rock and Latin Pop. Difficulty: medium. Guitar tablature songbook. Guitar ta |
| | |
| --- | --- |
| | Smooth "By Santana, Rob Thomas, and Santana featuring Rob Thomas. For piano, voice, and guitar (chords only). Latin; Pop; Rock. 7 pages. Published by Hal Leonard - Digital Sheet Music" |
| | |
| --- | --- |
| | Into the Night By Santana and Chad Kroeger. By Chad Kroeger. For Keyboard; Piano; Voice. This edition: Piano/Vocal/Chords. Artist/Personality; Piano/Vocal/Chords; Sheet; Solo. Original Sheet Music Edition. Pop. Sheet. 6 pages. Published by Alfred Music Publishing |
| | |
| --- | --- |
| | Classic Santana (1969-1990) "(Authentic Guitar TAB). By Carlos Santana. For guitar and voice. This edition: Authentic Guitar TAB. Artist/Personality; Authentic Guitar TAB; Guitar Personality; Guitar TAB. Authentic Guitar-Tab Editions. Rock and Pop Rock. Guitar tablature songbook. Gu |