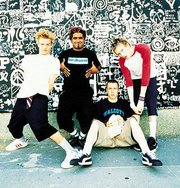 Sum 41 is a Canadian rock band, formed from members of rival bands 41 days into the summer of 1996. They signed a record deal with Island Records in 1999 releasing several international hit singles beginning with 2001's 'Fat Lip'.
In 2003, lead vocalist Deryck Whibley was said to have had a relationship with hotel heiress/model Paris Hilton but is now dating Avril Lavigne, while drummer Steve Jocz was said to have had a relationship with Paris's The Simple Life co-star Nicole Richie. They also did a song called 'Little Know it All' with Iggy Pop on Iggy's new album Skull Ring.
The song Still Waiting (from Does This Look Infected?) appears as the theme song for Obscure, a survival horror game from Hydravision published by MC2-Micro´ds for PC and console platforms in 2004.
Sum 41 has a new album Chuck, that came out on October 12th, 2004 with their first single 'We're All To Blame'.
Discography
Full-Lengths
VHS & DVDs
Line-Up
External links
This biography is published under the
GNU Licence