Tina Turner - Biography
Tina Turner Biography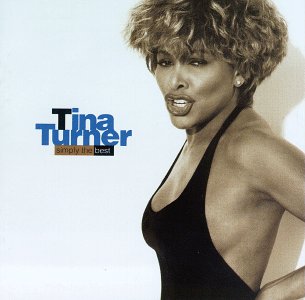 Tina Turner (born Anna Mae Bullock on November 26, 1939) is an African American, Native American, R&B, pop, rock and soul singer, Buddhist and occasional actress probably best known for her scorching performances with the Ike and Tina Turner Revue and for her remarkable solo comeback in the mid-1980s.
Tina Turner is noted for her overpowering stage presence -- long legs, big hair, and powerful voice. She was discovered by Ike Turner, a noted pioneer of rock and roll, whom she later married. She began as a occasional vocalist in his show at the age of 18, but within a couple of years she not only had a new name, but was the spotlight of a popular soul revue led by Ike Turner and his Kings of Rhythm.
Ike and Tina Turner recorded a number of hits in the 1960s, including 'A Fool In Love', 'It's Gonna Work out Fine', and the legendary 'River Deep, Mountain High' (with producer Phil Spector). Their signature hit became their frantic rendition of 'Proud Mary' (1971).
Ike's increasingly abusive behavior led Tina to abruptly leave him in 1976. She credits her newfound Buhddist faith with giving her the courage to strike out on her own. Around this time, she appeared solo in a memorable cameo as the Gypsy Acid Queen in the film of The Who's Tommy rock opera. Tina finalized her divorce in 1978 after 18 years of marriage, accusing Turner of years of severe spousal abuse and rampant drug addiction in her autobiography I, Tina, which was later made into the film What's Love Got to Do with It. To put the marriage (and Ike) behind her, Tina left the marriage with no money or property, asking for and retaining only the use of the stage name Ike had given her.
She began touring extensively to pay the bills and released several solo albums in the 1970s, but her career stalled until teaming with BEF for a remake of 'Ball of Confusion' drawing the attention of Capitol Records. The 1984 album Private Dancer had three top ten singles: 'What's Love Got to Do with It', the title track, and 'Better Be Good To Me'.
In 1985, she appeared as Aunty Entity in Mad Max Beyond Thunderdome with Mel Gibson, and scored another hit with the movie's theme song, 'We Don't Need Another Hero'.
She led several extensive world tours in the 1980s and 1990's and released several more successful albums.
In 1995, she recorded the title theme of the James Bond movie GoldenEye.
Her last world tour, which ended in 2000, was a sell out.
Tina has two natural sons (one is Ike's, the other from a previous relationship with a musician from the Kings of Rhythm). She also raised Ike's two sons from his previous marriage.
She gained great popularity throughout Europe and moved there permanently in 1986 to share a home with Erwin Bach, a German-born EMI record company executive 16 years her junior. In addition to a lakeshore home on the Goldküste, the most exclusive district of Zurich, Switzerland, Turner has an estate in France at Villefranche-sur-Mer, a small town about 4 miles (6km) east of the city of Nice. Her home there sits atop Mont Vinaigrier, overlooking the Mediterranean Sea.
Now semi-retired, she teamed up with Phil Collins to record a song for the Disney film Brother Bear (2003).
She is currently preparing for the release of her next album, which is a greatest hits with two new tracks. Her next single is currently being air played in the UK, which has had mixed reactions from listeners.
Albums
1973 'The Country of Tina Turner'
1975 'Acid Queen' #155 US
1978 'Rough'
1979 'Love Explosion'
1984 'Private Dancer' #3 US, #2 UK, US Sales: 5,000,000
1985 'Mad Max: Beyond Thunderdome' #41 US
1986 'Break Every Rule' #23 US, #2 UK, US Sales: 1,000,000
1988 'Tina Live in Europe' #86 US, #8 UK
1989 'Foreign Affair' #31 US, #1 UK, US Sales: 500,000
1991 'Simply the Best' (compilation) #113 US, #2 UK, US Sales: 1,000,000
1993 'What's Love Got to Do with It' #17 US, #1 UK, US Sales: 1,000,000
1994 'The Collected Recordings - Sixties to Nineties'
1996 'Wildest Dreams' #61 US, #4 UK
1999 'Twenty Four Seven' #21 US, #9 UK, US Sales: 500,000
2004 'All the Best' (compilation)
Hit singles
from Private Dancer

1983 'Let's Stay Together' #26 US (1984 release), #6 UK
1984 'Help!' #40 UK
1984 'What's Love Got to Do with It' #1 US, #3 UK
1984 'Private Dancer' #7 US, #26 UK
1984 'Better Be Good to Me' #5 US
1985 'Show Some Respect' #37 US

from Mad Max: Beyond Thunderdome

1985 'We Don't Need Another Hero (Thunderdome)' #2 US, #3 UK
1985 'One of the Living' #15 US

from Reckless (Bryan Adams album)

1985 'It's Only Love' (with Bryan Adams) #15 US, #29 UK

from Break Every Rule

1986 'Typical Male' #2 US, #33 UK
1986 'Two People' #30 US
1987 'What You Get Is What You See' #13 US, #30 UK

from Foreign Affair

1989 'The Best' #15 US, #5 UK
1989 'I Don't Wanna Lose You' #8 UK
1989 'Steamy Windows' #39 US, #13 UK (1990 release)
1990 'Look Me in the Heart' #31 UK
1990 'Be Tender with Me Baby' #28 UK

from Vagabond Heart (Rod Stewart album)

1990 'It Takes Two' (with Rod Stewart) #5 UK

from Simply the Best

1991 'Nutbush City Limits' #23 UK
1991 'Way of the World' #13 UK
1992 'Love Thing' #29 UK
1992 'I Want You Near Me' #22 UK

from What's Love Got to Do with It

1993 'I Don't Wanna Fight' #9 US, #7 UK
1993 'Disco Inferno' #12 UK
1993 'Why Must We Wait Until Tonight' #16 UK

from Goldeneye soundtrack
from Wildest Dreams

1996 'Whatever You Want' #23 UK
1996 'On Silent Wings' #13 UK
1996 'Missing You' #12 UK
1996 'Something Beautiful Remains' #27 UK
1996 'In Your Wildest Dreams' (feat. Barry White) #32 UK

from Twenty Four Seven

1999 'When the Heartache Is Over' #10 UK
2000 'Whatever You Need' #27 UK

from All the Best
External link
This biography is published under the
GNU Licence