Free Blink 182 Piano Sheet Music
Free Blink 182 Piano Sheet Music
Sorry, no Free Blink 182 Piano Sheet Music available for at present.
Please try another option.



About Blink 182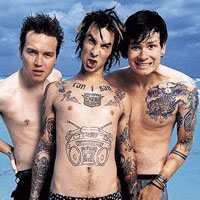 blink-182 (formerly known as blink) was a Southern-Californian pop punk band that was formed in 1992 by Tom Delonge and Mark Hoppus. Along with Green Day, they are credited for starting the post-grunge pop punk revolution.

Read More
Sheet Music to Buy by Blink 182
| | |
| --- | --- |
| | Best of Blink 182 "By Blink 182. For drum set and voice. Hal Leonard Drum Recorded Versions. Pop Rock. Difficulty: medium. Drum songbook. Drum notation, chord names, vocal melody, lyrics and drum notation legend. 72 pages. Published by Hal Leonard" |
| | |
| --- | --- |
| | Best of Blink-182 "(A Step-by-Step Breakdown Of Tom De Longe's Guitar Styles And Techniques). By Blink 182. For guitar and voice. Hal Leonard Guitar Signature Licks. Pop Rock, Punk Rock and Instructional. Instructional book (song excerpts only) and accompaniment/examples C |
| | |
| --- | --- |
| | Greatest Hits "By Blink 182. For guitar and voice. Hal Leonard Guitar Recorded Versions. Pop Rock and Pop Punk. Guitar tablature songbook. Guitar tablature, standard notation, vocal melody, lyrics, chord names and guitar chord diagrams. 96 pages. Published by Hal Leona |
| | |
| --- | --- |
| | First Date "By Blink 182. For piano, voice, and guitar (chords only). Alternative; Pop; Rock. 6 pages. Published by Hal Leonard - Digital Sheet Music" |
| | |
| --- | --- |
| | Best Of Blink-182 - Bass "(Bass Recorded Versions). By Blink 182. For bass guitar and voice. Hal Leonard Bass Recorded Versions. Alternative Rock. Difficulty: medium. Bass tablature songbook. Bass tablature, standard notation, vocal melody, lyrics and chord names. 64 pages. Publi |
| | |
| --- | --- |
| | All the Small Things "By Blink 182. For voice, piano and guitar (chords only). Piano Vocal. Punk Rock and Pop Rock. Difficulty: medium. Single. Vocal melody, piano accompaniment, lyrics, chord names and guitar chord diagrams. 7 pages. Published by Hal Leonard" |
| | |
| --- | --- |
| | blink-182 (Drum Play-Along Volume 10). By Blink 182. Drum Play-Along. Play Along. Softcover with CD. 48 pages. Published by Hal Leonard |
| | |
| --- | --- |
| | Enema Of The State "By Blink 182. For guitar and voice. Hal Leonard Guitar Recorded Versions. Alternative Rock and Punk Rock. Difficulty: medium. Guitar tablature songbook. Guitar tablature, standard notation, vocal melody, lyrics, chord names, guitar chord diagrams and gui |
| | |
| --- | --- |
| | Take Off Your Pants And Jacket "By Blink 182. For guitar and voice. Hal Leonard Guitar Recorded Versions. Alternative Rock. Difficulty: medium. Guitar tablature songbook. Guitar tablature, standard notation, vocal melody, lyrics, chord names, guitar chord diagrams and guitar notation l |
| | |
| --- | --- |
| | Blink 182 "(More Than 40 Note-for-Note Guitar Transcriptions). By Blink 182. For guitar and voice. Hal Leonard CD ROM Sheet Music. Pop Rock. Difficulty: medium to medium-difficult. CD-ROM (Windows and Mac). Standard guitar notation, guitar tablature, vocal melody, |
| | |
| --- | --- |
| | Blink-182 "By Blink 182. For guitar and voice. Hal Leonard Guitar Recorded Versions. Pop Rock. Difficulty: medium. Guitar tablature songbook. Guitar tablature, standard notation, vocal melody, lyrics, chord names and guitar chord diagrams. 80 pages. Published by Ha |
| | |
| --- | --- |
| | blink-182 (Guitar Play-Along Volume 58). By Blink 182. Guitar Play-Along. Play Along. Softcover with CD. Guitar tablature. 48 pages. Published by Hal Leonard |
| | |
| --- | --- |
| | Dammit By Blink 182. For easy guitar. Easy Guitar with TAB. Pop; Punk; Rock. Easy Guitar with TAB. Standard notation with tablature. 4 pages. Published by Hal Leonard - Digital Sheet Music |