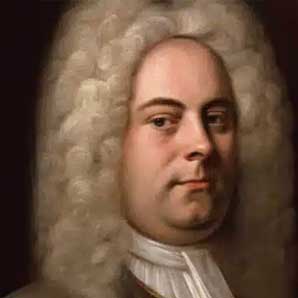 Baroque Music for Flute
Baroque Music for Flute
A collection of pieces from the Baroque Era for Flute with piano accompaniment. Easy to Advanced Level
1. Bach - Air on the G string

Originally part of the orchestral suite No 3 and written for Prince Leopold, Bach's employer in the little principality of Anhalt-Cothen between 1717 and 1723, the 'Air on the G string' arrived in its current popular form over 100 year later, when German violinist August Wilhelm arranged the piece for violin and piano to be played on the evocative G-string of the violin. The theme was made famous in the UK through its use in Hamlet cigar advertising. In film and television it has been used to produce an atmosphere of serenity, perhaps most famously in the library scene of the 1995 police thriller "Se7en."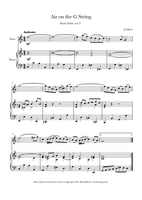 Air on the G string
2. Vivaldi - Spring from 'The Four Seasons'

One of the most famous and well-loved of all baroque works, the four seasons are the first of 12 concerti that make up "Il Cemento Dell'armonia e dell'inventione" ("The Contest of Harmony and Invention"). They were originally written for solo violin and orchestra. The opening movement of the first of the concerto suggests all the joy and expectation of its title, "Spring."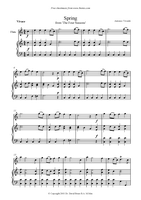 Spring from 'The Four Seasons'
3. Albinoni - Adagio

Perhaps the most well-known piece by a lesser-known composer, Albinoni's melancholic adagio has featured countless times in film and TV, including in Manchester by the Sea, Orson Welles's The Trial, Flashdance and even The Inbetweeners 2. Ironically, it may not have been written by the composer, some claiming it to be a hoax by Italian musicologist Remo Giazotto, who catalogued the composer's works.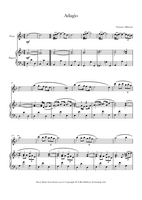 Adagio
4. Pachelbel - Canon in D
(8notes PREMIUM)

Pachelbel's most famous work, originally for three violins and basso continuo, but since arranged for a wide variety of instruments. It has a hypnotic quality derived from its repeating chordal pattern and the inevitability with which it gathers rhythmic momentum. It often played weddings, providing an atmospheric accompaniment for the arrival of the bridal party.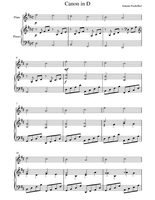 Canon in D
(8notes PREMIUM)
5. Handel - Theme from Water Music

This exhilarating work, also titled "Alla Hornpipe," is taken from the second suite of Handel's celebrated "Water Music." "Water Music" premiered on 17 July 1717 after King George I had requested a concert on the River Thames. The king was so pleased with it that he ordered it to be repeated at least three times, both on the trip upstream to Chelsea and on the return to Whitehall.
Theme from Water Music
6. Scarlatti - Siciliano

Sicilian-born composer Alessandro Scarlatti established the form of the "aria siciliana" in his operas, a tradition inherited by his son, also a composer, Dominico Scarlatti. This delightful piece is a good example of the idiom, being in compound duple time and with a cheerful pastoral quality.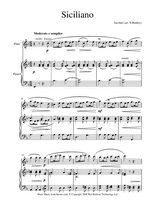 Siciliano
7. Monteverdi - Pur ti miro From l'Incoronazione di Poppea

Although this erotically-charged duet is undoubtedly the most famous moment in Monteverdi's opera, ironically, it may not actually have been written by the great man. The opera remained unfinished on Monteverdi's death in 1643 and the text for this scene does not appear in the published libretto. The words may have been written by composer-librettist Benedetto Ferrari; they appear in the libretto of his 1641 opera "Il pastor regio."
Pur ti miro From l'Incoronazione di Poppea
8. Purcell - Rondeau from Abdelazer

Henry Purcell's Rondeau is the second movement of a suite of ten written as incidental music for a revival of Aphra Behn's play "Abdelazer" in 1695. It is the best remembered part of the suite, both in its original form and in adaptations—composer Benjamin Britten used it in his "The Young Person's Guide to the Orchestra" (1946), it can be hard in the television series "The First Churchills" (1969) and "Pride and Prejudice" (2005) and was even used, in an arrangement by Andrew Lloyd Webber, as the election music for the British Conservative Party in the 1992 general election.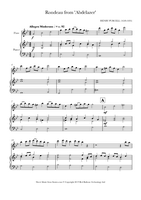 Rondeau from Abdelazer
9. Bach - Jesu Joy of Mans Desiring
(8notes PREMIUM)

One of Bach's most familiar pieces, "Jesu Joy of Man's Desiring" is a setting of a chorale from cantata 147 "Herz und Mund und Tat und Leben,' written in 1723. A cantata is a Lutheran (the religion of Bach) hymn. Essentially the harmonised hymn, sung to the words "Jesu Joy" ("Jesus bleibet meine Freude"), is accompanied by joyful compound triple time quavers. It is an immensely popular setting, often heard at weddings and other festive occasions, both in its original choral form and in various arrangements.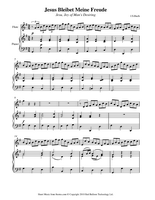 Jesu Joy of Mans Desiring
(8notes PREMIUM)
10. Rameau - Danse des Sauvages from Les Indes Galantes

The opera "Les Indes Galantes" was something of breakthrough work for composer Jean-Phillipe Rameau, remarkable given that he was already in his forties when he wrote it. Despite the lukewarm reception of its first performance in 1735, it went on to achieve great success in its revised versions and led to a sequence of other dramatic works from the composer. The best-known part of the work is this atavistic dance, which occurs in the final part of the work "Les Sauvages" ("The Savages").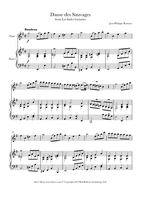 Danse des Sauvages from Les Indes Galantes
11. Handel - Hallelujah from Messiah (complete)
(8notes PREMIUM)

The oratorio "Messiah" is Handel's most famous work (approached only by his "Water Music") and remains immensely popular among concert-goers in the English-speaking world. The "Hallelujah Chorus" is the most famous movement of the work and concludes the second of the three parts. Legend has it that on hearing it, King George II was moved to stand up in appreciation. The audience, naturally, followed the King's lead and stood up too. To this day audiences continue to stand in appreciation of this marvellous and exhilarating chorus.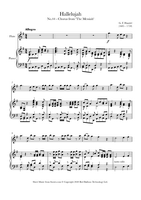 Hallelujah from Messiah (complete)
(8notes PREMIUM)
12. Pergolesi - Stabat Mater

Many works have been mistakenly attributed to Giovanni Battista Pergolesi (1710–1736), but his setting of the Stabat Mater (a Christian hymn to Mary), for soprano and alto, is definitely by him—a manuscript in his hand survives to this day. He is said to have finished it just before he died of tuberculosis at the age of just 26. It was popular following his death and remains so to this day. It has been recorded at least 30 times since the 1980s and was also used in early scenes in the 1984 Miloš Forman film "Amadeus."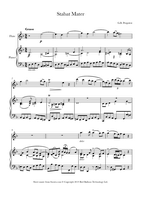 Stabat Mater