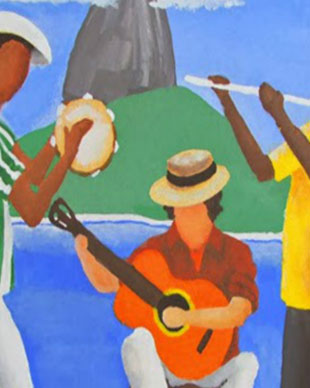 Brazilian Choro for Flute Compilation
Brazilian Choro for Flute Compilation
A collection of Choro pieces by Brazilian Choro composers, specially arranged for flute and piano. Intermediate to Advanced Level. Choro is an instrumental Brazilian popular music genre which originated in 19th century Rio de Janeiro. Despite it's name, which means "little cry" or "little lament", the music often has a fast and happy rhythm. Choro is considered the first characteristically Brazilian genre of urban popular music.
1. Zequinha Abreu - Tico-Tico no fuba

"Tico-Tico no fubá" is the title of a renowned Brazilian choro song composed by Zequinha de Abreu in 1917. Its original title was "Tico-Tico no Farelo," but since Brazilian guitarist Américo Jacomino Canhoto (1889–1928) had a work with the same title, Abreu's work was given its present name in 1931. "Fubá" is a type of maize flour and "tico-tico" is the name of a bird, the rufous-collared sparrow (Zonotrichia capensis). Hence, "tico-tico no fubá" means "sparrow in the cornmeal."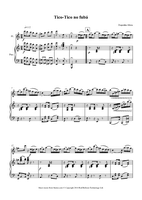 Tico-Tico no fuba
2. Chiquinha Gonzaga.. - Gaucho (Tango Brasileiro)

The Brazilian tango "Gaúcho" is Chiquinha Gonzaga's most recorded song. It was a song from the burlesque operetta "Zizinha Maxixe" of 1895. The piece is subtitled "Dança do Corta-jaca," literally meaning "cut the jackfruit." It is a Brazilian traditional dance, characterized by energetic individual spins, gymnastic moves, and percussive footwork. The song caused a minor scandal when the First Lady of Brazil, Nair de Teffé, performed it on guitar in public in 1914.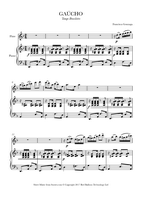 Gaucho (Tango Brasileiro)
3. Ernesto Nazareth - Brejeiro (Tango Brasileiro)

One of Ernesto Nazareth's most famous compositions, published in 1893 by Casa Vieira Machado. It was sold to them for a very small sum, eventually earning them so much money that they gave him an umbrella with a golden handle at party held in his honour. The piece is dedicated to his nephew Gilberto de Meirelles Nazareth, also known as "Gigi."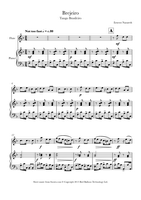 Brejeiro (Tango Brasileiro)
4. Chiquinha Gonzaga.. - Cubanita (Habanera 1898)

"Cubanita" was composed by Chiquinha Gonzaga in 1898. It is a habanera, a type of dance that derives from from the French contradanse (itself derived from the English country dance). The contradanse was brought to the Americas by colonists, developing its own distinct style in Cuba, becoming, in fact, the first Cuban dance to gain international popularity.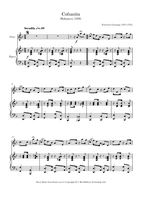 Cubanita (Habanera 1898)
5. Chiquinha Gonzaga.. - Atraente (Polka)

"Atraente" (literally "Attractive") was written by Chiquinha Gonzaga in 1877. The piece shot her to sudden fame, with 15 editions printed in 1877 alone. Her success was not viewed positively in all parts of the then patriarchal Brazilian society, with even her own family attempting to destroy copies of the score. They could not, however, prevent its success nor, indeed, the trailblazing career it launched.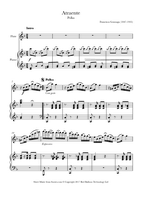 Atraente (Polka)
6. Joaquim A. Silva .. - Flor Amorosa (Choro)

"Flor Amorosa" (literally "Loving Flower") is a graceful polka first published in 1880, though it was almost certainly written some years before that. Joaquim Antônio da Silva Calado was a foundational figure in the choro movement—he was active as a composer, coined the term "choro," founded the group Choro Carioca and supported musicians such as Chiquinha Gonzaga.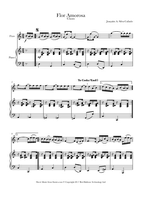 Flor Amorosa (Choro)
7. Joaquim Antonio d.. - Querida Por Todos

"Querida Por Todos" ("Dear to all") was written by Joaquim Callado as a tribute to composer Chiquinha Gonzaga. His friendship with her began when she travelled to Rio de Janiero following her decision to leave her husband. Callado was himself considered one of the greatest exponents of the choro style, both as a composer and as a flautist in his group "Choro Carioca."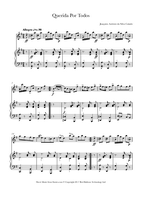 Querida Por Todos
8. Pattapio Silva - Zinha

Patápio Silva rose from humble beginnings to become both a composer and one of the greatest flautists in history. That he is achieved this is all the the more remarkable given that he died at the age of just 26, after falling ill with a high fever during a rehearsal. It also makes his charmingly urbane "Zinha" a wistful reminder of a talent too quickly gone.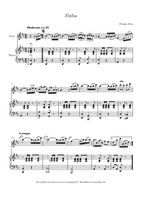 Zinha
9. Pattapio Silva - Amor Perdido
(8notes PREMIUM)

Amor Perdido ("Lost Love") is a melancholic waltz for flute by Brazilian composer Patápio Silva. It is likely that he wrote the work for his own use. It was one of the last works published before his untimely death in 1907, at the age of just 26.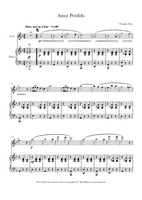 Amor Perdido
(8notes PREMIUM)
10. Chiquinha Gonzaga.. - Menina Faceira (Tango)

"Menina Faceira" ("Cheeky Girl") was written in 1885 as part of the opera "A corte na roça' to a libretto by Palhares Ribiero. The song developed a life of its own, in the repertoire, for example, of Plácida dos Santos and published as far afield as Germany with lyrics by Fraulein Shattka.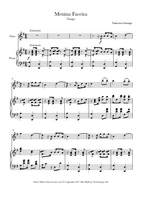 Menina Faceira (Tango)