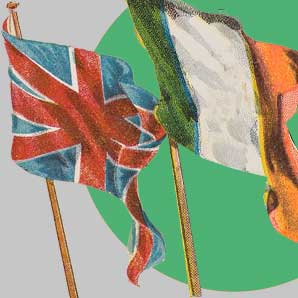 British Irish Traditional Flute compilation
British Irish Traditional Flute compilation
A collection of traditional British and Irish pieces, in special arrangements for Flute with piano accompaniment. Easy to Intermediate Level
1. Greensleeves

"Greensleeves" is a traditional English folk song and tune. There is a persistent belief that it was composed by Henry VIII for his lover and future queen consort Anne Boleyn. Boleyn allegedly rejected King Henry's attempts to seduce her and this rejection may be referred to in the song when the writer's love "cast me off discourteously". However, the piece is based on an Italian style of composition (a romanesca or of its slight variant, the passamezzo antico) that did not reach England until after Henry's death, making it more likely to be Elizabethan in origin.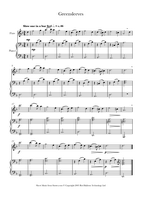 Greensleeves
2. Danny Boy

"Danny Boy" is a popular ballad written by English songwriter Frederic Weatherly and usually set to the Irish tune of the "Londonderry Air". It is most closely associated with Irish communities even though Weatherly himself never set foot in Ireland. The words convey the melancholy of parting:
Oh, Danny boy, the pipes, the pipes are calling
From glen to glen, and down the mountain side.
The summer's gone, and all the roses falling,
It's you, it's you must go and I must bide.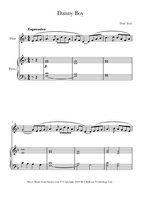 Danny Boy
3. Scarborough Fair

This version of the popular English ballad Scarborough Fair apparently originated in the 19th Century, but was made famous by Simon & Garkunkel in the 1960s.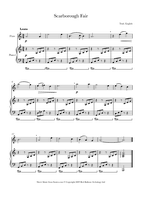 Scarborough Fair
4. What shall we do with a drunken sailor?

"What Shall We do with a Drunken Sailor" is a sea shanty, sung to accompany certain work tasks aboard sailing ships. It is believed to originate in the early 19th century or before, during a period when ships' crews, especially those of military vessels, were sufficiently large to permit hauling a rope whilst simply marching along the deck. There are many variants of verses, each successive verse suggests a method of sobering or punishing the drunken sailor.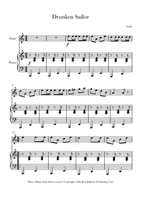 What shall we do with a drunken sailor?
5. Irish Jig Medley

An arrangement of popular Irish Jigs by Andy Ralls. Including The Irish Washerwoman and The Blackthorn Stick.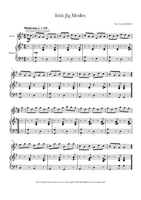 Irish Jig Medley
6. Scotland the Brave

Scotland the Brave is an unofficial national anthem of Scotland. It is used as the Scottish national anthem at the Commonwealth Games.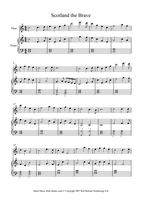 Scotland the Brave
7. Drink To Me Only With Thine Eyes

"Drink to Me Only With Thine Eyes" is a popular old English song, the lyrics of which are Ben Jonson's 1616 poem "Song. To Celia."
Drink To Me Only With Thine Eyes
8. Men of Harlech (Traditional Welsh)

"Men of Harlech" or "The March of the Men of Harlech" (in Welsh: Rhyfelgyrch Gwŷr Harlech) is a song and military march which is traditionally said to describe events during the seven-year siege of Harlech Castle between 1461 and 1468. Commanded by Constable Dafydd ap Ieuan, the garrison held out in what is the longest known siege in the history of the British Isles. "Through Seven Years" is an alternative name for the song.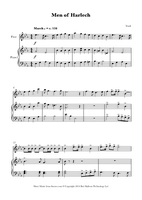 Men of Harlech (Traditional Welsh)
9. Cockles and Mussels

"Molly Malone" (also known as "Cockles and Mussels" or "In Dublin's Fair City") is a popular song, set in Dublin, Ireland, which has become the unofficial anthem of Dublin City.The Molly Malone statue in Grafton Street was unveiled by then Lord Mayor of Dublin, Alderman Ben Briscoe during the 1988 Dublin Millennium celebrations, declaring 13 June as Molly Malone Day.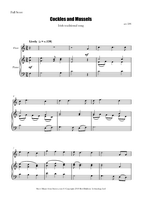 Cockles and Mussels
10. Cader Idris (Welsh Traditional)
(8notes PREMIUM)

This Welsh tune was composed by John Parry (Bardd Alaw) in 1804. The air is known as Jenny Jones.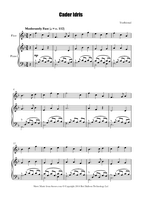 Cader Idris (Welsh Traditional)
(8notes PREMIUM)