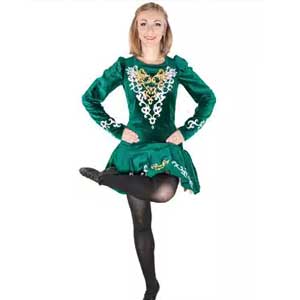 Reels for Cello Compilation
Reels for Cello Compilation
A collection of Reels, specially arranged for solo cello or cello with Piano Accompaniment. Easy to Advanced Level
1. Tam Lin (The Glasgow Reel)

Tam Lin, also known as the "The Howling Wind" or "Glasgow Reel" originates from Scotland. It is associated with the legendary ballad of the same name, the story of which revolves around the rescue of Tam Lin by his true love from the Queen of the Fairies. The motif of capturing a person by holding him through all forms of transformation is found throughout Europe in folktales.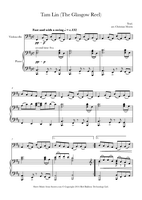 Tam Lin (The Glasgow Reel)
2. Joseph M. Daly - Chicken Reel

"Chicken Reel" was composed and published in 1910 by Joseph M. Daly (1883–1968). It is probably one of the best-known poultry-related folk tunes. It is frequently found in early animated cartoons as a catchy tune used to represent farmyard activity, or a gathering of fowl. Originally composed as a novelty song, it has since passed into modern folk tradition, normally played without words. It was popularly recorded by Les Paul, his performances whimsically mimicking chicken sounds on his guitar.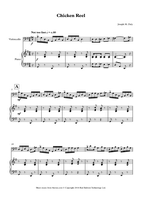 Chicken Reel
3. Drowsy Maggie (Irish trad.)

"Drowsy Maggie" is one of the most well-known of all Irish reels, so commonly played that some may consider it hackneyed. It appears in "O'Neill's Music of Ireland," published in 1903. Its earlier origins are unclear. It was famously used in the 1997 James Cameron, "Titanic," catapulting its performers, Gaelic Storm, to international stardom. It also appeared in the 1973 cult classic "The Wicker Man," played whilst Sgt. Howie searches a house for Rowan.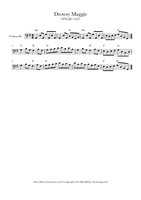 Drowsy Maggie (Irish trad.)
4. Woodchoppers Reel (French Canadian)

The "Woodchopper's Reel" was
written by
New Brunswick fiddler Ned Landry around the middle of the twentieth century. It was also popularised by Don Messer, who recorded it in 1952 under the title "Pea Soup." It has also become popular in the American Mid-West, having, for example, been played by Nebraska fiddlers Bob Walters and Cyril Stinnett.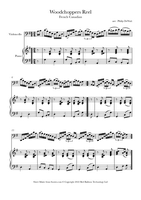 Woodchoppers Reel (French Canadian)