A traditional British counting song that may have originated as a harvest-time entertainment for children in the fields. It can be performed counting both up and down.
LYRICS:
One man went to mow, went to mow a meadow
One man and his dog
Went to mow a meadow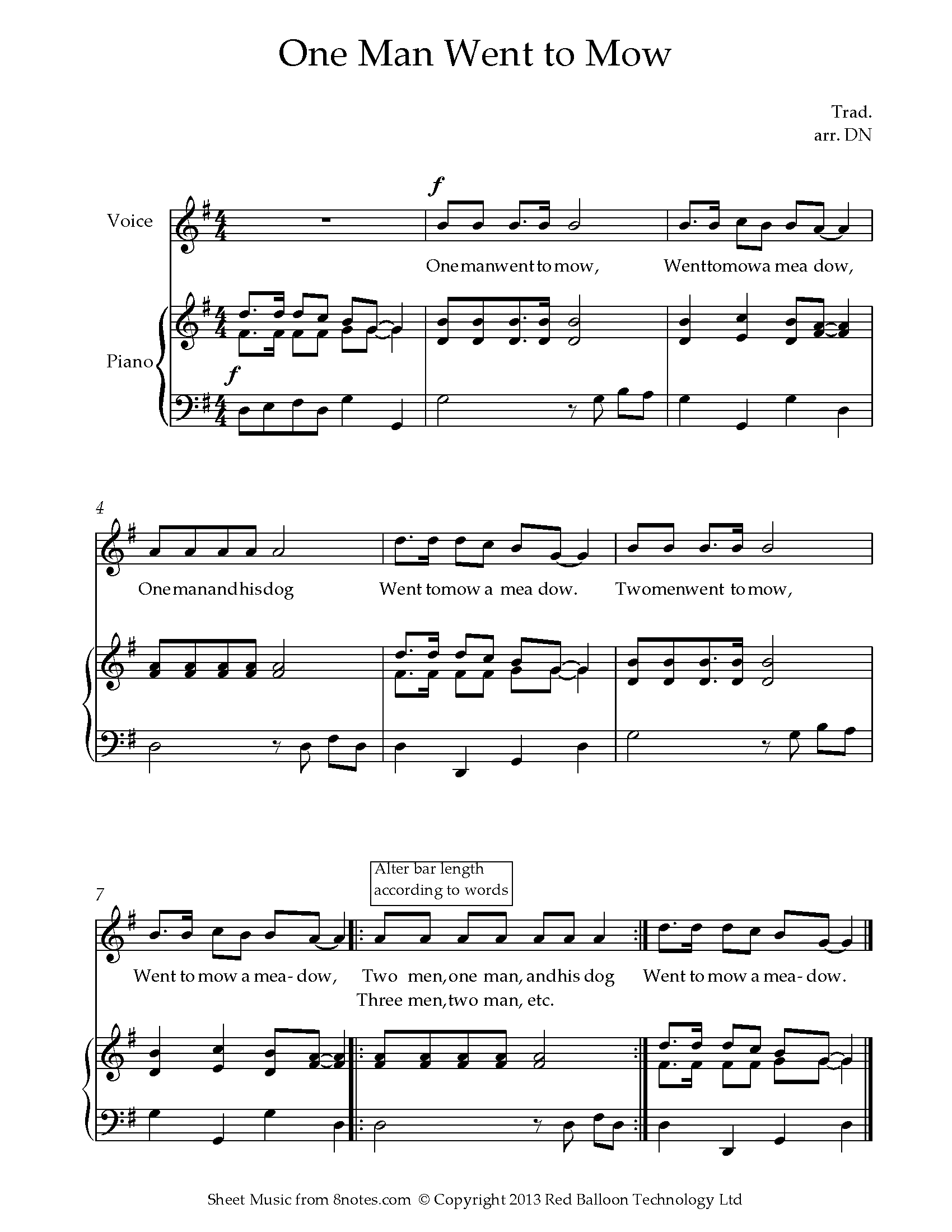 One Man Went to Mow
The earliest known version of "Ten Green Bottles" appears to date from the 14th century, beginning with the line "Syxthene boetell gryne." Others however, have claimed a more modern heritage, with "Green Bottles' being slang for the Metropolitan Police after its formation in 1829. The song has also lent itself to parody, in World War II, for example, a variation being sung to the words "Ten German Bombers." Other variations, especially those heard in rugby grounds, are rather less salubrious....
LYRICS:
Ten green bottles hanging on the wall,
Ten green bottles hanging on the wall,
And if one green bottle should accidentally fall,
There'll be nine green bottles hanging on the wall.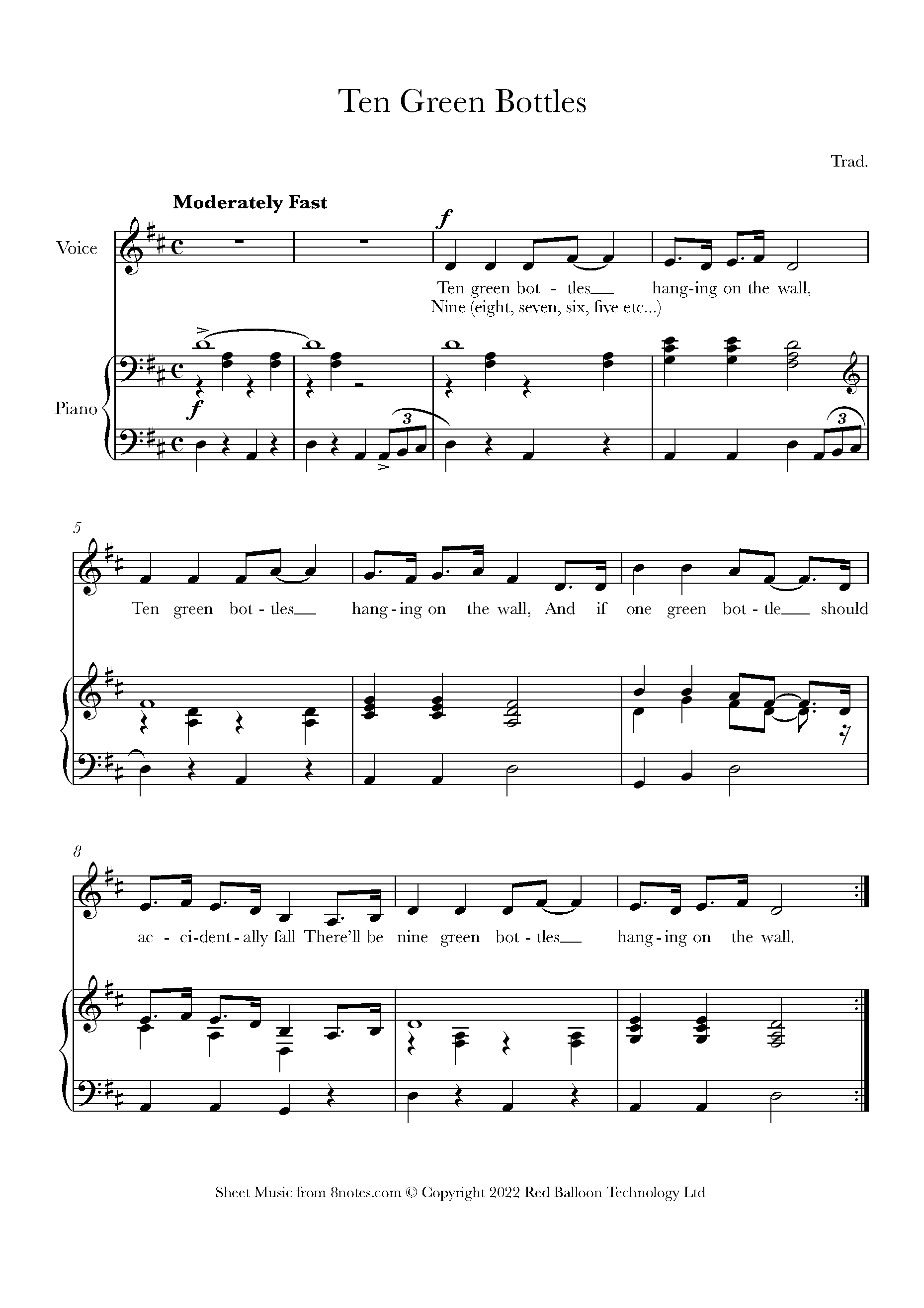 Ten Green Bottles
A counting song that originates from the US. The 'Indian boys' may be substituted with 'soldier boys','teddy bears' or some other equivalent.
LYRICS:
One little, two little, three little Indians,
Four little, five little, six little Indians,
Seven little, eight little, nine little Indians,
Ten little Indian boys.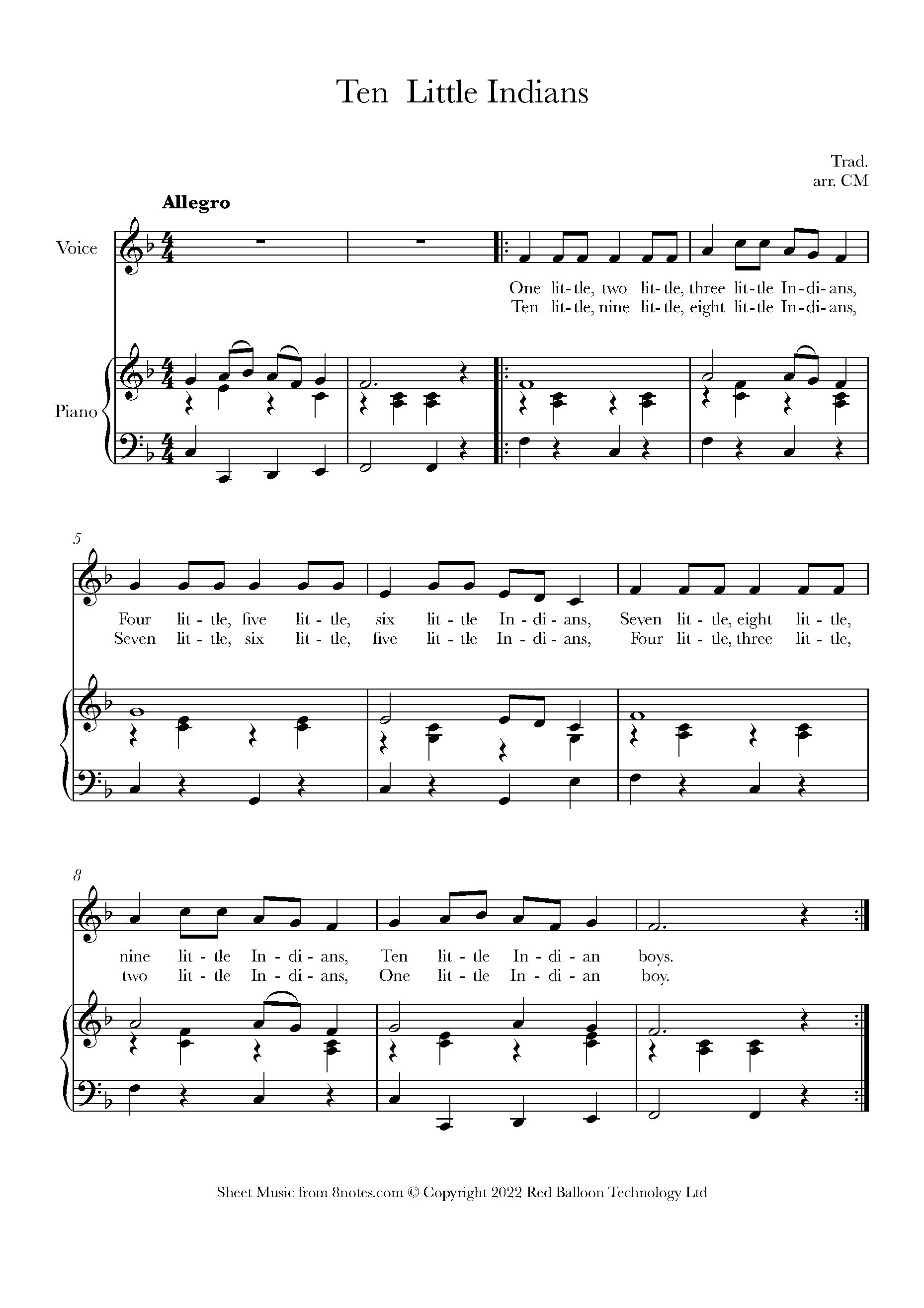 Ten Little Indians
A very popular counting song. In notated form it first appeared in 1805, though likely existed long before that year. An illustrated form of the song was printed in Walter Crane's 'New Toy Book,' printed in 1873 and containing delightful depictions of the every day lives of (albeit well-to-do) children.
LYRICS:
One, Two — buckle my shoe;
Three, Four — close the door;
Five, Six — pick up sticks;
Seven, Eight — lay them straight;
Nine, Ten — do it again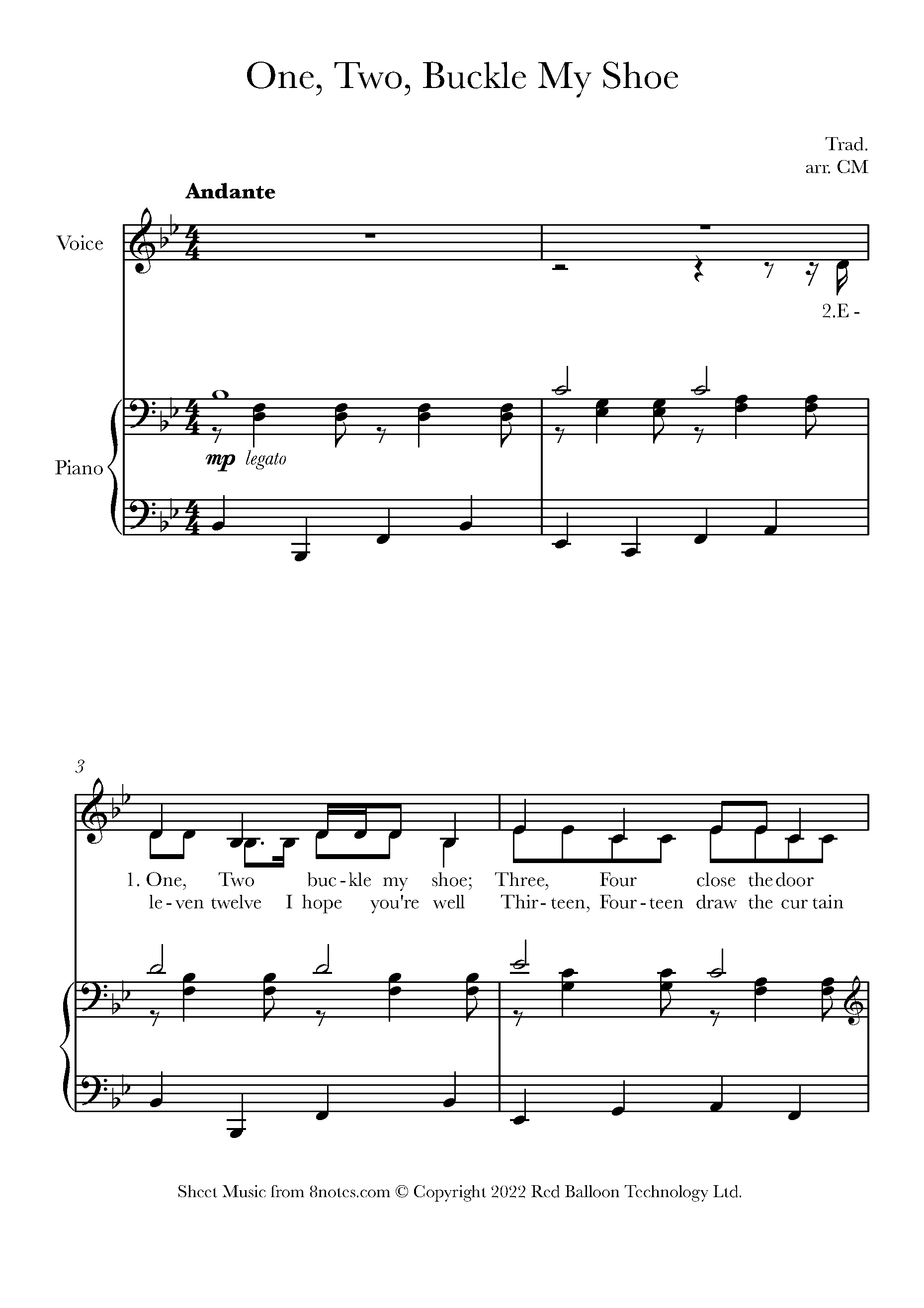 One, Two, Buckle My Shoe
"This Old Man" is an English language children's song, counting exercise and nursery rhyme. The origins of this song are obscure. The earliest extant record is a version noted in Anne Gilchrist's Journal of the English Folk Dance and Song Society (1937), learned from her Welsh nurse in the 1870s under the title "Jack Jintle"
LYRICS:
This old man, he played one,
He played knick-knack on my thumb;
With a knick-knack paddywhack,
Give a dog a bone,
This old man came rolling home.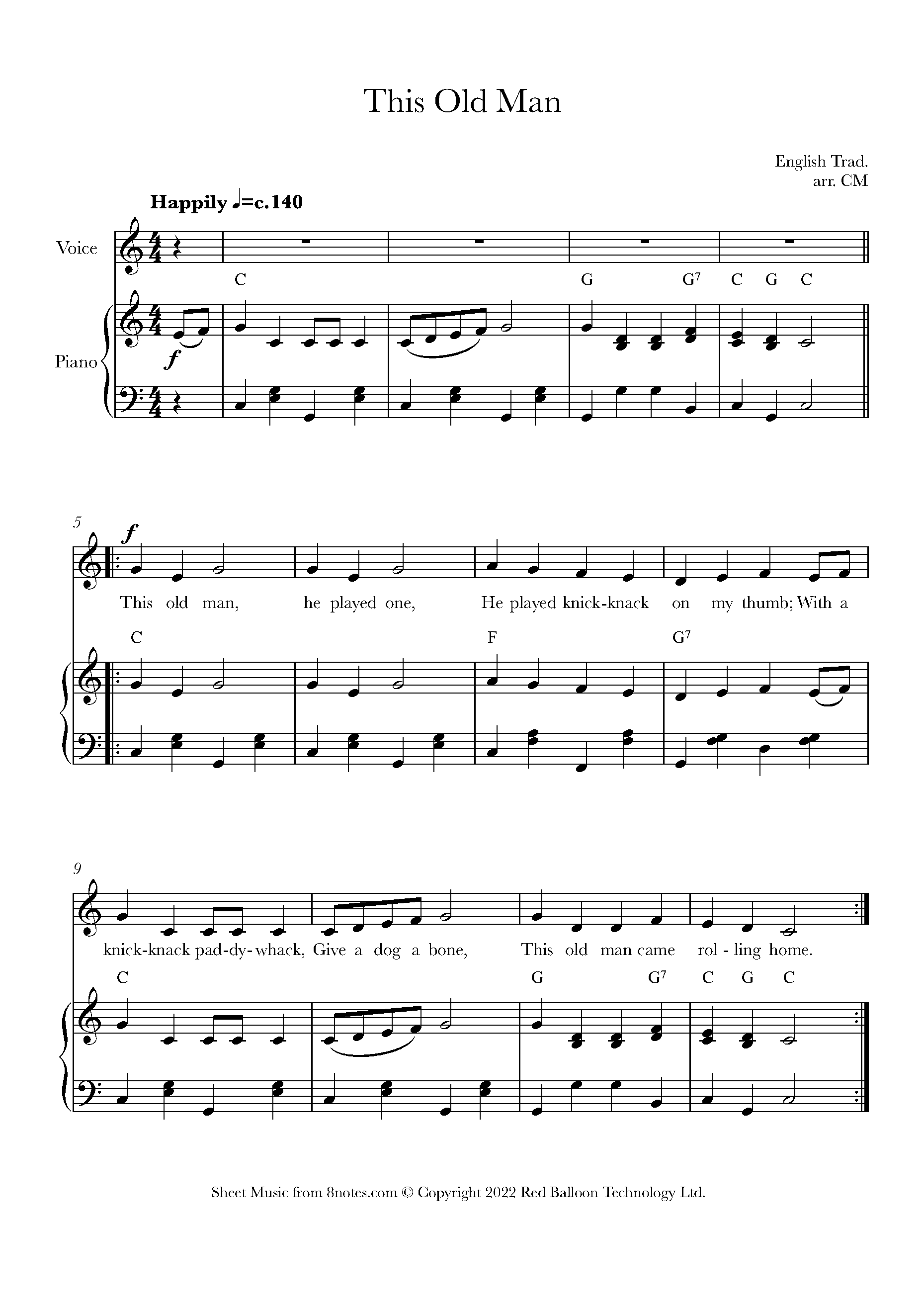 This Old Man
The popularity of "Once I Caught a Fish Alive" derives from its propulsively catchy melody and that it gets directly to the business of counting and in the right order (i.e. upwards not down). This makes it ideal for teaching counting to very young children. The first recorded instance of the tune, in 1765, didn't refer to a fish, but to a hare ('I caught a hare alive").
LYRICS:
One, two, three, four, five
Once I caught a fish alive
Six, seven, eight, nine, ten
Then I let it go again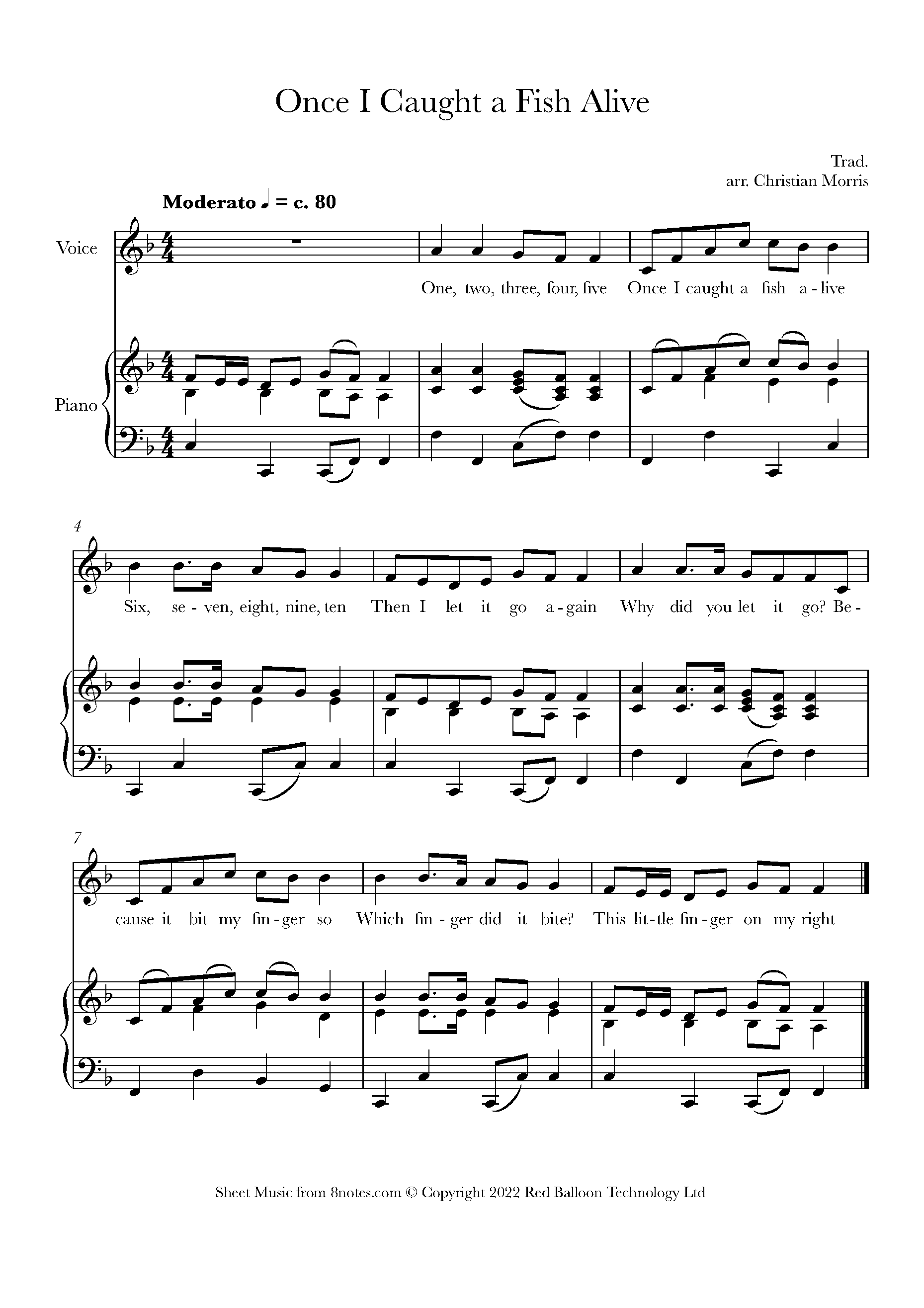 Once I caught a fish alive
A popular scouting song, first recorded in Nova Scotia, Canada in 1885. The song is often accompanied by actions. In one version, on the command "spuds up!" the children to be counted out extend clenched fists. One child recites the rhyme while using their own fist to tap each of the others in turn. The child whose fist is tapped on the final word "more" puts that fist behind their back. The whole process is repeated several times until only one fist remains. That child then becomes "it".
LYRICS:
One potato two potatoes
Three potatoes, four!
Five potatoes, six potatoes
Seven potatoes, more!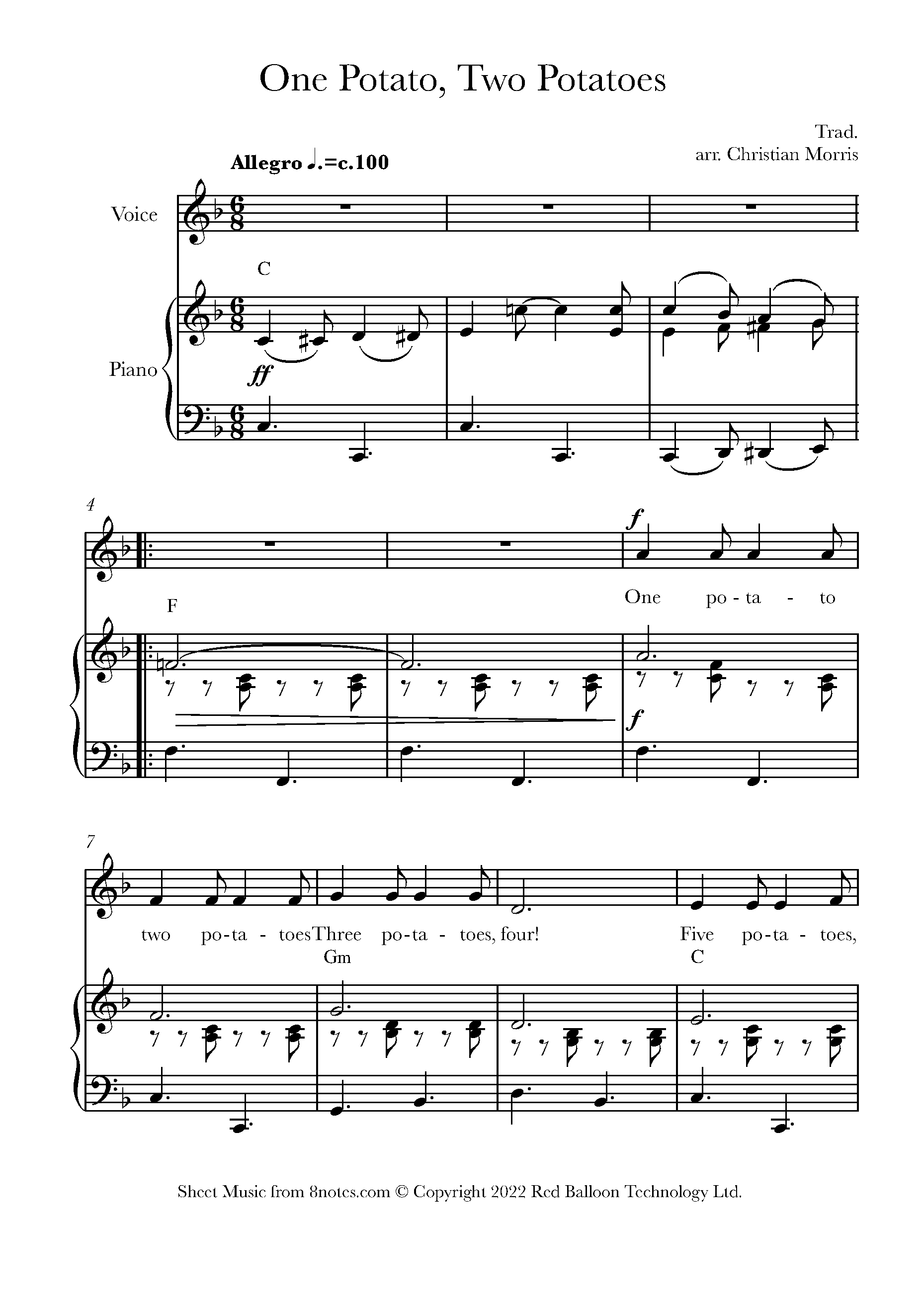 One Potato, Two Potatoes
"Ten in the Bed" is a counting song of uncertain origin. Its comic scenario and infectious infectious melody has not only made it popular for teaching very young children to count, but also around campfires and amongst Scouts and Girl Guides. There exist two versions of the song, one which ends at "So they all rolled over and one fell out" before repeating and this one, which includes the refrain "Please remember to tie a knot in your pyjamas..."
LYRICS:

There were ten in the bed
And the little one said, "Roll over, roll over"
So they all rolled over and one fell out.
He hit the floor and gave a shout:
"Please remember, to tie a knot in your pyjamas,
Single beds are only made for…"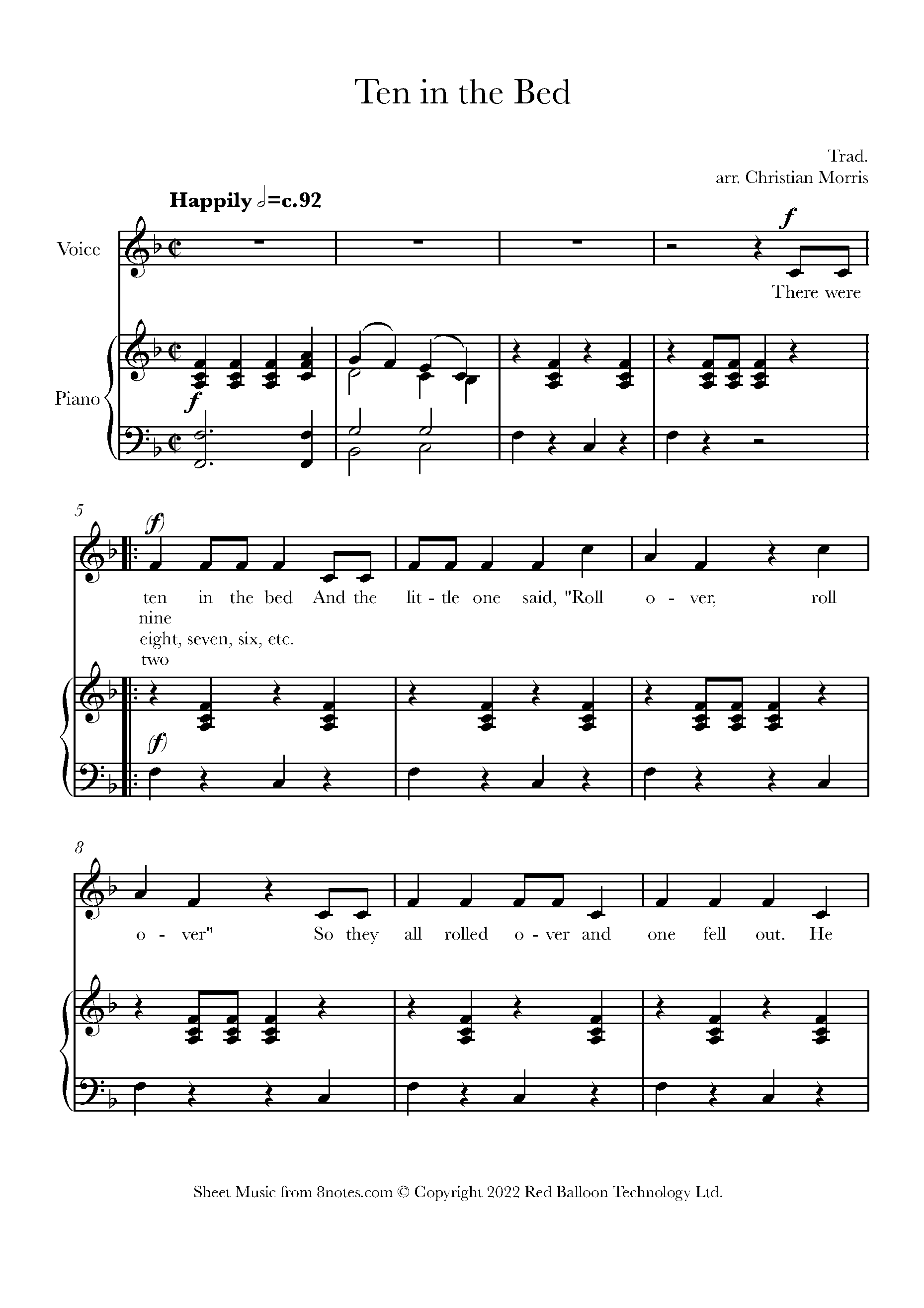 Ten in the Bed