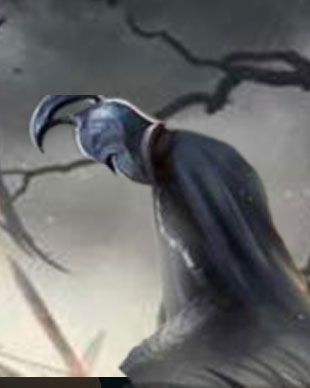 Dramatic & Epic music for Trombone
Dramatic & Epic music for Trombone
A collection of dramatic and epic pieces in special arrangements for Trombone with piano accompaniment. Easy to Advanced Level
1. Brahms - Hungarian Dance No.5

This piece comes from a set of 21 lively dance tunes based mostly on Hungarian themes. All of his dances were composed for the piano. Brahms wrote orchestral arrangements for No. 1, No. 3 and No. 10. Other composers have orchestrated the other dances.
Number 5 was based on the csardas by Keler Bela titled "Bartfai emlek" which Brahms mistakenly thought was a traditional folksong.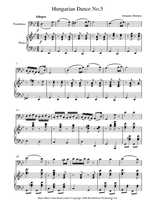 Hungarian Dance No.5
2. Strauss - Also Sprach Zarathustra - Intro (as used in 2001 A Spac...

This is the dramatic opening of Strauss's tone poem, composed in 1896 and inspired by Friedrich Nietzsche's philosophical novel "Thus Spoke Zarathustra." It's familiarity today owes much to its use in Stanley Kubrick's film "2001: A Space Odyssey." The director initially used this and a number of other classical pieces, including Ligeti's "Lux Aeterna" and Johann Strauss's "Blue Danube Waltz" as inspirational placeholders until an original score was written. He came to like them so much, however, that he ditched the score, leaving its composer Alex North devastated.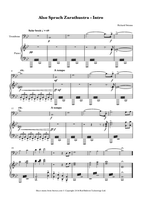 Also Sprach Zarathustra - Intro (as used in 2001 A Spac...
3. Dvorak - New World Symphony - 4th Movement Main Theme

Dvořák's Symphony No.9, "From the New World" (1893) was written whilst the composer was director of the National Conservatory of Music of America from 1892 to 1895. It's enduring popularity owes much to its profusion of memorable and expertly presented melodic material. Though the most famous movement is the restful "Largo", the exciting last movement is every bit as catchy, especially in its marvellous opening theme.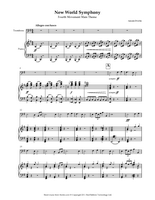 New World Symphony - 4th Movement Main Theme
4. Mussorgsky - Night on the Bare Mountain

Mussorgsky's "Night on the Bare Mountain" is a dramatic and exciting depiction of a witches' sabbath. One of the most famous works in the classical repertoire it was also used to great effect in Walt Disney's Fantasia.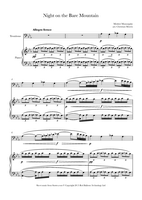 Night on the Bare Mountain
5. Wagner - Ride of the Valkyries
(8notes PREMIUM)

"The Ride of the Valkyries" is a depiction of the transportation of fallen heroes to Valhalla at the opening of the third act of Wagner's opera "Die Walküre" (premiered 1870). After the "Bridal Chorus" from "Lohengrin" it is probably the most famous music the composer wrote. It has been used a number of times in popular culture, most famously in the 1979 film "Apocalypse Now," where the 1/9 Air Cavalry squadron plays it on helicopter-mounted loudspeakers during their assault on a Viet Cong-controlled village as psychological warfare and to motivate their own troops.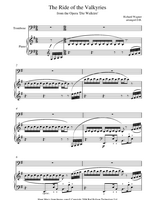 Ride of the Valkyries
(8notes PREMIUM)
6. Mozart - Symphony No. 25, K. 183 1st mvt (as featured in the fil...

Mozart wrote his Symphony No.25 in 1773 at the age of 17. It is a good example of the style of music at the time known as "Sturm und Drang" ("Sturm and Stress"), characterised by minor keys, wide leaps and syncopations. These dramatic qualities led the director Miloš Forman to use the first moment for the opening scene of his film "Amadeus", in which Mozart's rival Antonio Salieri is rushed to hospital after attempting to slit his own throat.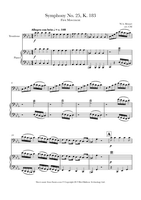 Symphony No. 25, K. 183 1st mvt (as featured in the fil...
7. Mozart - Dies Irae - Requiem in D Minor K. 626

The "Dies Irae" is the third movement from Mozart's Requiem, K.626. A Requiem is a mass for the dead, sung at funerals. The Dies Irae is the most dramatic part of it, the latin words translating as:
Day of wrath and doom impending!
David's word with Sibyl's blending,
Heaven and earth in ashes ending!
Mozart matches these blood-curdling words with music of propulsive and unrelenting momentum.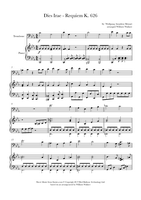 Dies Irae - Requiem in D Minor K. 626
8. Schubert - Erlkonig

Schubert's "Erlkönig" (1885), is a lied (art song) setting of Johann Wolfgang von Goethe's poem of the same name. The singer takes the role of four characters — the narrator, a father, his small son, and the titular "Erlkonig", a supernatural creature who pursues the boy — each of whom exhibit different tessitura, harmonic and rhythmic characteristics. Among Schubert's most famous works, the work has been arranged by various composers, such as Franz Liszt (solo piano) and Heinrich Wilhelm Ernst (solo violin); Hector Berlioz, Franz Liszt, and Max Reger have orchestrated the piece.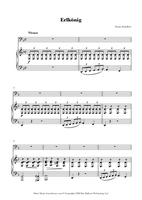 Erlkonig
9. Purcell - Rondeau from Abdelazer

Henry Purcell's Rondeau is the second movement of a suite of ten written as incidental music for a revival of Aphra Behn's play "Abdelazer" in 1695. It is the best remembered part of the suite, both in its original form and in adaptations—composer Benjamin Britten used it in his "The Young Person's Guide to the Orchestra" (1946), it can be hard in the television series "The First Churchills" (1969) and "Pride and Prejudice" (2005) and was even used, in an arrangement by Andrew Lloyd Webber, as the election music for the British Conservative Party in the 1992 general election.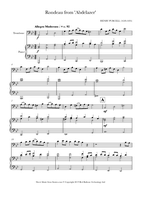 Rondeau from Abdelazer
10. Mozart - Commendatore Scene from Don Giovanni

The Commendatore Scene forms part of the final section of Mozart's 1787 opera "Don Giovanni." In it Don Giovanni is accused by the statue of the Commendatore, whom Don Giovanni has killed earlier in the opera, to repent of his sins. Don Giovanni refuses and is dragged to Hell.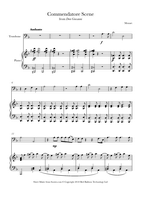 Commendatore Scene from Don Giovanni
11. Rameau - Danse des Sauvages from Les Indes Galantes

The opera "Les Indes Galantes" was something of breakthrough work for composer Jean-Phillipe Rameau, remarkable given that he was already in his forties when he wrote it. Despite the lukewarm reception of its first performance in 1735, it went on to achieve great success in its revised versions and led to a sequence of other dramatic works from the composer. The best-known part of the work is this atavistic dance, which occurs in the final part of the work "Les Sauvages" ("The Savages").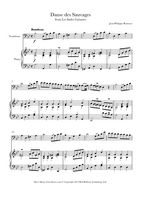 Danse des Sauvages from Les Indes Galantes
12. Wagner - Lohengrin - Introduction to Third Act

"Lohengrin," WWV 75, is a Romantic opera in three acts composed and written by Richard Wagner, first performed in 1850. The story of the eponymous character is taken from medieval German romance, notably the Parzival of Wolfram von Eschenbach, and its sequel Lohengrin, itself inspired by the epic of Garin le Loherain. The vigorous and joyful "Introduction" to the Third Act occurs before Elsa's wedding and is immediately followed by the famous "Bridal Chorus."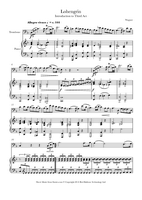 Lohengrin - Introduction to Third Act
13. Borodin - Polovtsian Dance (Waltz)

Borodin's Polovtsian dances are from the his opera "Prince Igor," which he left unfinished on his death in 1887. Their popularity has eclipsed that of the opera as a whole, often being performed separately as a concert work. The dramatic waltz is the fourth of the set and is simply titled "General Dance."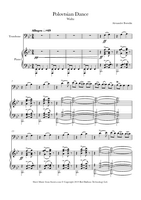 Polovtsian Dance (Waltz)