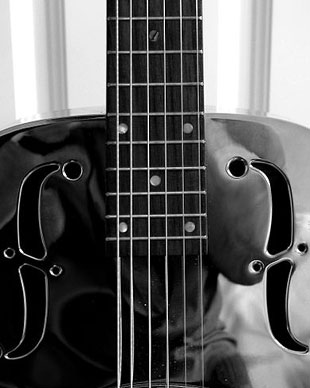 Early Blues and Rock Songs for Guitar
Early Blues and Rock Songs for Guitar
A collection of specially-chosen early blues and rock songs in exclusive arrangements for Guitar. Many of these classic songs from the first years of the 20th Century have been covered by the likes of Eric Clapton, Elvis, or Bob Dylan and they still sound as fresh as ever today.
1. The Midnight Special

"Midnight Special" is a traditional folk song thought to have originated among prisoners in the American South. The title comes from the refrain which refers to the passenger train Midnight Special and its "ever-loving light" (sometimes "ever-living light"). The song is historically performed in the country-blues style from the viewpoint of the prisoner and has been covered by many artists.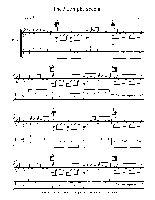 The Midnight Special
2. W C Handy - St Louis Blues

This is a popular American song composed by W. C. Handy in the blues style. It remains a fundamental part of jazz musicians' repertoire. It was also one of the first blues songs to succeed as a pop song. It has been performed by numerous musicians of all styles from Louis Armstrong and Bessie Smith to Count Basie, Glenn Miller, Guy Lombardo, and the Boston Pops Orchestra.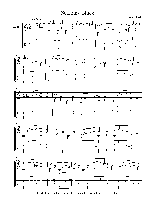 St Louis Blues
3. Worried Man Blues

"Worried Man Blues" is a folk song in the roots music repertoire. Like many folks songs passed by oral tradition, the lyrics vary from version to version, but generally all contain the chorus "It takes a worried man to sing a worried song/It takes a worried man to sing a worried song/I'm worried now, but I won't be worried long." The verses tell the story of a man imprisoned for unknown reasons "I went across the river, and I lay down to sleep/When I woke up, had shackles on my feet", who pines for his lost love, who is "on the train and gone."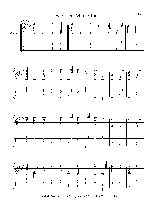 Worried Man Blues
4. Hart Wand - Dallas Blues

"Dallas Blues", written by Hart Wand is an early blues tune, first published in 1912. It has inaccurately been called the first true blues song ever published. However as originally published it was not a song at all but an instrumental (lyrics were added years later), and other 12 bar blues had been published before, including Anthony Maggio's "I Got the Blues" in 1908. "Oh, You Beautiful Doll", a Tin Pan Alley song whose first verse is twelve-bar blues, had been published in 1911.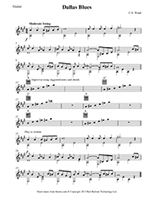 Dallas Blues
5. W C Handy - The Hesitating Blues

Handy's "Hesitating Blues", published in 1915 tells the story of separated lovers who cannot contact each other by telephone. It was popularly covered by a number of artists, including Louis Armstrong, Esther Bigeou and Lena Horne. The traditional tune on which the piece is based was popular amongst other composers, including Billy Smythe, Scott Middleton and Art Gillham, all of whom wrote their own versions of the "Hesitation Blues."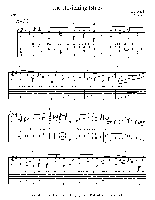 The Hesitating Blues
6. C.C.Rider Blues (aka See See Rider)

See See Rider
, also known as
C.C. Rider
or
See See Rider Blues
or
Easy Rider
is a popular American 12-bar blues song. It was first recorded by Gertrude Ma Rainey in 1924, and since then has been recorded by many other artists, including Elvis Presley, Mississippi John Hurt, Lead Belly, ,Elvis Presley, Jerry Lee Lewis, Ray Charles, Chuck Berry, Gary Lewis and the Playboys, The Who, The Everly Brothers, Charlie Rich, Ian & Sylvia, Janis Joplin and many more.The song uses mostly traditional blues lyrics to tell the story of an unfaithful lover, commonly called easy riders:
See See rider, see what you have done
making a play on the word see and the sound of easy.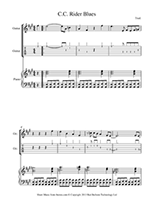 C.C.Rider Blues (aka See See Rider)
7. Wabash Cannonball

"The Wabash Cannonball" is an American folk song about a fictional train, thought to have originated in the late nineteenth century. Its first documented appearance was on sheet music published in 1882, titled "The Great Rock Island Route" and credited to J. A. Roff. A rewritten version by William Kindt appeared in 1904 under the title "Wabash Cannon Ball". Many versions have since been sung by Woodie Guthrie, Bing Crosby, Johnny Cash and many others.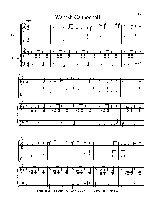 Wabash Cannonball
8. The Rock Island Line

This traditional tune Rock Island Line has been covered by Leadbelly, Lennon and McCartney and many others. The arrangement here offers a simple finger-picking style, ideal for anyone just taking in their first steps into the finger-picking world of guitar playing.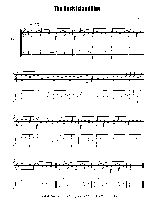 The Rock Island Line