Like many classic folk ballads, the authorship of "The House of the Rising Sun" is uncertain. Musicologists say that it is based on the tradition of broadside ballads such as The Unfortunate Rake of the 18th century and that English emigrants took the song to America where it was adapted to its later New Orleans setting. Alan Price of The Animals has even claimed that the song was originally a sixteenth-century English folk song about a Soho brothel.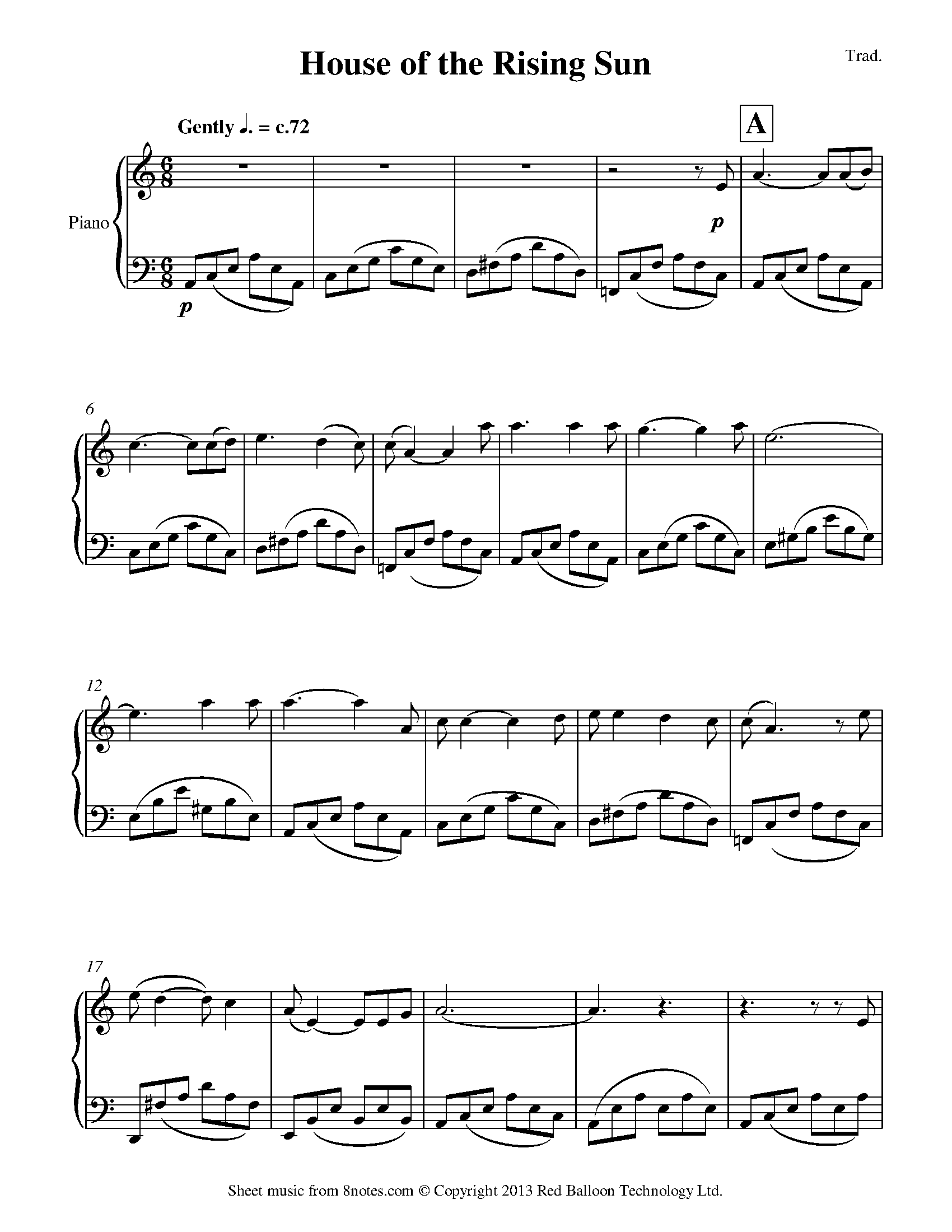 House of the Rising Sun
This famous Blues melody has its origins in the 18th century English folk ballad The Unfortunate Rake. It exists in many different versions, but was made popular in a recording by Louis Armstrong in 1928.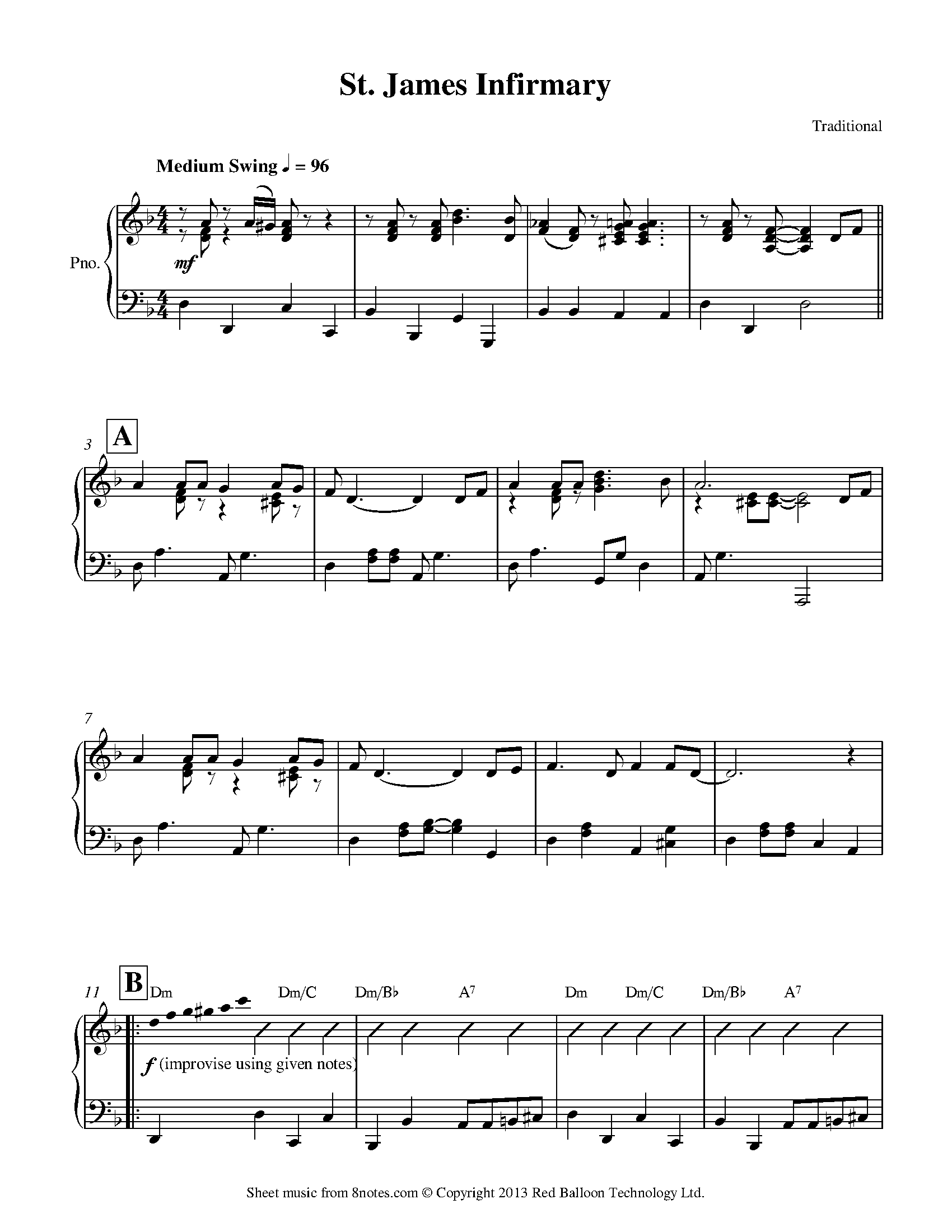 St. James Infirmary
(subscription)
"Nobody Knows You When You're Down and Out" is a blues standard written by Jimmy Cox in 1923. Its lyric, told from the point of view of a one-time millionaire during the Prohibition era, reflects on the fleeting nature of material wealth and the friendships that come and go with it. As a vaudeville-style blues, it was popularized by Bessie Smith, the preeminent female blues singer of the 1920s and 1930s. Since her 1929 recording, it has been interpreted by numerous musicians in a variety of styles.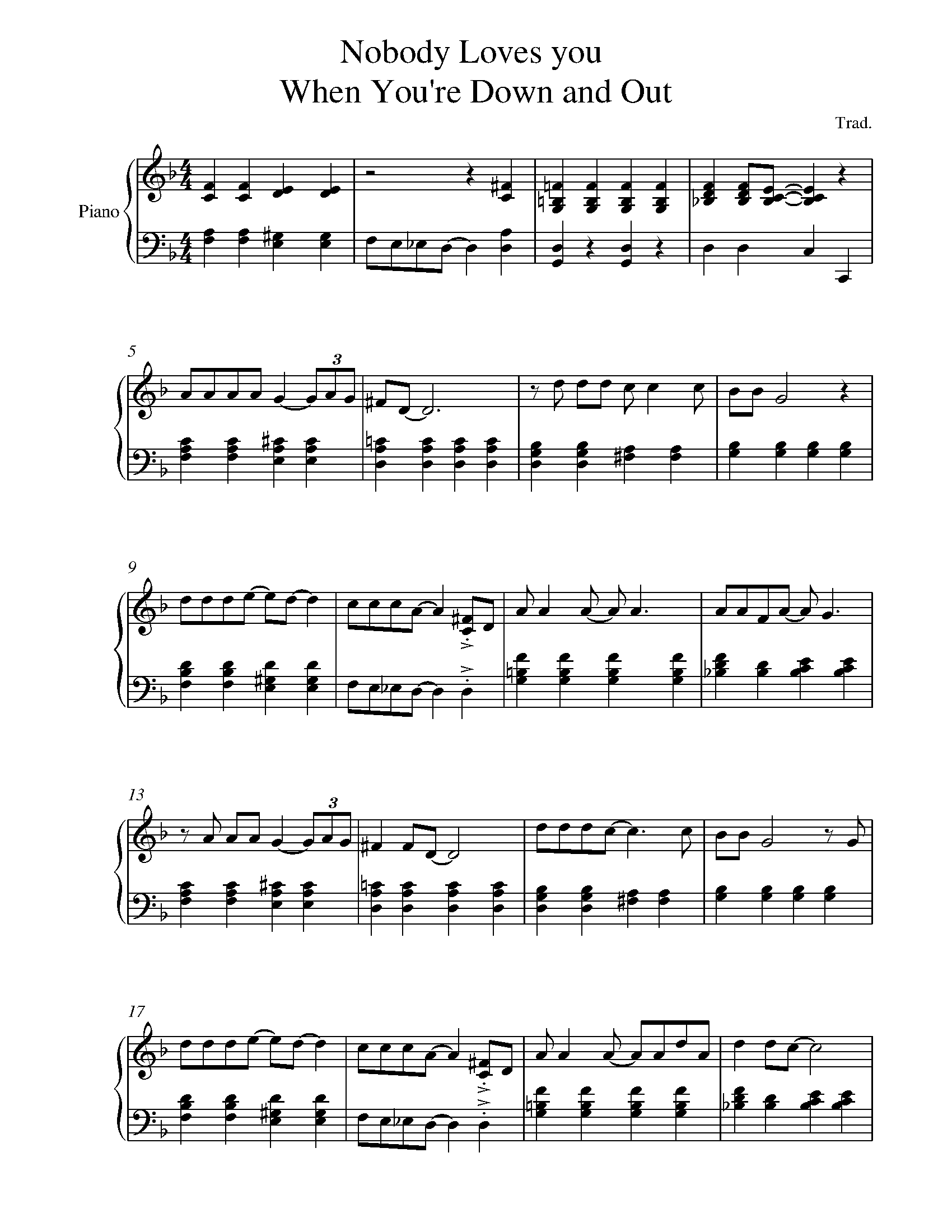 Nobody Loves you When You're Down and Out
"Midnight Special" is a traditional folk song thought to have originated among prisoners in the American South. The title comes from the refrain which refers to the passenger train Midnight Special and its "ever-loving light" (sometimes "ever-living light"). The song is historically performed in the country-blues style from the viewpoint of the prisoner and has been covered by many artists.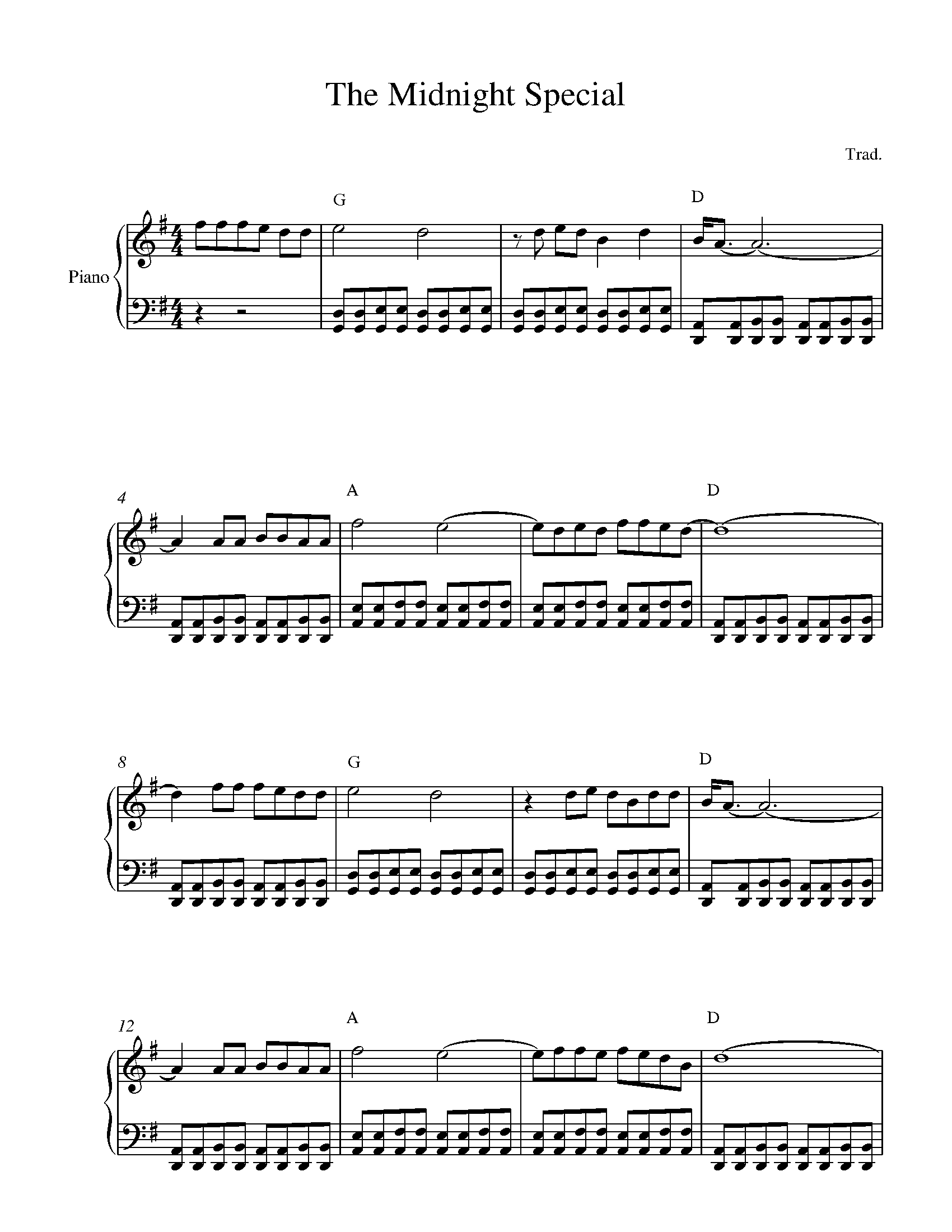 The Midnight Special
"Dallas Blues", written by Hart Wand is an early blues tune, first published in 1912. It has inaccurately been called the first true blues song ever published. However as originally published it was not a song at all but an instrumental (lyrics were added years later), and other 12 bar blues had been published before, including Anthony Maggio's "I Got the Blues" in 1908. "Oh, You Beautiful Doll", a Tin Pan Alley song whose first verse is twelve-bar blues, had been published in 1911.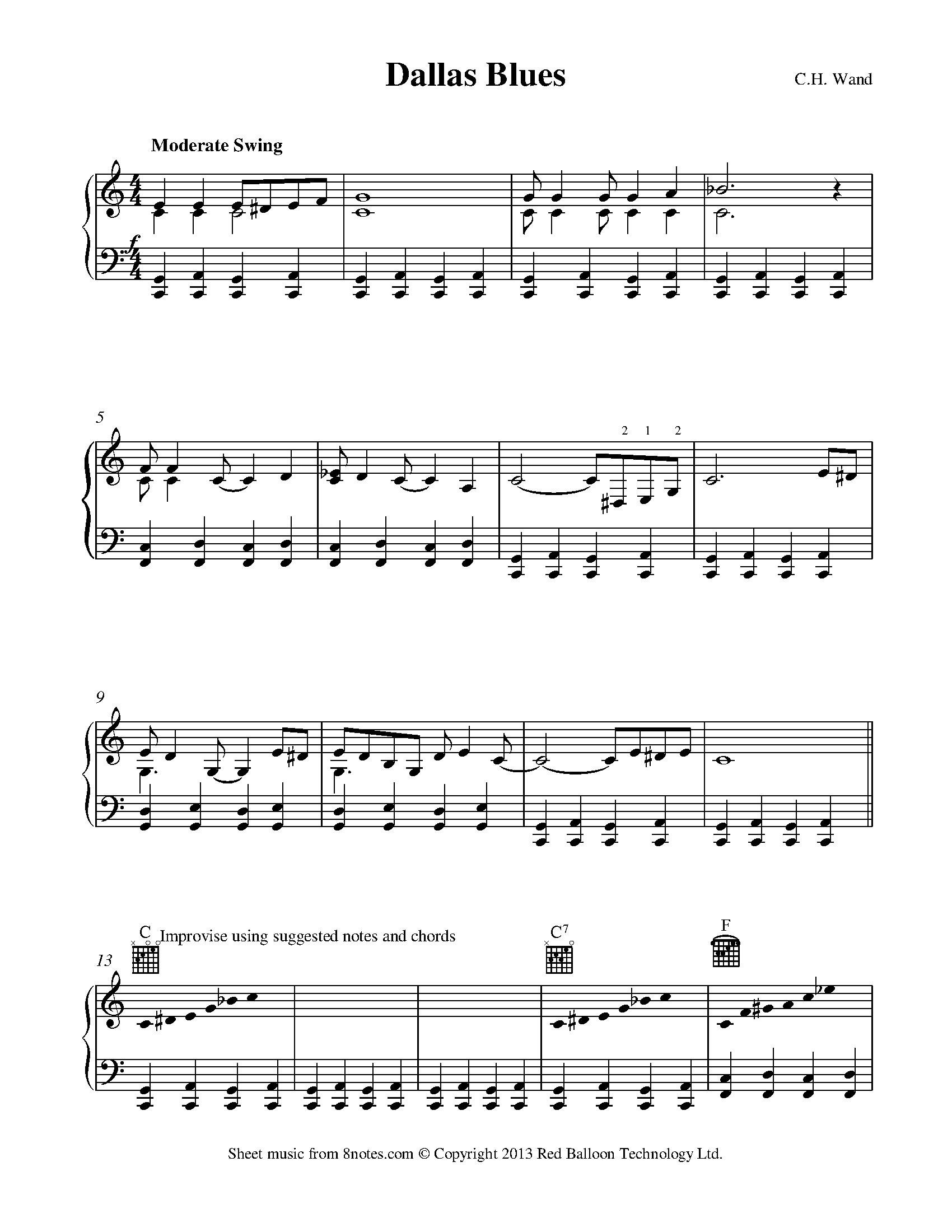 Dallas Blues
"Worried Man Blues" is a folk song in the roots music repertoire. Like many folks songs passed by oral tradition, the lyrics vary from version to version, but generally all contain the chorus "It takes a worried man to sing a worried song/It takes a worried man to sing a worried song/I'm worried now, but I won't be worried long." The verses tell the story of a man imprisoned for unknown reasons "I went across the river, and I lay down to sleep/When I woke up, had shackles on my feet", who pines for his lost love, who is "on the train and gone."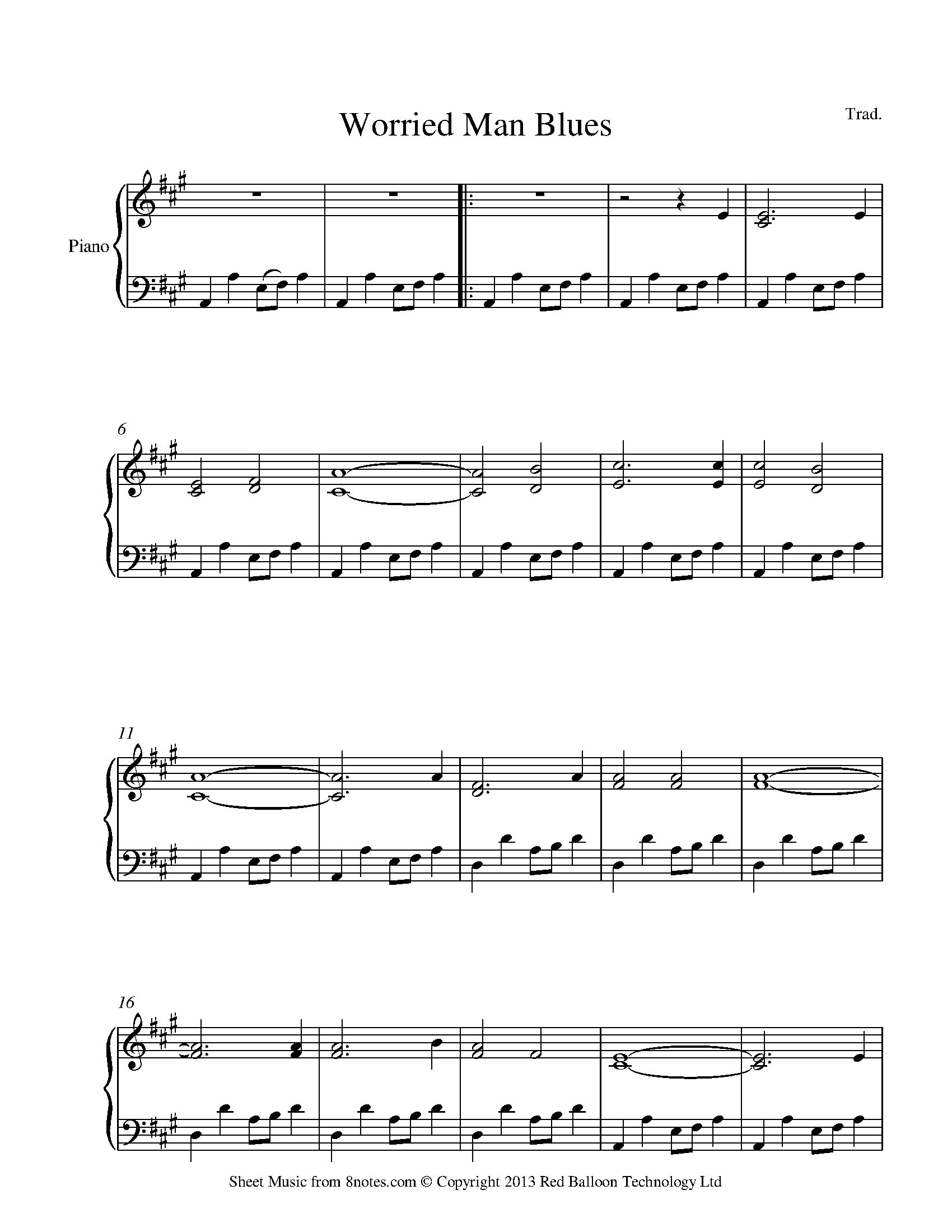 Worried Man Blues
This traditional tune Rock Island Line has been covered by Leadbelly, Lennon and McCartney and many others. The arrangement here offers a simple finger-picking style, ideal for anyone just taking in their first steps into the finger-picking world of guitar playing.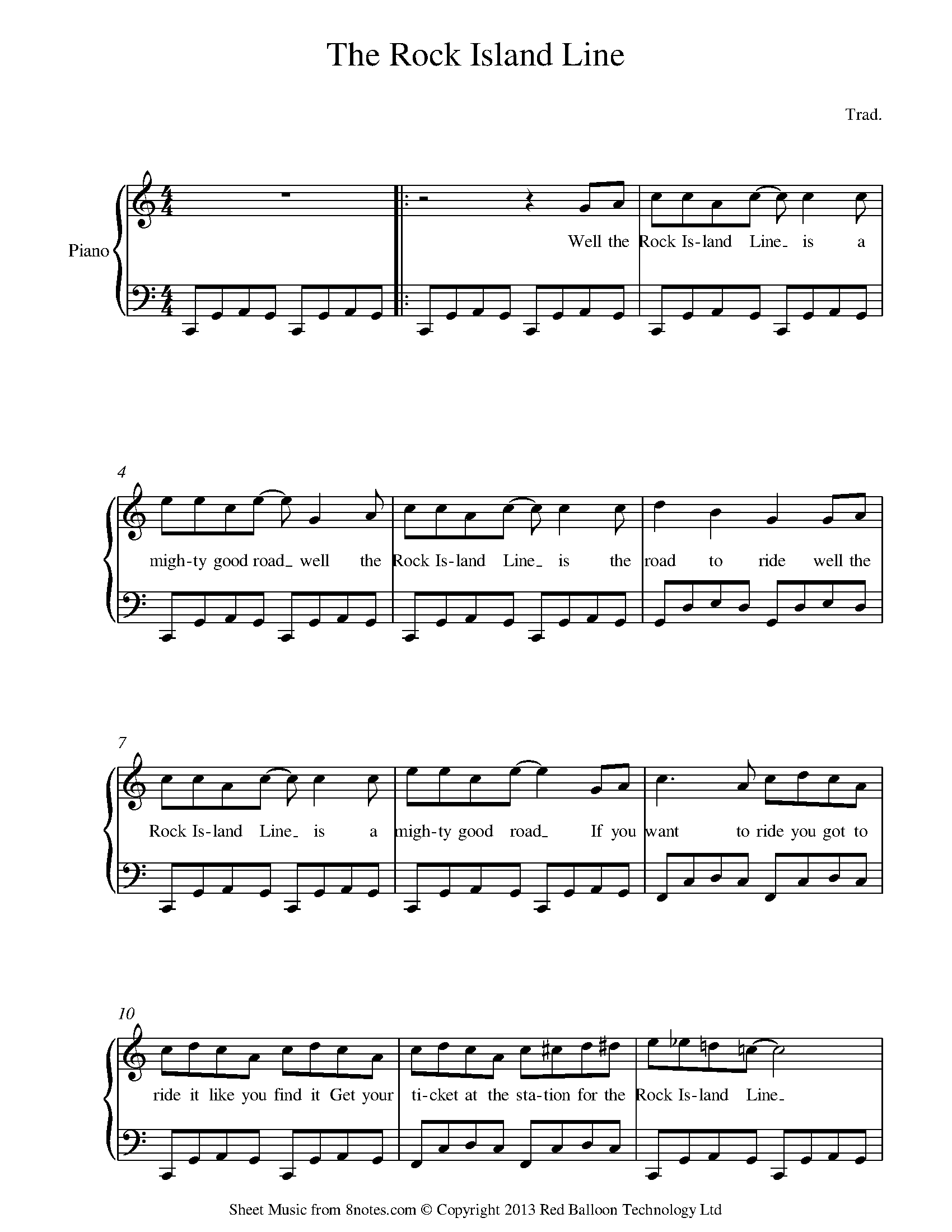 The Rock Island Line
See See Rider
, also known as
C.C. Rider
or
See See Rider Blues
or
Easy Rider
is a popular American 12-bar blues song. It was first recorded by Gertrude Ma Rainey in 1924, and since then has been recorded by many other artists, including Elvis Presley, Mississippi John Hurt, Lead Belly, ,Elvis Presley, Jerry Lee Lewis, Ray Charles, Chuck Berry, Gary Lewis and the Playboys, The Who, The Everly Brothers, Charlie Rich, Ian & Sylvia, Janis Joplin and many more.The song uses mostly traditional blues lyrics to tell the story of an unfaithful lover, commonly called easy riders:
See See rider, see what you have done
making a play on the word see and the sound of easy.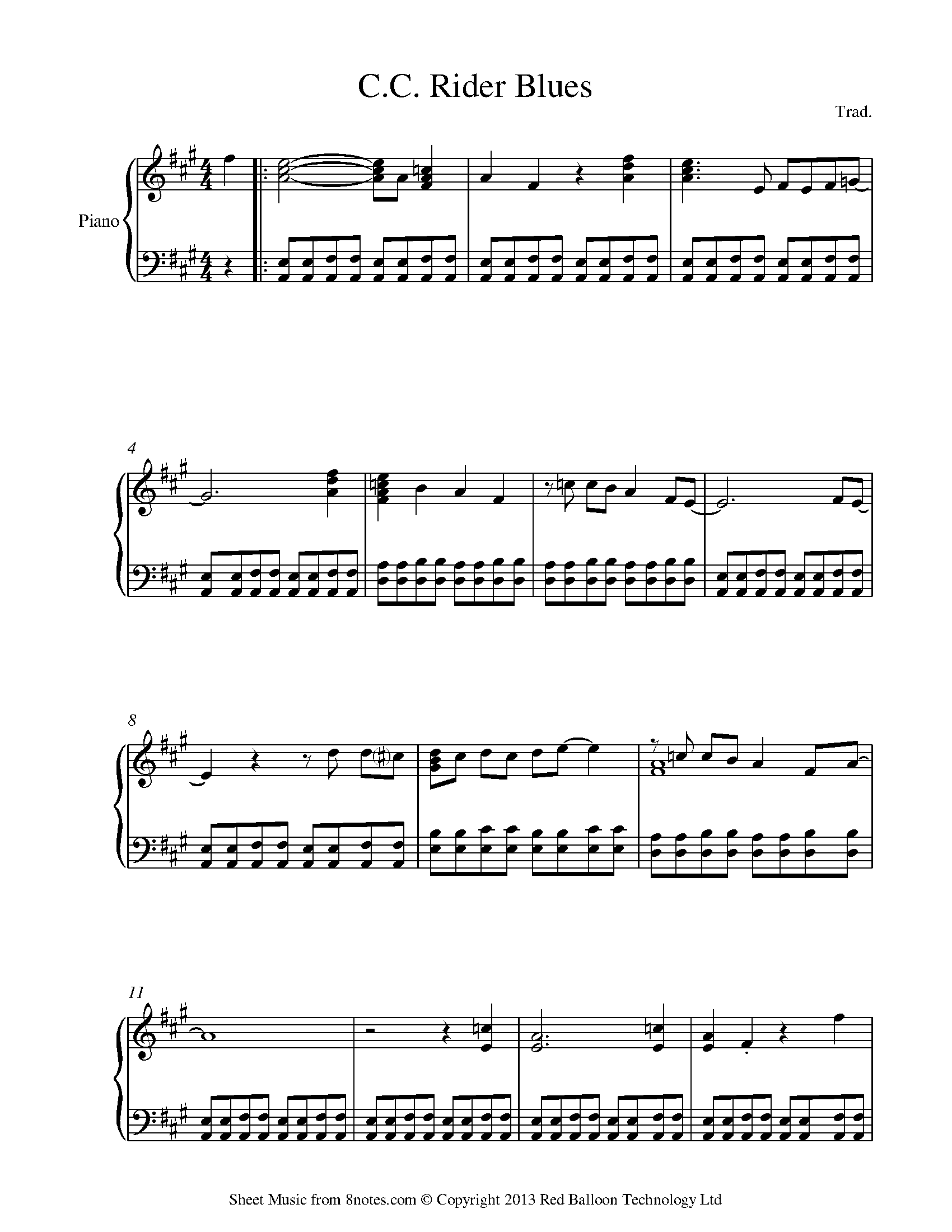 C.C.Rider Blues (aka See See Rider)
"The Wabash Cannonball" is an American folk song about a fictional train, thought to have originated in the late nineteenth century. Its first documented appearance was on sheet music published in 1882, titled "The Great Rock Island Route" and credited to J. A. Roff. A rewritten version by William Kindt appeared in 1904 under the title "Wabash Cannon Ball". Many versions have since been sung by Woodie Guthrie, Bing Crosby, Johnny Cash and many others.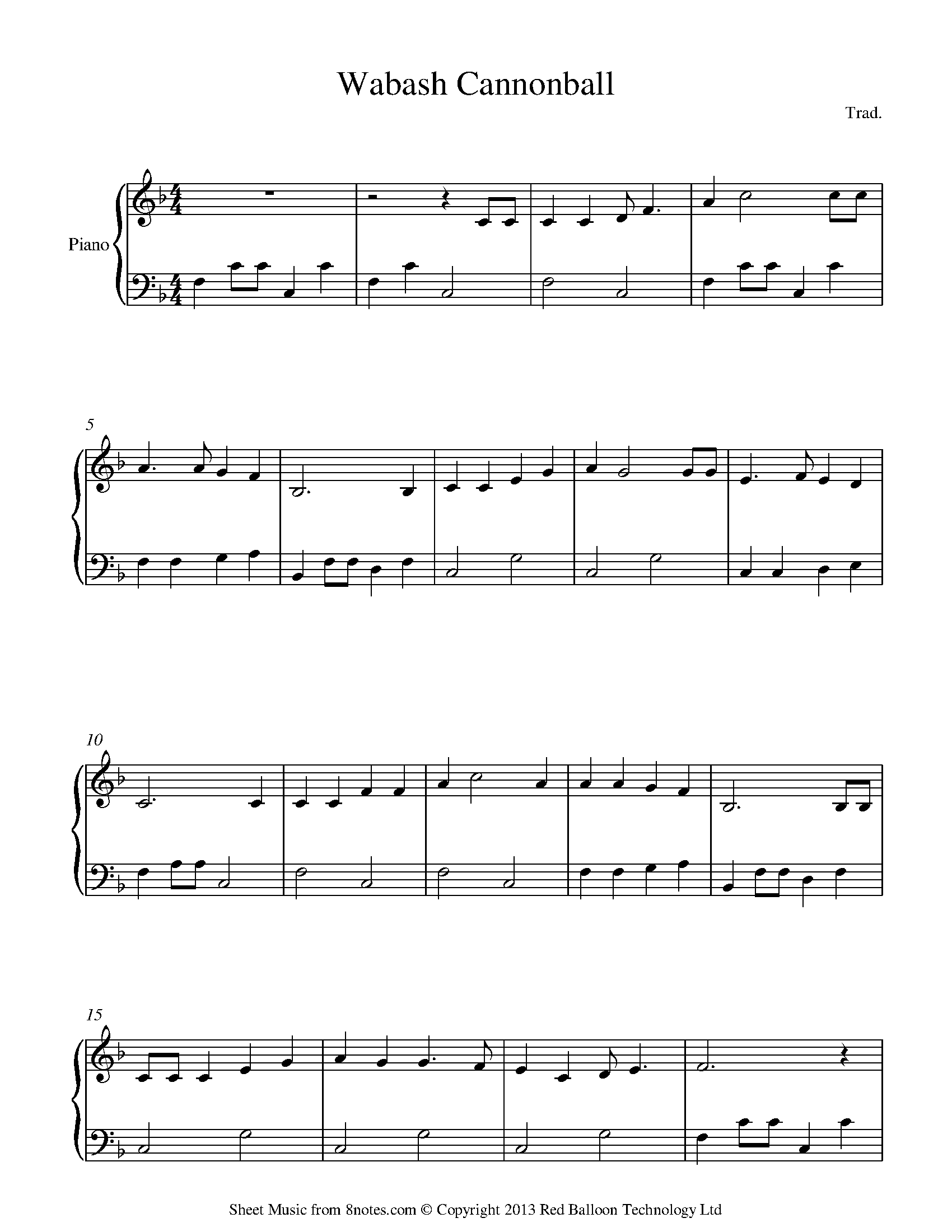 Wabash Cannonball