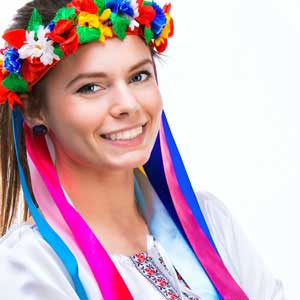 Eastern European Music for Flute Compilation
Eastern European Music for Flute Compilation
A collection of Eastern European pieces from Macedonia, Serbia, Greece, Bulgaria, in special arrangments for flute and piano. Intermediate level.
1. Papirosen

"Papirosen" is best-known as the Yiddish song, but the melody was well-known as a lively dance, possibly of Bulgarian origin. It became famous after World War I, when Russian song-writer Herman Yablokoff wrote his poem, and put it to the music of the dance, slowing it down considerably. The song tells the story of a Jewish boy who sells cigarettes to survive on the streets. It depicts his tragic fate; having lost his parents, his younger sister dies on a bench and eventually he loses his own hope.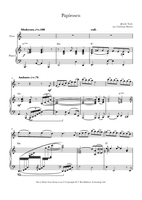 Papirosen
2. Makedonske Devojce

"Makedonsko devojče" (Macedonian: "Македонско девојче") is a Macedonian song written and composed by Jonče Hristovski. The title directly translates as "Macedonian girl" or "Macedonian maiden." The song title was used by Macedonian singer Karolina Gočeva for her 2008 album "Makedonsko devojče," which explores Macedonian folk music. It's success led to a sequel: "Makedonsko Devojče 2."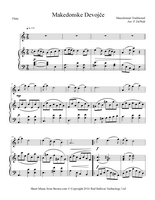 Makedonske Devojce
3. Ajde Jano

"Ajde Jano" ("C'mon Jana") is a traditional Serbian folk song. In it the protagonist says that he and Jana, should dance, stop fighting, put their guns away and search for happiness. It is an enormously popular song, having been recorded at least 35 times since 1960.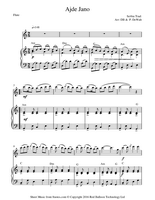 Ajde Jano
4. Jovano Jovanke (Macedonia Folk Song)

"Yovano, Yovanke" (Bulgarian: "Йовано, Йованке"; Macedonian: "Јовано, Јованке") is a traditional folk song of the Macedonia region. It is popular and frequently performed in Bulgaria, Bosnia and Herzegovina, Serbia, northern Greece and the Republic of Macedonia. It is about two young lovers separated by their disapproving parents. The song mentions the Vardar river which runs through present-day Greece and Republic of Macedonia.
Yovana is a female name (Slavic form of Joan or Joanna), and Jovanka is the diminutive form. The usages Yovano and Yovanke are in the vocative case used by the South Slavic languages.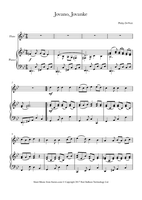 Jovano Jovanke (Macedonia Folk Song)
5. Hasapiko Grigoro

"Hasapiko" (meaning "the butcher's [dance]") is a type of Greek folk dance from Constantinople. It originated in the Middle Ages as a battle mime with swords performed by the Greek butchers' guild, which adopted it from the military of the Byzantine era. There are two versions of the dance, a slow one, generally in 4/4 and a faster one, as here, in 2/4.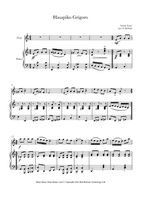 Hasapiko Grigoro
6. Sasino Kolo

"Sasino Kolo" is a type of dance originating from Belgrade, Serbia. It was popularised in the U.S. by Bora Gajicki, a Serbian musician and dance teacher. He learned it whilst living in Belgrade in the 1960s. After emigrating to the U.S. in 1967, he built a career as a teacher of his native dance forms and as an accordionist.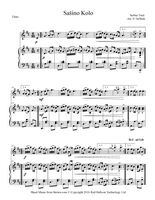 Sasino Kolo
7. Hora Fetelor

"Hora Fetelor" is a women's line dance originating from the Calafat region of Oltenia, Romania. Typically the dance is in 4/4, making this version, in 6/8, unusual. The style of dance is usually lyrical, smooth and graceful.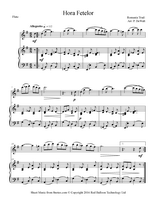 Hora Fetelor
8. Cetvorno Horo

"Cetvorno Horo" (or "Chetvorno horo"; Cyrillic: 'Четворно хоро') meaning "Quadruple dance," is a type of Bulgarian dance. In common with a number of dances from this region it is metrically complex, being in 7/16, with semiquavers grouped in a 3+2+2 pattern.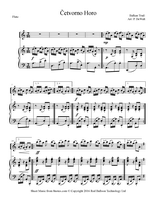 Cetvorno Horo
9. Majko Majko

"Majko Majko" (literally "Mother, Mother") is traditional song and dance originating from the Balkans. It is in 7/8, with the quavers grouped into the pattern 3+2+2. One of the most popular recordings of the song is by Serbian-Croatian singer, Neda Ukraden on her 1987 album "Došlo Doba Da Se Rastajemo."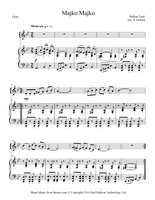 Majko Majko
10. Maria Pentayiotissa

"Maria Pentagiotissa" is a folk song originating from Greece. The song was inspired by the apocryphal life of Maria Pentagiotissa, who was believed to have been born in a Greek village in 1821. She grew up to be a great beauty, winning many admirers amongst the local men. Her torrid love affair with one of these met, however, with the villagers' opprobrium. Her brother tried to persuade her to end the affair, but instead her lover killed him in a fight. Both accused murder, her lover was found guilty and locked up for many years, but she persuaded the jurors to let her go. As well as the song, the story also inspired the 1967 film "The Daughter of Pentagiotissa," written by Nestor Matsas and directed by Antonis Tempos.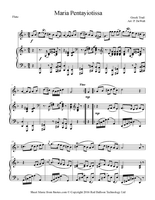 Maria Pentayiotissa