Also known as "Óró a thaidhg a ghrá", "The Red Admiral Butterfly" and "Skin the Peeler", "The Butterfly" is a traditional Irish slip jig in the dorian mode with an AABBCC form. The Irish Traditional Tune Archive attributes the composition of the melody to fiddler Tommy Potts (1912-1988), who learnt the first two parts from his father. He adapted these and added a third after being inspired by the flitting motion of a butterfly in his garden.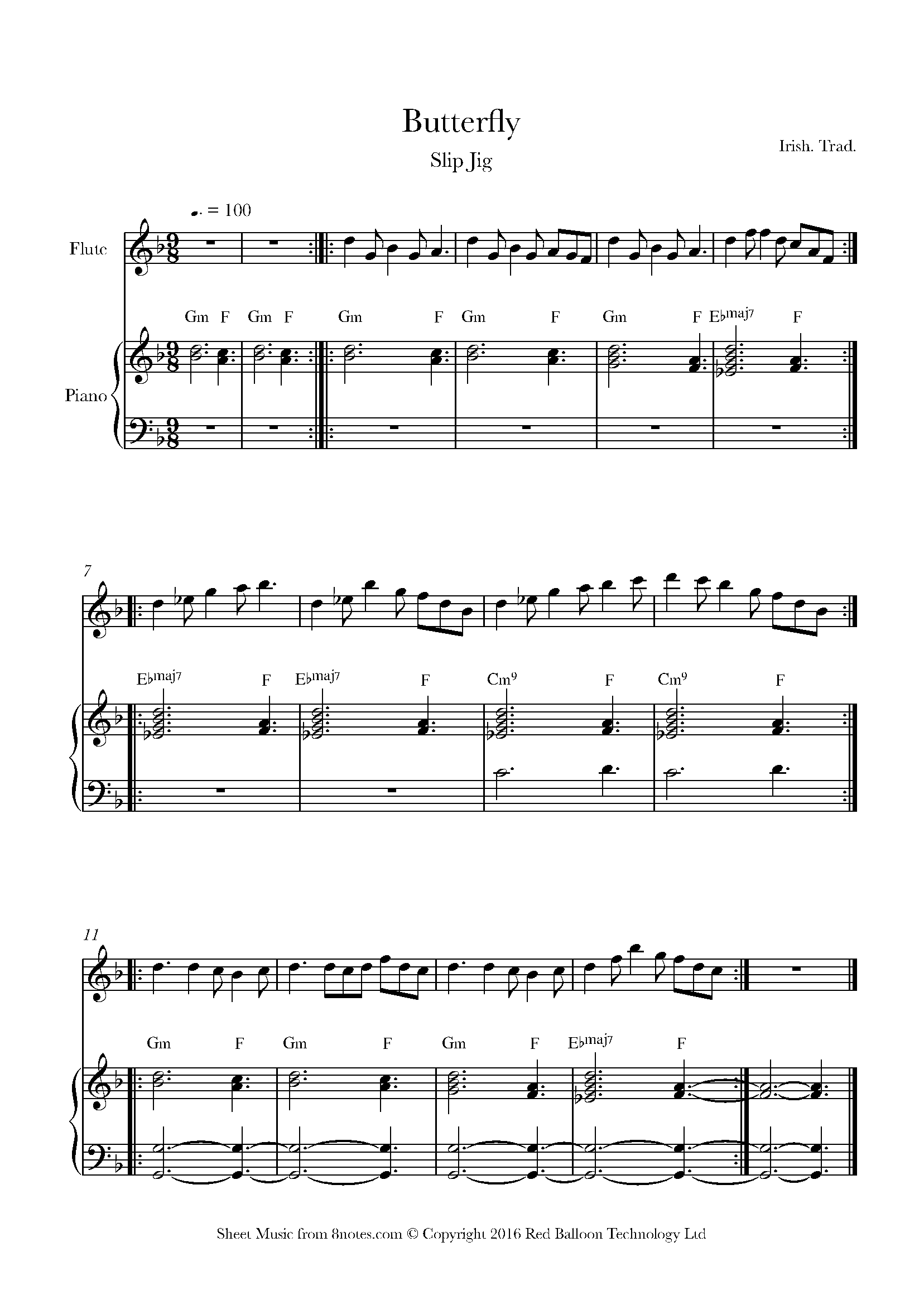 Butterfly (Slip Jig)
"A Blast of Wind" (also known as "The Clout", "Cock in the Heath and "Kiss in the Furz") certainly has something of an energetic rush of cold air about it. This can be attributed to its major key tonality, rushing downward motion in its opening phrase and wide tessitura. These characteristics make this a great solo showpiece.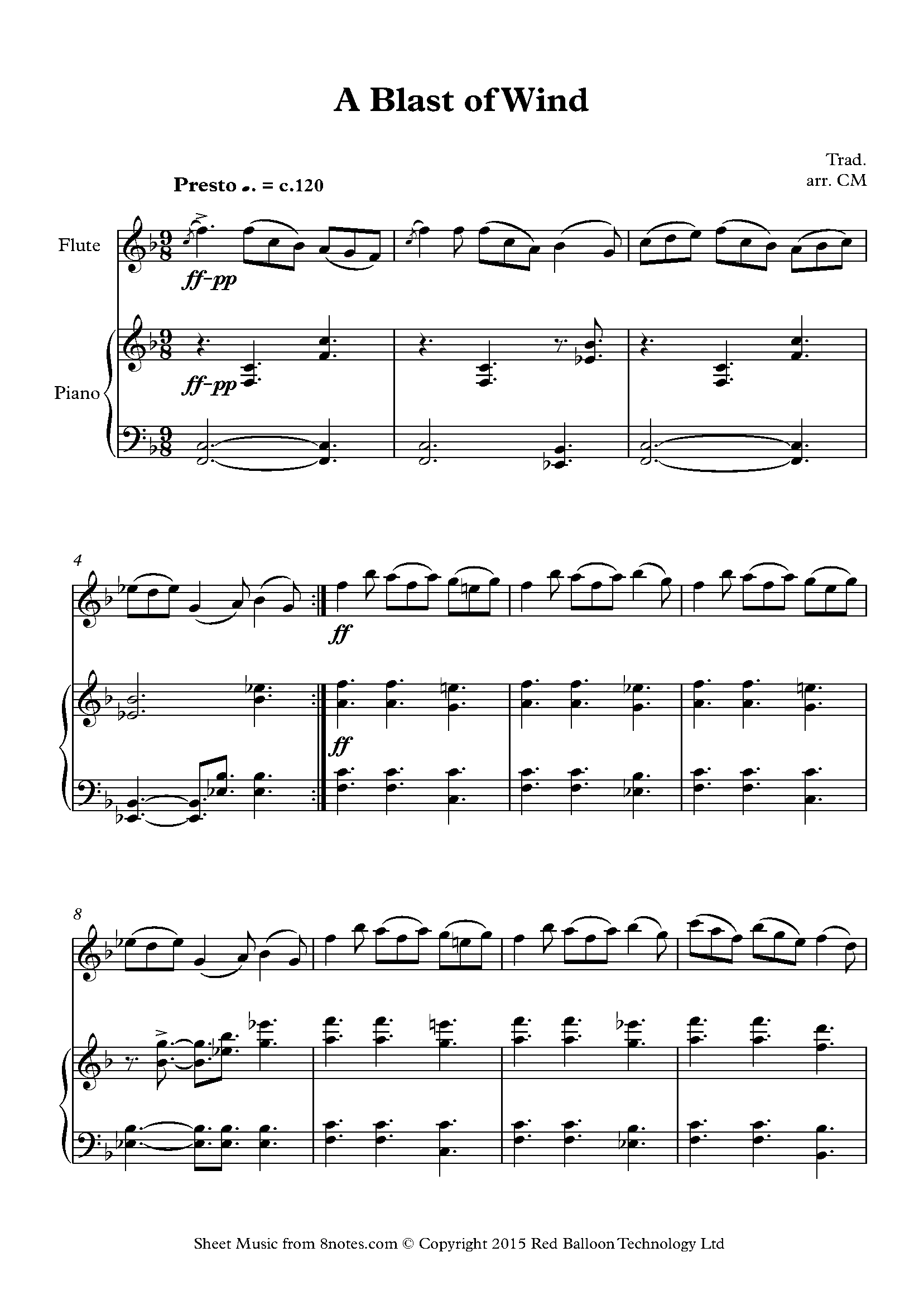 A Blast of Wind
"The Hills of Ireland," or "Cnuic Eire" was first recorded in the the 1860s in P.H. Hughes' "Gems from the Emerald Isle" also appearing, in almost identical form, in O'Neill's "Music of Ireland" in 1903. It is a short and dramatic slip jig, with an AABB structure in the dorian mode.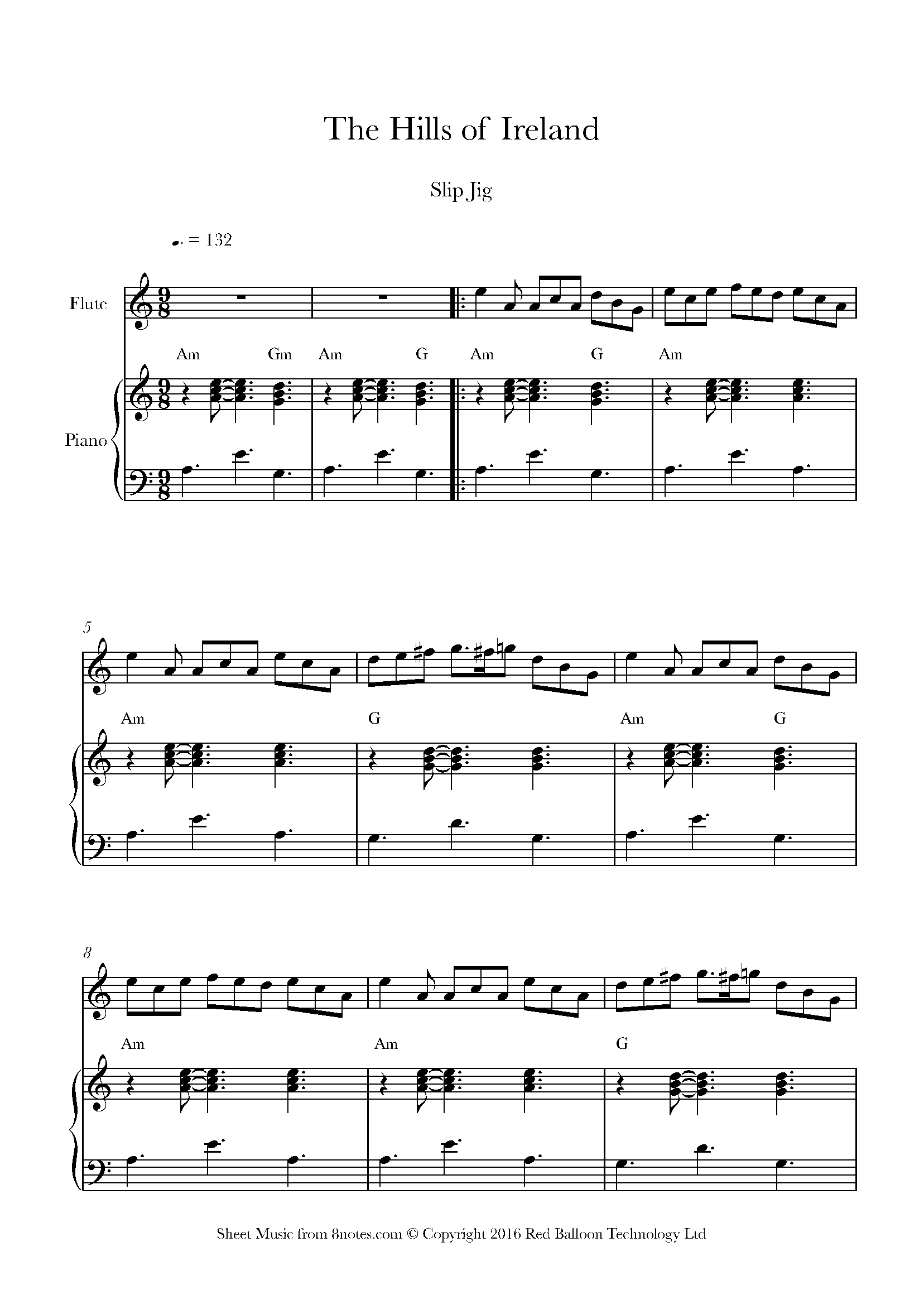 The Hills of Ireland
Also known as "She is Fit for a Kiss", "Two In A Gig" and 'Night of the Fun," the playful titles of this piece seem at odds with the seriousness of its melody. Perhaps the love expressed was, in fact, unrequited? The melody was recorded by William Coulter and Friends on their album "Celtic Sessions, Airs and Dances of Ireland and Scotland."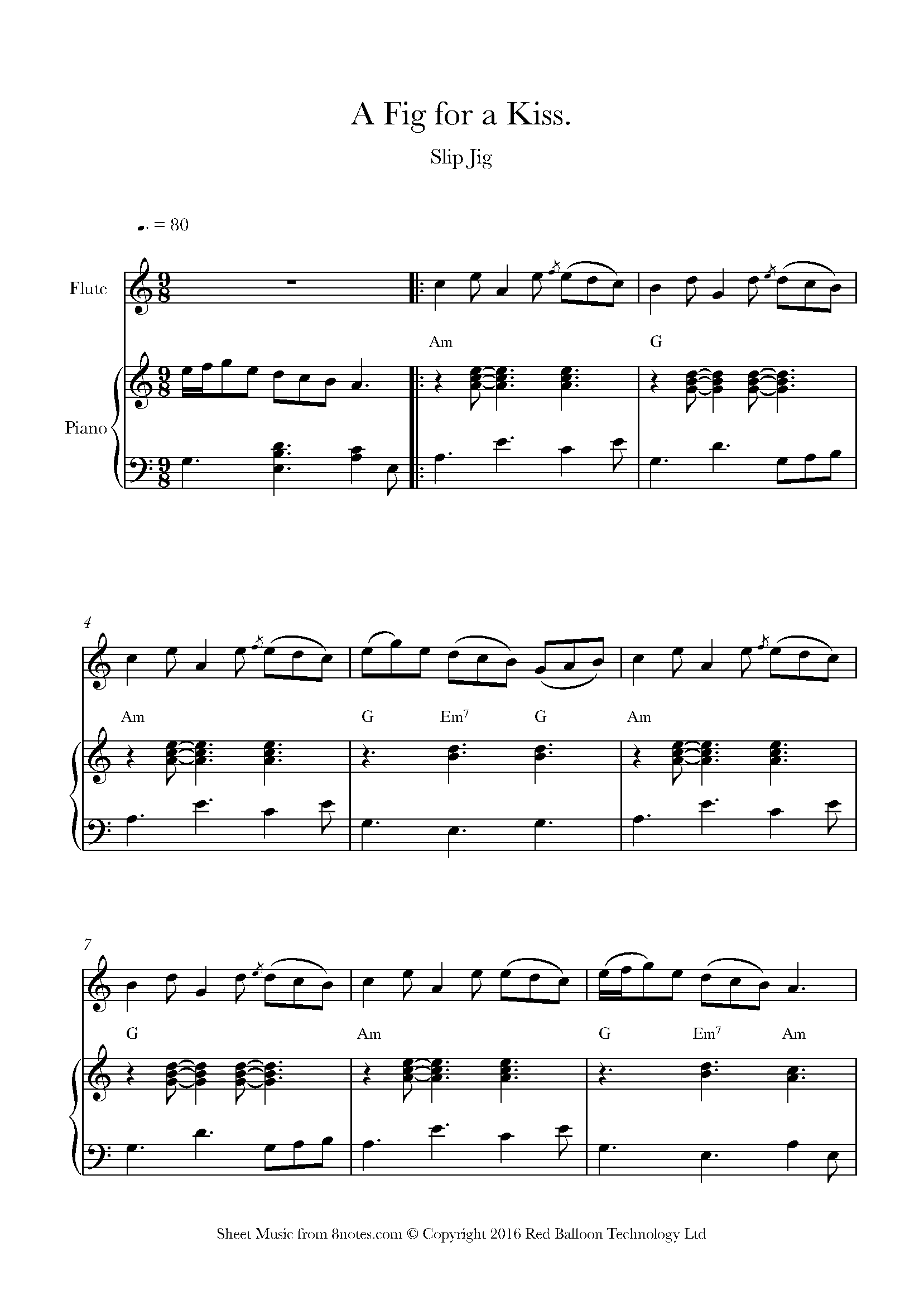 A Fig for a Kiss
As with many Irish melodies, "The Foxhunter's" exists in a number of forms. It was first written down around the beginning of the c.19th. This version had the same outline and four part structure as does this version here, though melodic details differ considerably. Subsequent versions sometimes differ so greatly as to be possibly entirely separate pieces. Others maintain a similar melodic outline within a condensed structure. What is in no doubt is that this is a fine melody, with an attractive lilting quality that dissipates energy into wistful melancholia.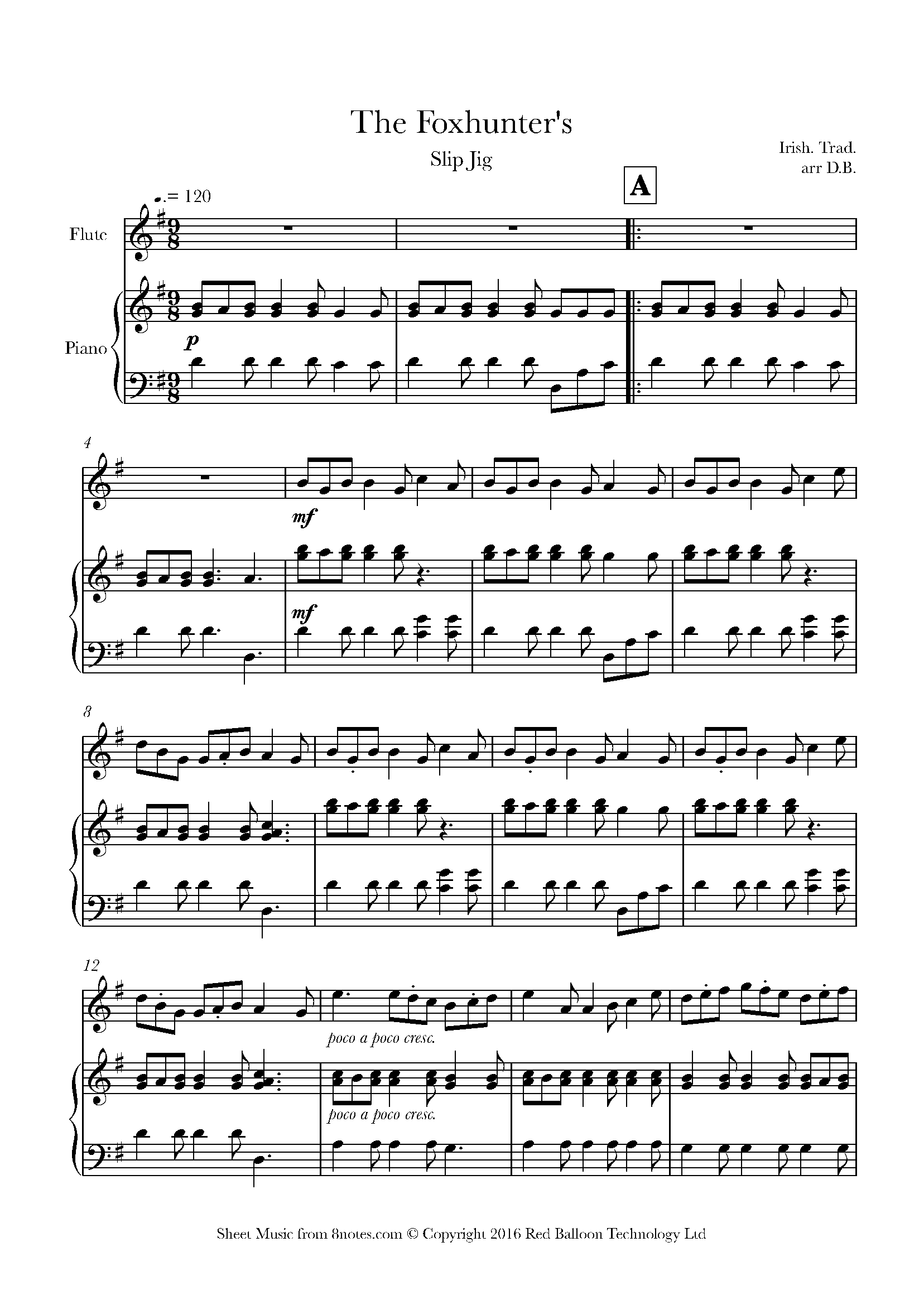 The Foxhunter's (Slip Jig)
"Another Jig Will Do!" (also known as "He Didn't Dance All Day", " I Whistled and Called Her Back", "That's the Time o' Day" and "Whiskey and Beer") was first recorded in "O'Neill's Music of Ireland" in 1903. It is a bright and attractive melody in the major key, with flattened 7ths in the B section providing a welcome touch of mixolydian colour.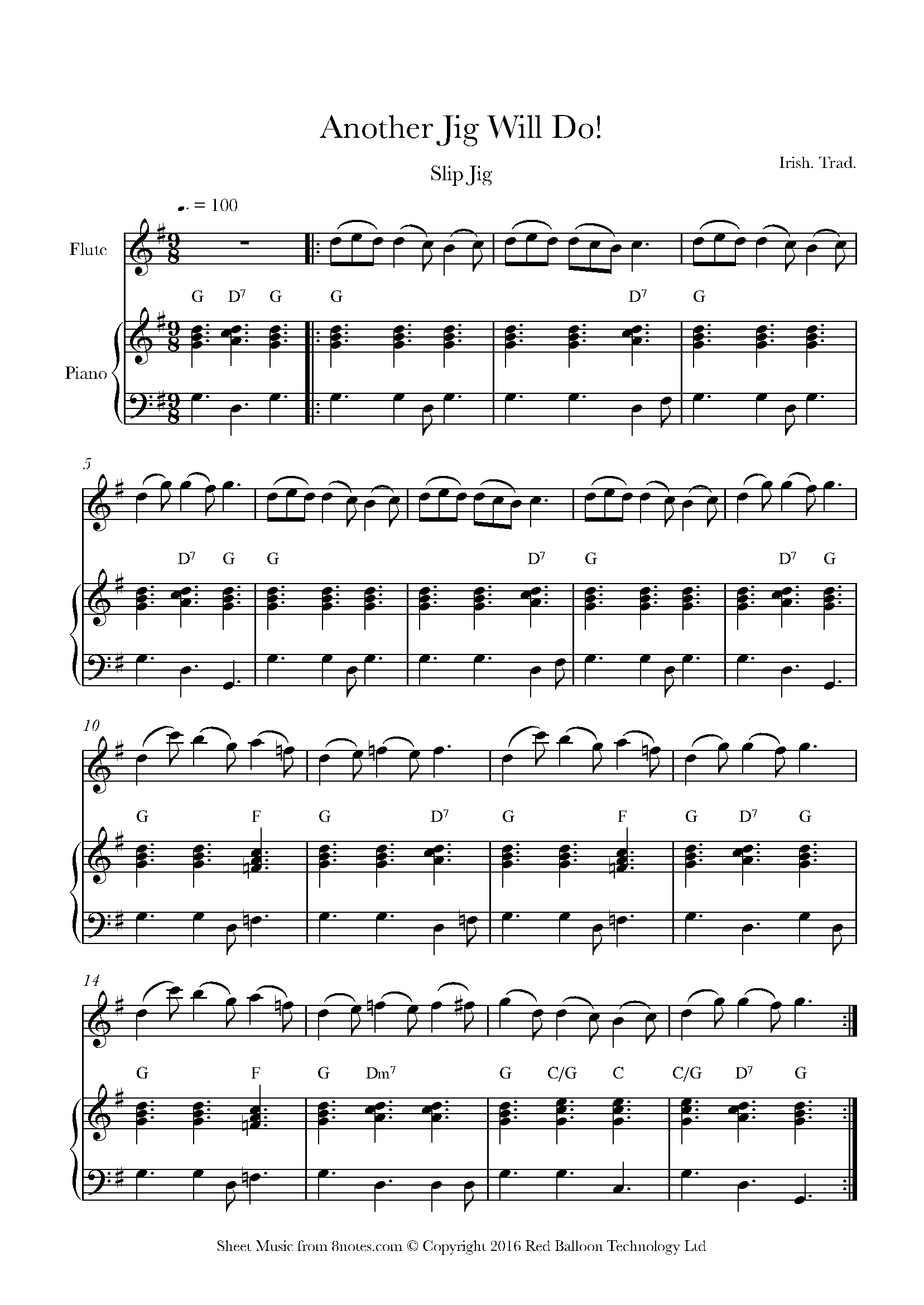 Another Jig Will Do!
"Swaggering Jig," also known by at least ten other unrelated names including "The Silly Old Man", "Girls Take Care of How You Marry" and "Welcome the Piper" is a lively major-keyed slip jig with an AABB structure. It first appears in written sources in the mid-19th century in County Cork. It is a popular piece amongst performers and has been recorded commercially a number of times, including by Seamus Sands in his 2015 album "Across Bridges. Traditional Irish Fiddle Playing."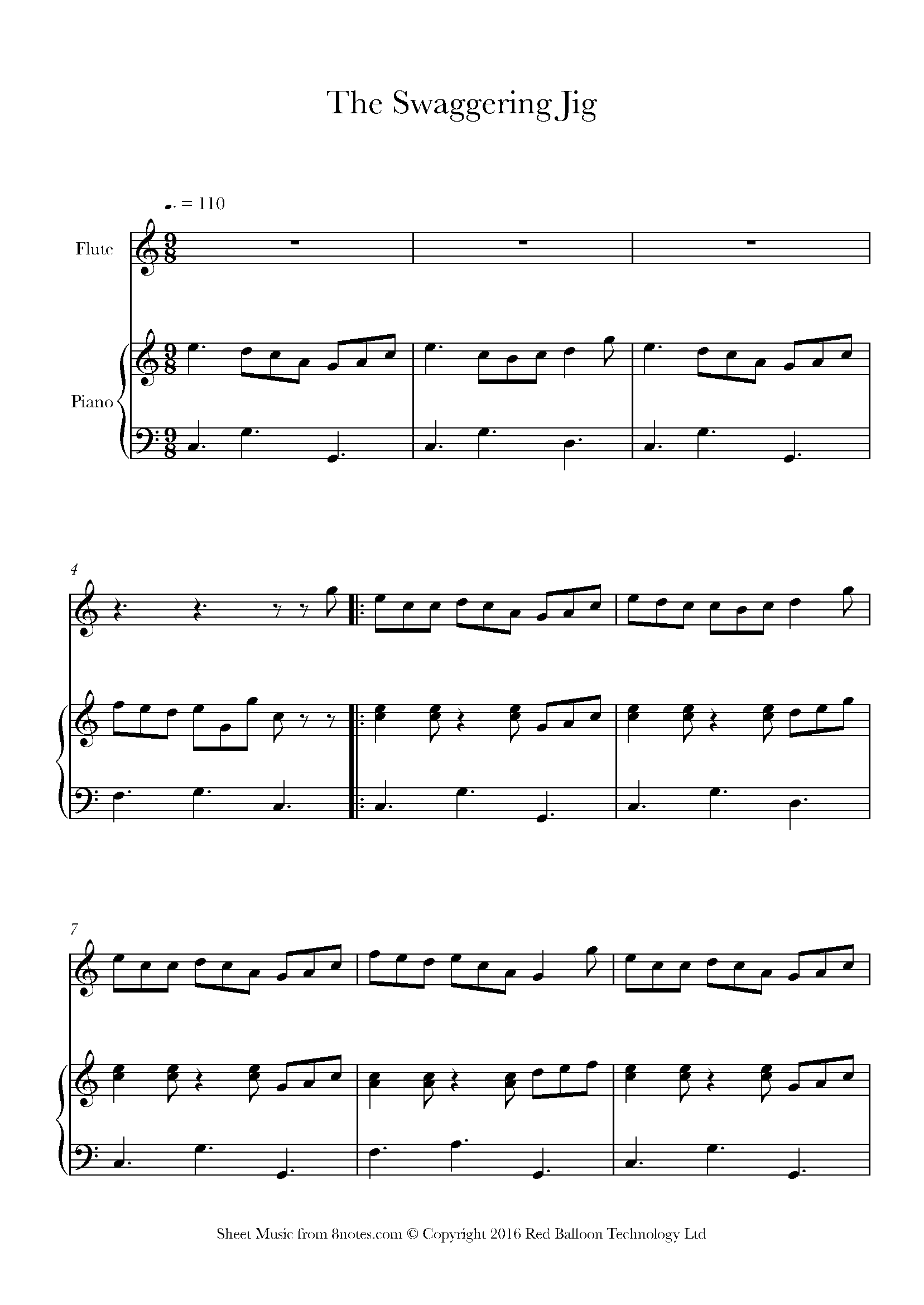 Swaggering Jig
Another melody that appears in "O'Neill's Music of Ireland" of 1903. Its many titles are surprisingly consistent, mostly having a liquid theme - "Drink of Water", "The Drink of Water", "Give Me a Cup of Water" and "There Is No Milk in the House." The arching opening arpeggio combined with a major key gives the piece an outward-going and lively character. It is popular amongst performers, having been commercially recorded a least 15 times since the 1970s.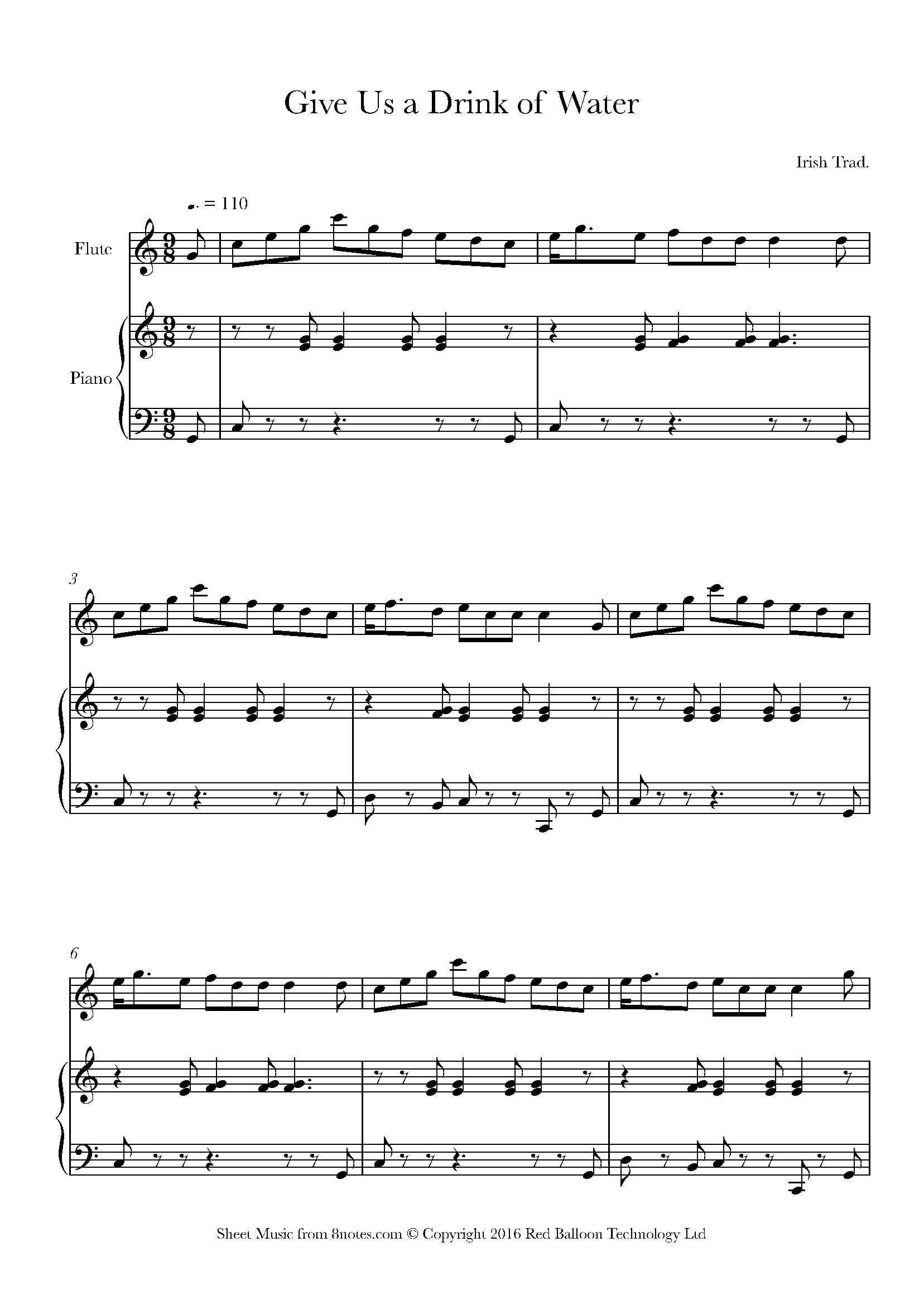 Give Us a Drink of Water
(subscription)