The popular theme was made famous by Disney's Fantasia. Grieg intended it to depict a creepy underground world full of trolls and goblins - the perfect soundtrack for trick or treating!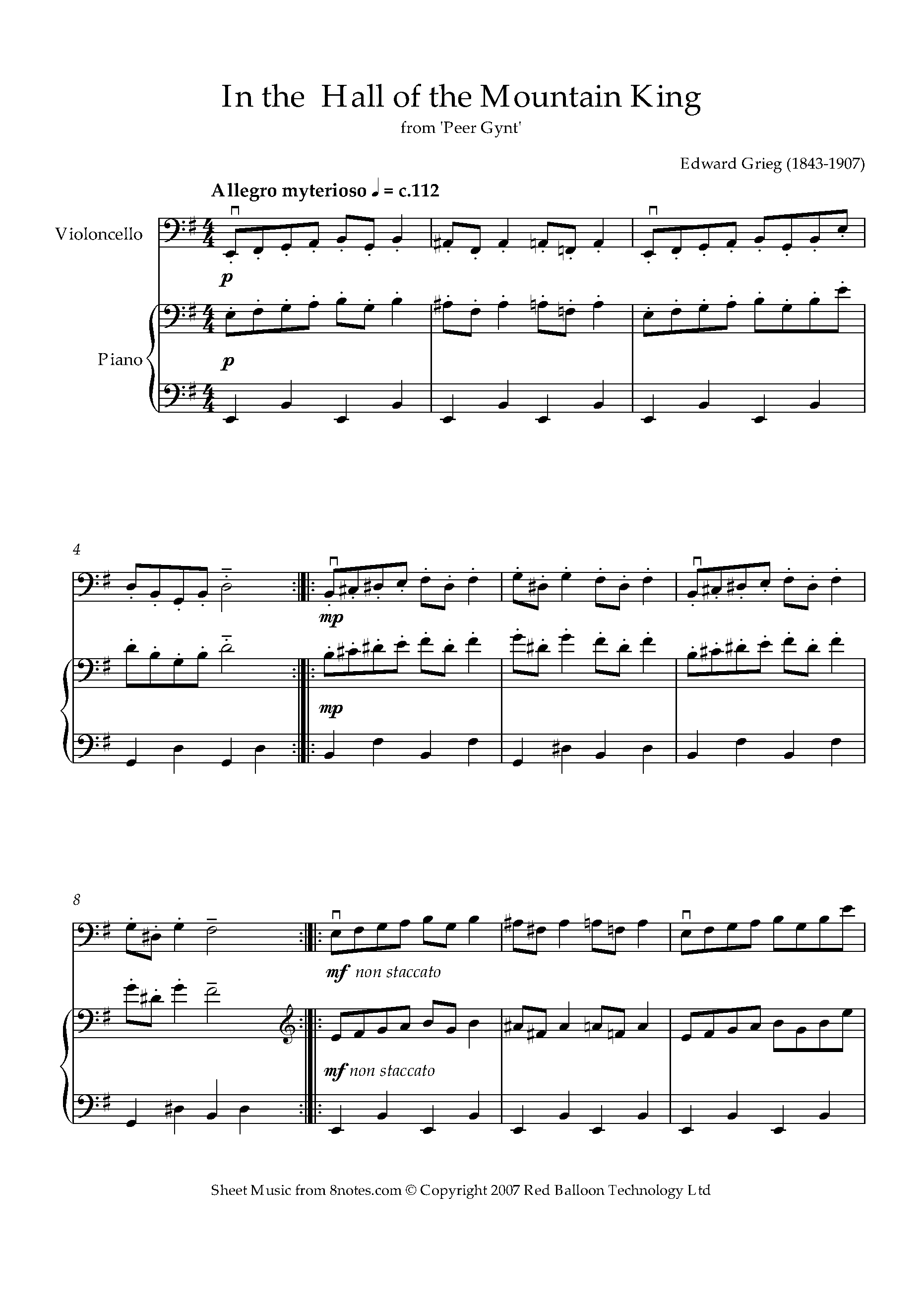 In the Hall of the Mountain King
The Sorcerer's Apprentice (L'apprenti sorcier) is a symphonic poem inspired by Johann Wolfgang von Goethe's 1797 poem of the same name. Used in the Walt Disney 1940 animated film Fantasia has led to the piece becoming widely known among children.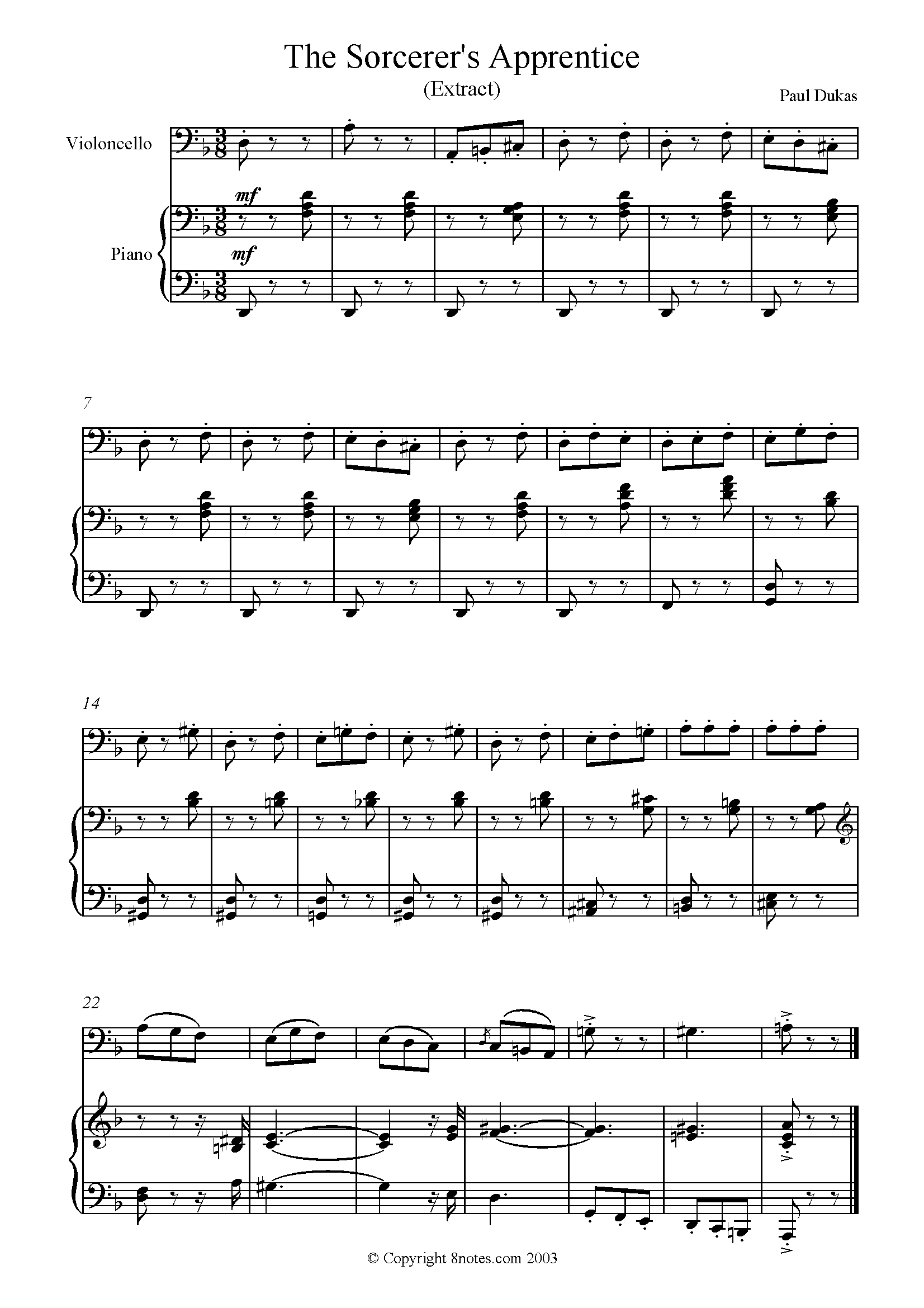 The Sorcerers Apprentice
With more than a touch of graveyard lugubriousness, this piece is probably the most famous of all funeral marches. It has been used at the funerals of politicians such as John F Kennedy and Winston Churchill as well as appearing many times in popular culture.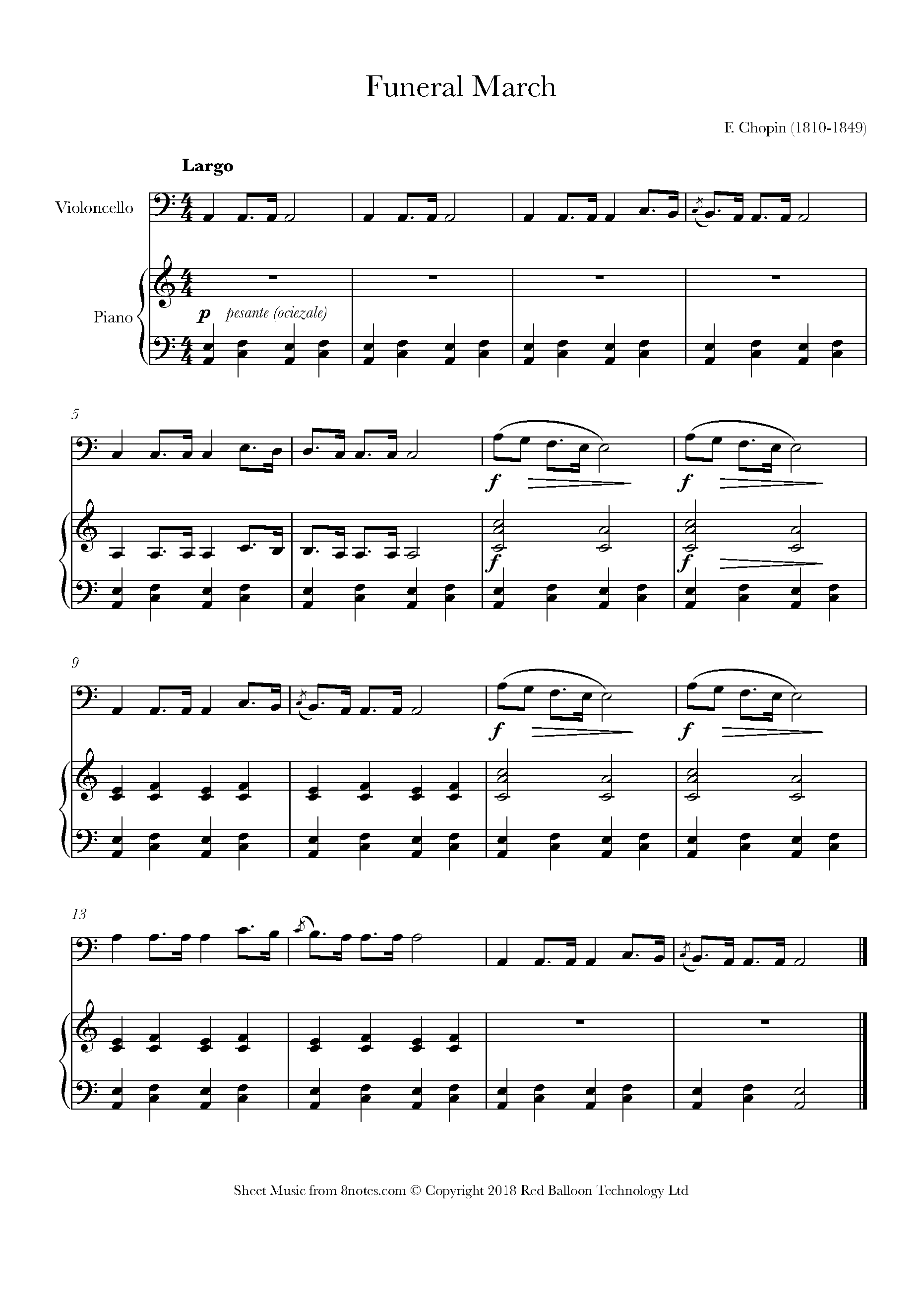 Funeral March
Mussorgsky's "Night on the Bare Mountain" is a dramatic and exciting depiction of a witches' sabbath. One of the most famous works in the classical repertoire it was also used to great effect in Walt Disney's Fantasia.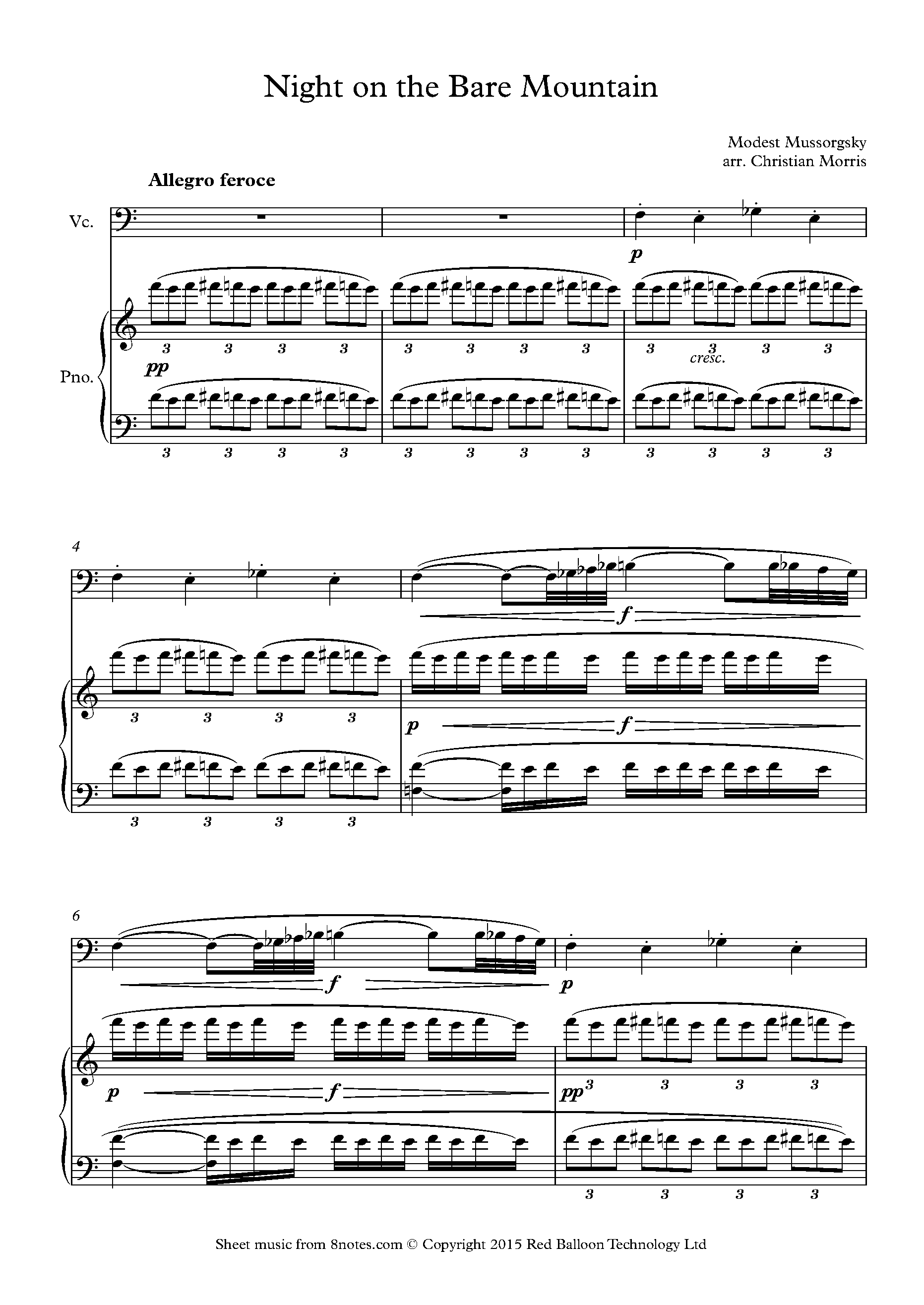 Night on the Bare Mountain
A piece that might have you 'witching' you were somewhere else... It is the opening of the last movement of Berlioz's Symphonie Fantastique, a depiction of a witches' sabbath though the medium of a fevered dream. If this horror is not enough, the main theme is an old melody used to set the words 'Dies Irae' ('Day of Wrath') used as part of a Requiem Mass (Mass for the Dead).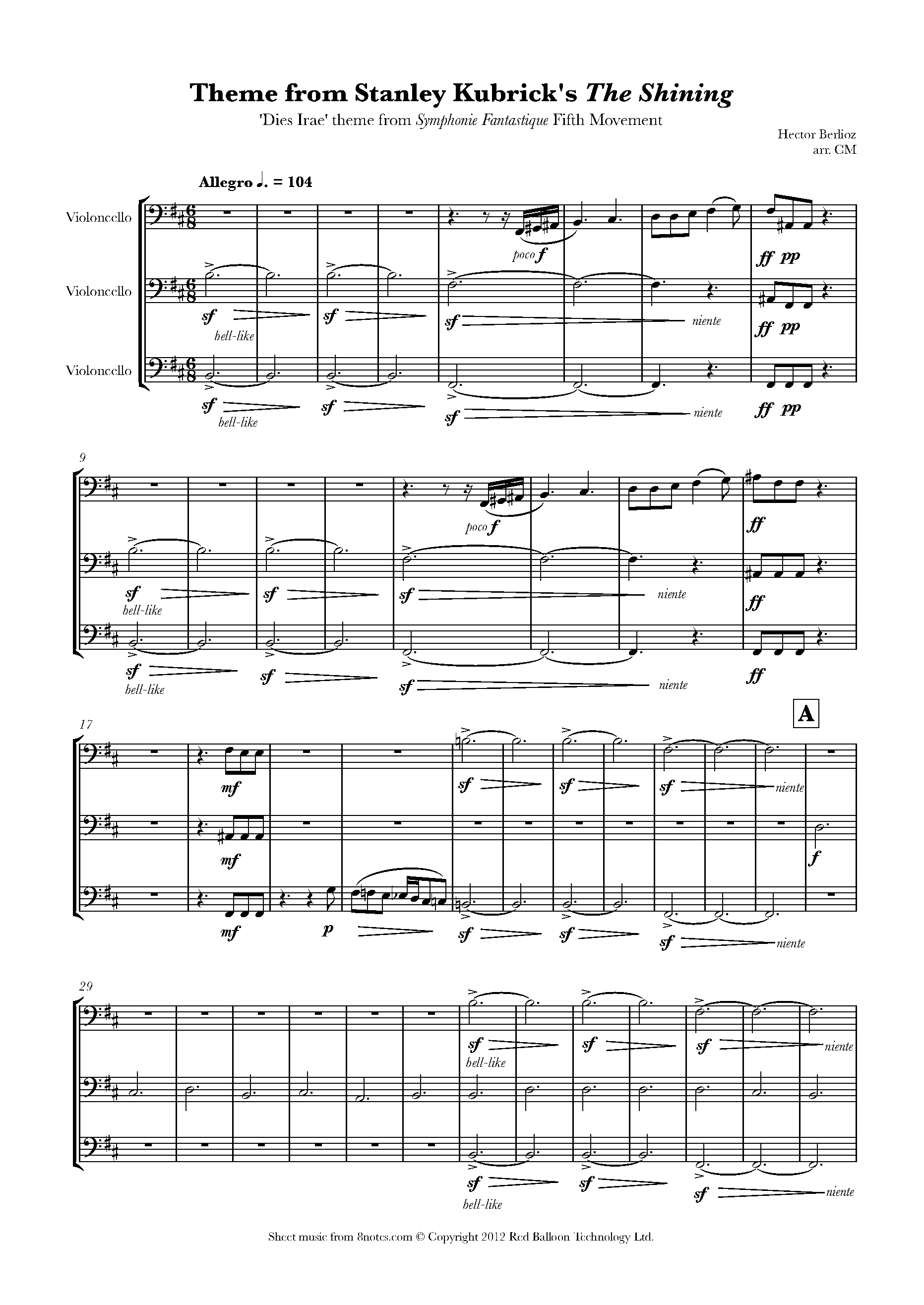 Dies Irae theme from Symphonie Fantastique (Theme from Stanley Kubricks The Shining)
The Funeral March of a Marionette (Marche funebre d'une marionnette) is a short piece by Charles Gounod. It was written in 1872 for solo piano and orchestrated in 1879. It is perhaps best known as the theme music for the television program Alfred Hitchcock Presents, which originally aired from 1955 to 1965.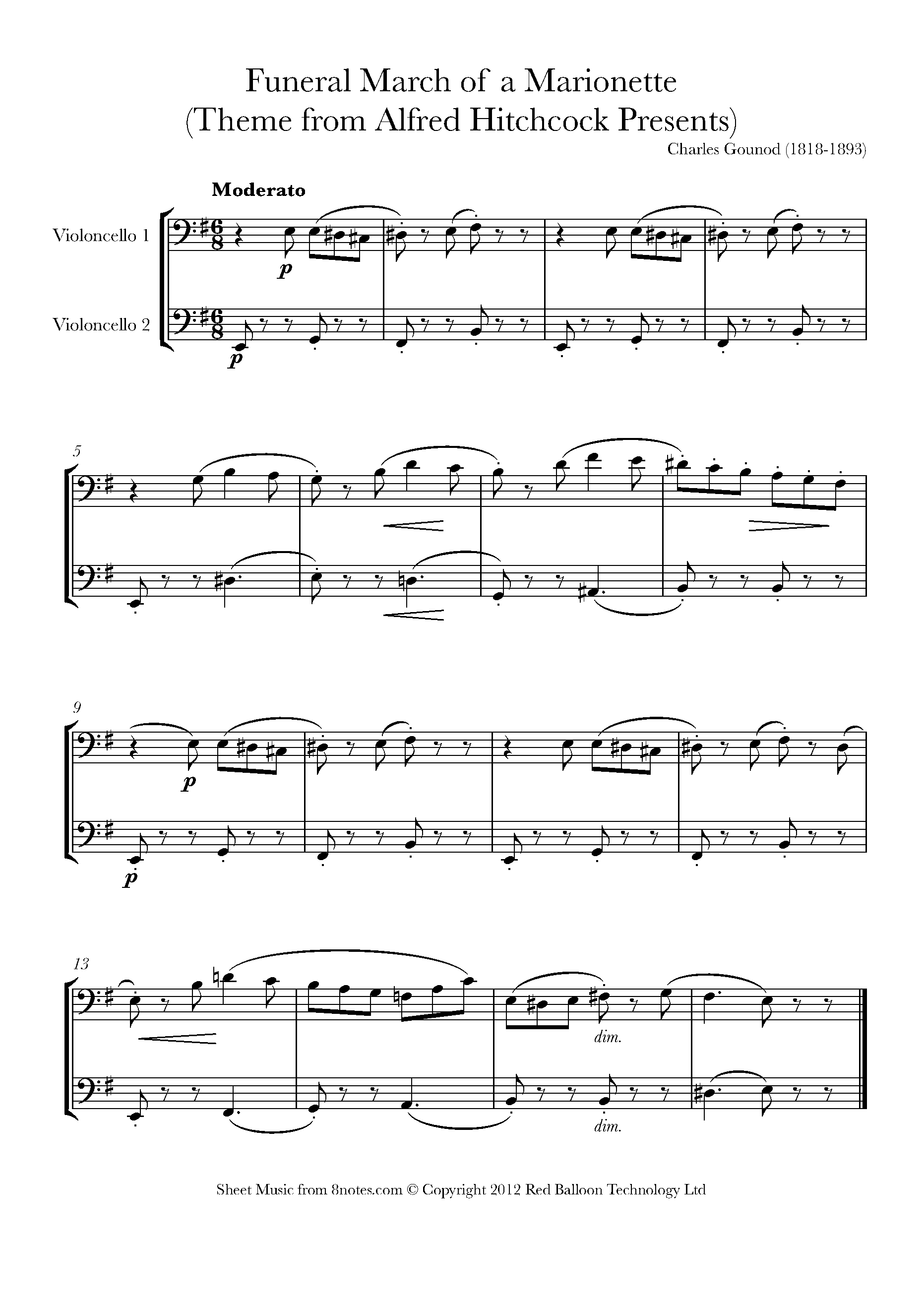 Funeral March of a Marionette (Theme from Alfred Hitchcock Presents)
If you're looking for dark and dramatic, look no further than this, probably Bach's most famous piece. Originally written for organ, it was composed during his time at Weimar, where he was organist, violinist and composer to the Duke of Weimar. In the twentieth century it was used in a film adaptation of "The Phantom of the Opera" and in Walt Disney's "Fantasia."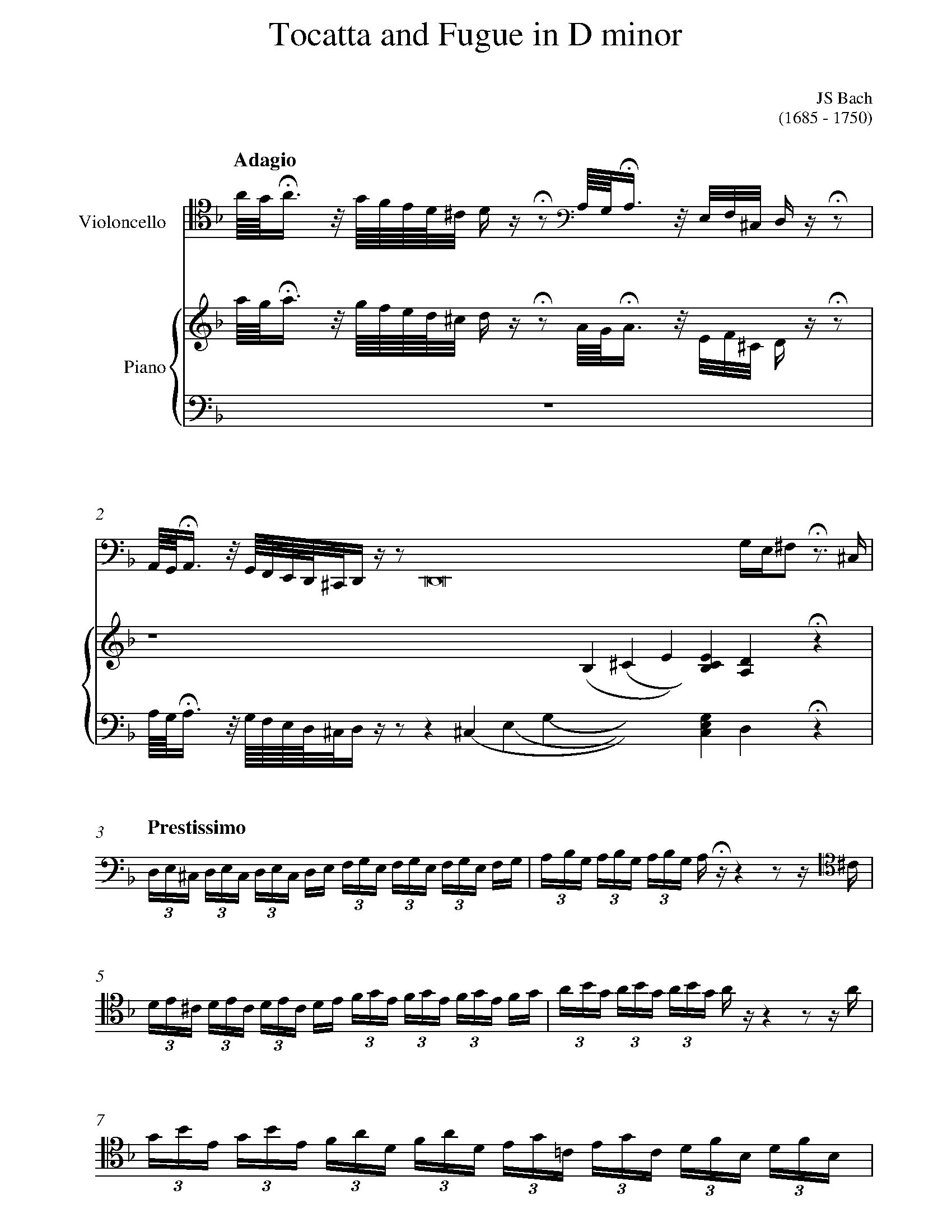 Toccata and Fugue in D minor (complete)
(subscription)
Written by 8notes founder, David Bruce, this piece mixes a mournful tune, with sudden petrifying interjections. Welcome to Fright Club!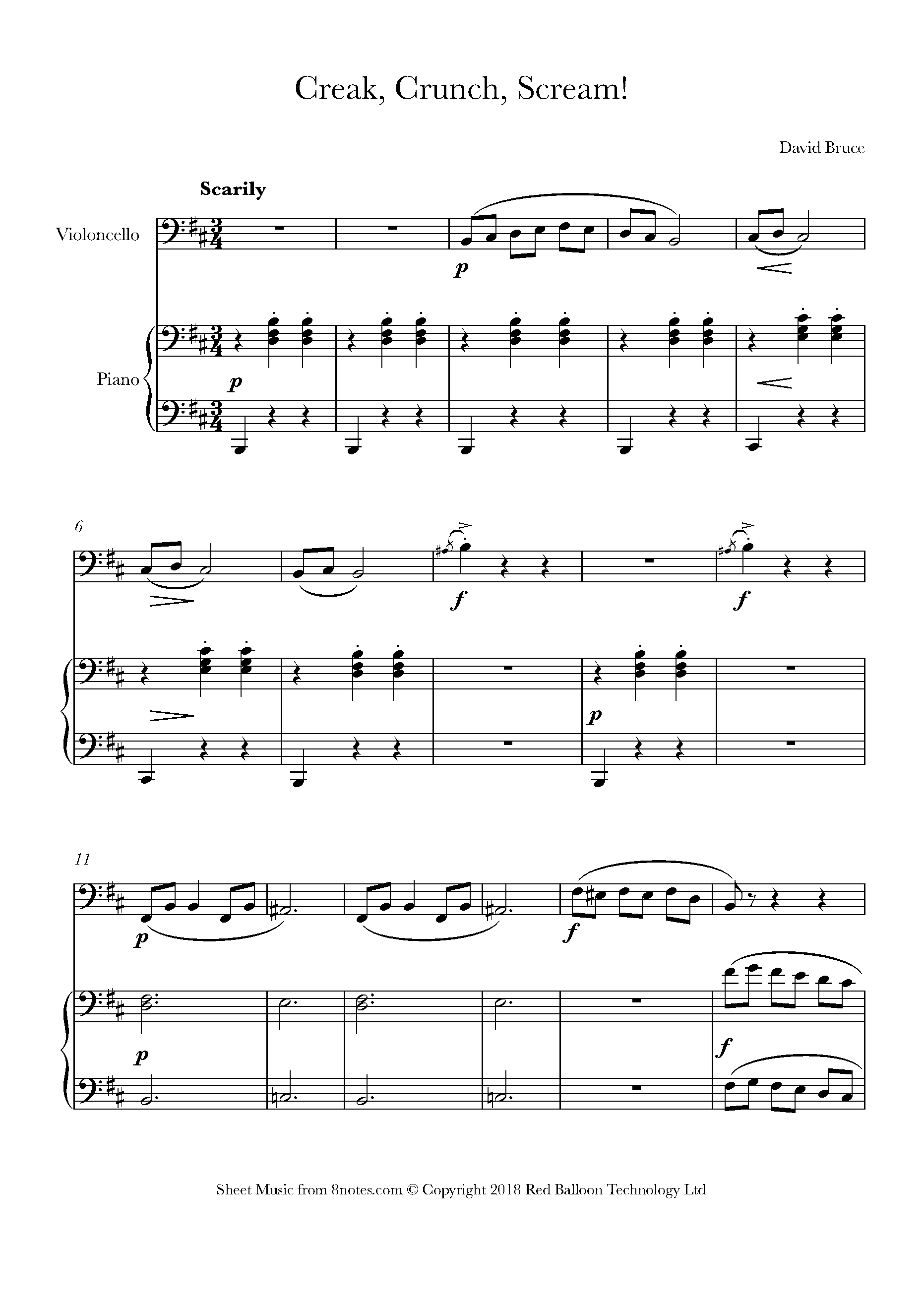 Creak, Crunch, Scream!
If you're looking for a spook-tacular dance that seems to depict a whole host of creatures of the night, this piece is it. Engelmann himself is not so well known today, but he was a hugely prolific composer of educational music. Let's hope his lessons weren't as scary as this!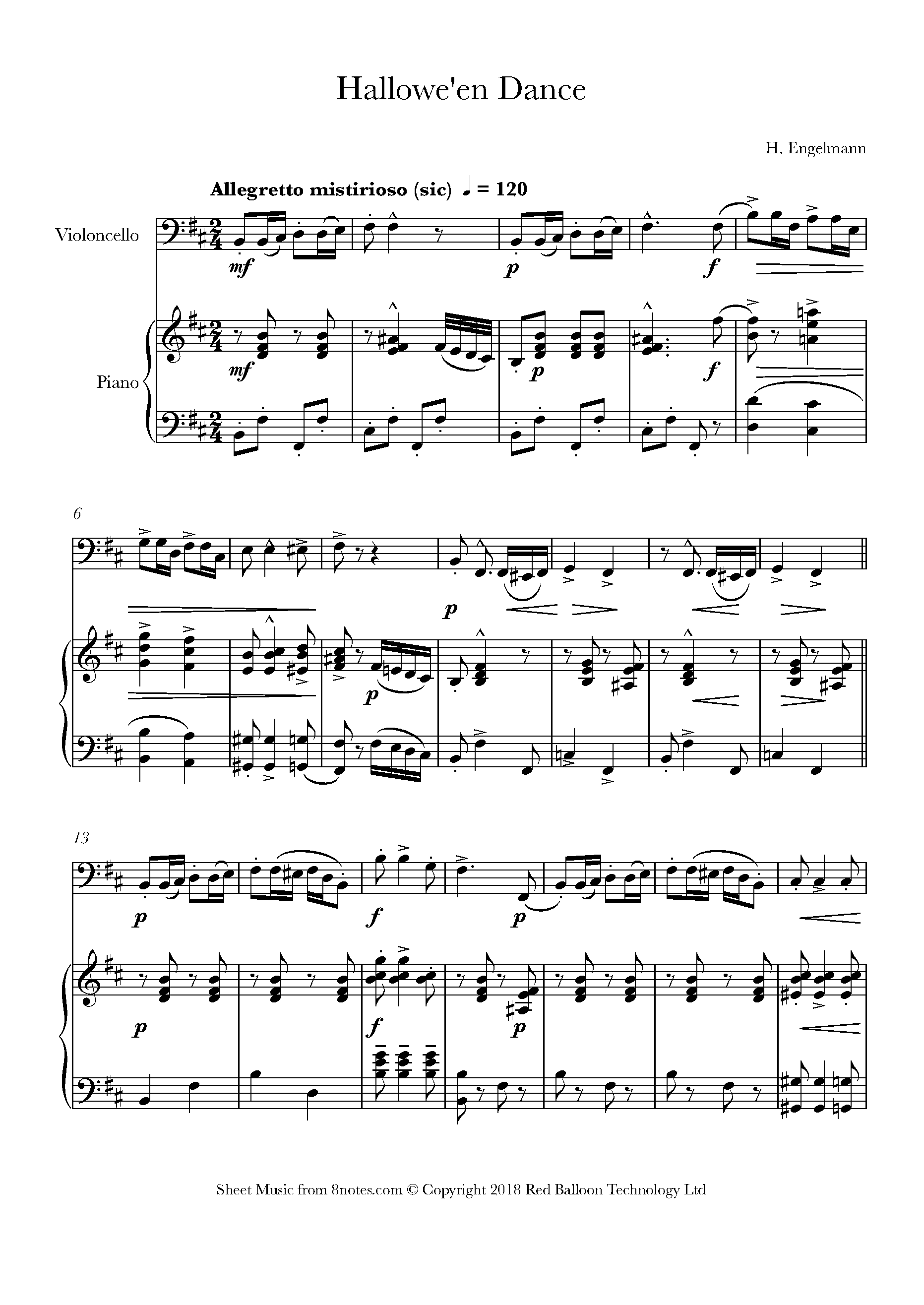 Hallowe'en Dance
If you've ever been told a ghost story by someone close to you, you'll recognise the creeping feeling of fascination and dread as you listen. This piece captures that atmosphere really well. The composer Theodor Kullak was also known as a great teacher.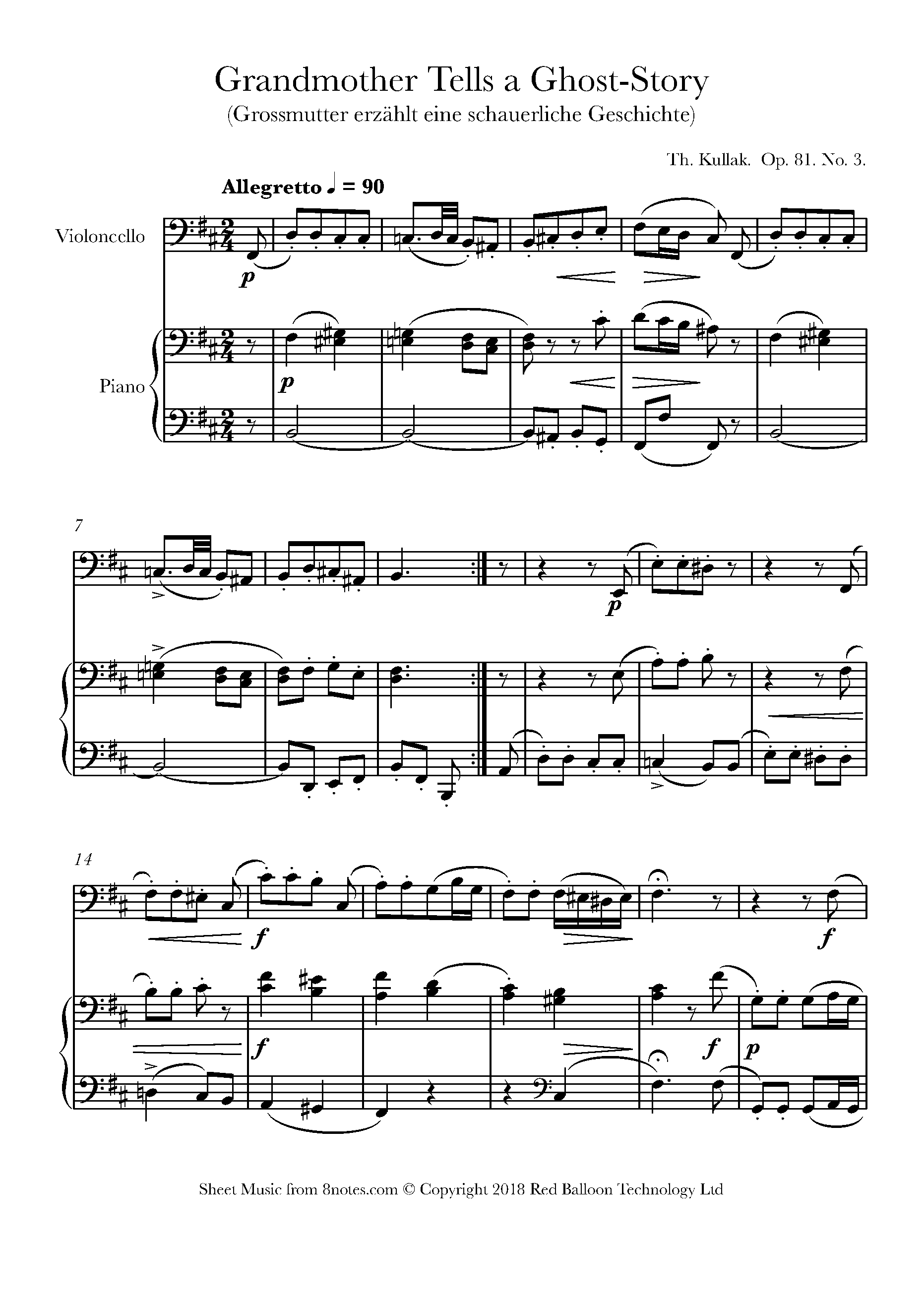 Grandmother Tells a Ghost-Story (Grossmutter erzahlt eine schauerliche Geschichte.) Op. 81. No. 3