1. Scott Joplin - The Entertainer
Scott Joplin's "The Entertainer" is one of the the most enduringly popular works in music. It is a rag time two step, a fashionable form around the beginning of the twentieth century. Joplin was the first classically trained black composer to become a household name in America. Ragtime was eventually succeeded by jazz.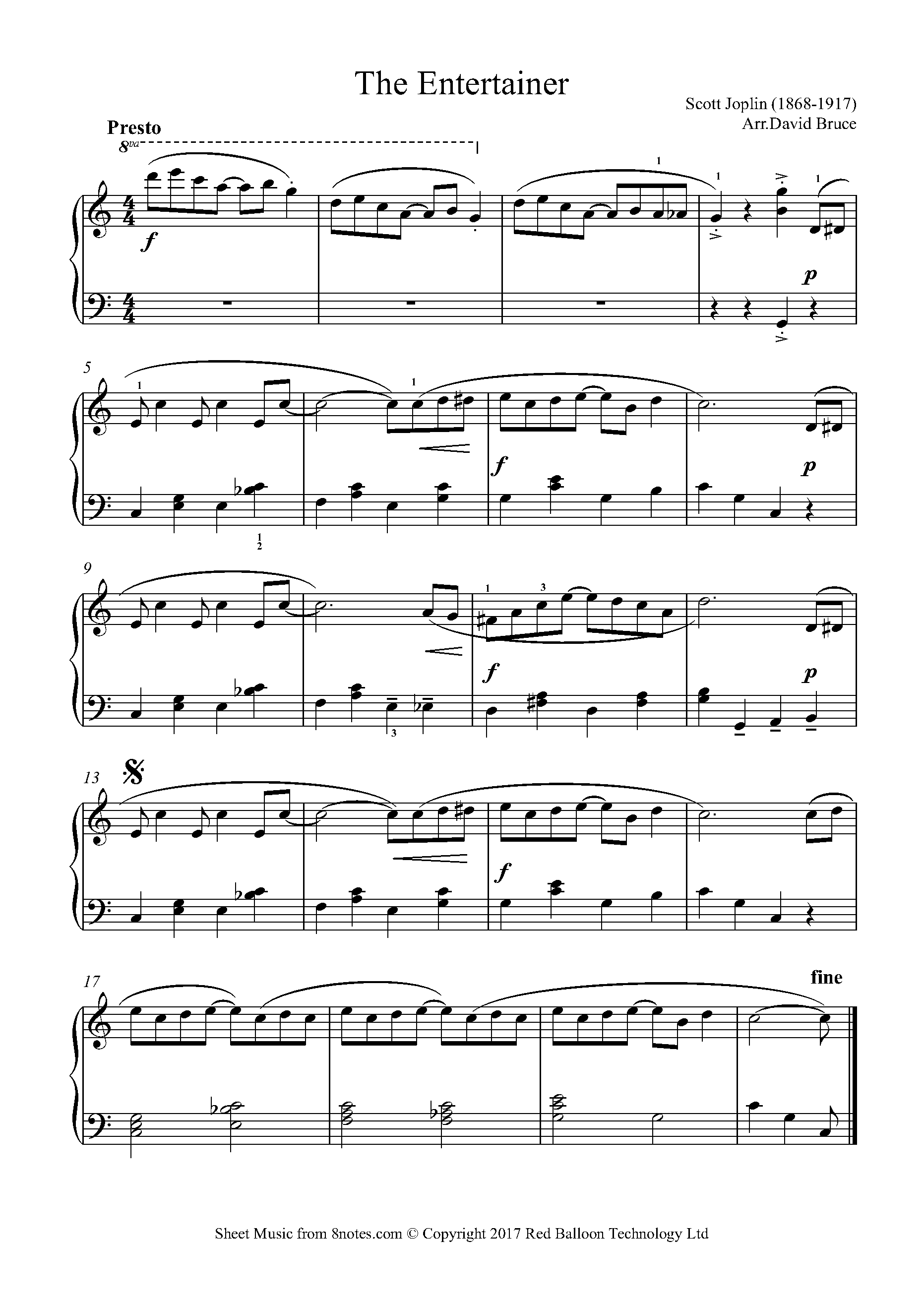 The Entertainer
2. Beethoven - Ode to Joy (9th Symphony)
This famous melody comes from the final movement of Beethoven's "Choral" Symphony No.9 in D minor, Op.125. It is a setting for choir and orchestra of the German poet Schiller's 1785 poem "An die Freude." The "Ode to Joy" was adopted as Europe's anthem by the Council of Europe in 1972. It has a also been used as a protest song, for example by student at Tiananmen Square and against General Pinochet's dictatorship in Chile (1973–1990). It has also appeared in movies, including Stanley Kubrick's "A Clockwork Orange and "Die Hard," starring Bruce Willis.
The first lines read:
Oh friends, no more of these sad tones!
Let us rather raise our voices together
In more pleasant and joyful tones.
Joy!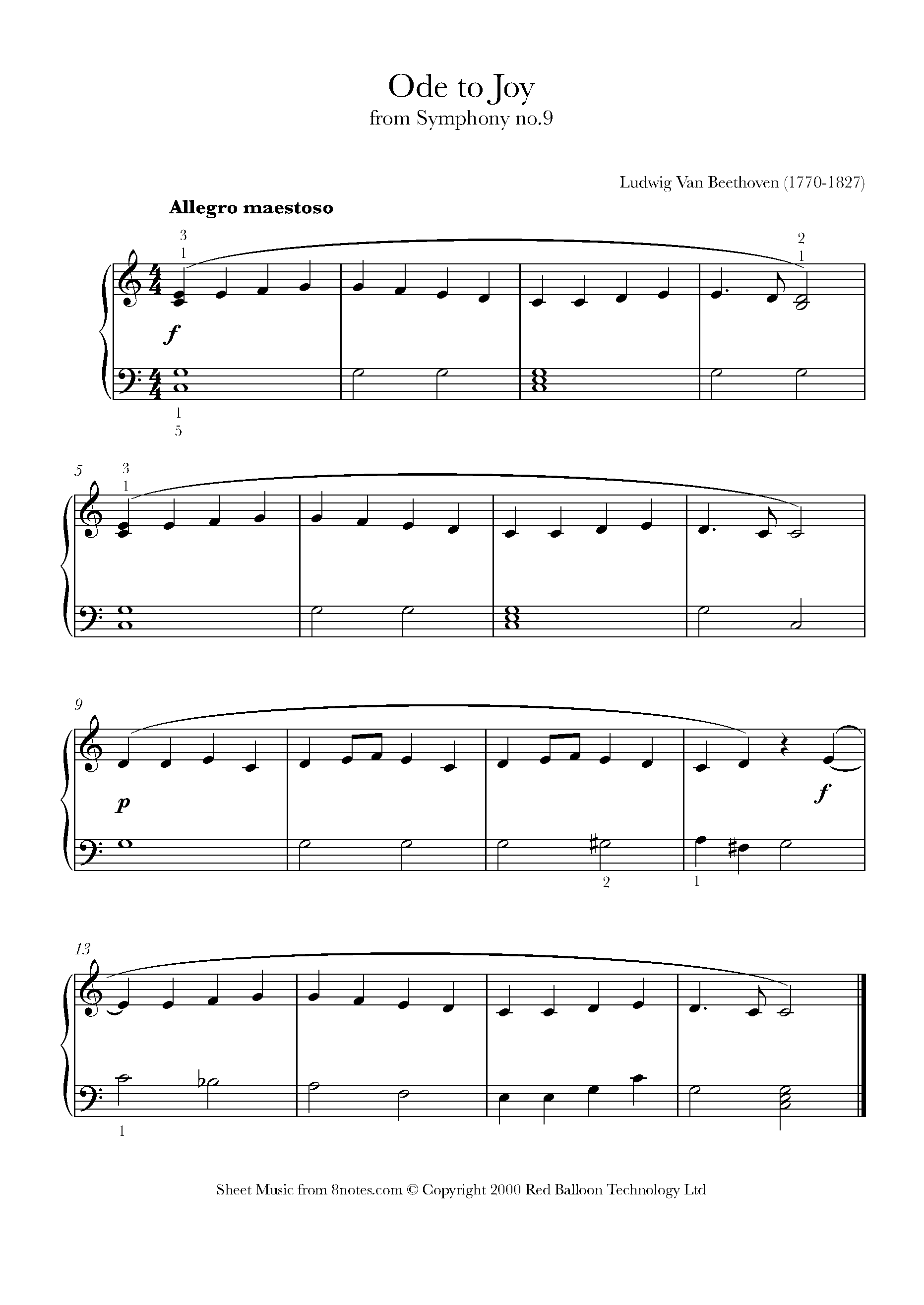 Ode to Joy (9th Symphony)
3. Vivaldi - 'Spring' from the Four Seasons
One of the most famous and well-loved of all baroque works, the four seasons are the first of 12 concerti that make up "Il Cemento Dell'armonia e dell'inventione" ("The Contest of Harmony and Invention"). They were originally written for solo violin and orchestra. The opening movement of the first of the concerto suggests all the joy and expectation of its title, "Spring."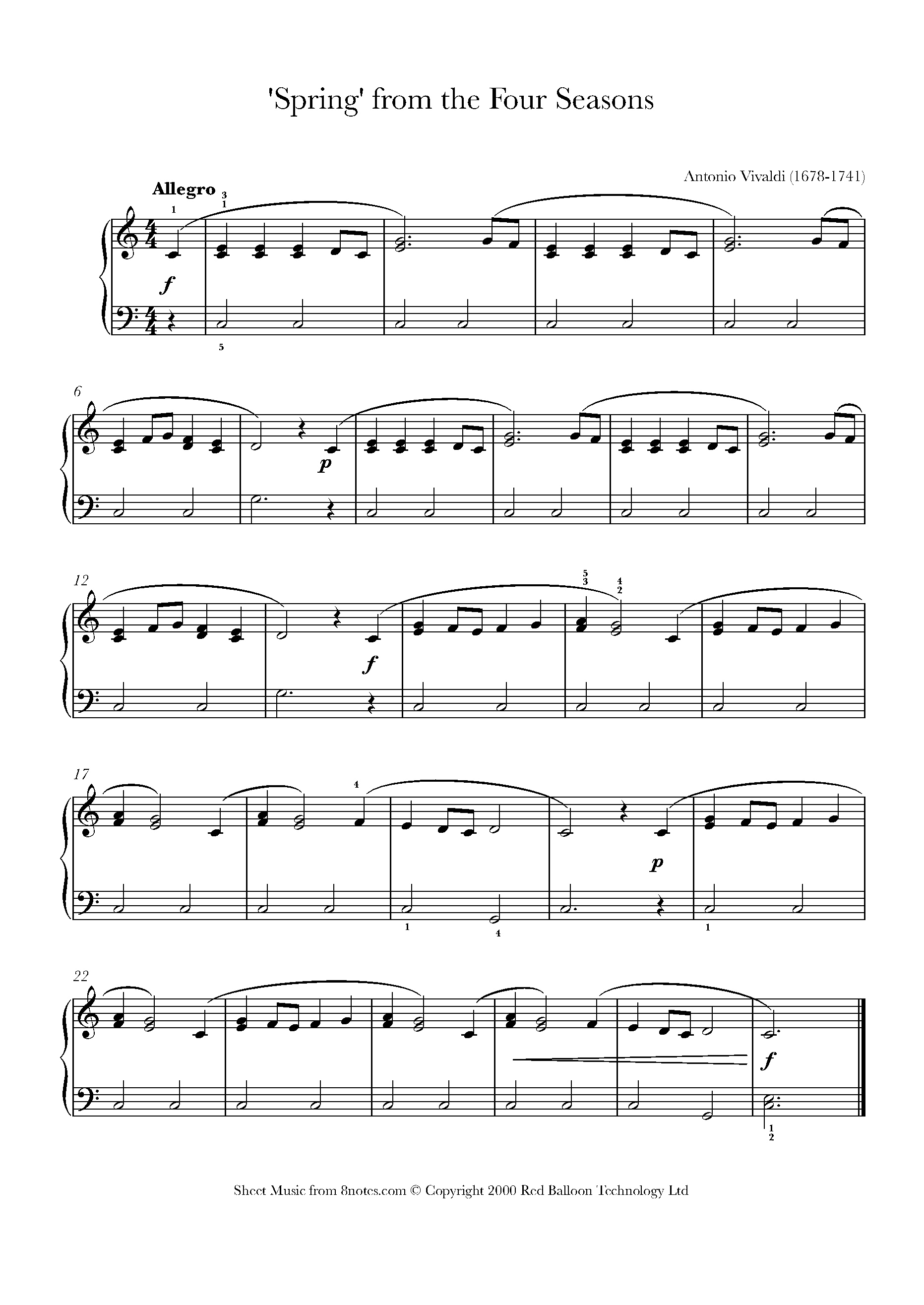 'Spring' from the Four Seasons
4. La Bamba
"La Bamba" is a Mexican folk song, originally from the state of Veracruz, best known from a 1958 adaptation by Ritchie Valens, a top 40 hit in the U.S. charts and one of early rock and roll's best-known songs.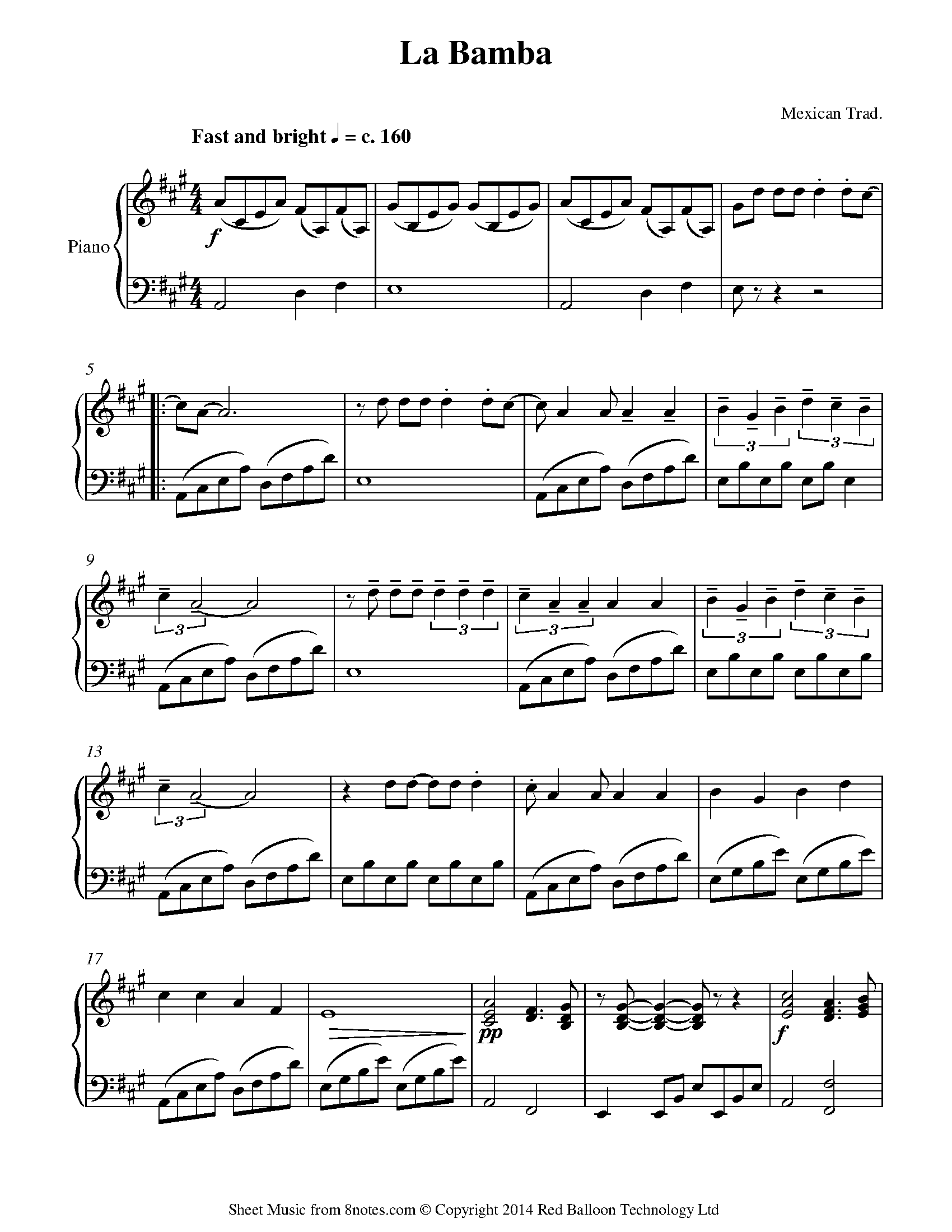 La Bamba
5. Handel - Water Music
This exhilarating work, also titled "Alla Hornpipe," is taken from the second suite of Handel's celebrated "Water Music." "Water Music" premiered on 17 July 1717 after King George I had requested a concert on the River Thames. The king was so pleased with it that he ordered it to be repeated at least three times, both on the trip upstream to Chelsea and on the return to Whitehall.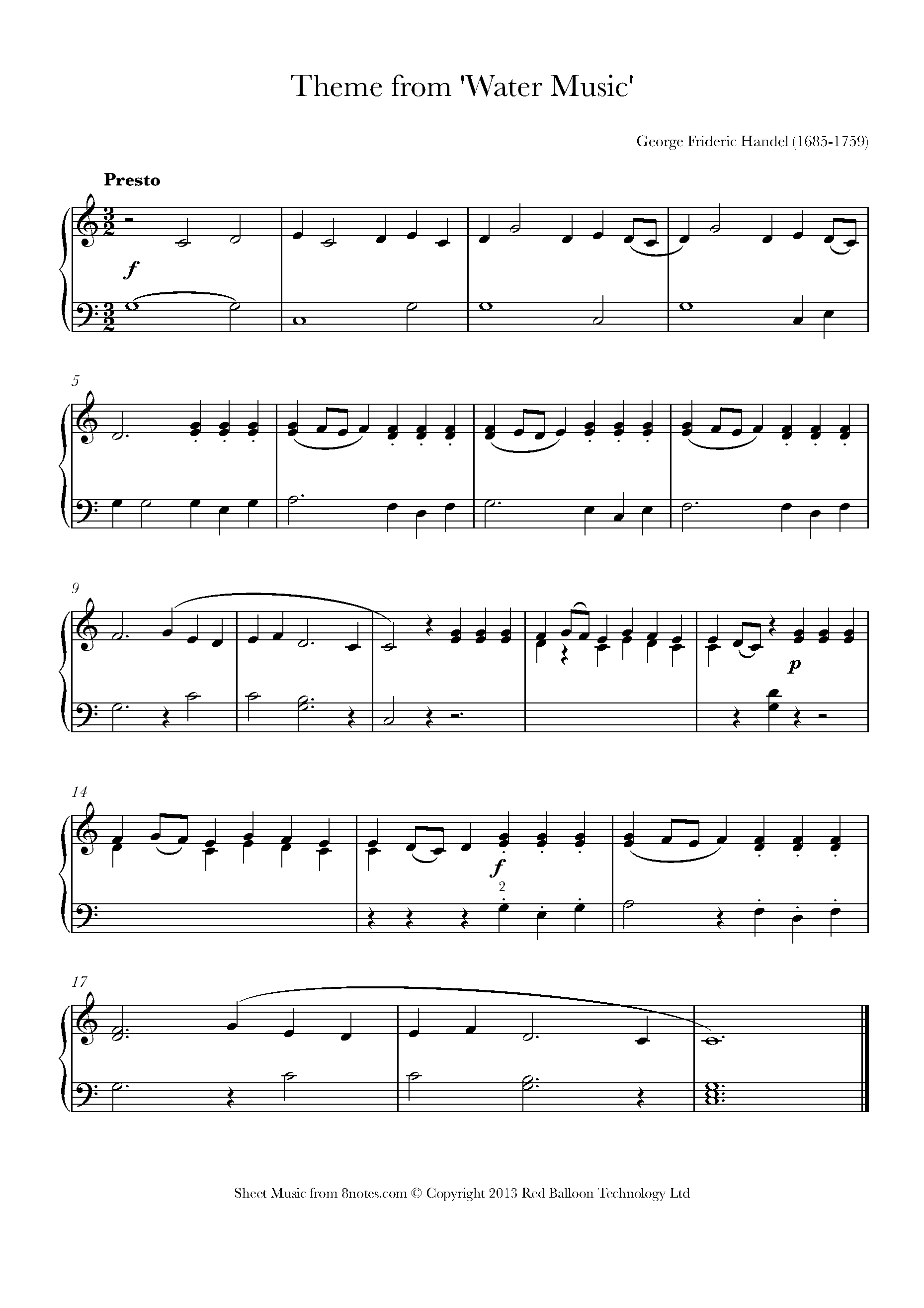 Water Music
6. Rossini - William Tell Overture
Rossini's exuberant "William Tell" Overture is from his 39th and final opera "William Tell." With its famous finale, "March Of The Swiss Soldiers," it is a major part of the concert and recording repertoire. It is particularly familiar through its use in the American radio and television shows of "The Lone Ranger." Several portions of the overture were used prominently in the films "A Clockwork Orange" and "The Eagle Shooting Heroes."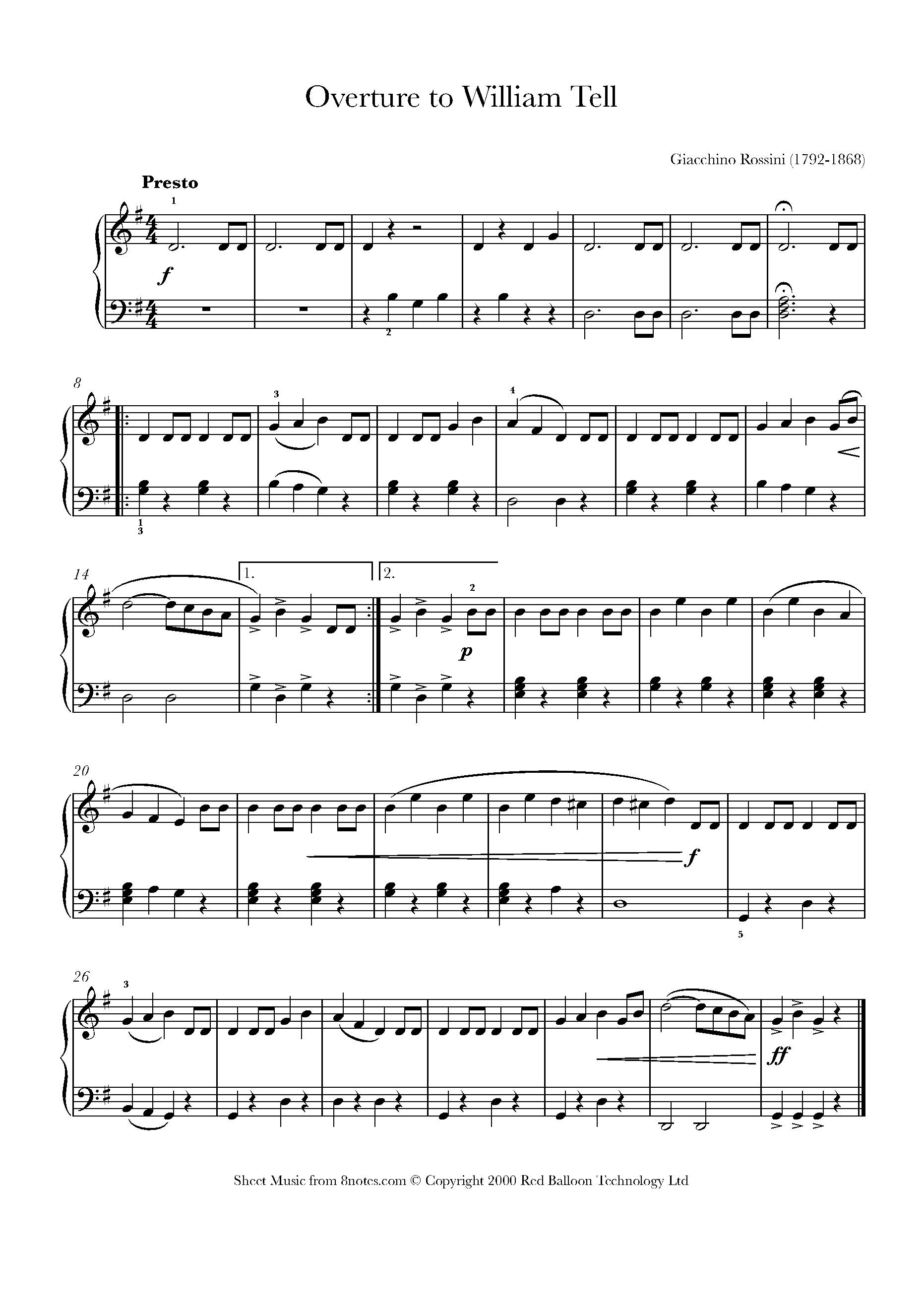 William Tell Overture
7. Strauss II - Pizzicato Polka
The Pizzicato Polka is a piece of orchestral music by Johann Strauss II published in 1870. Strauss composed it with his brother Josef in 1869 for a trip to Imperial Russia. The polka was written for string orchestra and glockenspiel. It was hugely popular, especially in Italy, where it was included on every program Strauss played there. The piece consists of four melodies and the work is arranged in ternary form (A-B-A). As the title suggests, the piece is scored for plucked strings.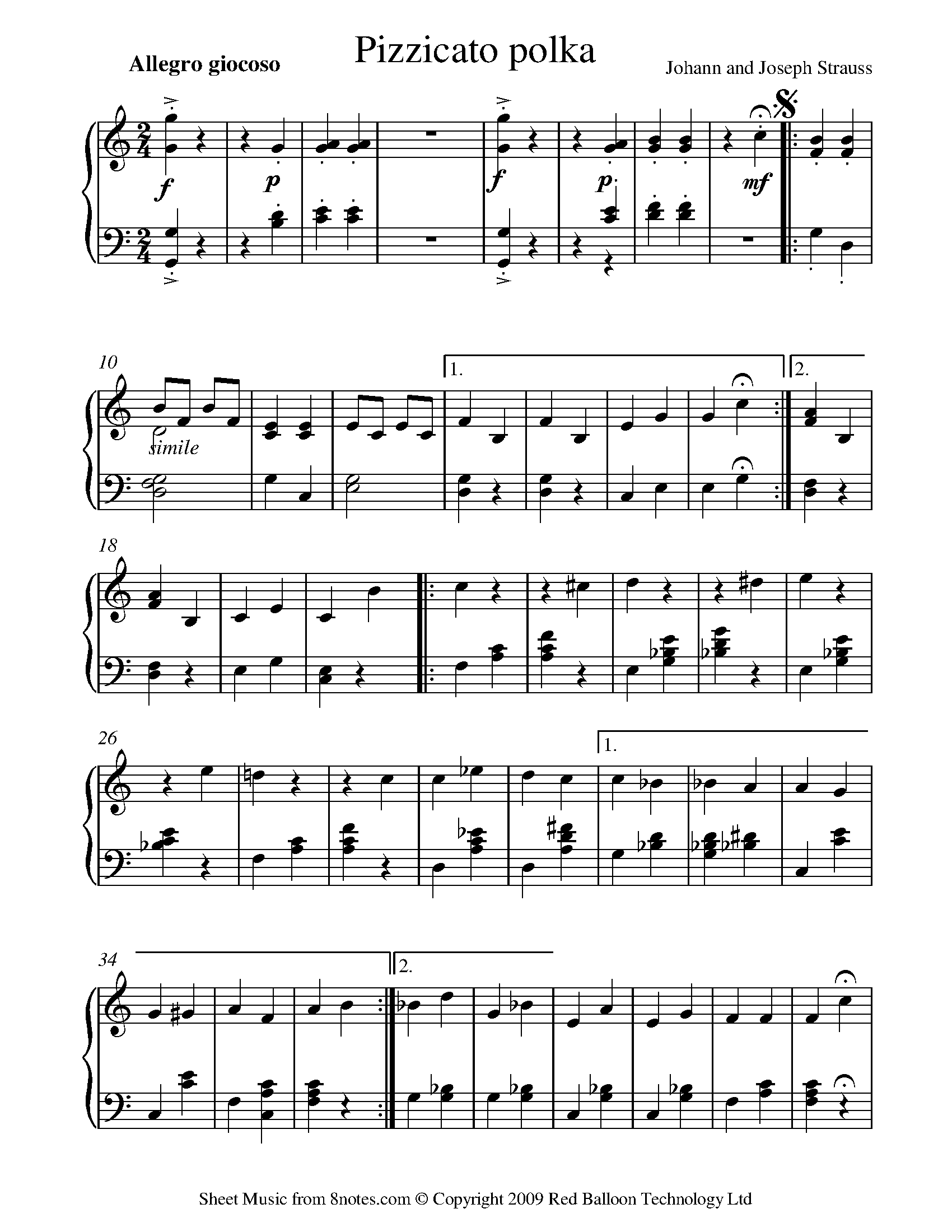 Pizzicato Polka
8. Mozart - Horn Concerto No. 4 in Eb 4th movement arranged for alto saxophone
Mozart's Horn Concerto No. 4 in E-flat major, K. 495 was completed in 1786. It remains one of the composer's most popular works. The comic duo Flanders and Swann famously turned the final movement into a humorous song, "Ill Wind," the lyrics beginning:
I once had a whim and I had to obey it
To buy a French Horn in a second-hand shop;
I polished it up and I started to play it
In spite of the neighbours who begged me to stop.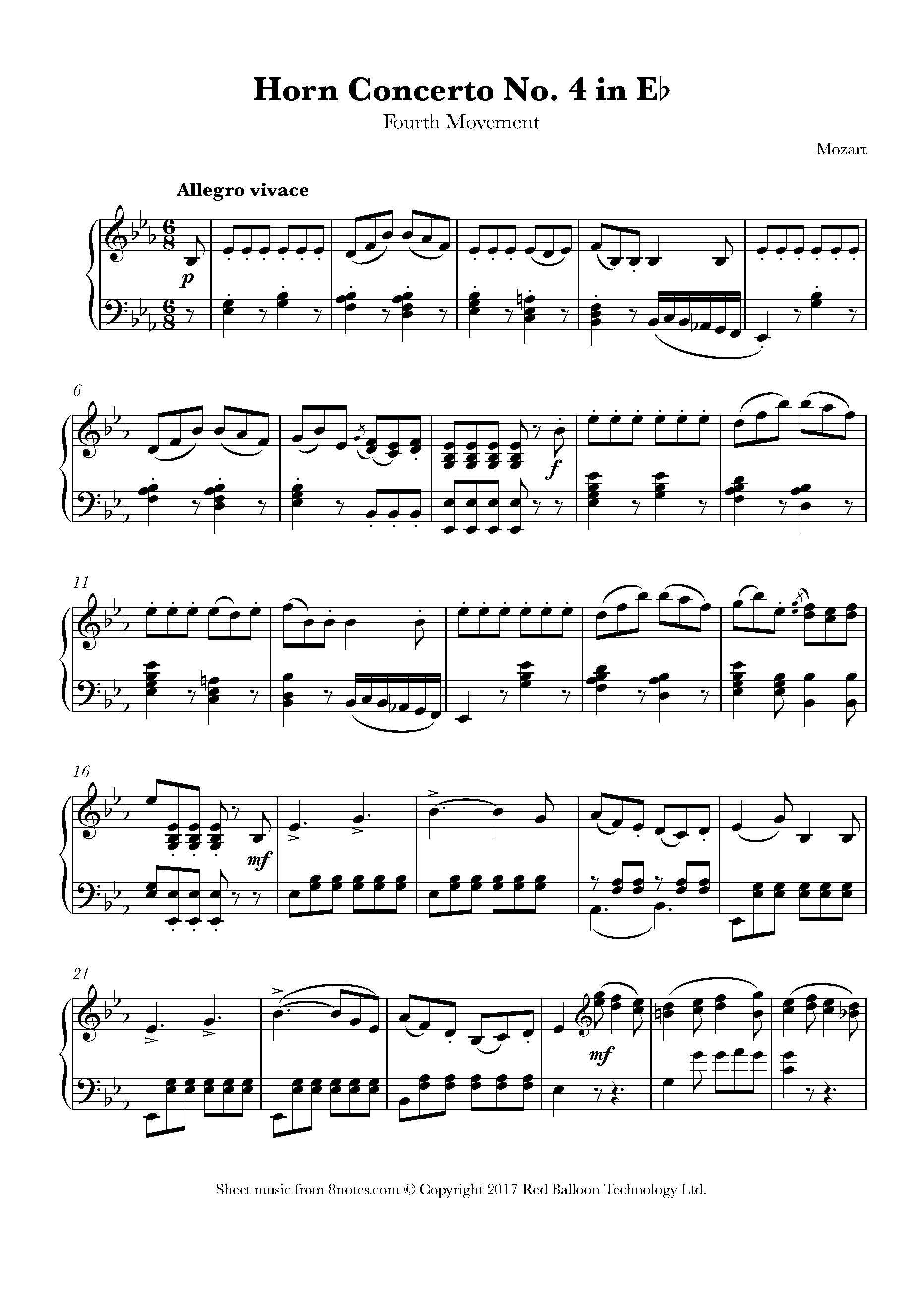 Horn Concerto No. 4 in Eb 4th movement arranged for alto saxophone
9. Wagner - Lohengrin - Introduction to Third Act
"Lohengrin," WWV 75, is a Romantic opera in three acts composed and written by Richard Wagner, first performed in 1850. The story of the eponymous character is taken from medieval German romance, notably the Parzival of Wolfram von Eschenbach, and its sequel Lohengrin, itself inspired by the epic of Garin le Loherain. The vigorous and joyful "Introduction" to the Third Act occurs before Elsa's wedding and is immediately followed by the famous "Bridal Chorus."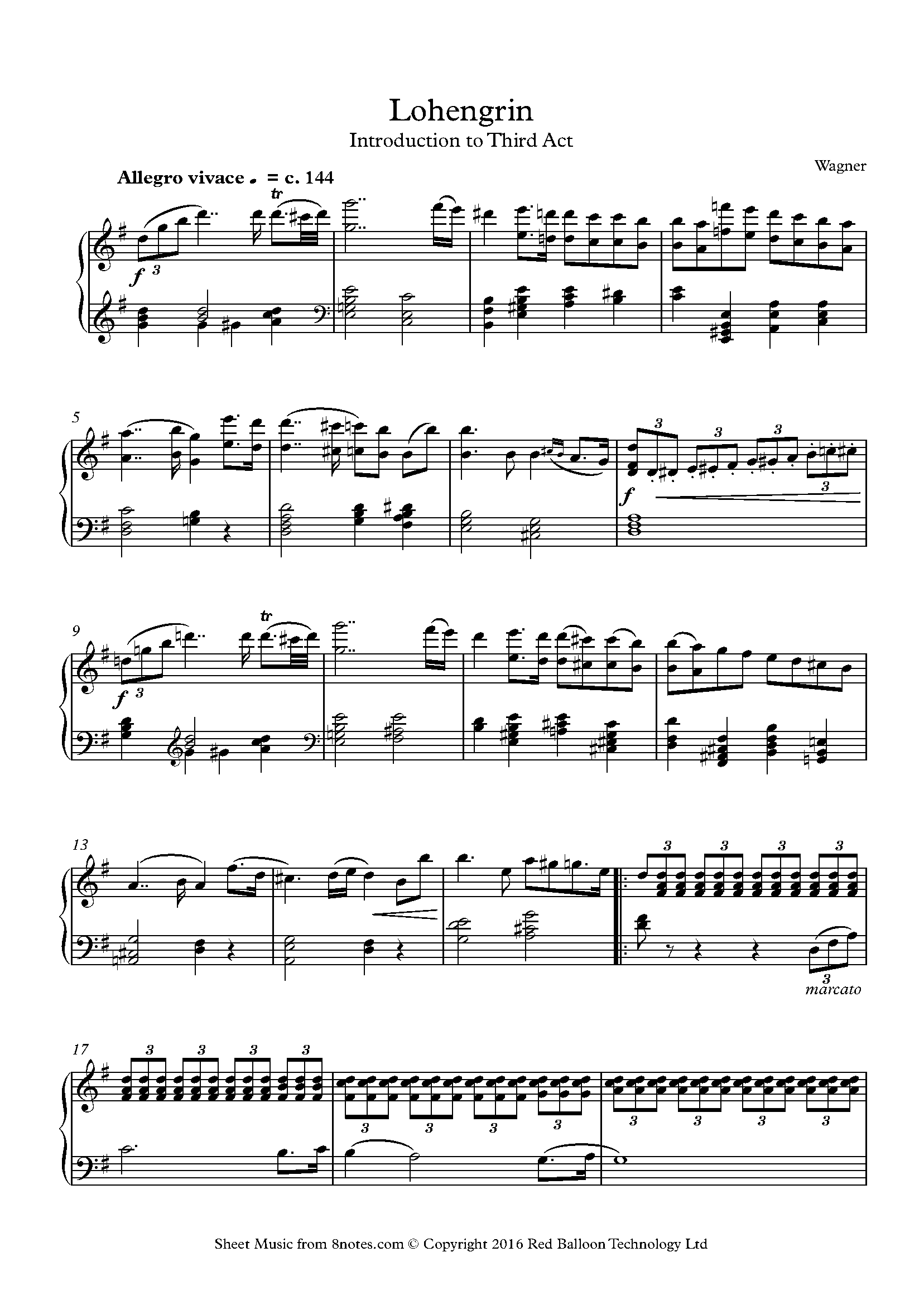 Lohengrin - Introduction to Third Act
10. Mendelssohn - Symphony No. 4 'Italian' First Movement Main Theme
Medelssohn's "Italian" Symphony has its origins, as had the composer's "Scottish" 3rd Symphony and the "Hebrides" Overture, in the tour of Europe which occupied the composer from 1829 to 1831. Its inspiration is the colour and atmosphere of Italy, where Mendelssohn made sketches but left the work incomplete. The composer was in an ebullient mood as he wrote it, remarking to his sister "It will be the jolliest piece I have ever done,' a fact certainly apparent in this opening movement.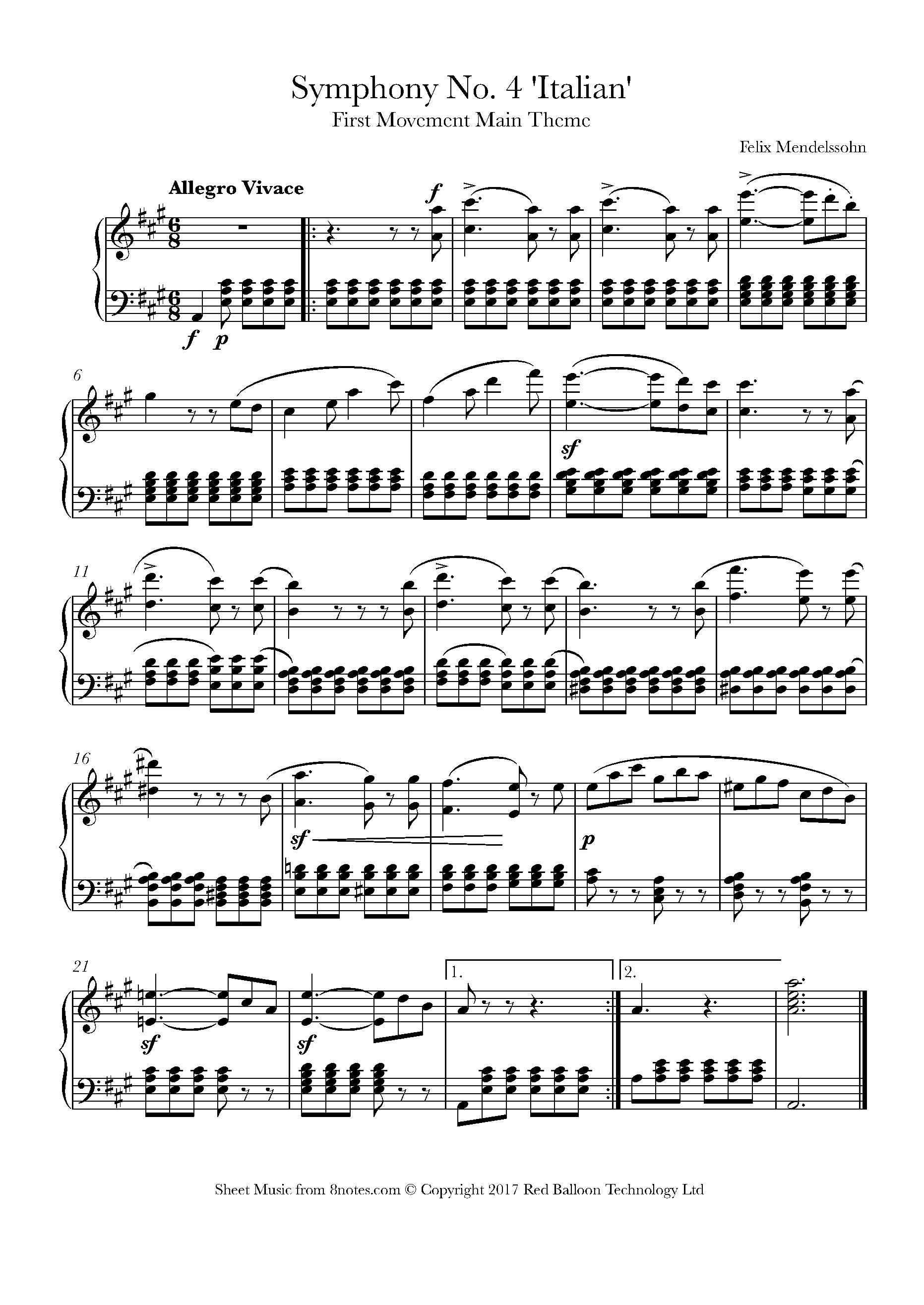 Symphony No. 4 'Italian' First Movement Main Theme