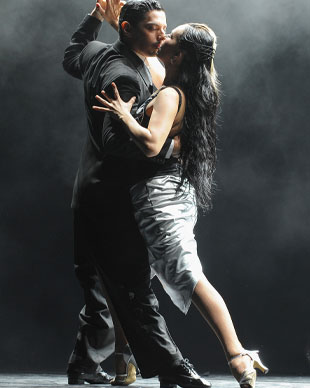 Latin and Tango Flute Compilation
Latin and Tango Flute Compilation
A collection of latin and tango pieces for Flute with Piano Accompaniment. Intermediate to Advanced Level
1. Carlos Gardel - Por Una Cabeza

"Por una Cabeza" is an tango song with music and lyrics written in 1935 by Carlos Gardel and Alfredo Le Pera respectively. It has appeared in numerous movies, most famously in Scene of a Woman with Al Pacino, but also, for example, in Schindler's List.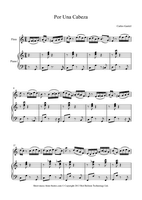 Por Una Cabeza
2. La Cucaracha (Mexico)

"La Cucaracha" (Spanish: "The Cockroach") is a traditional Spanish folk corrido that became popular in Mexico during the Mexican Revolution. It tells the story of a cockroach that is unable to walk. It is one of the most familiar melodies of Spanish origin, popularised in versions by numerous singers and through appearances in movies such as "A Bug's Life" and "Cars 2."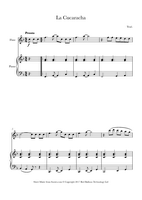 La Cucaracha (Mexico)
3. Ernesto Nazareth - Tango Habanera

A beautiful tango melody in an A-B-A form. A habanera is a genre of Cuban popular dance music of the 19th century, which was made popular in Spain after it was brought back by sailors.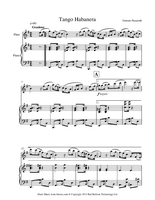 Tango Habanera
4. A. G. Villoldo - El Choclo (tango)

El Choclo means "The Corn Cob" and is one of the most popular tangos. It was written by Ángel Villoldo, an Argentine musician, apparently in honour of a nightclub owner, who was known as "El Choclo".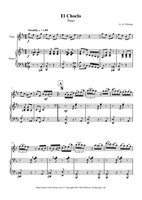 El Choclo (tango)
5. Mexican Hat Dance (Mexico)

The Mexican hat dance (original title Jarabe Tapatío) is the national dance of Mexico. It originated as a courtship dance in Guadalajara, Jalisco, during the 19th century, although its elements can be traced back to the Spanish zambra and jabber gitano. The standard music of the jarabe tapatío was composed by Jesús González Rubio in the 19th century. However, its more common instrumental arrangement dates from the 1920s.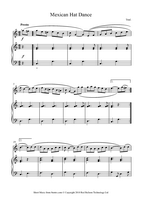 Mexican Hat Dance (Mexico)
6. Yellow Bird (Haitian Traditional)

Choucoune (Haitian Creole: Choukoun) is a 19th-century Haitian song composed by Michel Mauleart Monton with lyrics from a poem by Oswald Durand. It was rewritten with English lyrics in the 20th century as Yellow Bird. In this form it has been covered by many artists, including The Brothers Four, The Paragons and Paul Clayton. It has also made countless appearances in popular culture.
LYRICS:
Yellow bird, up high in banana tree.
Yellow bird, you sit all alone like me.
Did your lady friend leave the nest again?
That is very sad, makes me feel so bad.
You can fly away, in the sky away.
You're more lucky than me.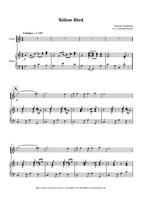 Yellow Bird (Haitian Traditional)
7. Sebastian Iradier.. - La Paloma Tango

"La Paloma" is a popular song named after Paloma Mayer, having been produced and reinterpreted in diverse cultures, settings, arrangements, and recordings over the last 140 years. The song was composed and written by the Spanish composer of the Basque region Sebastian Iradier (later Yradier) after he visited Cuba in 1861. Iradier may have composed "La Paloma" around 1863, just two years before he died in obscurity, never to learn how popular his song would become.
LYRICS:
Cuando salí de la Habana
¡Válgame Dios!
Nadie me ha visto salir
Si no fui yo.
Y una linda Guachinanga
Allá voy yo.
Que se vino tras de mí,
que sí, señor.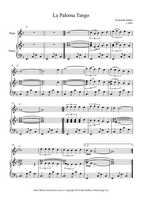 La Paloma Tango
8. Ernesto Nazareth - Odeon (Tango Brasileiro)

Odeon (Tango Brasileiro) was written by Ernesto Nazareth in 1910. The piece is named after the Odeon Cinema where Nazareth played the piano in the waiting room from 1920 until 1924. It is said that his playing was so popular that many attended the cinema just to hear him, without watching a movie. The piece was not well-known during his lifetime, but became popular after lyrics were added by Vinícius de Moraes in the 1960s.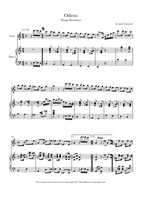 Odeon (Tango Brasileiro)
9. Ernesto Nazareth - Brejeiro (Tango Brasileiro)

One of Ernesto Nazareth's most famous compositions, published in 1893 by Casa Vieira Machado. It was sold to them for a very small sum, eventually earning them so much money that they gave him an umbrella with a golden handle at party held in his honour. The piece is dedicated to his nephew Gilberto de Meirelles Nazareth, also known as "Gigi."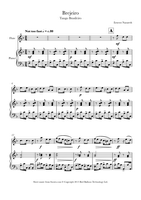 Brejeiro (Tango Brasileiro)
10. David Bruce - Beguine Again

A sultry piece in the rhythm known as 'Beguine'. The beguine is a dance and music form, similar to a slow rumba, that was popular in the 1930s, coming from the islands of Guadeloupe and Martinique, where in local Creole Beke or Begue means a White person, and Beguine is the female form.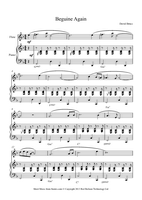 Beguine Again