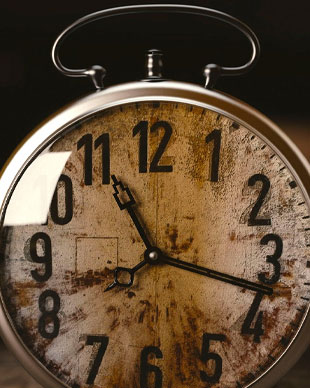 Nostalgic Music for Flute
Nostalgic Music for Flute
A collection of nostalgic pieces for Flute in with piano accompaniment. Easy to Advanced Level
1. Beethoven - Fur Elise

An enigmatic bagatelle in A minor that is one of the composer's best-known compositions. The original manuscript is inscribed "Für Elise" ("For Elise"), hence the nickname. However, recent scholars have suggested that it actually read "For Therese"—Therese Malfatti von Rohrenbach zu Dezza. A friend and student of the composer, he supposedly proposed to her in 1810, though she turned him down, instead marrying the Austrian nobleman Wilhelm von Droßdik.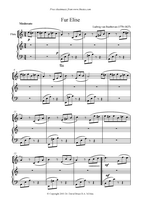 Fur Elise
2. Satie - 3 Gymnopedies no.1

Satie's "Gymnopedies" for solo piano (completed 1888) are probably his most famous pieces. They impressed many with their combination of startling sparseness and powerfully direct emotional impact—Debussy, indeed, so admired them that he orchestrated several of them. The first of the "Gymnopedies" is, perhaps the most well-known, appearing countless times in popular culture: in the BBC's "The World at War," the documentary "Man on Wire," Woody Allen's "Another Woman" and in versions by popular musicians including Sky, Gary Numan and Janet Jackson.
3 Gymnopedies no.1
3. Vivaldi - Winter from the Four Seasons 2nd movement

The Four Seasons (c.1718−1720) is a group of four violin concertos by Italian composer Antonio Vivaldi, each of which gives musical expression to a season of the year. Each movement is published with a sonnet, elucidating the spirit of the season that the music was intended to evoke, making it one of the earliest examples of programme music. The second movement of the concerto entitled "Winter" conveys this homely atmosphere:
Before the fire to pass peaceful,
Contented days while the rain outside pours down.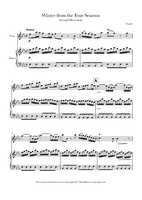 Winter from the Four Seasons 2nd movement
4. Danny Boy

"Danny Boy" is a popular ballad written by English songwriter Frederic Weatherly and usually set to the Irish tune of the "Londonderry Air". It is most closely associated with Irish communities even though Weatherly himself never set foot in Ireland. The words convey the melancholy of parting:
Oh, Danny boy, the pipes, the pipes are calling
From glen to glen, and down the mountain side.
The summer's gone, and all the roses falling,
It's you, it's you must go and I must bide.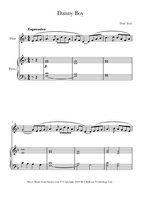 Danny Boy
5. Holst - Jupiter from the Planets (theme)

"The Planets" is a seven-movement orchestral suite by the English composer Gustav Holst. The work is astrological rather than astronomical (which is why Earth is not included), each movement intending to convey ideas and emotions associated with the influence of the planets on the psyche, not the Roman deities. The slow section of the fourth movement "Jupiter, the Bringer of Jollity" is a depiction of the noble and generous traits of those born under Jupiter. The use of the melody for the British hymn "I Vow to Thee, My Country" means it is also often mistakenly heard as being solemnly patriotic.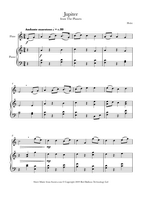 Jupiter from the Planets (theme)
6. Rachmaninoff - Theme from Piano Concerto No. 2 2nd movement

Rachmaninoff composed his Piano Concerto No. 2 in C minor, Op. 18 between the autumn of 1900 and April 1901, the first complete performance, with the composer as soloist, given on 9th November 1901. Written after a period of clinical depression that followed the rejection of his First Symphony, this piece established Rachmaninoff's fame as a concerto composer and is one of his most enduringly popular pieces. The long-breathed phrases and slow unfolding of the ravishing second movement theme are typical of the composer's style, though the agonisingly wistful nature of the melody may also suggest something of the composer's mental state at the time of composition.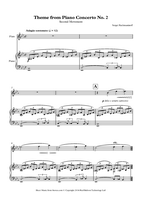 Theme from Piano Concerto No. 2 2nd movement
7. Elgar - Nimrod from Enigma Variations

Elgar's "Engima" Variations are a set of variations for symphony orchestra, first performed in 1899. Each movement is dedicated to a friend of the composer. The ninth variation, "Nimrod" represents Elgar's friend A. J. Jaeger, and is alledged to capture a discussion between them on Beethoven's slow movements. The movement has become popular in its own right, often used for solemn or patriotic occasions, such at the Cenotaph on Remembrance Day, at the 1997 Hong Kong handover ceremony, at the opening of the 2021 London Olympic Games or at the end of the Committal Service of Queen Elizabeth II in 2022.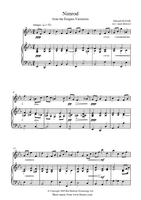 Nimrod from Enigma Variations
8. Ravel - Pavane pour une infante defunte
Ravel's wistful "Pavane pour une infante défunte" ("Pavane for a Dead Princess") was written in 1899 for piano and later published in a version for small orchestra. The piece was intended as "an evocation of a pavane that a little princess might, in former times, have danced at the Spanish court." It was not performed until 1902, after which it became extremely popular, even though Ravel himself sometimes disdained it.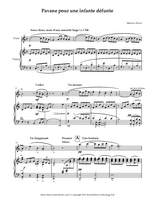 Pavane pour une infante defunte
9. Handel - Largo from Xerxes

This piece comes from Xerxes - an opera seria in three acts. The opening aria, "Ombra mai fu", sung by Xerxes to a tree, is set to one of Handel's best-known melodies, and is often played in an orchestral arrangement, known as Handel's "Largo". It is often performed at solemn occasions such as funerals and weddings.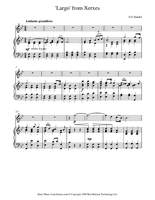 Largo from Xerxes
10. Chopin - Nocturne Op.9 No.2
(8notes PREMIUM)

Chopins three Nocturnes, Op. 9 were written between 1830 and 1832 and dedicated to Madame Camille Pleyel. Despite being forever associated with the nocturne (essentially a piece of particularly wistful, dreamy music, often intended to evoke images of the night), the form was actually created by the Irish composer John Field, a man whose influence on Chopin can be heard clearly, not just in his solo piano music but also in his two piano concertos. The wistful second nocturne, with its finely crafted melody is particularly loved— it has been, for example, a constant fixture in the UK's Classic FM Hall of Fame since its inception in 1996 and also appeared in a number of movies, including "Saturday Night Fever" (1977), "Close to Eden" (1992) and "Bad Santa" (2003).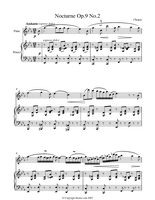 Nocturne Op.9 No.2
(8notes PREMIUM)
11. Debussy - Clair De Lune
(8notes PREMIUM)

"Clair de Lune" is the third movement from Claude Debussy's "Suite Bergamasque," written in 1890, but revised before its 1905 publication. The movement is the composer's best known work, a favourite of both amateur and professional pianists. It was orchestrated for inclusion in Walt Disney's "Fantasia," but time constraints mean it had to be left out, though it has been included as a bonus feature in some later releases. An orchestral version of the piece also provides an interesting choice of accompaniment to the final movements of the 2001 heist film "Ocean's Eleven"—where one might expect the soundtrack to convey the joy of a heist well executed, the impression is instead one of relief, serenity and wonderment.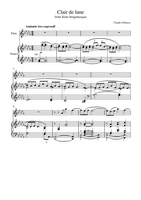 Clair De Lune
(8notes PREMIUM)
12. Wagner - Siegfried Idyll

Wagner composed the Siegfried Idyll as a birthday present to his second wife, Cosima, after the birth of their son Siegfried in 1869. It was first performed on Christmas morning, 25 December 1870, with Cosima awaking to the sound of the wistful opening melody. The original piece is scored for small orchestra of thirteen players. Under financial pressure, the composer later expanded the orchestration to make it more marketable, selling the score to publisher Schott in 1878.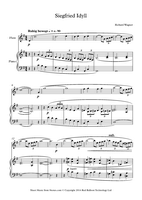 Siegfried Idyll
13. Debussy - Reverie
(8notes PREMIUM)

One of Debussy's most popular minatures, dating from the time in his early 20s, shortly after his return to Paris from his hated Prix de Rome residency in Italy. In the 1930s it was a popular song "My Reverie".