1. Saint-Saens - Chorale from Third Organ Symphony Finale
Saint-Saëns Symphony No.3 in C Minor (1886), has become known as the "Organ Symphony" even though only two of its four sections make use of the instrument. The most dazzling entry occurs in this chorale, played once quietly and then repeated on full organ accompanied by blasts of orchestral brass.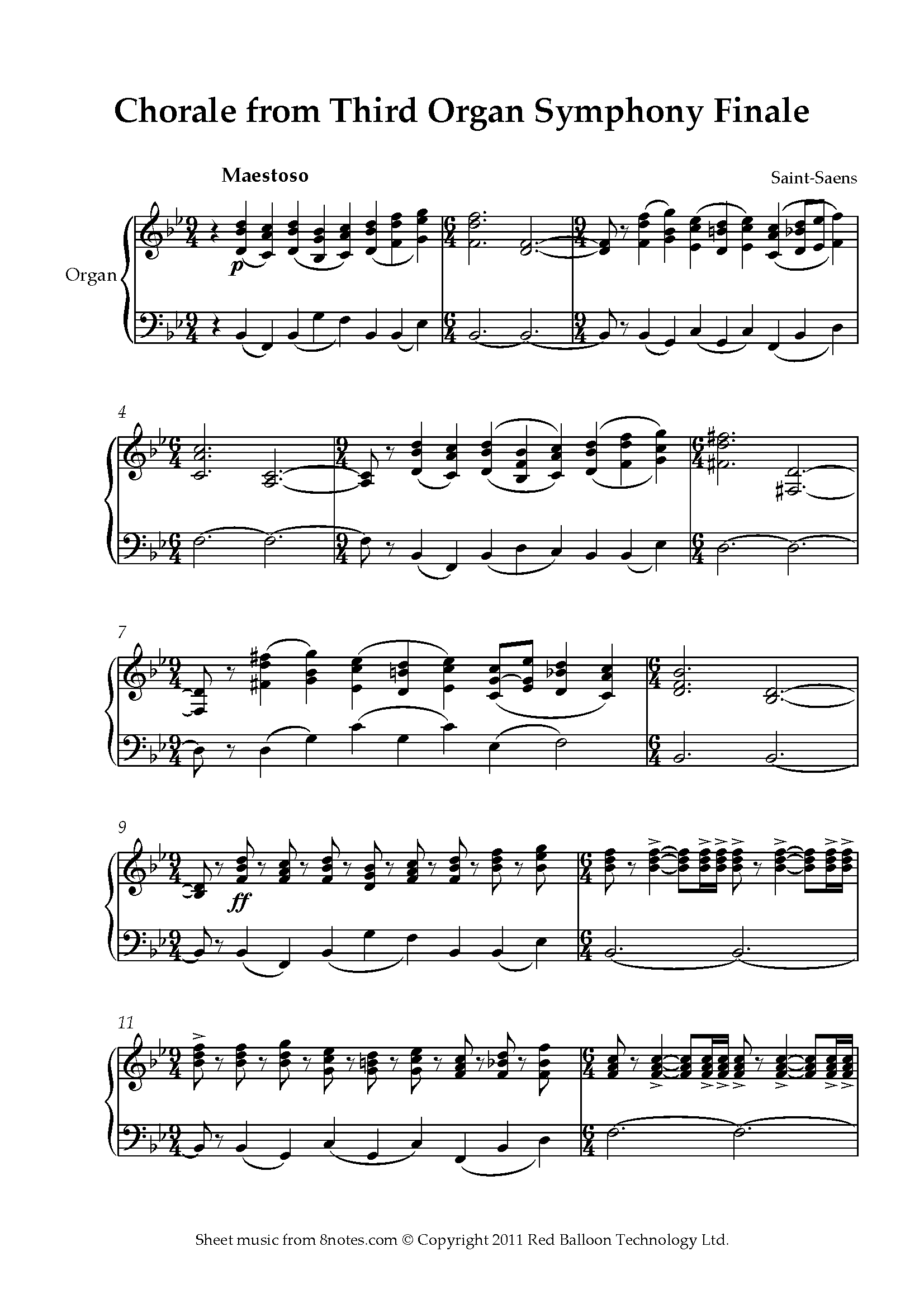 Chorale from Third Organ Symphony Finale
2. Karg-Elert - Nun Danket Alle Gott
"Now thank we all our God" is a popular Christian hymn. It is a translation from the German "Nun danket alle Gott", written circa 1636 by Martin Rinkart (1586-1649), which in turn was inspired by Sirach, chapter 50 verses 22-24, from the praises of Simon the high priest. It was translated into English in the 19th Century by Catherine Winkworth.
The Late-Romantic German composer Sigfrid Karg-Elert was one of the more recent composers to use this hymn, this 'Marche Triomphale' becoming one of the most familiar pieces in the classical pipe organ repertoire.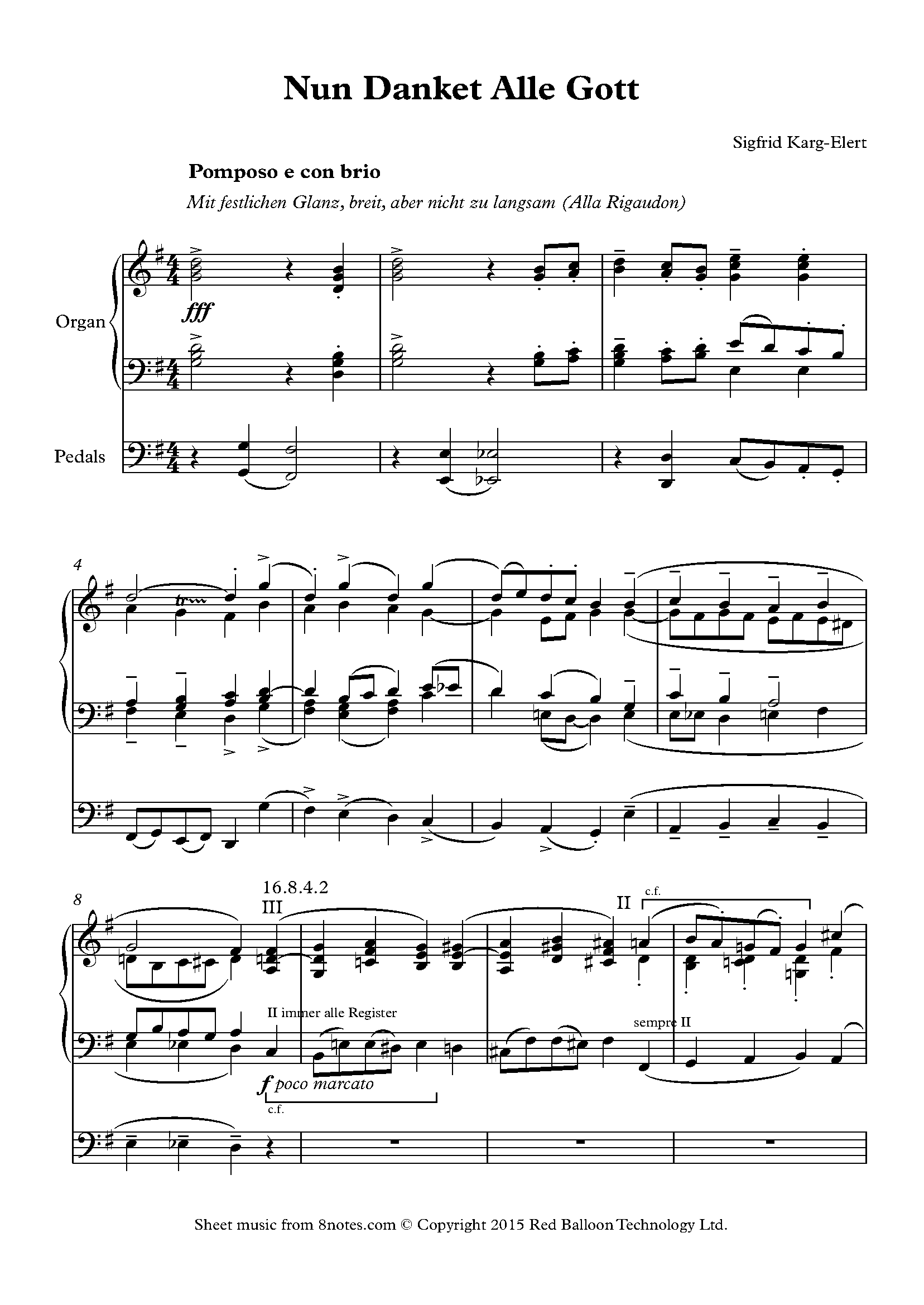 Nun Danket Alle Gott
3. Lefebure-Wely - Sortie
Not well remembered today, Louis-James Alfred Lefébure-Wély (1817-1869) was, nevertheless, an important figure during his lifetime—a virtuoso player with a long association with master organ builder Aristide Cavaillé-Coll and composer of a large body of works. This 'Sortie' is (i.e. recessional or, literally 'Exit') makes for a suitably joyous accompaniment to the end of a celebration such as a wedding, its hints of fairground frivolity only adding to its charm.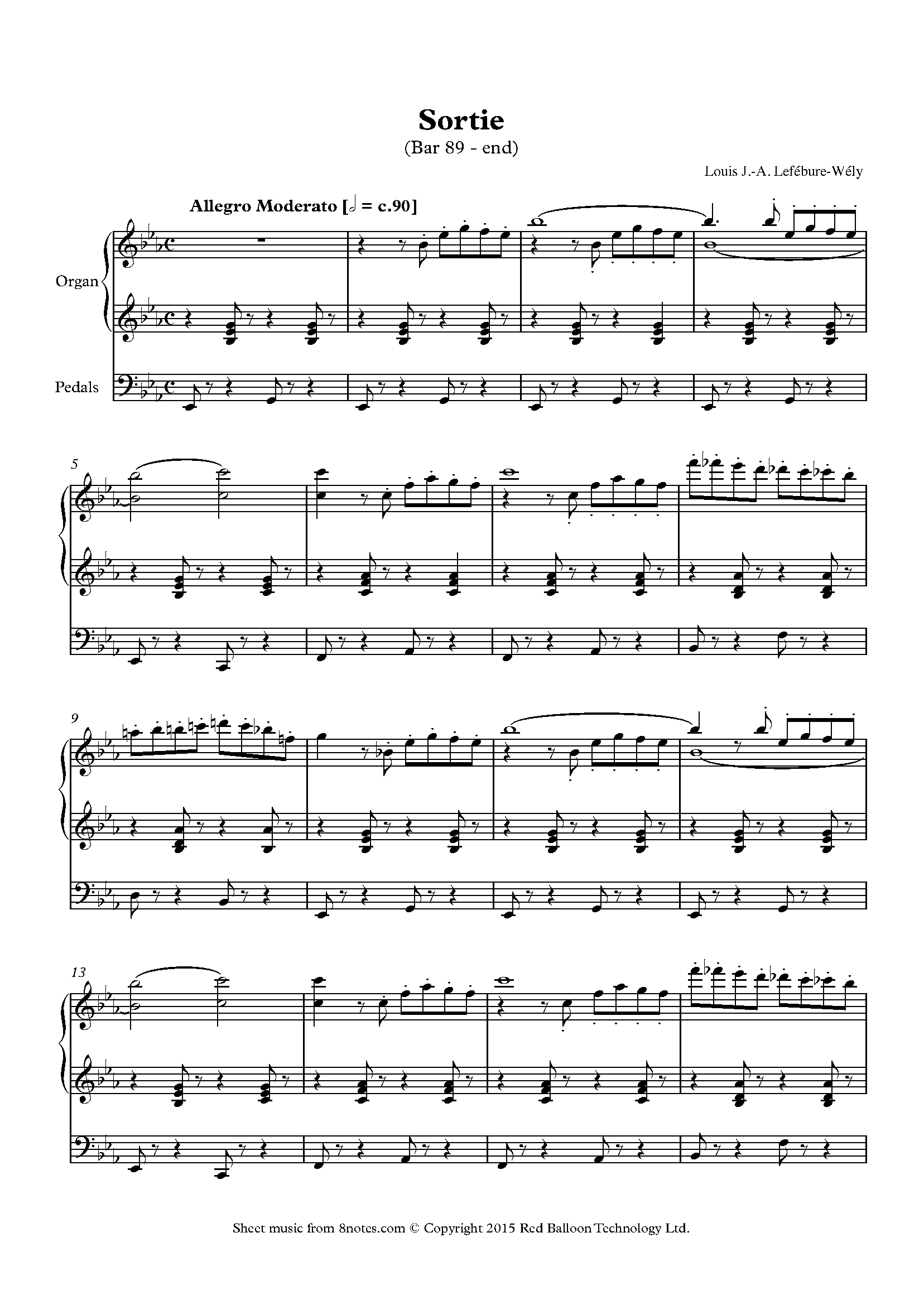 Sortie
4. Zipoli - ALL OFFERTORIO
Domenico Zipoli (1668–1726) was an Italian composer who worked in Córdoba, Argentina during the time of the Spanish Empire. He was a Jesuit and teacher of music amongst the indigenous people. Much of his music is now lost, but his keyboard works are still regularly performed. This piece, typically, makes great effect with limited means, making it a great choice for busy church musicians.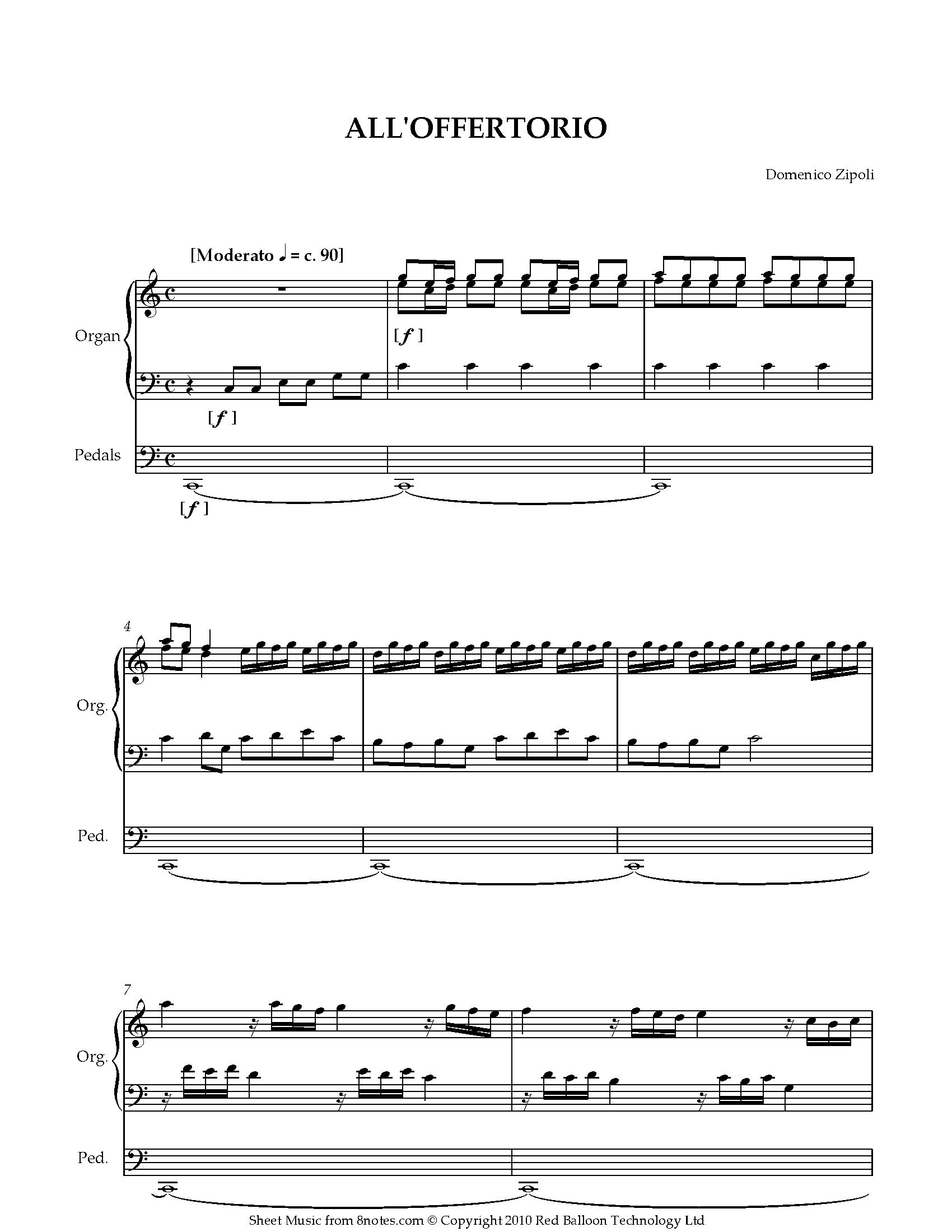 ALL OFFERTORIO
5. Guilmant - Magnificat Opus 41, No.2
Alexandre Guilmant (1837–1911) was celebrated organist and composer. A pupil of Jacques-Nicolas Lemmens, he held the post of 'organiste titular' at la Trinité, Paris for 30 years. Unlike other organists, he wrote mostly for his own instrument, producing a large body of work that remains popular amongst players to this day. This short but effective work is from his collection 'L'Organiste pratique,' which consists of 12 books containing a range of pieces for daily use.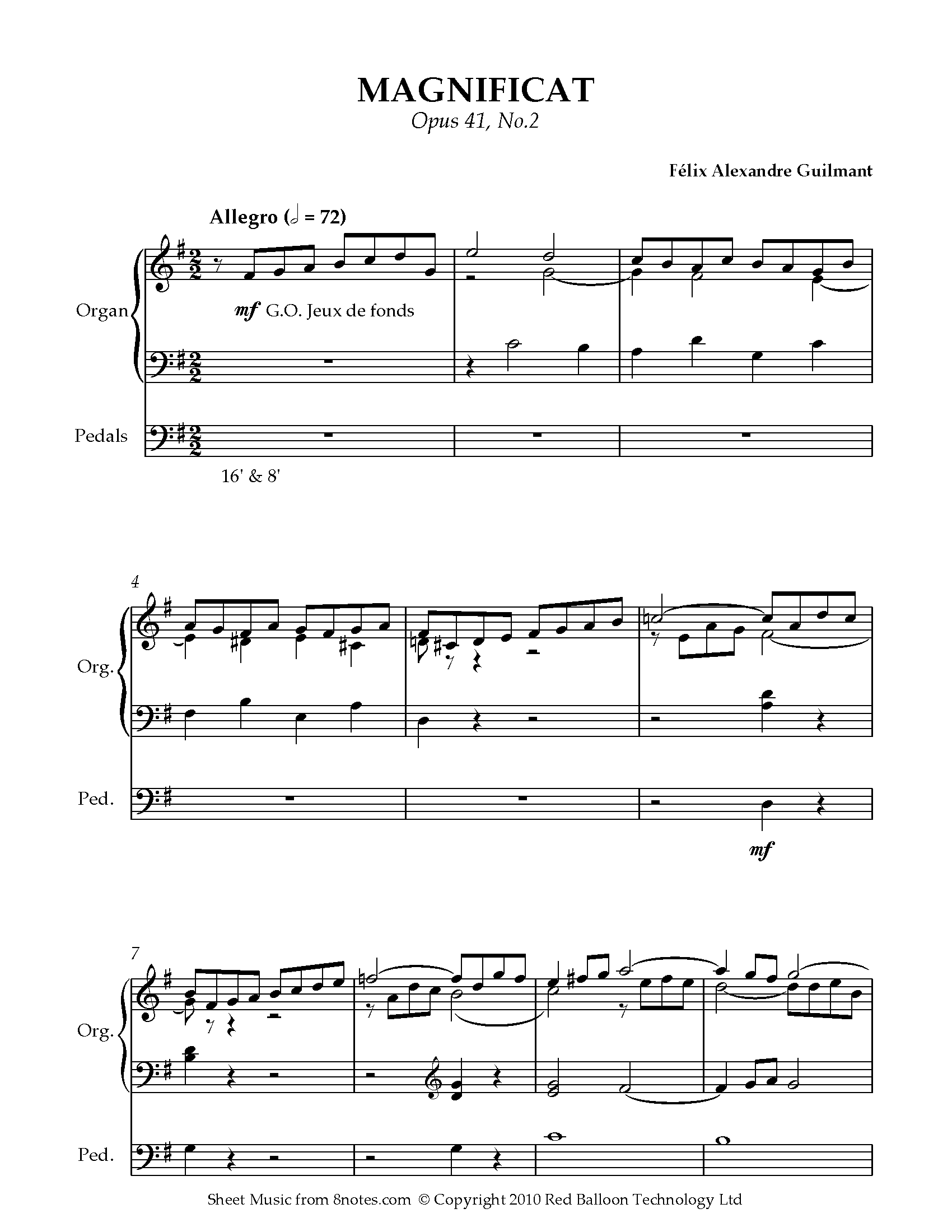 Magnificat Opus 41, No.2
6. Bach - Wo soll ich fliehen hin oder Auf meinen lieben Gott BWV 646
One of the most important exponents of organ playing and organ composition, J.S. Bach (1685–1750) hardly needs any introduction. This work is taken from one of his most celebrated collections, the Schübler chorales, named after the publisher Johann Georg Schübler. The work is based upon the hymn tune "Auf meinen lieben" ("In God, My Faithful God"), which Bach used in the chorale cantata "Wo soll ich fliehen hin" ("Where should I flee"), hence the double title of this piece. It is a darkly dramatic work, fitting for more sober religious occasions.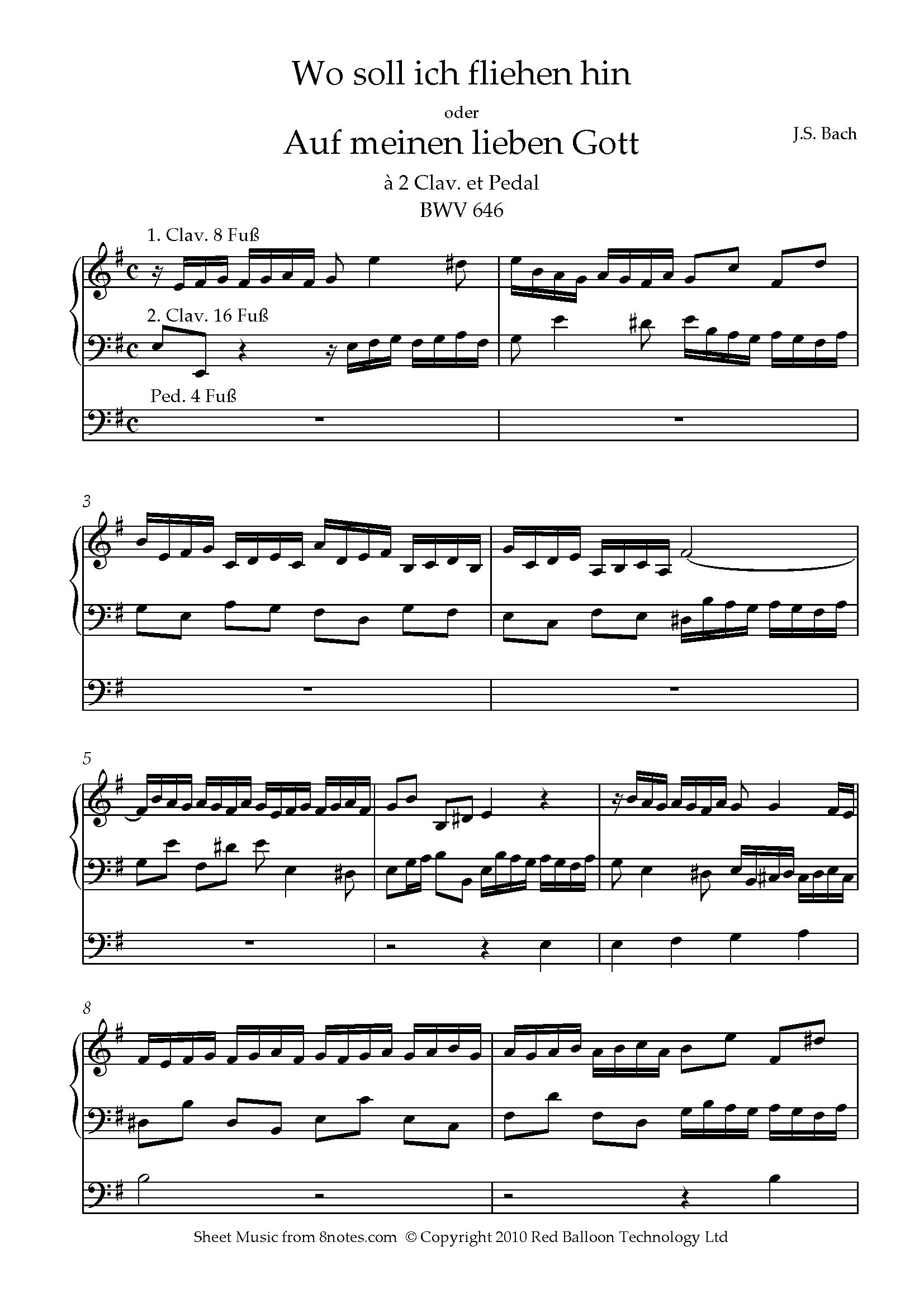 Wo soll ich fliehen hin oder Auf meinen lieben Gott BWV 646
7. Arresti - Ricercare per Organo
Giulio Cesare Arresti (1619–1701) was for most of his life a resident of Bologna, where he was organist at the San Petronio and choirmaster at San Salvatore and in the Cappella del Rosario in San Domenico. He life was noted for a bitter spat with fellow composer Maurizio Cazzati, whose work he publicly criticised. "Ricercare" literally means "to seek out" and usually involves some kind of contrapuntal writing. This is certainly the case in this joyous and immensely playable piece, which begins with a fugal exposition, subsequently mixing easy-to-play contrapuntal passages with more toccata-like figuration.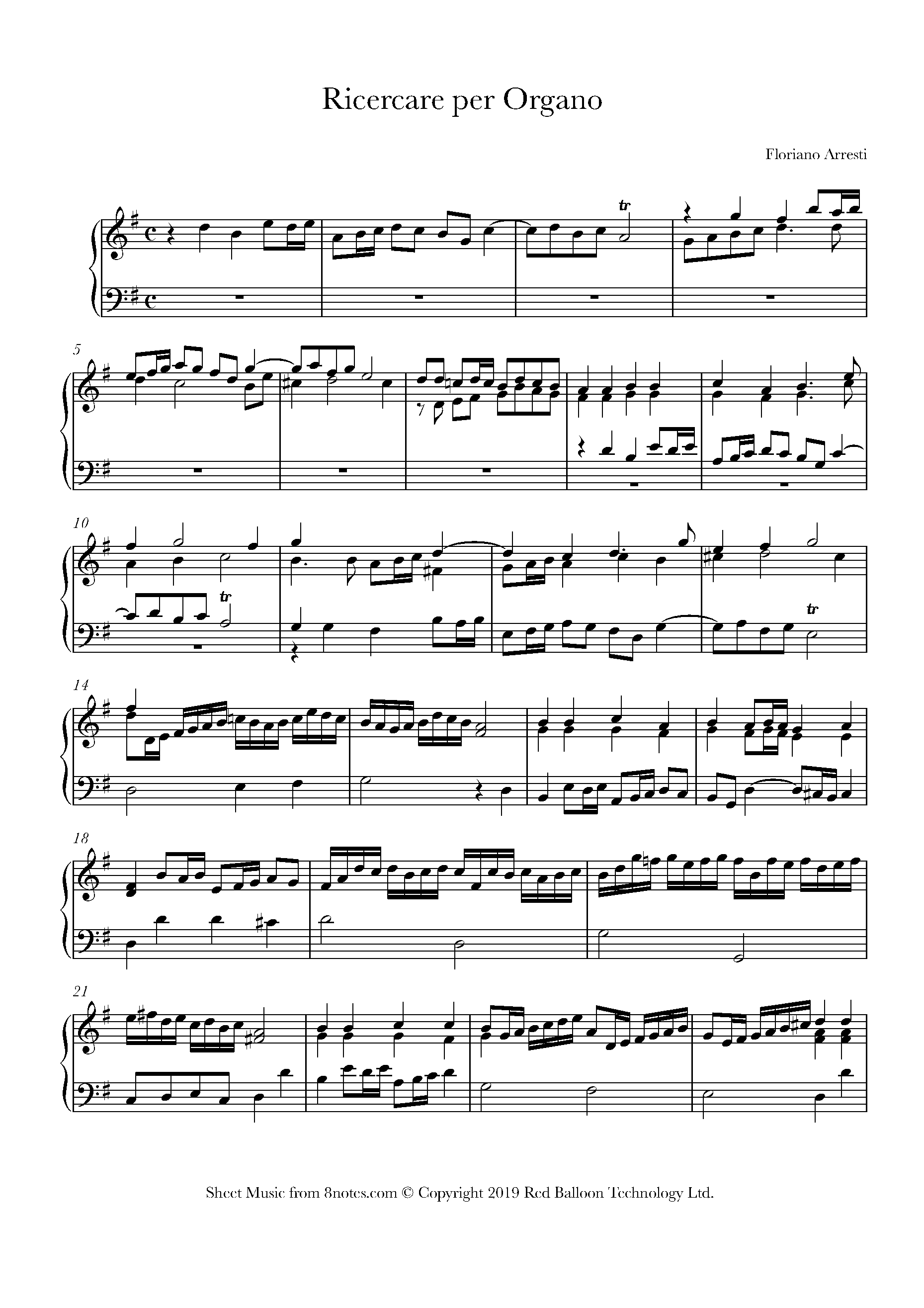 Ricercare per Organo
8. Widor - Toccata
(subscription)
The exhilarating final movement of Charles-Marie Widor's 'Symphony for Organ No.5' (1879), often referred to simply as 'Widor's Toccata' is amongst the best loved works for the instrument and particularly popular as a celebratory work for use on festive occasions such as weddings. It is had been notably popular at royal weddings, including, in Denmark, at that of Prince Frederick and Mary Donaldson in 2004; in Norway of Princess Märtha Louise and Ari Behn on in 2002; and in the UK at the weddings of Princess Margaret (1960), The Duke of Kent (1961), Princess Anne (1973), Prince Edward (1999) and, most recently, Prince William (2011).