The Mexican hat dance (original title Jarabe tapatío) is the national dance of Mexico. It originated as a courtship dance in Guadalajara, Jalisco, during the 19th century, although its elements can be traced back to the Spanish zambra and jabber gitano. The standard music of the jarabe tapatío was composed by Jesús González Rubio in the 19th century. However, its more common instrumental arrangement dates from the 1920s.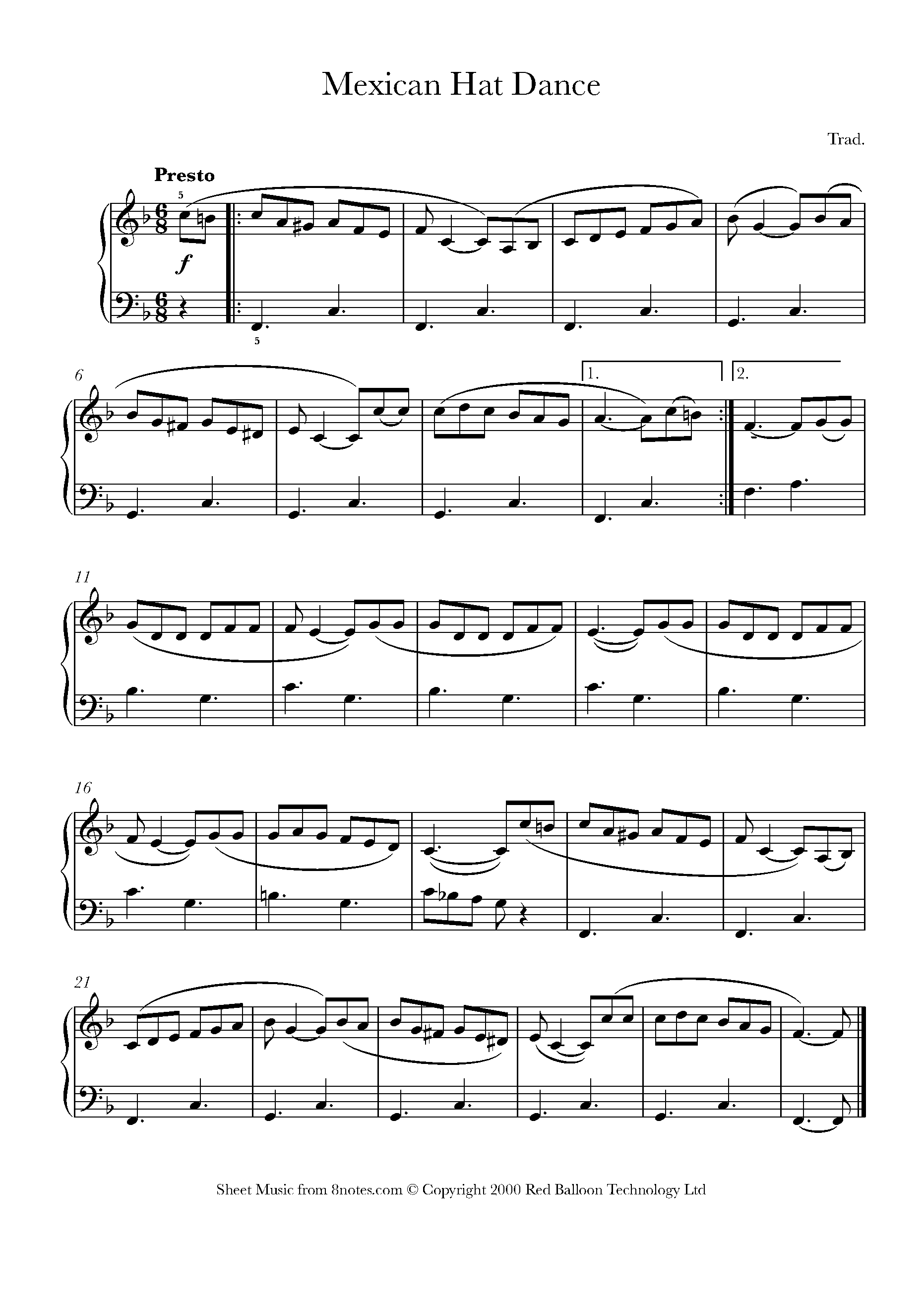 Mexican Hat Dance (Mexico)
"La Cucaracha" (Spanish: "The Cockroach") is a traditional Spanish folk corrido that became popular in Mexico during the Mexican Revolution. It tells the story of a cockroach that is unable to walk. It is one of the most familiar melodies of Spanish origin, popularised in versions by numerous singers and through appearances in movies such as "A Bug's Life" and "Cars 2."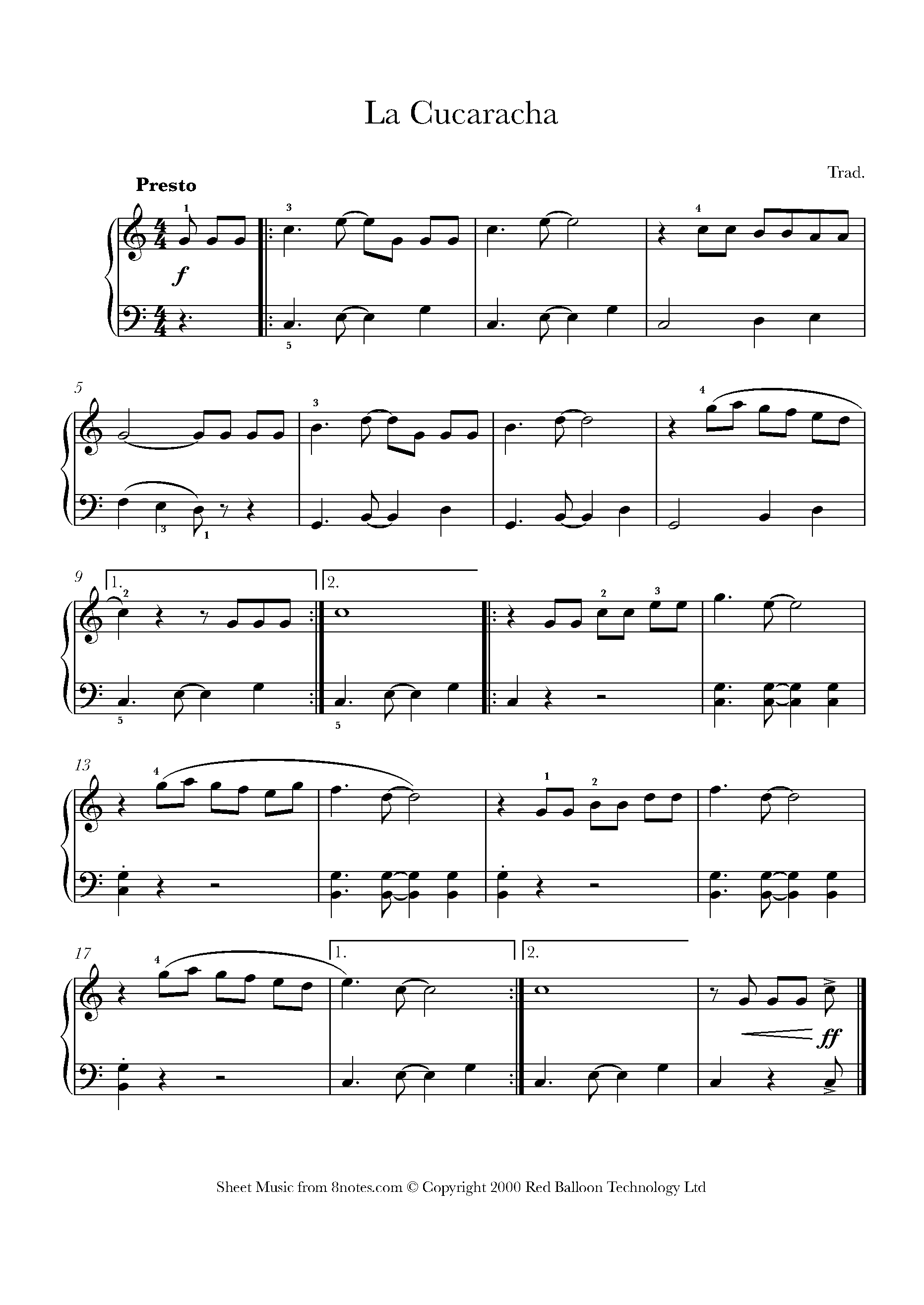 La Cucaracha (Mexico)
El Choclo means "The Corn Cob" and is one of the most popular tangos. It was written by Ángel Villoldo, an Argentine musician, apparently in honour of a nightclub owner, who was known as "El Choclo".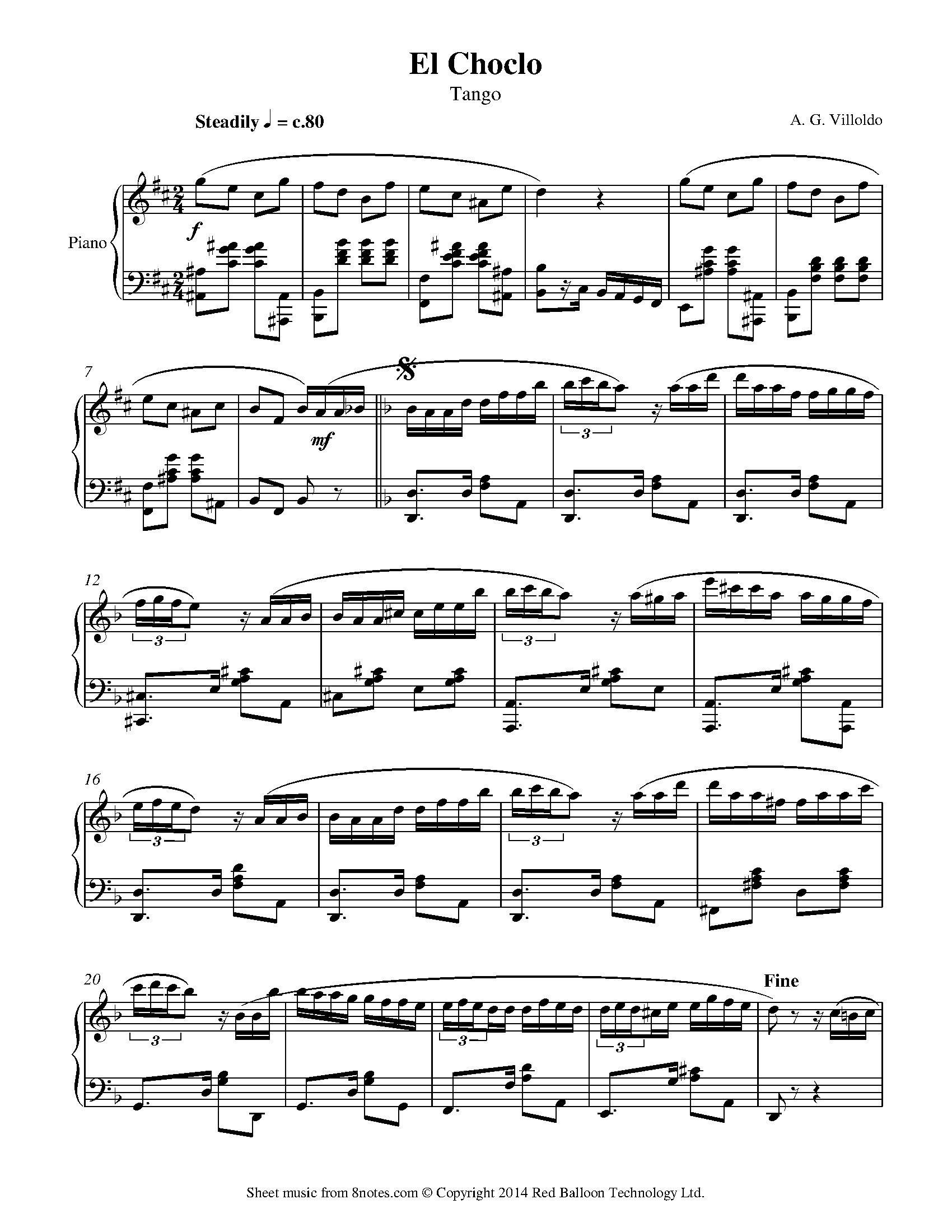 El Choclo (tango)
"La Paloma" is a popular song named after Paloma Mayer, having been produced and reinterpreted in diverse cultures, settings, arrangements, and recordings over the last 140 years. The song was composed and written by the Spanish composer of the Basque region Sebastian Iradier (later Yradier) after he visited Cuba in 1861. Iradier may have composed "La Paloma" around 1863, just two years before he died in Spain in obscurity, never to learn how popular his song would become.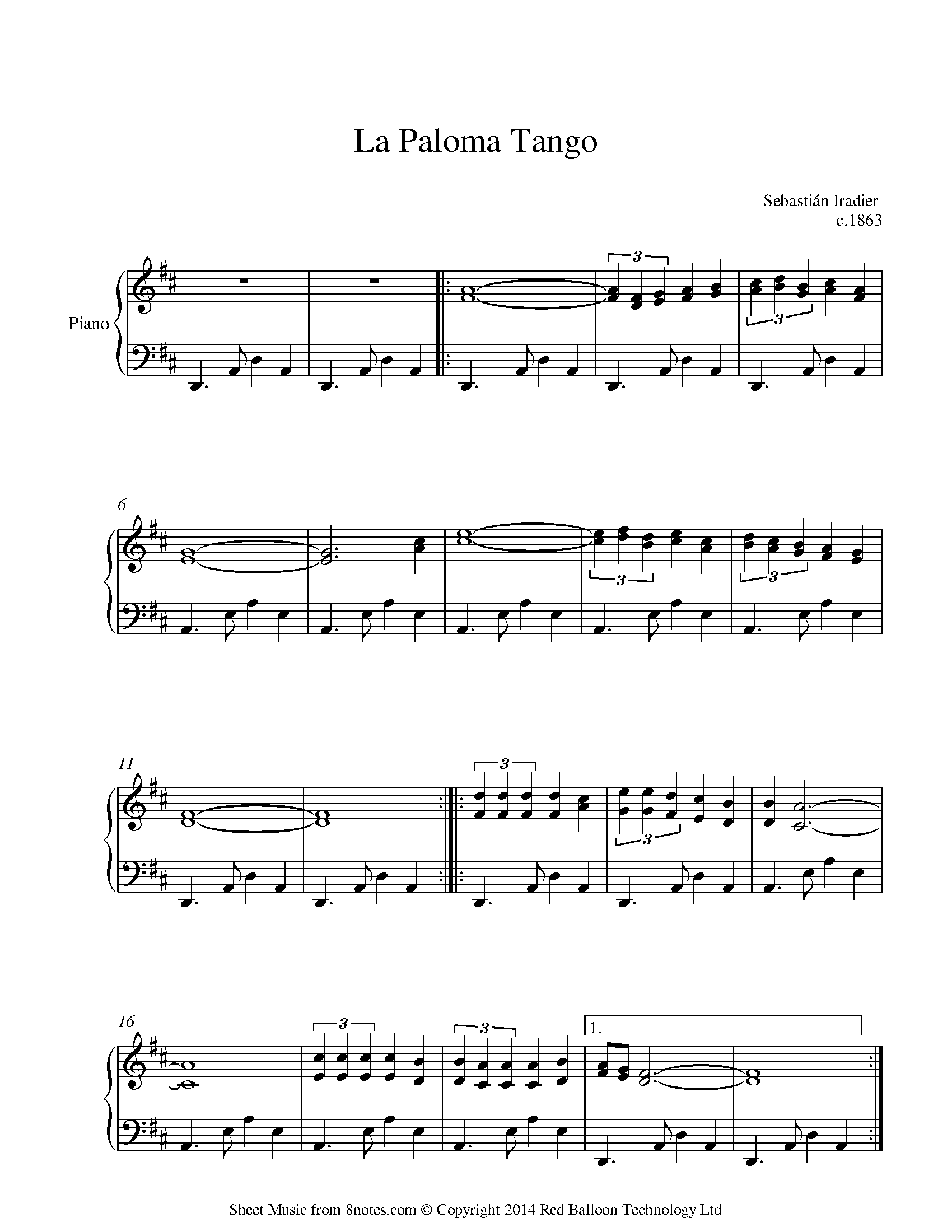 La Paloma (Tango)
A beautiful tango melody in an A-B-A form. A habanera is a genre of Cuban popular dance music of the 19th century, which was made popular in Spain after it was brought back by sailors.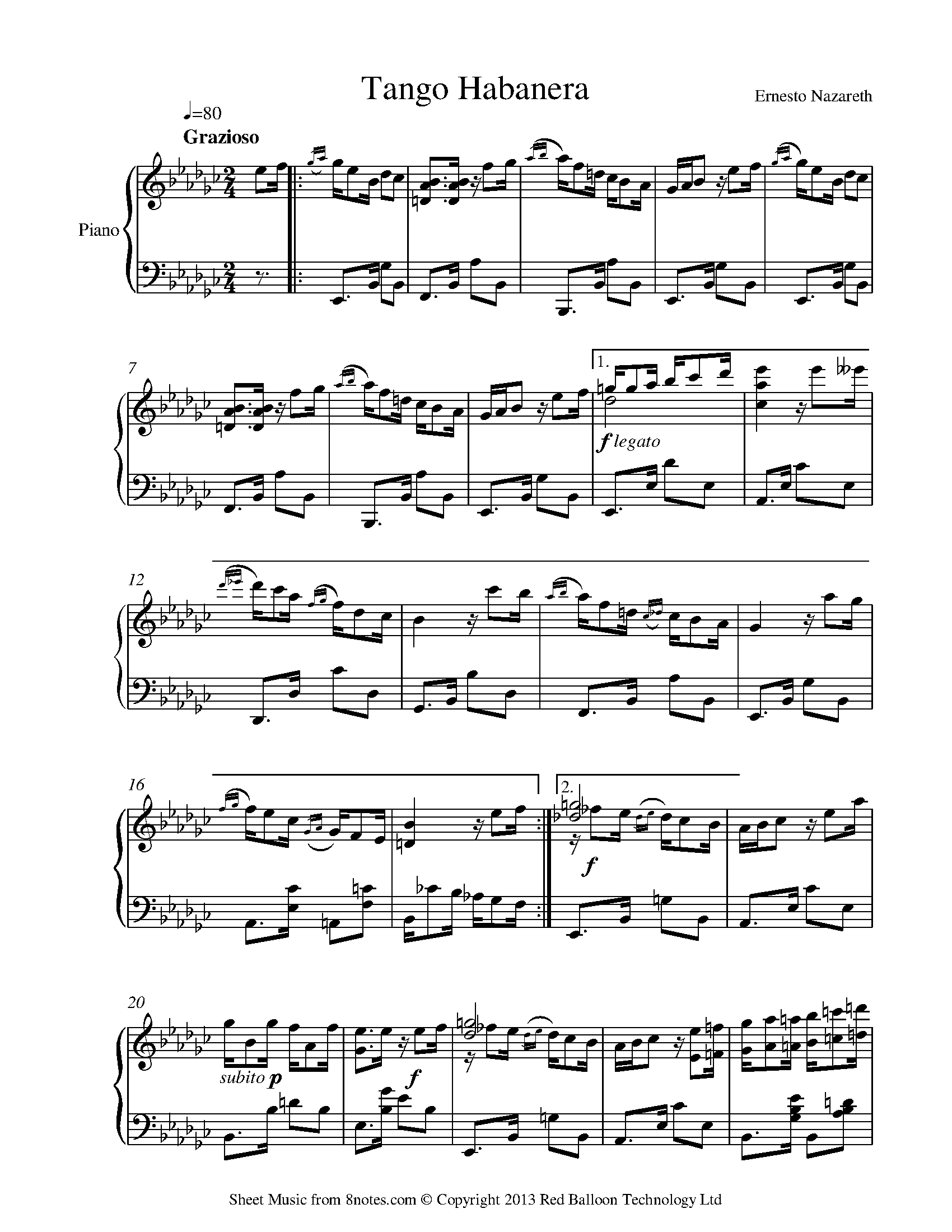 Tango Habanera
Odeon (Tango Brasileiro) was written by Ernesto Nazareth in 1910. The piece is named after the Odeon Cinema where Nazareth played the piano in the waiting room from 1920 until 1924. It is said that his playing was so popular that many attended the cinema just to hear him, without watching a movie. The piece was not well-known during his lifetime, but became popular after lyrics were added by Vinícius de Moraes in the 1960s.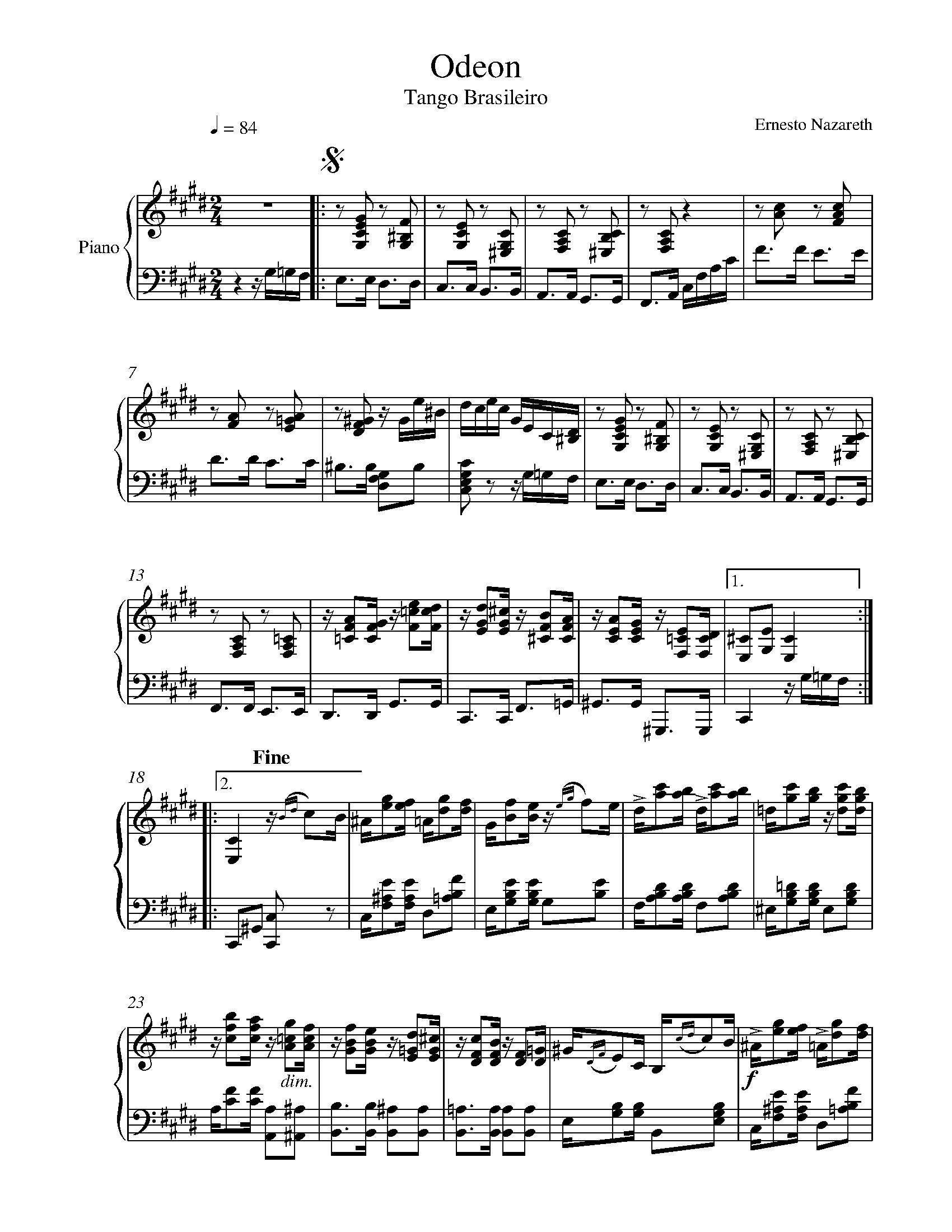 Odeon (Tango Brasileiro)
Isaac Albeniz's España, Op. 165, written in 1890 is a suite of six piano pieces that evoke various aspects of the musical and geographical makeup of Spain. Two of the movements, Capricho and Zortzico, evoke Catalonia and the Basque Country, three, including this Tango, the musical forms of the region. Though he never wrote for the guitar, some of Albéniz's works are best known in versions for that instrument, including Asturias (Leyenda), Granada, Sevilla, Cadiz, Córdoba, Cataluña, Mallorca, and Tango in D.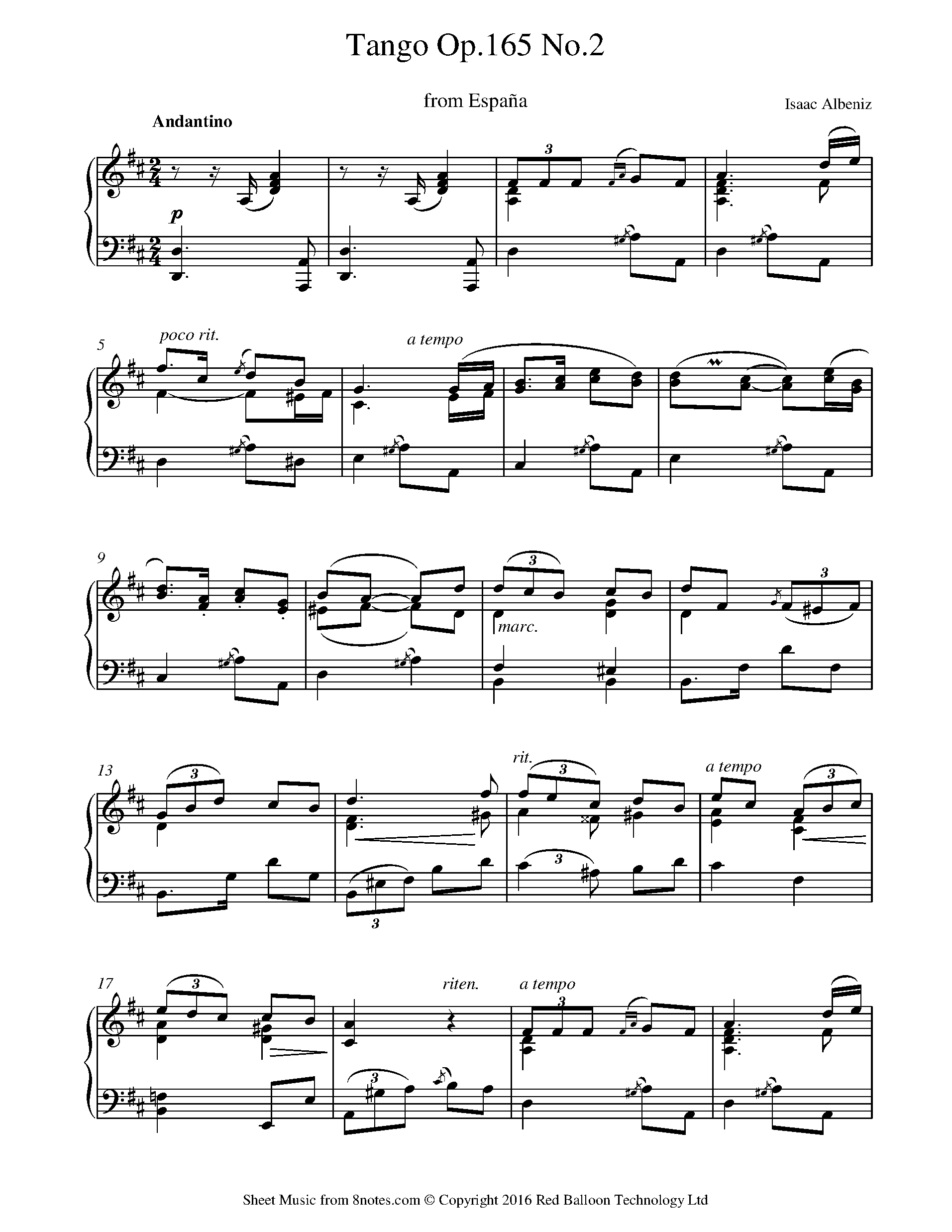 Tango Op.165 No.2 from Espana
Gardel's 1927 Adios Muchachos tango was apparently inspired by an evening with friends that ended with the parting words "Adiós muchachos." In collaboration with Argentinian poet César Vedani he elaborated these words into a compete piece. In it the parting is more melancholic—it consists of a dying person reminiscing about his life whilst saying goodbye to his friends. The song went on to become hugely popular, with over a hundred commercial recordings in existence. It also appears in numerous films, including "Scent of a Woman" and "The Full Monty."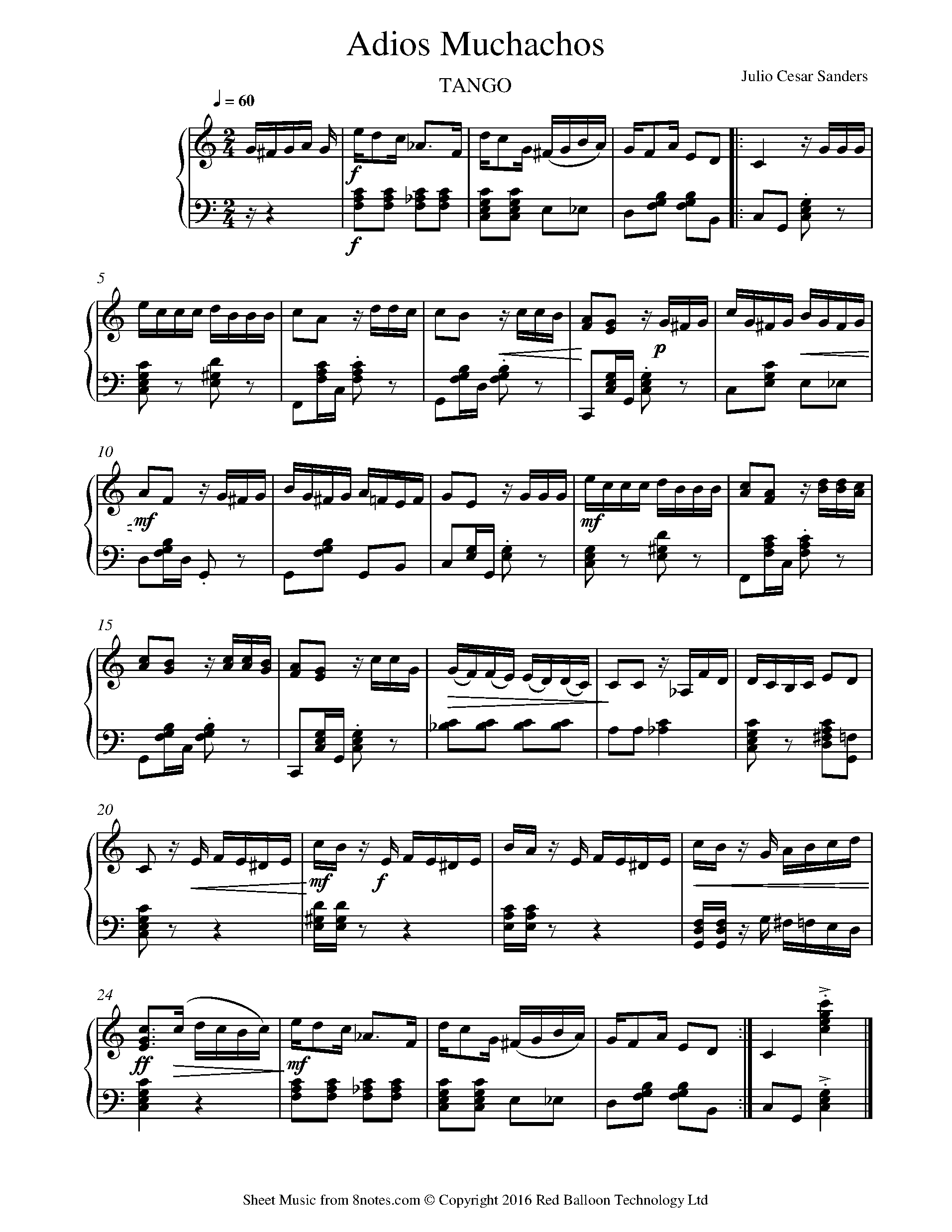 Adios Muchachos (Tango)
Choucoune (Haitian Creole: Choukoun) is a 19th-century Haitian song composed by Michel Mauleart Monton with lyrics from a poem by Oswald Durand. It was rewritten with English lyrics in the 20th century as Yellow Bird.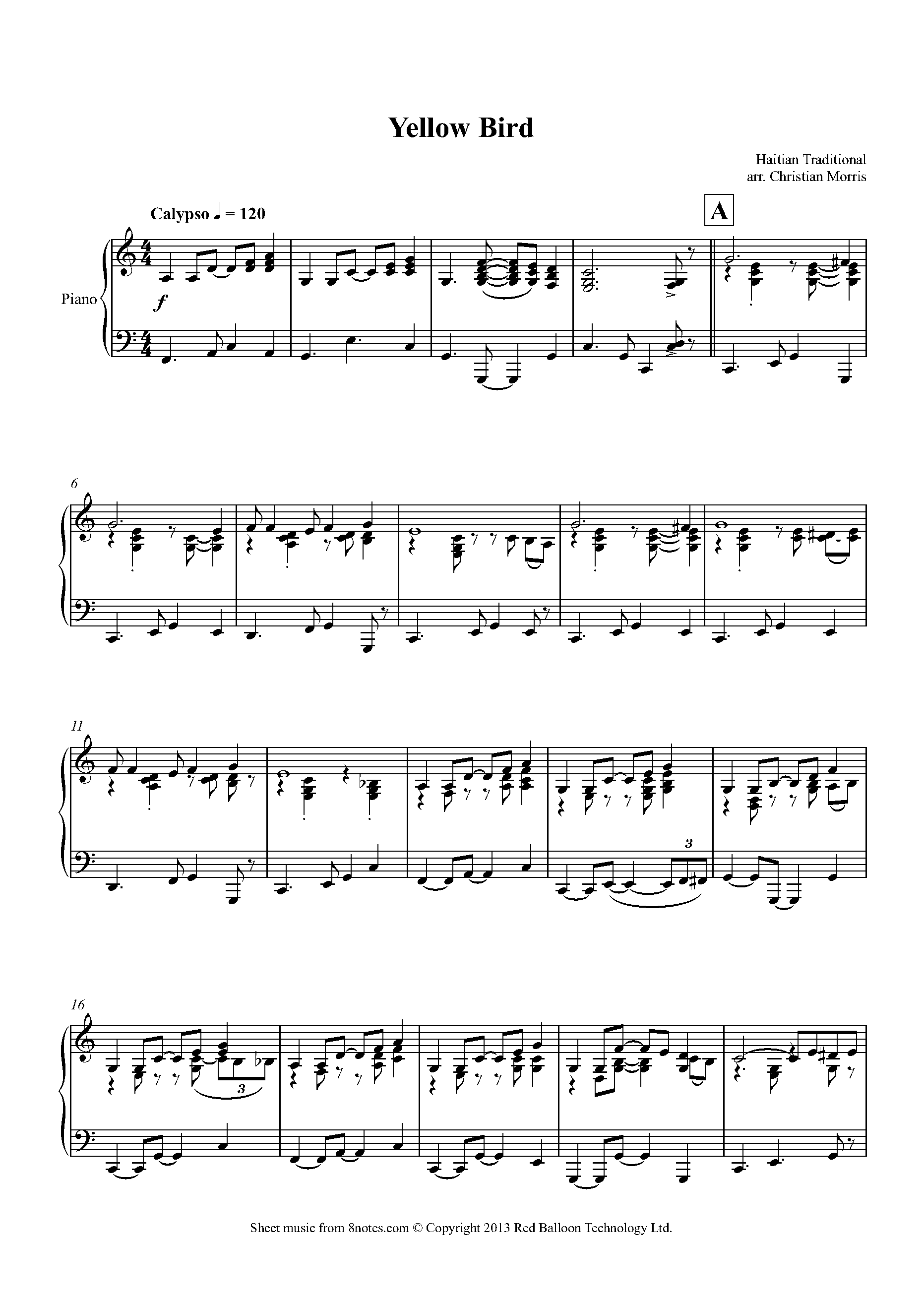 Yellow Bird (Haitian Traditional)
One of Ernesto Nazareth's most famous compositions, published in 1893 by Casa Vieira Machado. It was sold to them for a very small sum, eventually earning them so much money that they gave him an umbrella with a golden handle at party held in his honour. The piece is dedicated to his nephew Gilberto de Meirelles Nazareth, also known as "Gigi."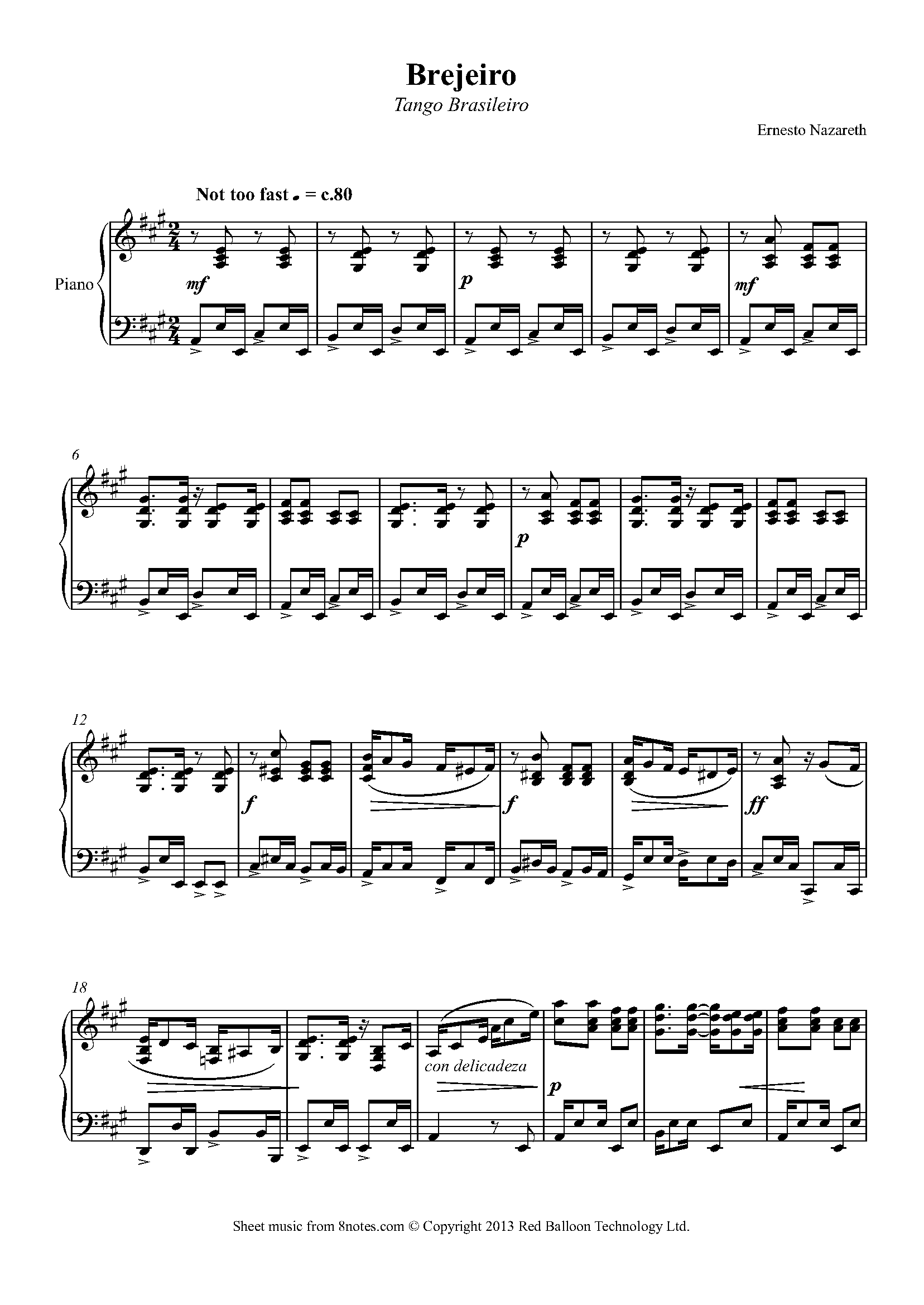 Brejeiro (Tango Brasileiro)
A la Gran Muneca by Argentinian composer Jesus Ventura is a tango published in 1919 with words by Miguel F. Osés. It was first sung by Manolita Poli in the play "A la gran muñeca." The words are written in the form of a letter from one lover to another. The song fell out of favour until Carlos Di Sarli made three recordings of it in the 1940s and 50s, turning it into the classic we know today.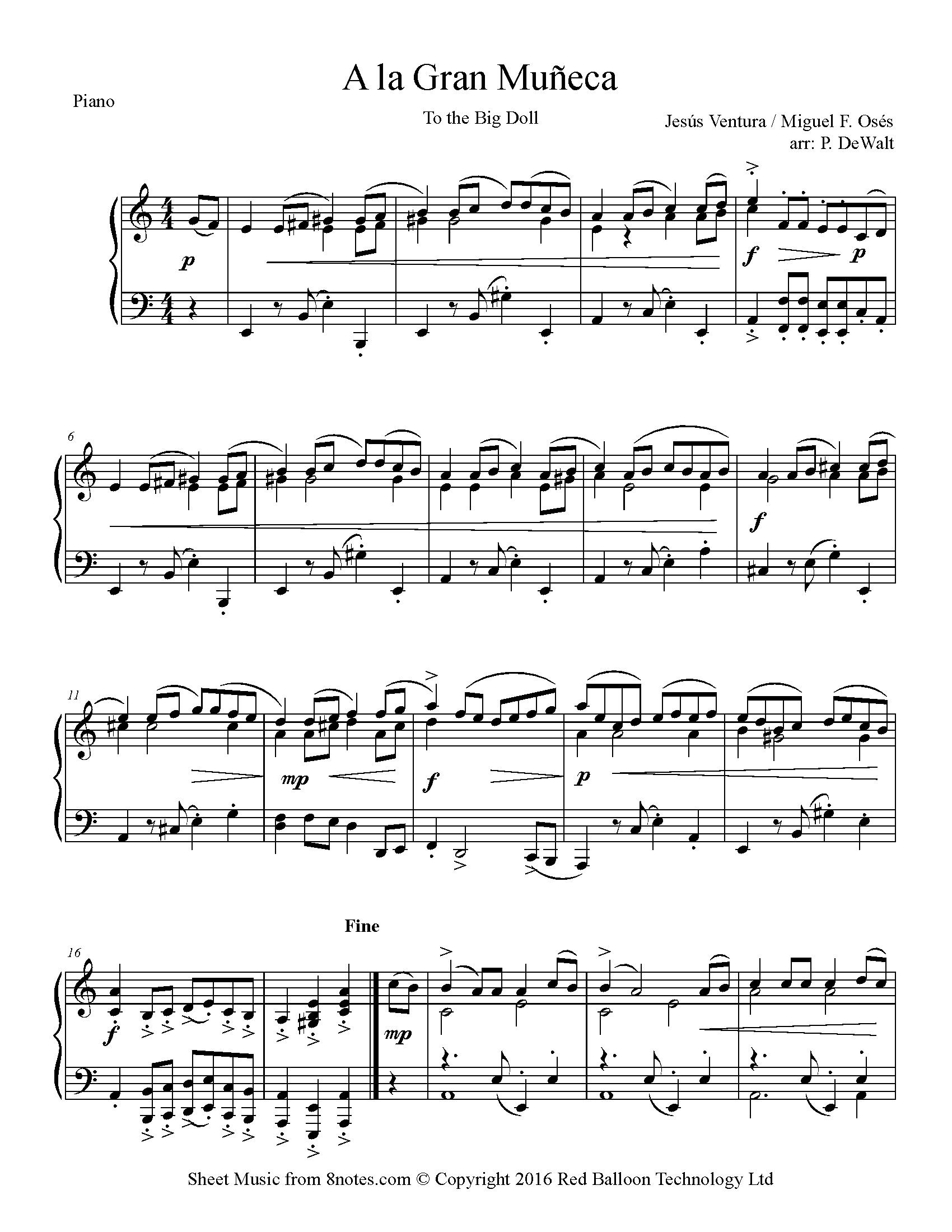 A la Gran Muneca (To the Big Doll)