Scott Joplin's "The Entertainer" is one of the the most enduringly popular works in music. It is a rag time two step, a fashionable form around the beginning of the twentieth century. Joplin was the first classically trained black composer to become a household name in America. Ragtime was eventually succeeded by jazz.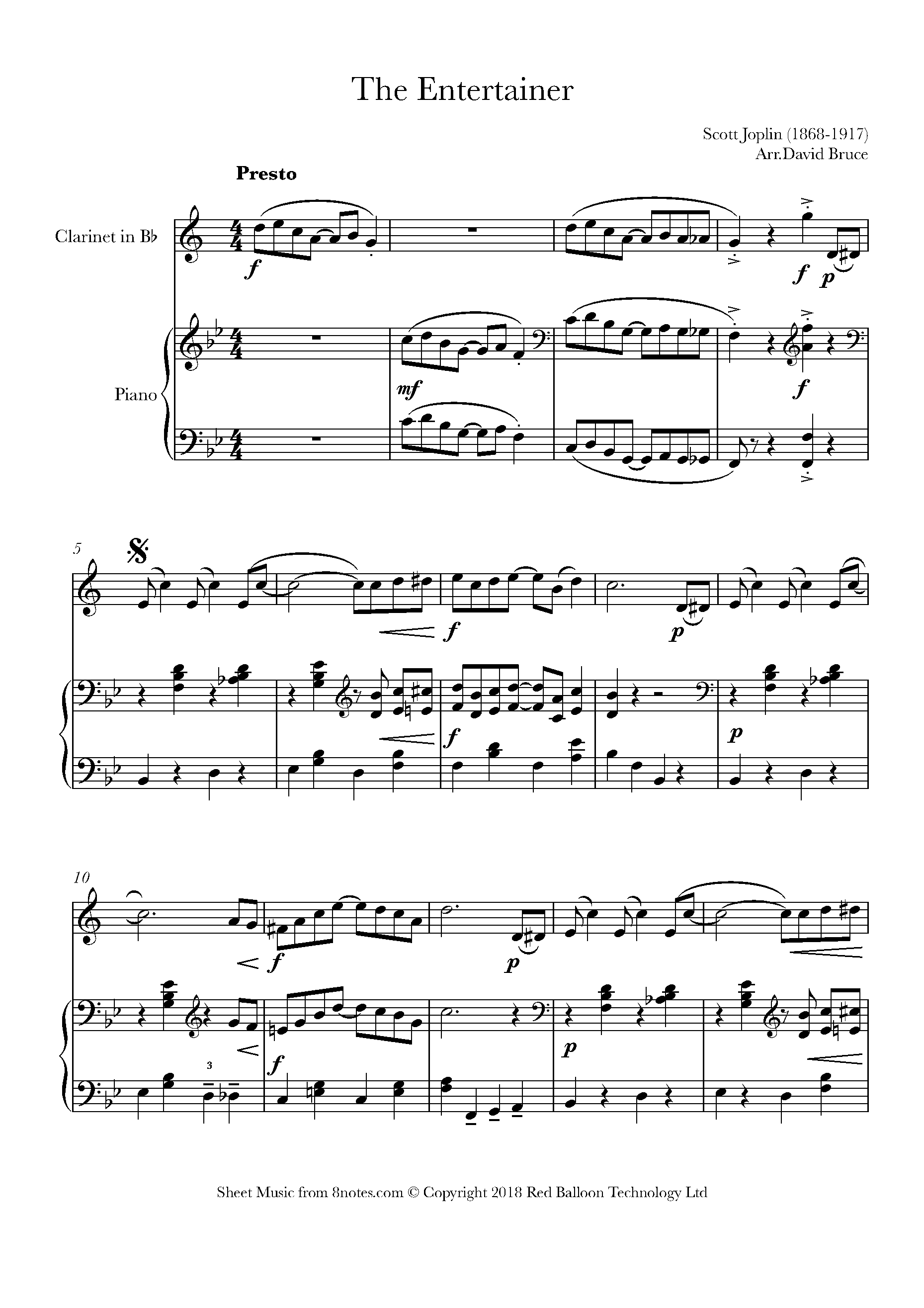 The Entertainer
Alongside "The Entertainer," this is one of the most famous pieces from the "King of Ragtime". The "Maple Leaf Rag" is associated with Sedalia, Missouri and may have been named after the "Maple Leaf Club" in that city.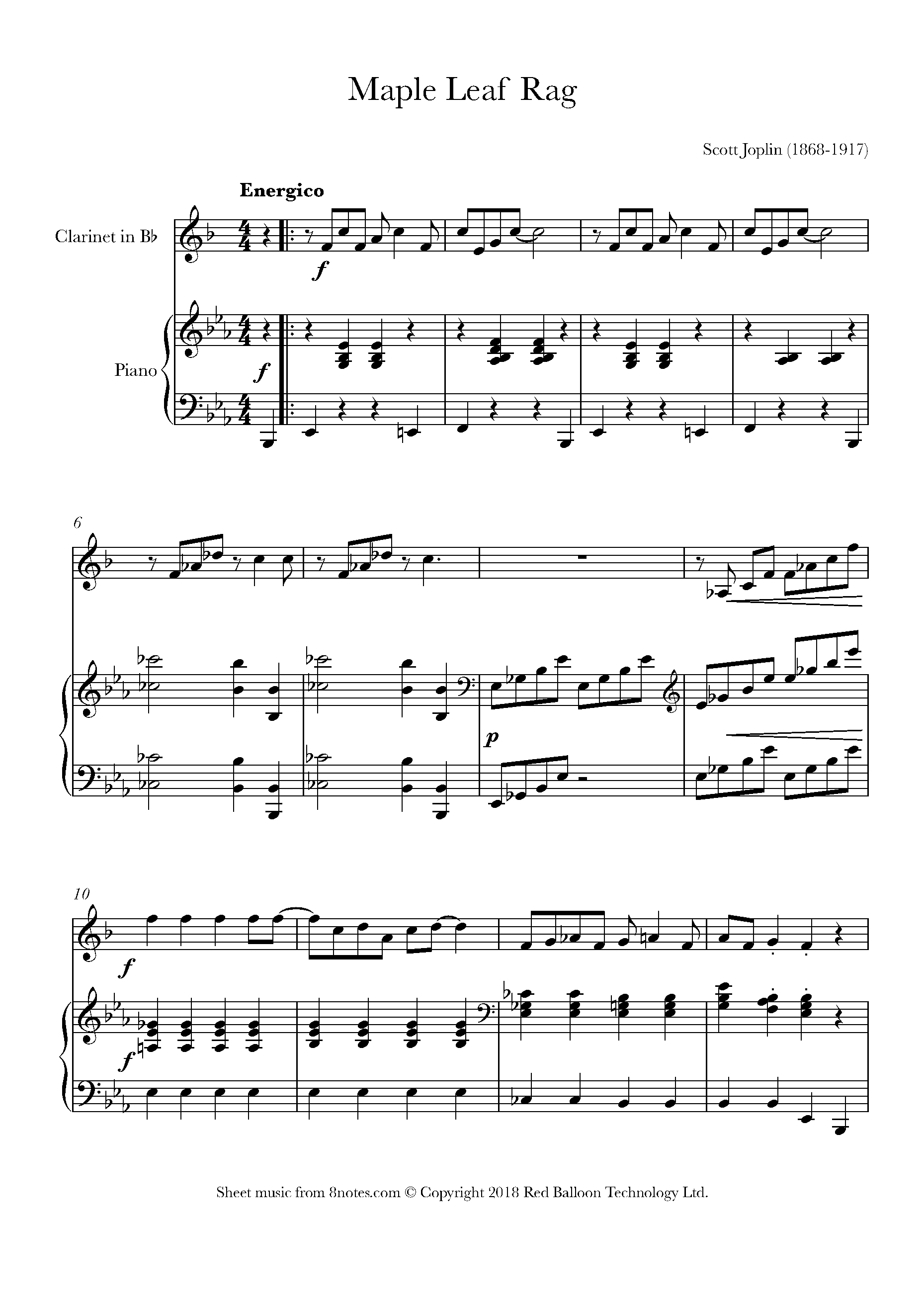 Maple Leaf Rag
A March and Two-Step marked 'Not Fast', written in 1902 when Joplin was in St Louis. It was dedicated to the composer, conductor, cornet player and circus sideshow manager P.G. Lowery.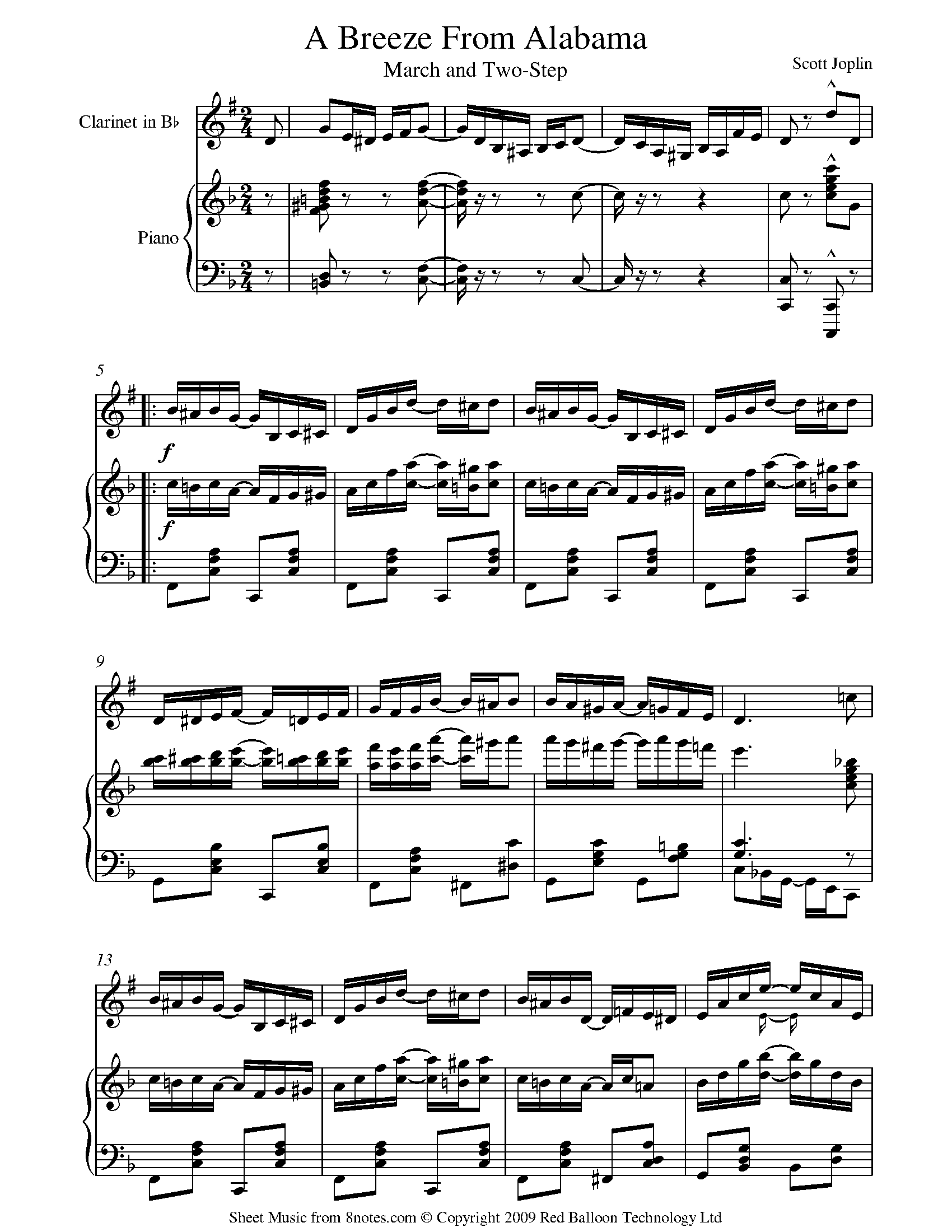 A Breeze from Alabama
The Black Cat Rag, written by St Louis composer Frank Wooster and Ethyl B. Smith, was dedicated to Miss Bessie Wood Stewart. It was originally published by Frank Wooster Co., St. Louis, Missouri, USA. Wooster later sold this rag to John Stark, Scott Joplin's publisher also of St Louis. It was widely known and still performed and recorded today.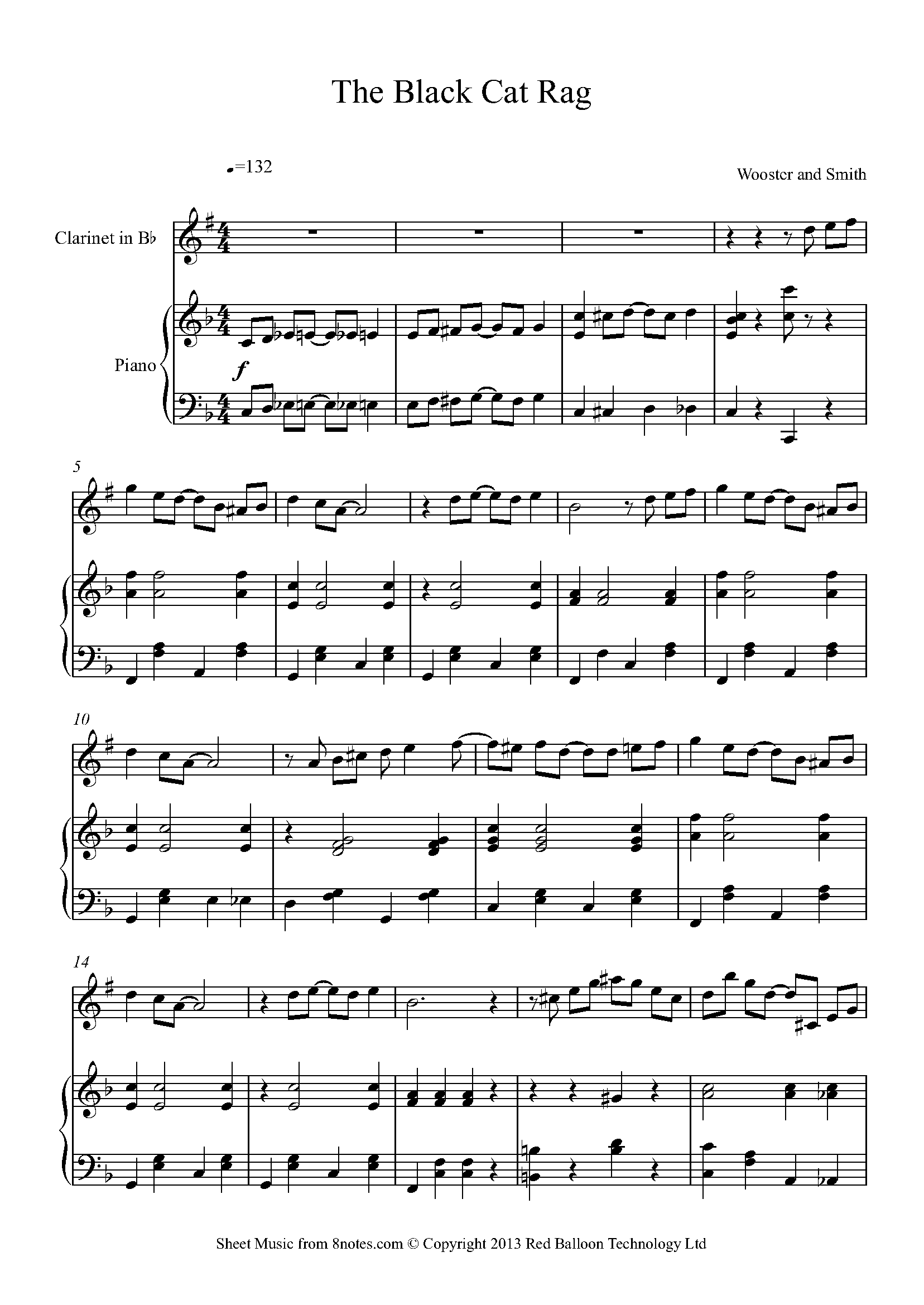 The Black Cat Rag
First published in 1911 this was Irving Berlin's first major hit. There is some evidence, although inconclusive, that Berlin borrowed the melody from a draft of "A Real Slow Drag" by Scott Joplin that had been submitted to a publisher.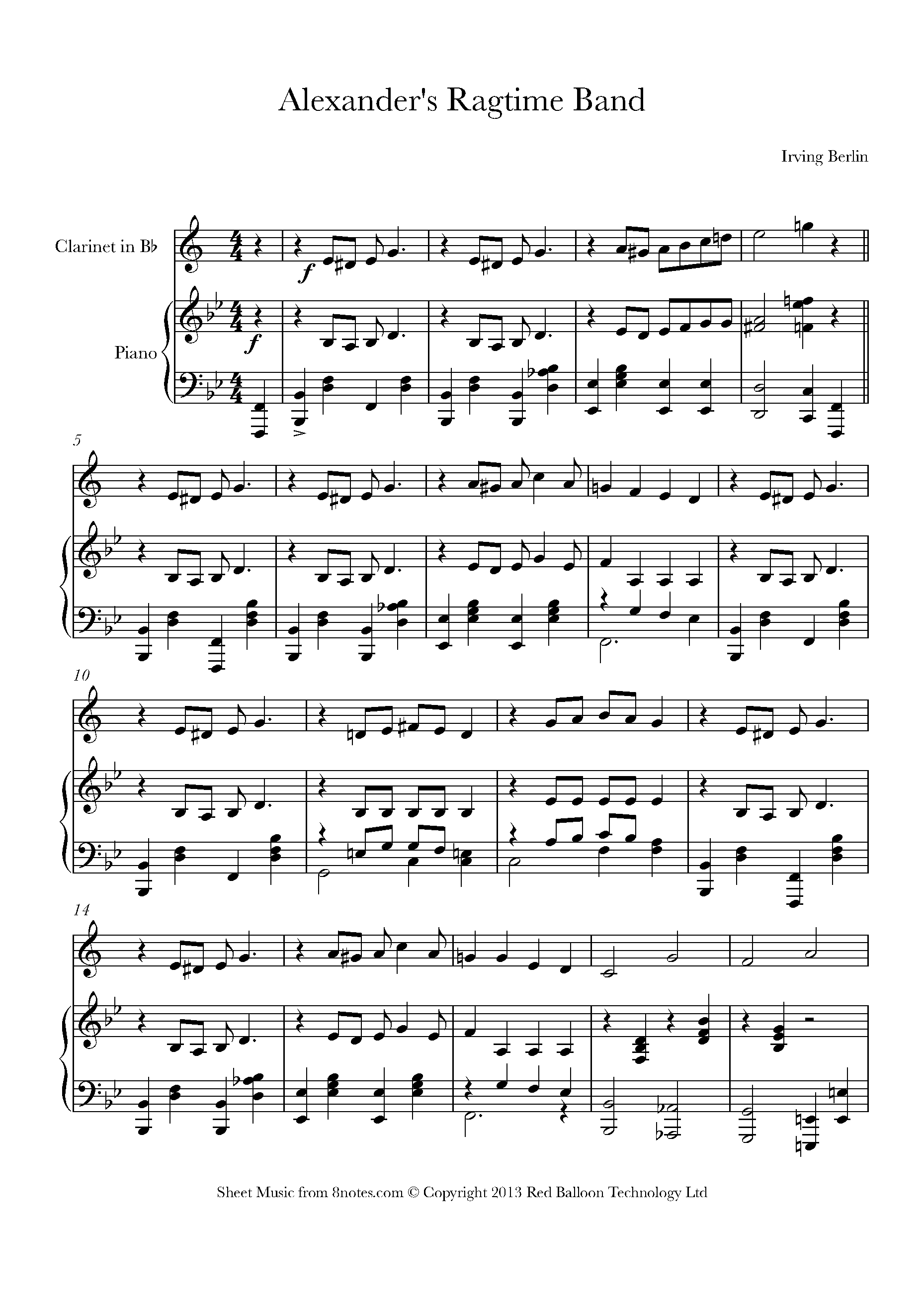 Alexander's Ragtime Band
"The Easy Winners" is a popular ragtime composition by Scott Joplin. The copyright was registered on October 10, 1901. The Shattinger Music Company of St. Louis, Missouri bought the piece and published a simplified version. Only later did John Stillwell Stark publish it in the original version. The title refers to those who win easily at sporting events.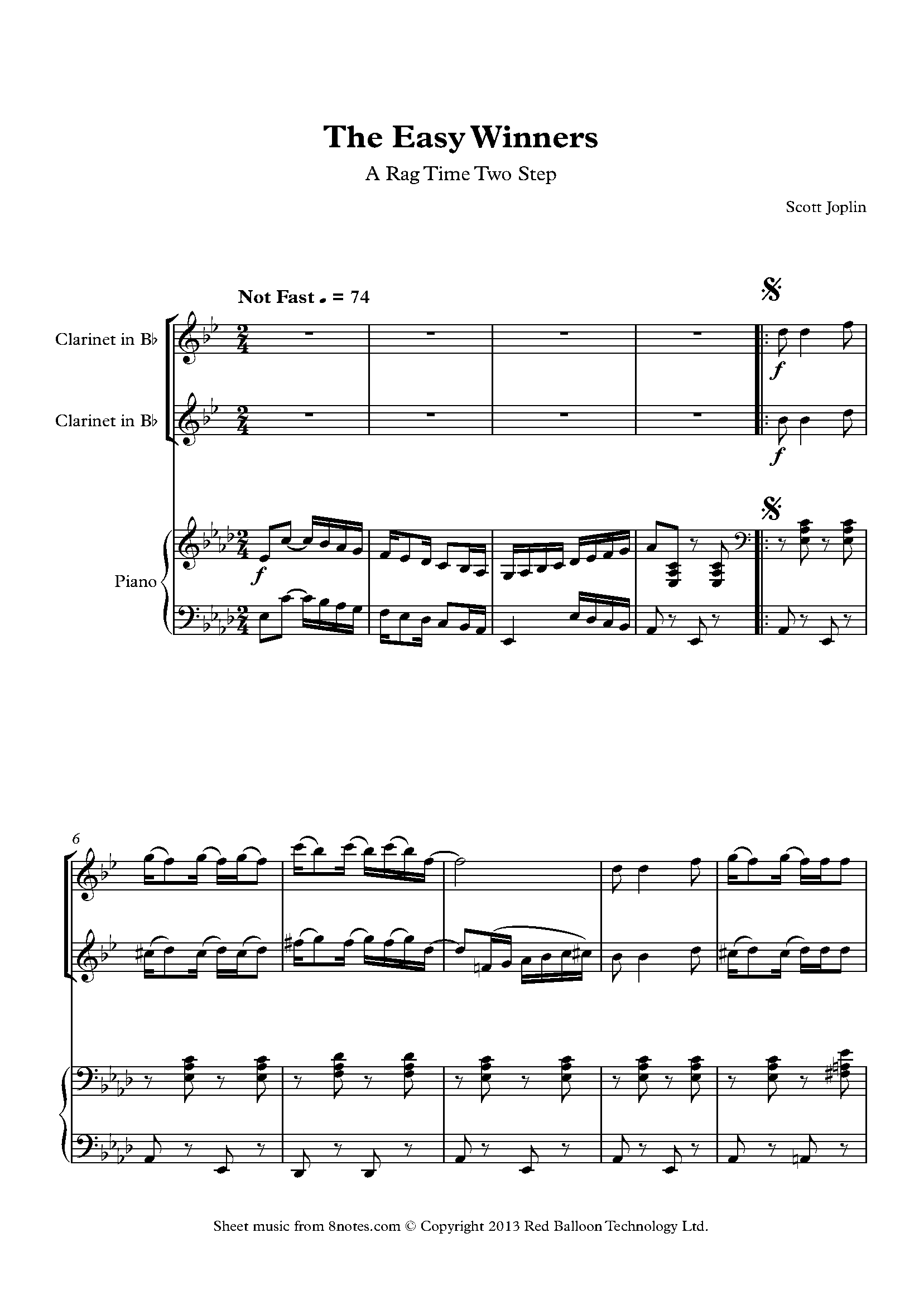 The Easy Winners (A Rag Time Two Step)
Composed in 1901, Peacherine has many of the characteristics of Scott Joplin's more famous rag "The Entertainer". It was the most performed piece at the St. Louis World Fair in 1904 and was also used by Ennio Morricone in the soundtrack to the movie ''The Legend of the Pianist on the Ocean."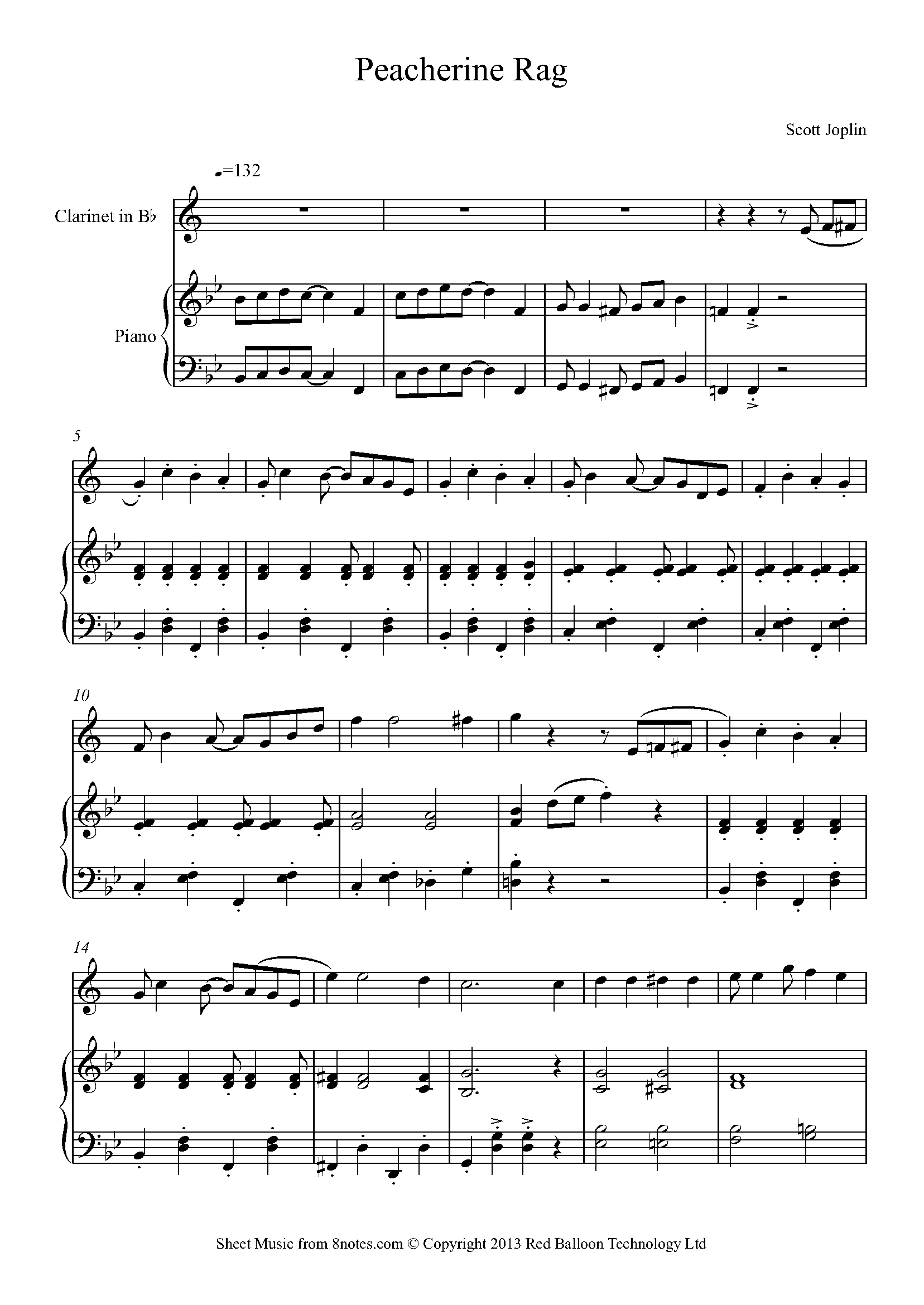 Peacherine
A collaboration between Scott Joplin and Scott Hayden, who was connected to Joplin through Joplin's first wife, who had been Hayden's sister-in-law. Hayden collaborated on three other rags with Joplin and was also known for his own "Pear Blossoms" rag.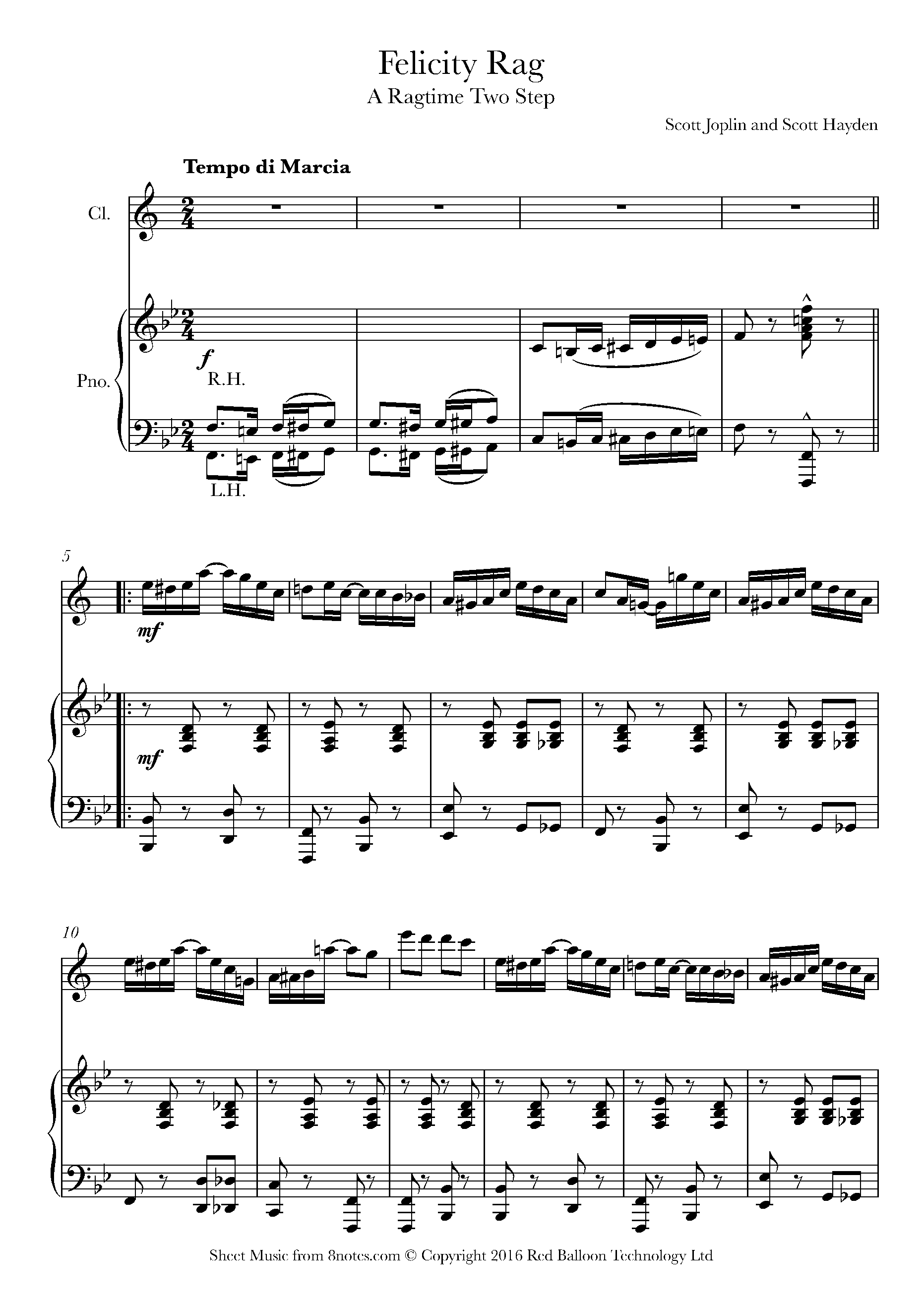 Felicity Rag (Scott Hayden)
Gladiolus Rag, written by Scott Joplin in 1907, contains elements reminiscent of his more famous Maple Leaf Rag, written 8 years earlier. Both open with a similar syncopated melody, followed by rising arpeggios that are capped by a second syncopated melody with a repeated chordal accompaniment. Both titles also evoke the world of horticulture, possibly in order to give an air of respectability to a form often considered coarse.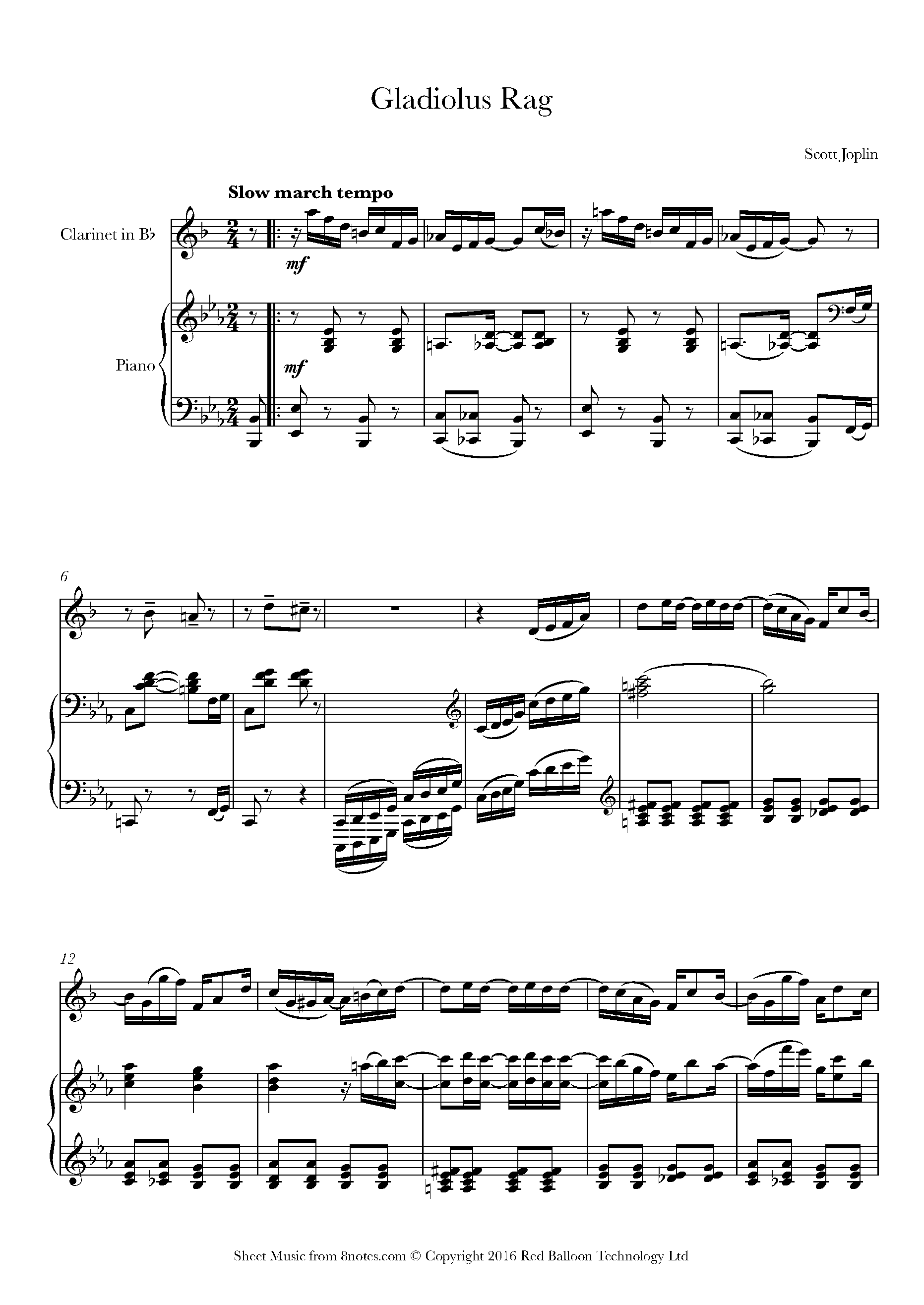 Gladiolus Rag
Not much is known about ragtime composer M.E.Williams. His "Pig Angels Rag," subtitled "A Grotesque Intermezzo," is, despite the title, rather graceful in quality. It was popularised in the mid-twentieth century by fiddlers Uncle Dick Hutchinson and Ron Hughey, becoming well-known in the Ozark Mountain region.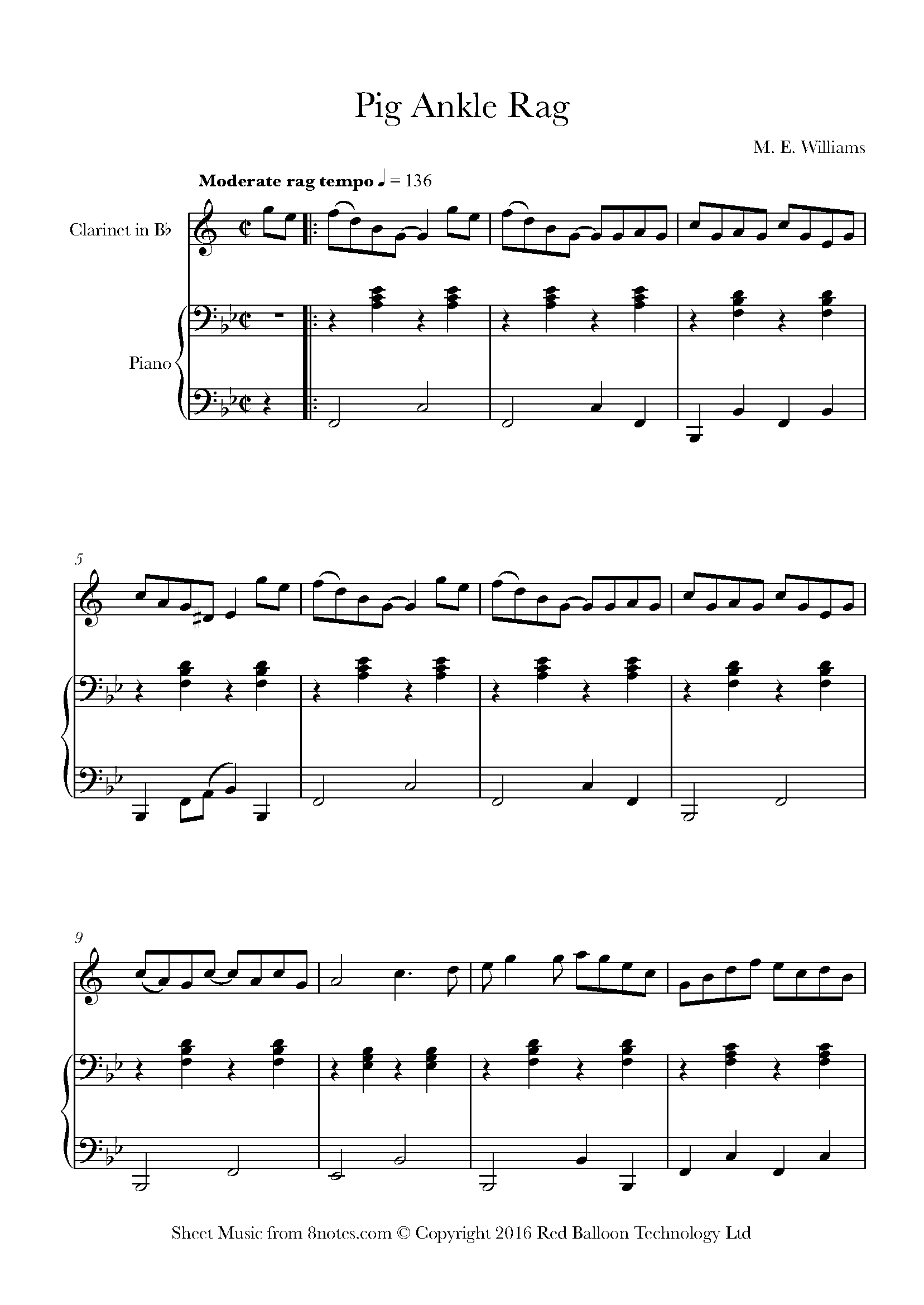 Pig Ankle Rag
This simple and upbeat piece by David Bruce is a great introduction to ragtime. It has the familiar elements of the style, including the um-cha accompaniment and syncopations in the solo line, but without some of the complexity you find in the more advanced rags by composers such as Scott Joplin.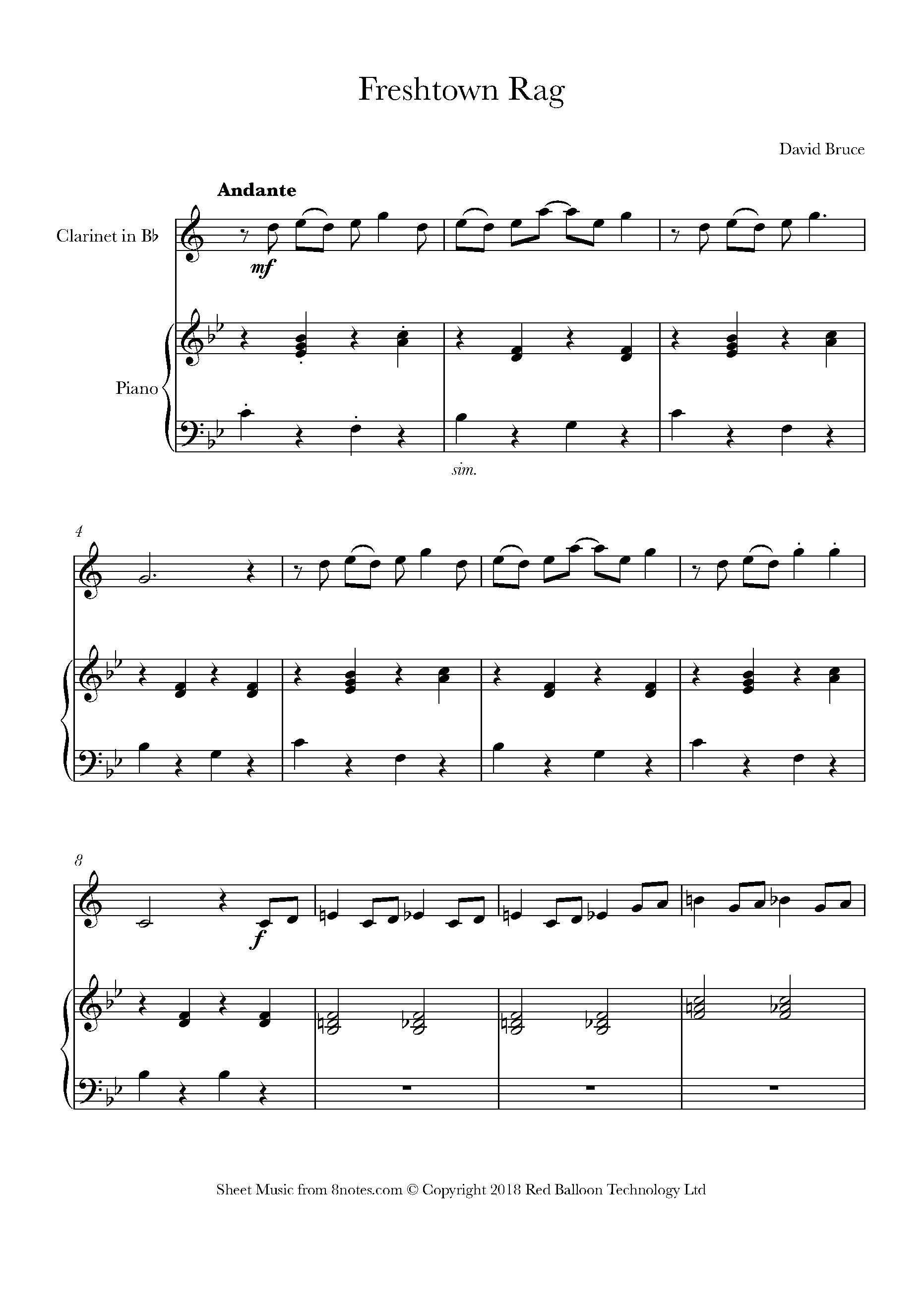 Freshtown Rag