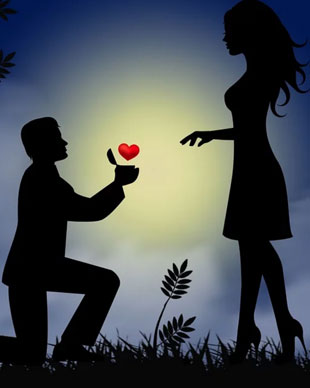 Romantic Music for Cello
Romantic Music for Cello
A collection of romantic pieces for Cello with piano accompaniment. Easy to Advanced Level
1. Kreisler - Liebesleid (Love's Sorrow) from 3 Old Viennese Danc...

Fritz Kreisler's famous "Liebesleid", published in 1905, is taken from "Alt-Wiener Tanzweisen," a collection of three pieces for violin and piano. The three pieces take love as their theme—the other titles in the collection being "Liebesfreud" (Love's Joy) and "Schön Rosmarin" (Lovely Rosemar). The title , which translates as "Old Viennese dance tunes" indicates the musical roots of the works, the spirit of Johann Strauss being never far away.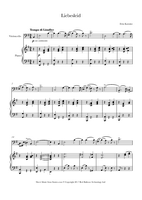 Liebesleid (Love's Sorrow) from 3 Old Viennese Danc...
2. Dvorak - Rusalkas Song to the Moon

"Rusalka" is an opera by Antonín Dvořák premiered in 1901. The Czech libretto was written by the poet Jaroslav Kvapil based on the fairy tales of Karel Jaromír Erben and Božena. It tells the story of a the the water nymph Rusalka, who after falling in love with a human Prince wants to become human in order to live with him. Rusalka is one of the most successful Czech operas, and represents a cornerstone of the repertoire of Czech opera houses. This popular excerpt from Rusalka is the "Song to the Moon" from Act 1, which is often performed in concert and recorded separately. It has also been arranged for violin and used on film sound tracks.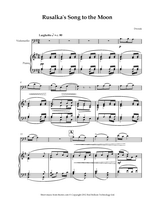 Rusalkas Song to the Moon
3. Mascagni - Intermezzo from Cavalleria Rusticana

Mascagni's Cavalleria Rusticana ("Rustic Chivalry"), premiered in 1890, is the story of Turiddu, who on return from military service discovers his betrothed, Lola, is married to another, Alfio. In exacting revenge by seducing Santuzza, he leaves her (Santuzza) heartbroken. The famous Intermezzo is played after a tense encounter between the main protagonists and as the villagers are inside a church worshipping.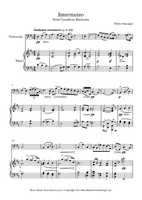 Intermezzo from Cavalleria Rusticana
4. Tchaikovsky - Theme from Romeo and Juliet Fantasy Overture

"Romeo and Juliet, TH 42, ČW 39, is an orchestral work composed by Pyotr Ilyich Tchaikovsky. It is styled an Overture-Fantasy, and is based on Shakespeare's play of the same name. The gestation of the work was a difficult one. The first version of the piece, performed in 1870, was criticised by fellow composer Balakeriev, who nevertheless saw the work's promise and encouraged Tchaikovsky to make revisions. This led Tchaikovsky to produce a second version, premiered in 1872, and a third, completed in 1880, which is the one we know today. One aspect of the work that was never in doubt was the quality of the famous love theme. After seeing it Balkierev wrote to Tchaikovsky: "I play it often, and I want very much to hug you for it."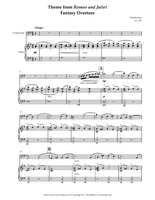 Theme from Romeo and Juliet Fantasy Overture
5. Tchaikovsky - Theme for Swan Lake Op.20 (Scene Finale)

Tchaikovsky's ballet "Swan Lake" (original version 1875–77) is the love story of Prince Siegfried, who on a hunting trip encounters a flock of swans, falls in love with the Swan Queen, Odette, and swears his allegiance and undying love to her. The iconic 'Flight of the Swans' melody that begins the final scene to Tchaikovsky's ballet 'Swan Lake' is a fatalistic presence throughout the work. This movement begins with the same plaintive quality heard elsewhere, this time however building towards a more triumphant close.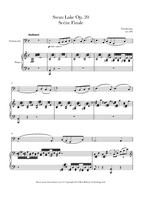 Theme for Swan Lake Op.20 (Scene Finale)
6. Liszt - Libestraume Notturno No. III

Liebesträume ("Dreams of Love") is a set of three solo piano works (S.541/R.211) by Franz Liszt, published in 1850. The most perennially popular of these is the third in Ab, which is inspired by a poem by Ferdinand Freiligrath "O lieb', so lang du lieben kannst!" ("O love, as long as you can love!"). The piece has been used frequently in popular culture and was the inspiration for Elvis Presley's song, "Today, Tomorrow and Forever."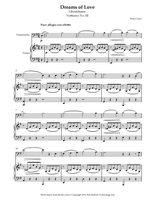 Libestraume Notturno No. III
7. Puccini - O my beloved father

Gianni Schicchi, written in 1917-18, forms the final part of Puccini's Il trittico (The Triptych). In the aria "O mil babbino caro" (Oh, my dear papa) Lauretta (soprano) begs her father for help. Gianni Schicchi was a huge hit, with "O mi babbino caro" becoming one of Puccini's best-loved arias.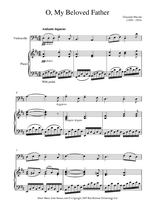 O my beloved father
8. Rachmaninoff - Theme from Piano Concerto No. 2 2nd movement

Rachmaninoff composed his Piano Concerto No. 2 in C minor, Op. 18 between the autumn of 1900 and April 1901, the first complete performance, with the composer as soloist, given on 9th November 1901. Written after a period of clinical depression that followed the rejection of his First Symphony, this piece established Rachmaninoff's fame as a concerto composer and is one of his most enduringly popular pieces. The long-breathed phrases and slow unfolding of the ravishing second movement theme are typical of the composer's style, though the agonisingly wistful nature of the melody may also suggest something of the composer's mental state at the time of composition.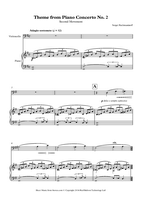 Theme from Piano Concerto No. 2 2nd movement
9. Elgar - Salut d'amour
(8notes PREMIUM)

"Salut d'Amour" or "Liebesgruß" ("Love's Greeting"), Op. 12 by Edward Elgar was written in 1888 for violin and piano. Elgar finished the piece in July of that year, when he was romantically involved with Caroline Alice Roberts. He called it "Liebesgruß" because of Roberts' fluency in German. On their engagement she had already presented him with a poem "The Wind at Dawn" which he set to music and, when he returned home to London on 22 September from a holiday at the house of his friend Dr. Charles Buck in Settle, he gave her Salut d'Amour as an engagement present.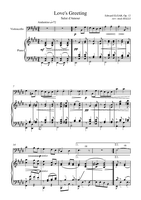 Salut d'amour
(8notes PREMIUM)
10. Puccini - Vissi d`arte from Tosca

Puccini's Tosca, premiered in January 1900, is one one of the most beloved works of late-Romantic opera. Famously described by one musicologist as a "Shabby little shocker" it is on the one hand a political thriller, on the other an an archetypal love story in which an evil chief of police, Baron Scarpia, tries to separate Tosca from her lover Mario Cavaradossi, so he can have her for himself. The famous aria "Vissi d'arte" is sung by Tosca in act two as she reflects upon her fate and how the life of her beloved, Mario Cavaradossi, is at the mercy of Baron Scarpia.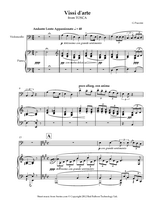 Vissi d`arte from Tosca
11. Puccini - Che Gelida Manina from La Boheme

"Che gelida manina" ("What a frozen little hand") is a tenor aria from the first act of Giacomo Puccini's opera, La bohème. The aria is sung by Rodolfo to Mimì when they first meet. In the aria he tells her of his life as a poet, and ends by asking her to tell him more about her life. It is one of the most recorded arias by tenors.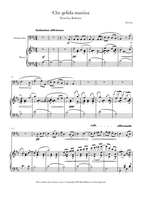 Che Gelida Manina from La Boheme
12. Bizet - La fleur que tu m'avais jetee from Carmen
(8notes PREMIUM)

Bizet's opera "Carmen," written in 1874, tells the story of Don José, who is lured away from the peasant girl Micaëla and his duties as a soldier by the gypsy girl Carmen. "La fleur que tu m'avais jetée" ("The flower you threw to me") is sung in Act 2 by José in an attempt to convince Carmen of his love for her. The breaking of social conventions depicted in Carmen shocked audiences when it was first performed. Bizet died before the work achieved the international claim that it now enjoys, making it, in fact, one of the most frequently performed works in the entire operatic canon.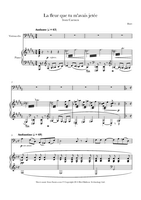 La fleur que tu m'avais jetee from Carmen
(8notes PREMIUM)