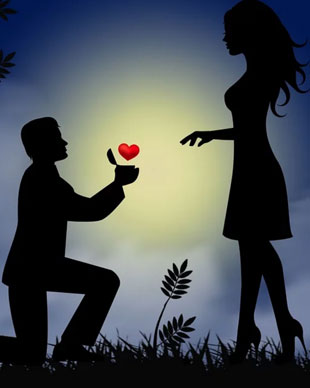 Romantic Music for Piano
Romantic Music for Piano
A collection of romantic pieces for Piano. Easy to Advanced Level
1. Chopin - Nocturne Op9, No2

Chopins three Nocturnes, Op. 9 were written between 1830 and 1832 and dedicated to Madame Camille Pleyel. Despite being forever associated with the nocturne (essentially a piece of particularly wistful, dreamy music, often intended to evoke images of the night), the form was actually created by the Irish composer John Field, a man whose influence on Chopin can be heard clearly, not just in his solo piano music but also in his two piano concertos. The wistful second nocturne, with its finely crafted melody is particularly loved— it has been, for example, a constant fixture in the UK's Classic FM Hall of Fame since its inception in 1996 and also appeared in a number of movies, including "Saturday Night Fever" (1977), "Close to Eden" (1992) and "Bad Santa" (2003).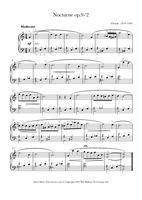 Nocturne Op9, No2
2. Tchaikovsky - Swan Lake Op. 20 Scene Finale

Tchaikovsky's ballet "Swan Lake" (original version 1875–77) is the love story of Prince Siegfried, who on a hunting trip encounters a flock of swans, falls in love with the Swan Queen, Odette, and swears his allegiance and undying love to her. The iconic 'Flight of the Swans' melody that begins the final scene to Tchaikovsky's ballet 'Swan Lake' is a fatalistic presence throughout the work. This movement begins with the same plaintive quality heard elsewhere, this time however building towards a more triumphant close.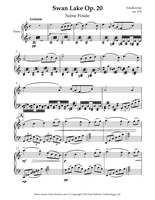 Swan Lake Op. 20 Scene Finale
3. Massenet - Meditation from Thais

Originally written for solo violin and orchestra, this intermezzo from Massenet's opera "Thais" is considered to be one of the great encore pieces. World-class violin soloists such as Joshua Bell, Sarah Chang, Anne-Sophie Mutter, Itzhak Perlman, and Maxim Vengerov have all performed the piece with major orchestras throughout the world. The Meditation has also been transcribed for piano and for other instruments.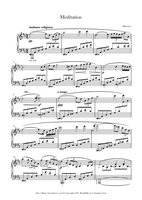 Meditation from Thais
4. Liszt - Etude No. 3 in G# Minor La Campanella S. 141/3

Liszt's "La Campanella" ("The Little Bell") is notorious as being one most difficult piano pieces ever written. The work is an elaboration of a charming melody, belying the difficulty of the extraordinary figurative with which it is clothed. There are leaping intervals, fiddly tremolos, rushing scales, long passages of double octaves and trills on weak fingers. In the hands of a truly great virtuoso the piece will dazzle. Anyone less well-equipped should approach with caution!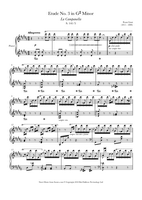 Etude No. 3 in G# Minor La Campanella S. 141/3
5. Tchaikovsky - Theme from Piano Concerto No.1

The thunderously triumphant opening chords of this mighty concerto are among the most famous in all classical music. At the time of composition, though, they were by no means universally loved. When Tchaikovsky played them to the pianist Nicolai Rubinstein, Rubinstein declared it to be "bad, trivial and vulgar!" It is now one of the most popular of Tchaikovsky's compositions and among the best known of all piano concerti.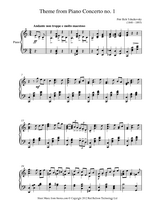 Theme from Piano Concerto No.1
6. Chopin - Etude No.8 in E Op.10 No.3 (Tristesse)

Chopin's Prelude Op.10, No.3, which later came to be known as "Tristesse," is one of his best-known works. Eschewing virtuosity, the work instead outlines an achingly lovely and elegiac melody - Chopin himself considered it the best that he wrote.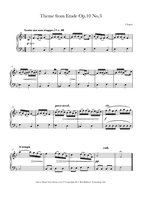 Etude No.8 in E Op.10 No.3 (Tristesse)
7. Macdowell - To a Wild Rose

Macdowell's charming "To a Wild Rose" is the first work from his "Woodland Sketches," Op.51. Writer Alan Levy claimed that the composer had discarded a sketch of the opening of the piece, but his wife, Marian, rescued it and suggested he continue. It has become his best-loved work, having been arranged for different instruments on numerous occasions as well as being used in the movie "Penny Serenade" (1941) and as the basis for the Elvis Presley's 1966 song "Am I Ready," which was used for the film "Spinout."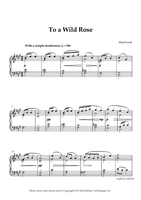 To a Wild Rose
8. Elgar - Salut d'amour

"Salut d'Amour" or "Liebesgruß" ("Love's Greeting"), Op. 12 by Edward Elgar was written in 1888 for violin and piano. Elgar finished the piece in July of that year, when he was romantically involved with Caroline Alice Roberts. He called it "Liebesgruß" because of Roberts' fluency in German. On their engagement she had already presented him with a poem "The Wind at Dawn" which he set to music and, when he returned home to London on 22 September from a holiday at the house of his friend Dr. Charles Buck in Settle, he gave her Salut d'Amour as an engagement present.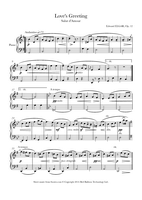 Salut d'amour
9. Puccini - O mio babbino caro from Gianni Schicchi

Gianni Schicchi, written in 1917-18, forms the final part of Puccini's Il trittico (The Triptych). In the aria "O mil babbino caro" (Oh, my dear papa) Lauretta (soprano) begs her father for help. Gianni Schicchi was a huge hit, with "O mi babbino caro" becoming one of Puccini's best-loved arias.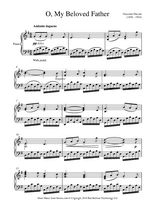 O mio babbino caro from Gianni Schicchi
10. Mascagni - Intermezzo from Cavalleria Rusticana

Mascagni's Cavalleria Rusticana ("Rustic Chivalry"), premiered in 1890, is the story of Turiddu, who on return from military service discovers his betrothed, Lola, is married to another, Alfio. In exacting revenge by seducing Santuzza, he leaves her (Santuzza) heartbroken. The famous Intermezzo is played after a tense encounter between the main protagonists and as the villagers are inside a church worshipping.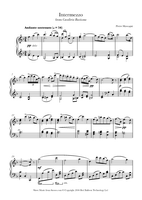 Intermezzo from Cavalleria Rusticana
11. Rachmaninoff - Theme from Piano Concerto No. 3

A work of great virtuosity, Rachmaninoff's Piano Concerto No.3 is one of the most respected and, some might say feared, works amongst concert pianists. It's well-known opening theme, which the composer claimed 'wrote itself,' is relatively straightforward to play. Thanks largely to the advocacy of pianist Vladimir Horowitz, the work became the composer's best-loved concerto. Its breakthrough into popular culture was completed by its use in the 1996 film "Shine."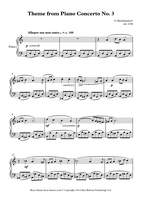 Theme from Piano Concerto No. 3
12. Mahler - Adagietto from Symphony No.5

The Adagietto from Gustav Mahler's Symphony No. 5 is the fourth movement of one of the great symphonies of the late Romantic period, composed in 1902 and given its first performance in Cologne in October 1904. Its elegiac qualities have made it one of the best known of the composer's symphonic movements, used during the funeral mass for Robert Francis Kennedy in 1968, in commemorative events following the September 11th attacks in the United States and, in the movies, in Luchino Visconti's 1971 film "Death in Venice."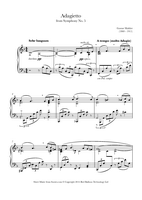 Adagietto from Symphony No.5
13. Tchaikovsky - Theme from Romeo and Juliet Fantasy Overture

"Romeo and Juliet, TH 42, ČW 39, is an orchestral work composed by Pyotr Ilyich Tchaikovsky. It is styled an Overture-Fantasy, and is based on Shakespeare's play of the same name. The gestation of the work was a difficult one. The first version of the piece, performed in 1870, was criticised by fellow composer Balakeriev, who nevertheless saw the work's promise and encouraged Tchaikovsky to make revisions. This led Tchaikovsky to produce a second version, premiered in 1872, and a third, completed in 1880, which is the one we know today. One aspect of the work that was never in doubt was the quality of the famous love theme. After seeing it Balkierev wrote to Tchaikovsky: "I play it often, and I want very much to hug you for it."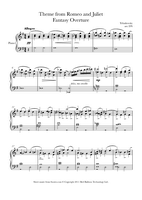 Theme from Romeo and Juliet Fantasy Overture
14. Debussy - Suite Bergamasque 3.Clair De Lune (Easy Piano)
(8notes PREMIUM)

"Clair de Lune" is the third movement from Claude Debussy's "Suite Bergamasque," written in 1890, but revised before its 1905 publication. The movement is the composer's best known work, a favourite of both amateur and professional pianists. It was orchestrated for inclusion in Walt Disney's "Fantasia," but time constraints mean it had to be left out, though it has been included as a bonus feature in some later releases. An orchestral version of the piece also provides an interesting choice of accompaniment to the final movements of the 2001 heist film "Ocean's Eleven"—where one might expect the soundtrack to convey the joy of a heist well executed, the impression is instead one of relief, serenity and wonderment.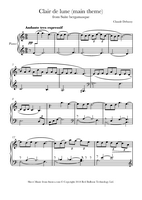 Suite Bergamasque 3.Clair De Lune (Easy Piano)
(8notes PREMIUM)
15. Ravel - Jeux d'Eau

Written at the age of just 24, the startlingly atmospheric "Jeux d'Eau" ("Water Games") marked a turning point for composer Maurice Ravel. Having been expelled from the Paris Conservatoire due to his lack of progress, he wrote the work under the pupilage of Gabriel Fauré. It was enthusiastically received at its first private performance and, though not universally lauded by critics, was eventually, as Ravel's biographer Arbie Orenstein notes, "firmly established as an important landmark in the literature of the piano."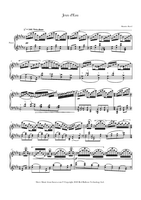 Jeux d'Eau
16. Kreisler - Liebesleid (Love's Sorrow) from 3 Old Viennese Danc...

Fritz Kreisler's famous "Liebesleid", published in 1905, is taken from "Alt-Wiener Tanzweisen," a collection of three pieces for violin and piano. The three pieces take love as their theme—the other titles in the collection being "Liebesfreud" (Love's Joy) and "Schön Rosmarin" (Lovely Rosemar). The title , which translates as "Old Viennese dance tunes" indicates the musical roots of the works, the spirit of Johann Strauss being never far away.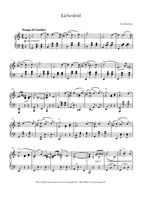 Liebesleid (Love's Sorrow) from 3 Old Viennese Danc...
17. Dvorak - Rusalkas Song to the Moon

"Rusalka" is an opera by Antonín Dvořák premiered in 1901. The Czech libretto was written by the poet Jaroslav Kvapil based on the fairy tales of Karel Jaromír Erben and Božena. It tells the story of a the the water nymph Rusalka, who after falling in love with a human Prince wants to become human in order to live with him. Rusalka is one of the most successful Czech operas, and represents a cornerstone of the repertoire of Czech opera houses. This popular excerpt from Rusalka is the "Song to the Moon" from Act 1, which is often performed in concert and recorded separately. It has also been arranged for violin and used on film sound tracks.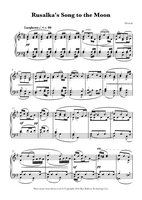 Rusalkas Song to the Moon
18. Liszt - Dreams of Love - Libestraume Notturno No. III
(8notes PREMIUM)

Liebesträume ("Dreams of Love") is a set of three solo piano works (S.541/R.211) by Franz Liszt, published in 1850. The most perennially popular of these is the third in Ab, which is inspired by a poem by Ferdinand Freiligrath "O lieb', so lang du lieben kannst!" ("O love, as long as you can love!"). The piece has been used frequently in popular culture and was the inspiration for Elvis Presley's song, "Today, Tomorrow and Forever."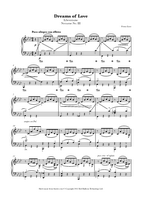 Dreams of Love - Libestraume Notturno No. III
(8notes PREMIUM)
19. Puccini - Vissi d`arte from Tosca
(8notes PREMIUM)

Puccini's Tosca, premiered in January 1900, is one one of the most beloved works of late-Romantic opera. Famously described by one musicologist as a "Shabby little shocker" it is on the one hand a political thriller, on the other an an archetypal love story in which an evil chief of police, Baron Scarpia, tries to separate Tosca from her lover Mario Cavaradossi, so he can have her for himself. The famous aria "Vissi d'arte" is sung by Tosca in act two as she reflects upon her fate and how the life of her beloved, Mario Cavaradossi, is at the mercy of Baron Scarpia.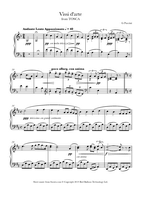 Vissi d`arte from Tosca
(8notes PREMIUM)