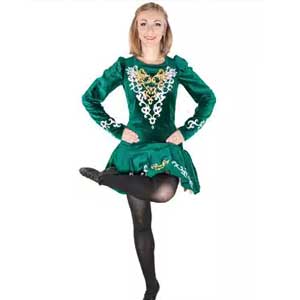 Hornpipe Music for Violin Compilation
Hornpipe Music for Violin Compilation
A collection of Irish hornpipes, arranged for violin and piano. Easy to Intermerdiate Level
1. Sailor's Hornpipe

The Sailor's Hornpipe was first written down in the form we know today around the end of the 18th century. It existed in one form or another earlier than this, however—Samuel Pepys (1633–1703), for example, referred to it in his diaries. The tune famously appears in Sir Henry Wood's "Fantasia on British Sea songs," performed each year at the Last Night of the Proms where its phrase endings are accompanied by audience members playing horns and whistles. It was also used in the opening credits of the cartoon "Popeye."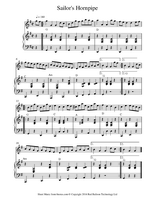 Sailor's Hornpipe
2. Captain Pugwash Theme (Trumpet Hornpipe)

This traditional Hornpipe (known as the "Thunder Hornpipe" in the US, but as the "Trumpet Hornpipe" elsewhere) was the theme to a popular British TV series in the 1980s—Captain Pugwash. The eponymous hero Captain Horatio Pugwash sails the high seas in his ship called the Black Pig, ably assisted by cabin boy Tom, pirates Willy and Barnabas, and Master Mate. His mortal enemy is Cut-Throat Jake, captain of the Flying Dustman.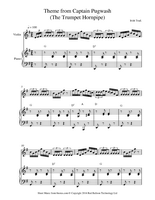 Captain Pugwash Theme (Trumpet Hornpipe)
3. Fisher's Hornpipe

Fisher's Hornpipe is one of the most widely played of all hornpipes, appearing in the Irish, Scottish, American and Welsh Traditions (where it is known as "Y Dynwr", "The Thresher"). The melody has been attributed to one of two composers, John Christian Fisher and James A. Fishar. The latter seems more likely, it first appearing under that name in "J. Fishar's Sixteen Cotillons, Twelve Allemands and Twelve Hornpipes" in 1780.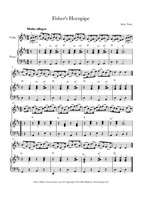 Fisher's Hornpipe
4. Devil's Dream Hornpipe

"The Devil's Dream" is an old fiddle tune of unknown authorship. Played as either a jig or a reel, it was a popular tune from at least 1834 in New England and appears in a folk tale from central England around 1805. It has remained popular amongst traditional musicians into recent times, also making appearances in popular culture—it was used by Bernard Herrmann for the soundtrack to the film "The Devil and Daniel Webster" and also made an appearance in "12 Years a Slave" and in the children's programme "Sesame Street.'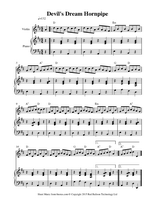 Devil's Dream Hornpipe
5. Alexander's Hornpipe

"Alexander's Hornpipe" is recorded in O'Neill's Music of Ireland published in 1903, but is known to have roots also in the Northumbrian tradition, where it is known as "Goswick Kirn", and in Wales, where it is entitled "Byth Ar Y Sul," meaning "Never on Sundays". Both author and the subject of the original title are unknown.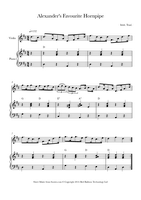 Alexander's Hornpipe
6. Bonapart Crossing the Rocky Mountains

"Bonaparte Crossing the Rocky Mountains" is probably an Amercanisation of several European titles of this piece: "Bonaparte Crossing the Alps", "Bonaparte Crossing the Rhine" and "Bonaparte's March." It almost certainly was written to commemorate a real historic event—Bonaparte was involved in the Rhine campaign of 1796 and crossed the Alps in May, 1800. The hornpipe remains popular throughout Britain, Ireland and North America.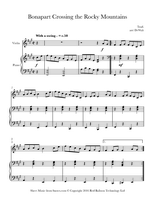 Bonapart Crossing the Rocky Mountains
7. Bang Up Hornpipe

"Bang Up Hornpipe," of unknown authorship, originates from the East Anglian region of England. It was first notated by George H.Watson at Swanton Abbott, Norfolk around 1880. The title has nothing to do with prison, more probably being 19th century slang for "splendid!" or "good show!"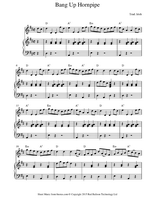 Bang Up Hornpipe
8. Cincinatti Hornpipe

Though at least one alternative title, "Cork Hornpipe" suggests a European origin for this hornpipe, it is likely that it originated in the U.S. in New England, Arkansas and Missouri. According to the Traditional Tune Archive, one of the first written appearances of the tune is in the Boston publication "Ryan's Mammoth Collection." It has a typical hornpipe AABB structure.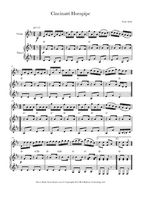 Cincinatti Hornpipe