Fourteen French pieces every flautist should know
March 29, 2023 |
Author:
Gavin Thomas |
Category:
Repertoire Guides
|
Flute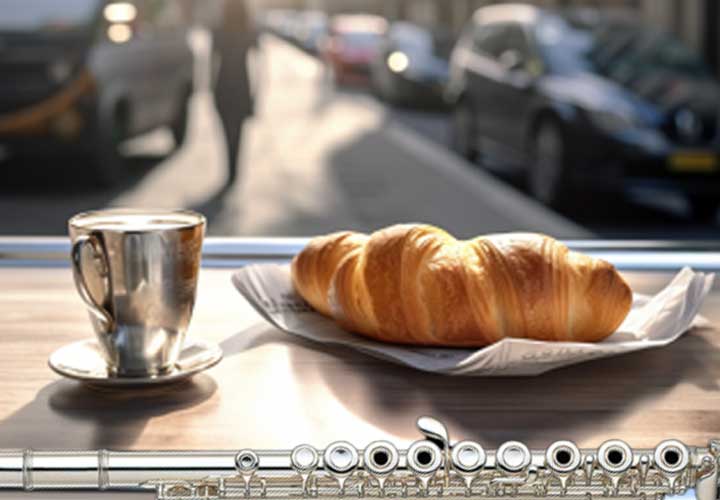 A flute a croissant and a coffee in Paris.
What is it about French composers and the flute? There's no shortage of music for the instrument ranging from the baroque to the present day, but if there's a golden age in the flute's long and varied history it's unquestionably the period stretching from the end of the 19th century through to the mid 20th – and is tinged with an unmistakably French flavour. We've rounded up fourteen of our favourite pieces, from Borne to Boulez.
Francois Borne's enduringly popular showstopper nabs some of the best tunes from fellow Frenchman
Georges Bizet
's opera Carmen and spins them into an enjoyable ten-minute fantasy. The least original work on this list, but great fun, and with plenty of virtuoso fireworks along the way.
One of the earliest (1898) in the long line of works for flute and piano commissioned by the Paris Conservatoire under the direction of Paul Taffanel for their annual flute competition, the Fantasie offers an irresistible snapshot of
Fauré
's beautiful music in miniature, with a lilting andantino followed by a longer Allegro, mixing gorgeous lyricism and puckish humour to memorable effect.
Cécile Chaminade
is one of those names which often comes up in discussions about neglected female composers, but whatever the state of your gender politics there's no disputing the quality of her marvellous
Flute Concertino
, an essential part of the flute repertoire since its premiere in 1902. A compelling blend of sumptuous melodies, quasi-impressionist flourishes and grand diatonic perorations the music has a bit of everything, while the mercurial central scherzando is a thing of pure joy. The work is also occasionally performed in Chaminade's orchestral version, although for sheer brio we reckon the original version with piano has the edge.
Celebrated French flautist
Philippe Gaubert
(1879–1941) might not be exactly a household name but remains beloved by flute fanatics everywhere thanks to his many compositions for the instrument including the beautiful little
Fantaisie for flute and piano
and, perhaps best of all, his
Notturno et Allegro scherzando
(1906), a five-minute work in two movements (rather like the Fauré Fantasie) comprising an opening Notturno full of languid Frenchified musical musings followed by a will o' the wisp allegro.
Notturno and Allegro Scherzando:
Fantaisie for Flute and Piano
Another piece straight outta the Paris Conservatoire, La Flûte de Pan (written sometime during the 1900s, when Mouquet served as the conservatoire's professor of harmony) is another enduring recital favourite in the Fauré–Gaubert tradition, brimful of Gallic lyricism and whimsical esprit – and with plenty of opportunities for advanced players to show off their fanciest fingerwork along the way.
Written by Paris Conservatoire professor of flute and all-round Big Daddy of the French turn-of-the-century flute scene,
Paul Taffanel's Andante Pastoral et Scherzettino
(1907) is yet another enjoyable six-minute romp in the Fauré–Gaubert–Mouquet tradition, featuring the by now obligatory two-movement slow-plus-fast combo mixing soupy lyricism with mercurial fantasy.
Originally composed as a throwaway piece of incidental music to Gabriel Mourey's play Psyché, this three-minute miniature (1913) has gone on to establish itself as probably the most famous piece for solo instrument ever written (check our
full story of the work's unusual origins and performance history
). And be sure to also check out Debussy's Sonata for flute, viola and flute, written just before his death in 1918 – one of his most original and magical works.
8. Ibert: Flute Concerto
Mozart aside, this is probably the most frequently performed of all flute concertos: an enjoyable twenty-minute romp composed in 1932 and showcasing Ibert's musical style at its eclectic best. The first two movements mix spiky neoclassical figuration and jazzy harmonies with more conventional lyrical outpourings, although it's the catchy syncopations of the riotous finale which really get the blood pumping.
9. Poulenc: Flute Sonata
The most frequently performed flute sonata in the repertoire, Poulenc's late masterpiece (1957) is probably the one piece (along with Debussy's Syrinx) which all aspiring flautists will tackle at some point in their musical journey. The opening allegro malincolico ("melancholy allegro") and central adagio are typical of Poulenc's bittersweet lyricism at its finest, while the finale's catchy cross-rhythms and slithering um-cha-cha's are guaranteed to bring the house down.
10. Varèse: Density 21.5
Sounding a bit like a modernist remake of Debussy's Syrinx, the brief Density 21.5 (1936) for unaccompanied flute by maverick French-American composer Edgard Varèse is another go-to option for adventurous performers, mixing modal and atonal melodic fragments to haunting – and occasionally ear-splitting – effect.
11. Dutilleux Flute Sonatine
A sonatina in search of a style, Dutilleux's early (1943) work for flute can't quite make up its mind whether it wants to be lyrical late-romantic or daringly early-modern but does a bit of everything and does it very well, from lyrical opening allegretto with its distinctively lopsided 7/8 meter to the sprightly finale.
12. Jolivet: Chant de Linos
An undisputed Everest of the flute repertoire, Jolivet's ten-minute Chant de Linos (1944) is one of the instrument's ultimate challenges, requiring quicksilver fingers and lungs like bellows – if you can play this then you've really arrived. Jolivet described the work as an ancient Greek mourning chant interspersed with cries and dances, and it's certainly a far cry from the gentle lyricism of earlier French flute pieces, recasting the instrument as a kind of deranged shaman in music full of clashing chords and cascading flourishes, all infused with a memorably wild kind of Dionysian energy.
13. Messiaen: Le Merle Noir
Another modern French flute classic, Le Merle Noir ("The Blackbird") of 1952 shows Messiaen's lifelong fascination with birdsong, evoking the blackbird's chirrupings in six
minutes of improvisatory meanderings (composed without either time or key signature) concluding in a brief but brilliant toccata – a dawn chorus with serious umph.
14. Boulez: Flute Sonatine
The first published work by one of the 20th century's towering musical figures, Pierre Boulez's youthful sonatine (1946) picks up where Jolivet leaves off, taking the flute to places it had never gone before (and which it's rarely visited since), veering between freeform passages of improvisatory statis and ferociously dissonant moto perpetuo sections whose demented energy is like nothing else in the repertoire.