Repertoire guide: Debussy's Syrinx
March 4, 2023 |
Author:
Gavin Thomas |
Category:
Repertoire Guides
|
Flute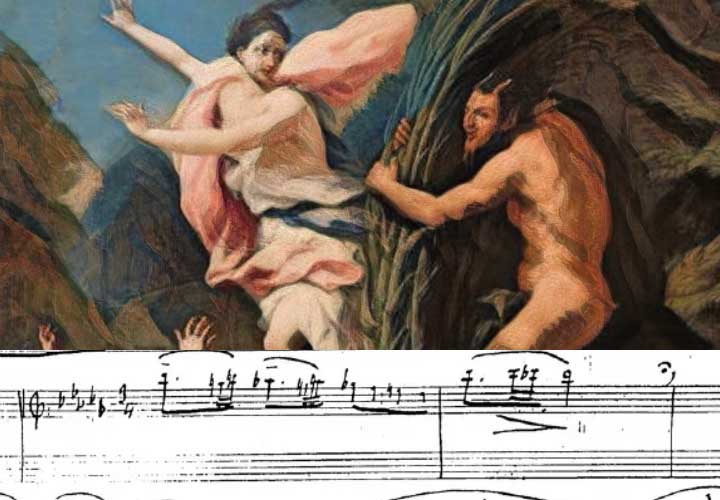 A scene depicting Pan and Syrinx, together with the opening bars of Debussy's manuscript
It can be played in less than two minutes, wasn't even written as a conventional concert piece and only acquired its final title almost a decade after the death of the composer who wrote it. Unpublished for fifteen years, the piece existed in a single manuscript copy whose owner retained exclusive performance rights to the work, which he often played while hidden behind a curtain.

Despite its unusual history, Debussy's Syrinx has gone on to establish itself as probably the most popular piece for unaccompanied woodwind instrument ever written. A key work in the flute repertoire, it's also hugely popular with clarinet and sax players, and indeed many other performers — search YouTube and you'll find transcriptions for just about every major instrument ranging from versions for piccolo and guitar to tuba and double bass.
Half-man, half-goat
Syrinx's origins lie in the theatre rather than the concert hall. The work was originally commissioned as part of
Debussy
's incidental music to Gabriel Mourey's play Psyché and completed in 1913 (coincidentally the same year as Stravinsky's Rite of Spring, to whose famous opening bassoon solo it bears a faint but tantalizing resemblance).
Behind the work lies the Greek legend of the famously horny satyr Pan ("half-man, half-goat", as he's often described), who became enamoured of the chaste nymph Syrinx. Attempting to flee Pan's unwelcome advances, Syrinx transformed herself into a clump of water reeds just as the satyr was about to embrace her. Clasping the reeds and sighing in misery, Pan discovered that his breath caused the reeds to emit musical notes. Believing these to be the voice of his beloved, Pan promptly chopped them down to make a musical instrument – the world's first ever set of panpipes – trapping the hapless Syrinx inside the reeds for eternity.
This sad but symbolically rich fable about untamed sexuality and the birth of music has inspired composers from Nielsen and Britten through to Harrison Birtwistle. Debussy's idea wasn't so much to portray the story of Syrinx herself as to evoke the idea of Pan on his deathbed, playing a final melody on the instrument in which was imprisoned the soul of his beloved – an elegiac vision of the dying satyr rather than a celebration of lusty mayhem.
As part of the music to Mourey's play Psyché, "La Flûte de Pan" (as the piece was originally titled) was played offstage while a pair of nymphs declaim some overblown – if not downright incoherent – lines describing the beauty of Pan's playing ("Prodigious! As if Night has loosed her belt and, in spreading her veils, let fall all the stars on the earth to play"). The video below gives a good idea of how it would originally have been intended to come off in performance, completely different to how we think of the piece nowadays, with the flute reduced almost to the status of background music.
Out from behind the curtain
Debussy's short piece of incidental music might easily have been forgotten were it not for the efforts of flautist Louis Fleury, who premiered the work and subsequently retained exclusive rights to perform the piece (along with the only manuscript copy). It was Fleury who did much to popularize it, performing "La Flûte de Pan" on numerous occasions, even if in deference to the music's theatrical origins he usually played it offstage, or hidden behind a curtain.
It wasn't until after Fleury's death in 1926 that Debussy's inspired miniature was finally made available to performers everywhere. The first published edition appeared in 1927, at which point the work hitherto known as "La Flûte de Pan" was rechristened Syrinx, probably in order to avoid confusion with Debussy's own song "La Flûte de Pan" from his Chansons de Bilitis — and perhaps also with Jules Mouquet's well-known La Flûte de Pan for flute and piano of 1906.
Mouquet:
Debussy "La Flute de Pan" song:
Music and influence
One things that's often forgotten is just how rare compositions for unaccompanied wind instruments were before Syrinx, which kickstarted a trend for solo pieces resulting in (to mention just a few) works as varied as Stravinsky's Three Pieces for clarinet (1919), Varèse's Density 21.5 for flute (1946) and Britten's Six Metamorphoses for oboe (1951).
Despite its brevity, the music of Syrinx is also hugely original, and famous for the huge interpretative scope it offers performers. The work lacks a metronome marking and is notated in a way that doesn't so much encourage as demand interpretative freedom, almost like a composed improvisation – it's said the original contained no bar lines or breath marks, which were only added by flautist Marcel Moyse when the work was published. No two performances are alike and timings vary wildly. Legendary French flautist Jean Pierre Rampal, for example, plays the work in a fraction under two minutes compared to Jasmine Choi, whose performance lasts almost three and a half.
Choi:
Not surprisingly, the piece works best on the flute, the instrument for which it was originally composed, exploiting the instrument's breathy lower register in its evocation of Pan's dying breaths. It also transcribes remarkably well for a whole range of other instruments, regardless of tessitura, with each instrument bringing something a bit different to the work's dreamlike meanderings. Versions for
clarinet
and
sax
are particularly popular, while transcriptions for oboe,
viola
and
cello
also work well. Even Thierry Barbé's version for double bass is unexpectedly convincing (
here's our own Double Bass version
), despite being a couple of octaves below the original – proof of the lasting popularity, and musical strength, of Debussy's unique miniature.