Ten Pieces Every Bassoonist Should Know
January 18, 2023 |
Author:
Gavin Thomas |
Category:
Instruments
|
Bassoon
|
Repertoire Guides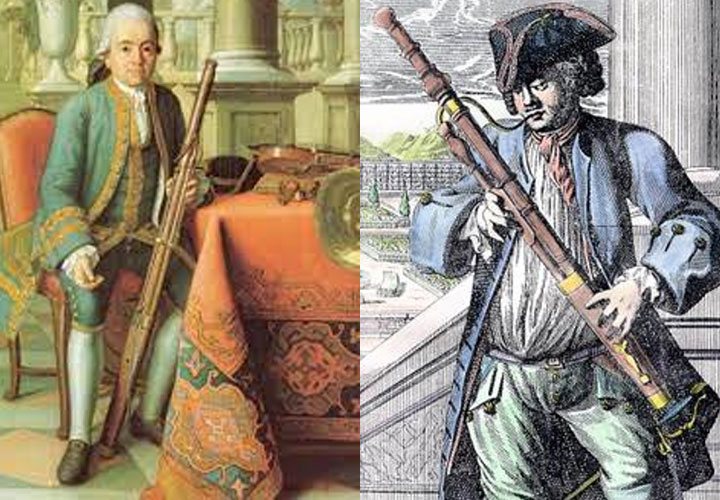 Bassoons in action through the ages
The bassoon may be the Cinderella of the woodwind family when it comes to solo works but there's still a good deal of repertoire out there to explore, including plenty of baroque pieces (Vivaldi, anyone?) and a trio of fine classical concertos by Mozart, Hummel and Weber – while 20th-century works range from Latin-flavoured works by Villa-Lobos and Piazzolla through to Sofia Gubaidulina's memorably bleak Concerto for Bassoon and Low Strings.
Vivaldi
is thought to have written a staggering 39 bassoon concertos, of which 37 survive – Sergio Azzolini plays 26 of them below in an epic five-hour YouTube compilation. It's difficult to pick out one in particular (cynics might argue they all sound the same in any case) but the concerto in G minor is as good a place to start as any, showcasing Vivaldi's colourful and challenging writing for the instrument, with plenty of rapid passagework and slithering runs in the fast outer movements and a soulful adagio in which the accompanying strings fall largely silent, leaving the soloist to its solitary melodic musings over a simple harpsichord-and-bass accompaniment.
Georg Philipp Telemann
(1681–1767) is generally reckoned one of the most prolific composers in history with around 3,000 works to his name – although half have been lost and many haven't been performed since the 18th century. His huge output includes a bewildering number of works for wind instruments of which the
F minor Bassoon Sonata
is a good example, jaunty late-Baroque in style and great fun to play, as well as offering a thorough examination of even advanced players' stamina and dexterity.
Mozart
is thought to have written no less than five bassoon concertos, although sadly this is the only one to have survived. Written by the 18-year-old composer in 1774, the work's three movements brim with youthful enthusiasm, mixing soulful lyricism with virtuoso sections of fast passagework, while the beautiful slow movement offers an extended test of tone and control.
4. Hummel: Bassoon Concerto
Listening to
Hummel
's Bassoon Concerto (1805) will likely make you want to explore more of this neglected composer's impressive music. Composed in around 1805, the concerto is reminiscent of Mozart in style and structure, although written on a considerably grander scale than Mozart's own bassoon concerto (the entire work lasts almost 25 minutes compared to Mozart's fifteen) and with virtuoso passages which are as difficult as anything in the repertoire.
Mozart's concerto might be more frequently performed, but we reckon it's
Weber
's
Bassoon Concerto
of 1811 (revised 1822) which is the best piece ever written for the instrument, and one that deserves to be much better known – you can't help but suspect that if it had been composed for cello rather than bassoon it would now be in the repertoire of orchestras worldwide. Every aspect of the bassoon's multi-faceted personality is on display here, from the jaunty march-like theme of the opening allegro through to the heartfelt central adagio, while the brilliant concluding rondo offers a rare chance for concert bassoonists to showcase the instrument's full virtuoso potential.
A perfect snapshot of
Elgar
's unique brand of late-romantic musical nostalgia, this
gorgeous five-minute miniature
(1911) captures the soul of the bassoon at its most wistful, spinning a long line of melody against the velvety backdrop of lush strings and chromatically saturated harmonies. Also available in an arrangement for bassoon and piano – a great little recital piece.
This is one of three sonatas for wind instruments written by the 85-year-old composer in 1921 – the last year of his life. More of a sonatina than a fully fledged sonata (the whole piece lasts barely thirteen minutes), the work places the emphasis firmly on the bassoon's distinctive lyrical qualities, centred on an
extended adagio
before the briefest of finales.
8. Villa-Lobos: Ciranda das sete notas
Villa-Lobos's "Dance of the Seven Notes" for bassoon and strings (1933) brings an unusual dash of Latin flavour to the bassoon repertoire – although despite the up-tempo title it's a largely slow and reflective work comprising a single freeform movement lasting around twelve minutes, cross-cutting dance-like sections with extended passages of introspective lyricism
9. Ástor Piazzolla - Escolaso
This fun six-minute work for bassoon and strings should be only every bassoonist's list of guilty pleasures, exploiting the Argentinian composer's characteristic tango-inspired dance rhythms and sultry harmonies to joyous effect.
10 Sofia Gubaildulina: Concerto for Bassoon and Low Strings
Written in 1975 when Gubaidulina was still largely a musical persona non grata in
the old Soviet Union, this concerto features an unusual combination of solo
bassoon accompanied by a stripped-down string section comprising just cellos
and basses – a memorably dark and sombre soundworld. The mood is bleak
throughout, with the soloist's long and sorrowful melodic line (employing
numerous multiphonics and other extended instrumental techniques) meandering
slowly across a desolate string landscape of swooping glissandos, fragmentary
pizzicati and astringent tone clusters. Powerful, if not particularly easy, listening.