Ten of Chopin's EASIEST Pieces for Piano
February 17, 2023 |
Author:
Gavin Thomas |
Category:
Repertoire Guides
|
Chopin
|
Piano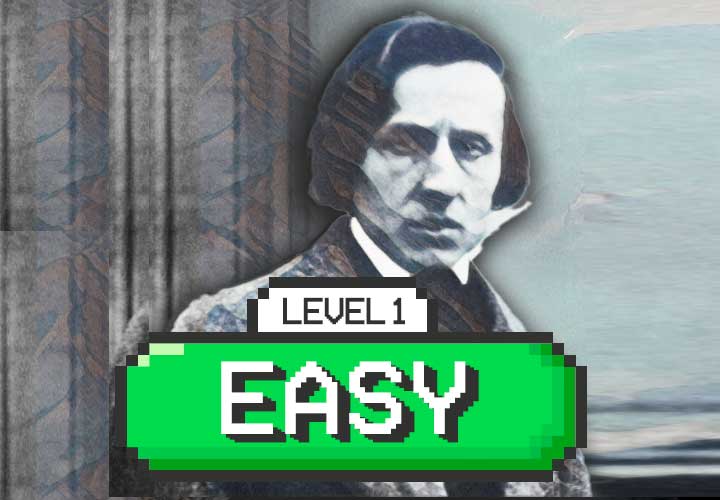 10 Easy Chopin Pieces
The music of Frédéric Chopin is a pillar of the piano repertoire, including some of the most brilliant, and challenging, music ever written for the instrument ranging from showy polonaises through to whirlwind scherzos – not to mention his notoriously demanding collection of virtuoso etudes. Unlike the other great piano composers of the 19th century, however, Chopin also composed a surprisingly large number of works which can be tackled even by intermediate players (roughly equivalent to grades 5–6 according the UK's ABRSM ranking system) – although bear in mind that even Chopin's "easiest" pieces require plenty of musicality and interpretative finesse to bring off convincingly. We've chosen ten of our favourites below, ranked roughly in order from the easiest to most difficult.

Chopin's 24 Preludes op.28 include several of his most approachable pieces, none more so than the implausibly simple prelude in A major: 16 measures of pure musical innocence with almost nothing to trouble the early-intermediate player bar the awkward right-hand stretch in the first chord of bar 12.
This miniature funeral march is another's beginner's favourite – although the beautiful concluding section, delicately pianissimo over a falling chromatic bass, calls for plenty of control.
This is one of the most famous – and technically easiest – of the Preludes: a single-note sort-of melody in the right hand against a plaintive sequence of chromatically descending left-hand chords, although despite the simplicity of the notes on the page balancing the left-hand while making the right hand sing can challenge even the best players.
One of a number of Chopin's early works published after his death, the brief but beautiful Album Leaf ("Feuille d'Album) is a bit like a miniature nocturne minus all the difficult bits – and with a total playing time of well under two minutes makes few demands of stamina or technique.
Chopin's mazurkas are the go-to option for pieces that people who aren't international concert pianists can actually have a decent shot at playing, with even the trickiest well within the reach of a reasonably competent player. The beautiful late mazurka in G minor (1849) is a good example and a nice challenge for intermediate students, particularly the fun descending cycle-of-fifths sequence in the middle section.
Most of Chopin's waltzes are fast, flashy and decidedly challenging, although there are also several far easier slower waltzes such as this short posthumously published work – although a couple of large-ish stretches may challenge smaller hands.
Another of Chopin's slow waltzes and also relatively straightforward, despite its length – even the accelerating left hand figuration in the coda is easily managed if you observe Chopin's "poco piu mosso" and don't speed up like crazy. Good practice too in balancing the hands and bringing out the singing bass melody.
Slightly trickier than the A minor waltz, perhaps, but still well within the reach of intermediate players – and the left hand is relatively free of Chopin's usual chromatic complexities. Just settle for a conservative tempo and don't overdo the "Con anima" section starting in bar 33.
Longer than the G minor mazurka but entirely free of technical terrors whilst offering the confident player plenty of scope for interpretative manoeuvre – as in Evgeny Kissin's enjoyably idiosyncratic performance in the video below.
Despite being predominantly slow, most of Chopin's nocturnes offer significant technical challenges thanks to their complex harmonies and cascades of decorative fiorituras. The op.37 G minor nocturne is a notable exception and well within the grasp of advanced-intermediate players – even the tricky grace-note run in bar 36 can be mastered with a little determination.