Five Families Where Composing Is All In The Genes
February 27, 2023 |
Author:
Christian Morris |
Category:
Discover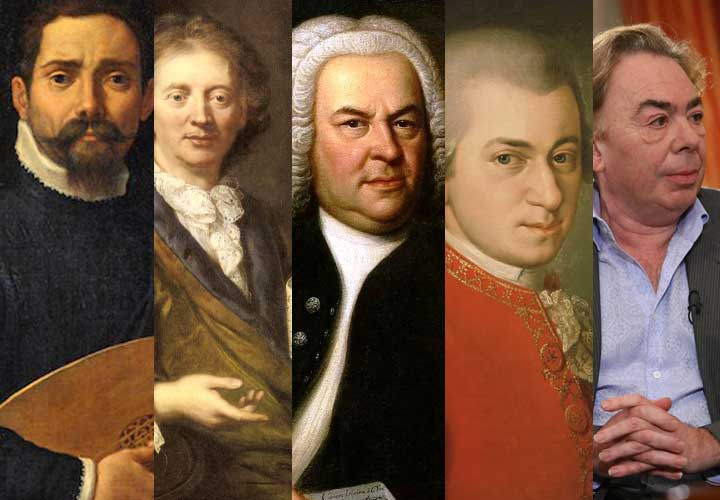 Meet the Gabrielis, the Couperins, the Mozarts, the Bachs and the Lloyd Webbers
Most people have heard of J.S.Bach, Wolfgang Amadeus Mozart and, more recently, Andrew Lloyd Webber? But did you know that none of these were the only composer in the family? Some, indeed, were part of a line of musicians that lasted many generations. Here, then, are five of some of the most famous composing families, their most famous and not so famous members, as well as examples of their best works. When it comes to composing, it's just in the blood.
The Gabrielis: uncle and nephew, father and son?
The early lives of Andrea Gabrieli (1552/2–1585) and his nephew
Giovanni Gabrieli
(1554/57–1612) are shrouded in mystery. It seems certain, however, that the younger Gabrieli studied with his uncle and may even have been brought up by him—a book of concerti written by Giovanni contains a dedication to his uncle in which he describes himself as 'little less than a son' to his uncle.
Andrea was a fine composer, though ultimately is less remembered than younger protégée. He spent most of his working life at the prestigious basilica of St. Mark's in Venice, writing music that took advantage of its resonant acoustic:
Giovanni took over at St. Mark's following the death of his uncle. He was also fascinated by the acoustics and layout of the building, refining the pre-existing polychoral style, where groups of players and singers would be specially separated around the building. He is also credited with the inventing the instructions 'piano' and 'forte', famously used in his 'Sonata pian' e forte':
The Couperins
The Couperin family shot to stardom when
Louis Couperin
(1626–1661) was scouted by the harpsichordist to the King of France in 1750. He eventually was installed as organist at Saint-Gervais church by the grateful Louis XIV, six of his descendants occupying the same post. Of these the most renowned was
François Couperin
, who is often names 'le Grand' ('the Great') to differentiate him from the other less talented family members. Francois, like his uncle Louis, is best known today for keyboard works such as
L'art de toucher le clavecin
. He was also known for the picturesque titles of his pieces, such as
Le Petit Rien
Les Coucous Benevoles
and
Les Baricades Mistérieuses
(used in the 2006 film 'Marie Antoinette').
The Bach family
Probably the most famous and extensive of all the composer dynasties. Of these, of course, the most illustrious of them all was
Johann Sebastian
(1685-1750), responsible for some of the most well-loved works in the classical canon, such as
The Goldberg Variations
,
Air on the G String
and the
'Arioso' from Cantata BWV 156
.
But Bach almost found time to have no less than 20 children, four of whom went on to become successful composers in their own right. Chief among these was
Carl Philip Emmanuel Bach
, Johann Christian Bach (known as the 'London Bach'),
Wilhelm Friedemann Bach
and Johann Christoph Friedrich Bach.
The Mozarts
Wolfgang Amadeus
Mozart
(1756-1791) is, alongside Bach and others, known as one of music history's great composers, responsible for such timeless masterpieces as the opera 'Don Giovanni', choral works such as the Requiem Mass and Ave Verum Corpus and many instrumental masterpieces, including the superlative Symphony No. 40 in G Minor. Unlike his illustrious predecessor, J.S. Bach, he did not produce a long line of successors. It was his father,
Leopold Mozart
who was the composer, remembered for such pieces as the witty 'Toy' Symphony, a ravishing Trumpet Concerto and the festive
Sleigh Ride
.
A special mention should also be made for Wolfgang's older sister Maria Anna Mozart (known affectionally as 'Nannerl'). She was a talented musician in her own right, receiving top billing over her precocious younger brother in the siblings' tours round the courts of Europe. There is some evidence too that she composed, though, sadly, no actual works survive.
A present day dynasty — The Lloyd Webbers
Andrew Lloyd Webber is one of the most familiar living composers. He is especially known for his musicals, including 'Joseph and his Amazing Technicolour Dreamcoat', 'Cats', 'Jesus Christ Superstar' and 'Phantom of the Opera.' He also wrote a set of theme and Variations (on the Paganini's famous theme) for his cellist brother Julian Lloyd Webber. More recently he has been commissioned to write a Coronation Anthem for King Charles III.
So where did all this musical talent come from. From his Dad William, of course! Whilst not achieving the success of his son Andrew, William Lloyd Webber (1914–1982) was nevertheless a brilliant composer in his own right, producing a large number of works in many genres in a warmly romanic style, a good example of which is his ravishing Serenade for Strings: