Will you see Tár? The conducting movie dividing audiences
January 23, 2023 |
Author:
Christian Morris |
Category:
News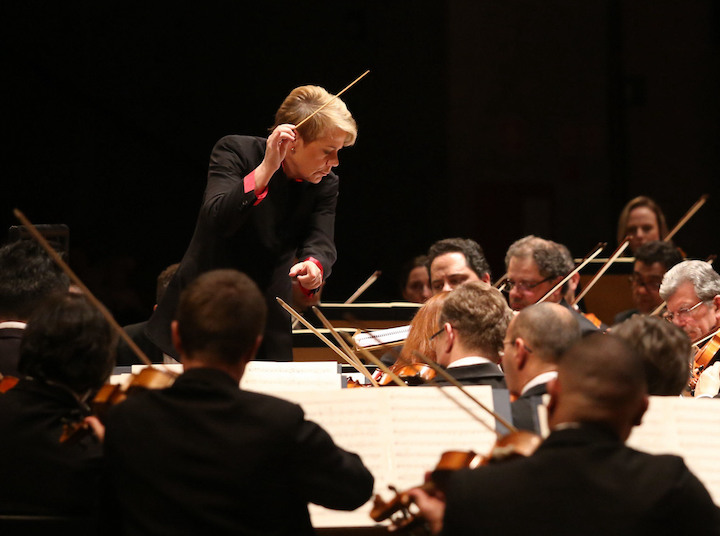 Conductor Marin Alsop, who criticised the film [Source: Wikipedia]
Todd Field's film about an abusive and predatory female conductor, Lydia Tár (played by Cate Blanchett), has earned a string of awards and nominations, including from the British FIlm Academy, New York Film Critics Circle, Golden Globes and London Critics Circle Film Awards. Yet the film continues to provoke a range of reactions from audiences.

Gender politics?
In a recent Times interview Vienna Radio Symphony Orchestra conductor Marin Alsop criticised the movie's gender politics:
"To have an opportunity to portray a woman in that role and to make her an abuser for me that was heartbreaking. I think all women and all feminists should be bothered by that kind of depiction because it's not really about women conductors, is it? It's about women as leaders in our society."
On Nicolas Rapold's podcast 'The Last Thing I Saw,' film critic and and author
Amy Taubin
made a broader assault, describing it as 'a dreadful movie…one of the stupidest movies I have seen in a long time. It's absolutely a one note movie.'
Writer Dr. Leah Broad
concurred
, singling out an early scene in Julliard School of Music. In it, Tár lampoons a young conducting student named Max for choosing to conduct a work by a lesser-known female composer. This moment, she says, raises important topics only for them to be 'crudely caricatured in Todd Field's script, and Max's brief lines uncritically linking music and identity present an easily demolished straw man.'
Norman Lebrecht on his long-running classical music blog
Slipped Disc
dismissed the film in typically robust fashion: 'Tár is not a bad movie. It is…a very bad movie,' going on to say that 'The film's signal weakness is the absence of any character, central or supporting, for whom we might feel a smidgeon of sympathy.' He says that 'Rarely…does Blanchett look credible in the act of conducting.'
The case for the defence
Others, however, continue to heap praise on the film. Musicologist and pianist Prof. Ian Pace
called the film
'A striking film about power, identity and passion and their role in classical music,' though he agreed with Lebrecht that 'Blanchett's conducting is one of the film's only weak spots.'
In the
Guardian
Alice Farnham was far more appreciative of Blanchett's depiction. Outlining the lack of female conductors at the start her own career and the relatively slow pace of change, she nevertheless points to the film as a sign that things are changing. And of the film itself she says that 'it asks timely questions about the abuse, fragility and illusion of power.'
And Cate Blanchett herself
defended
the film from Marin Alsop's criticism, pointing out that the film is about power not gender, describing it as 'a meditation on power and the corrupting nature of power and I think that that doesn't necessarily happen only in cultural circles…I mean, she could just as well have been a master architect or the head of a major banking corporation."
A Twitter storm
Others took to Twitter to voice their thoughts, both good:
And (less commonly, it has to be said) bad:
One thing is for sure, Tár has succeeded in being the most talked about and written about classical movie of the last ten years. It also features some wonderful classical music, including
Elgar's Cello Concerto
,
Mahler's Symphony No. 5
and
Bach's Prelude in C
from the Well-Tempered Clavier. For this alone perhaps we should be grateful. It puts classical music where it should be—at the centre of our culture.
Tár Official Trailer
Sheet Music from the Movie: