Ten short pieces for choir by twentieth-century masters
May 16, 2023 |
Author:
Gavin Thomas |
Category:
News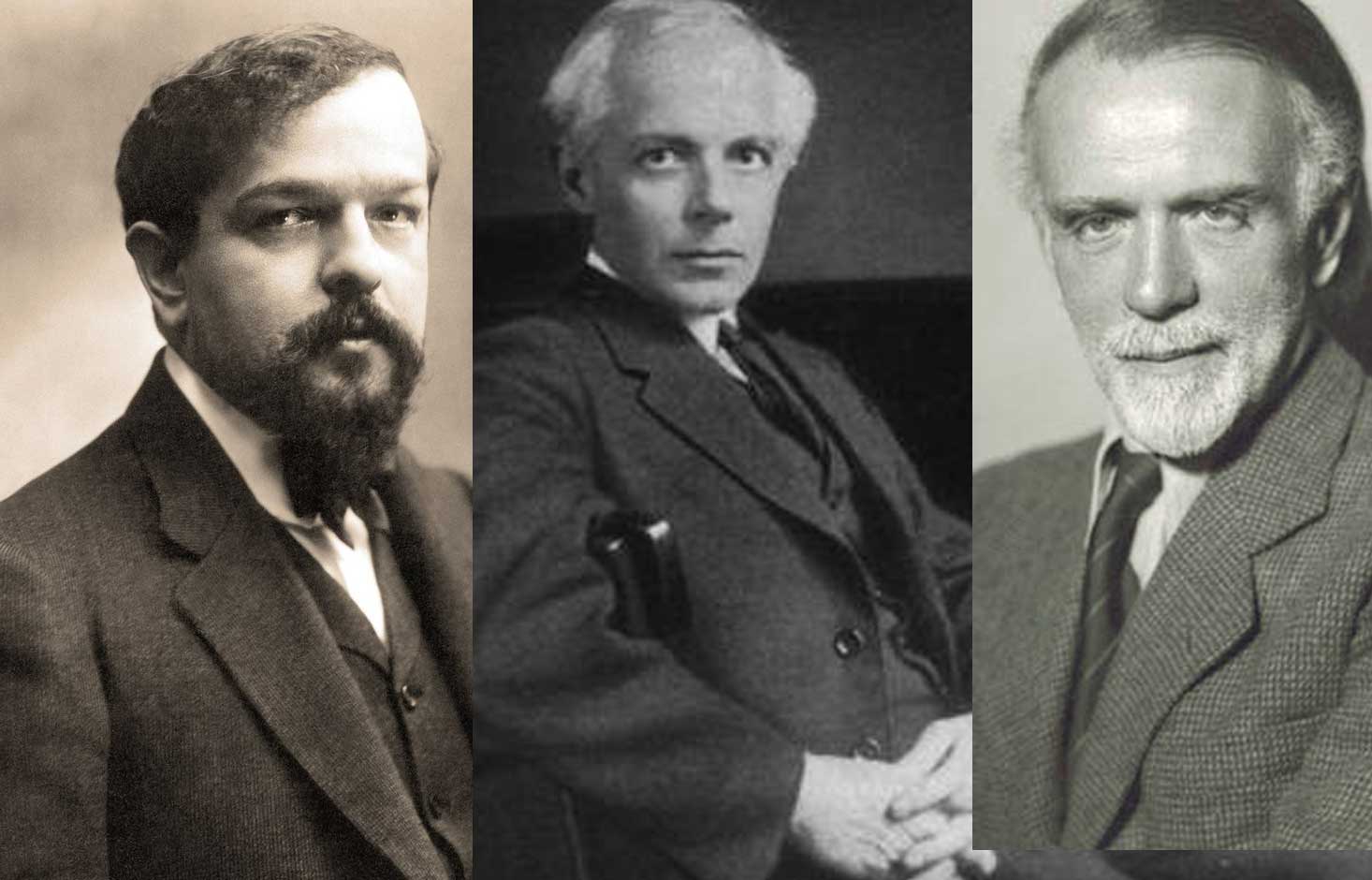 Debussy, Ravel and Kodaly - 20th century choir composers
Twentieth-century composers might not have churned out masses, motets and cantatas on the industrial scale of composers from earlier eras but there's still plenty of great choral music to explore, much of it secular rather than religious in inspiration,
and often featuring a healthy dose of folk music influence. We've rounded up ten of our favourite short 20th-century choral classics to help get you started, many of them still relatively little known. Most are upbeat and relatively straightforward to sing – and with no single movement lasting more than five minutes offer manageably bite-sized introductions to some of the century's leading composers.
Debussy
's only work for unaccompanied choir, the brief but beautiful
Trois Chansons
show France's greatest composer getting in touch with his medieval side in three modally tinged, slightly archaic-sounding settings of poems by the famous Duke Charles d'Orléans. The winsome central "Quand j'ai ouy le tambourin sonner" is particular fun, offering a chance for your choir's star alto to shine while the accompanying voices provide a 15 th -century-style pipe-and-tabor backbeat.
Ravel
's three songs are a lot like their Debussy cousins – although significantly tougher to sing. As with Debussy, the songs have a faintly antique flavour, setting whimsical texts by the composer himself starting with the quirky "Nicoletta" in which the winsome heroine flees the amorous advances of a big bad wolf and a handsome young page boy before settling for a fat ugly old aristocrat with a stash of gold. The beautiful central movement ("Birds of Paradise") features long solos for soprano, alto, tenor and finally bass over a wordless accompaniment, while the fast, tongue-twisting finale ("Don't go into the woods") is challenging but great fun.
3. Poulenc: Chansons françaises
If you can't get enough of catchy French chansons then check out this sunny selection of folk-inspired miniatures. The eight brief songs (the shortest lasts less than 40 seconds) are a joy from start to finish – and if the fourth song, "Clic, clac, dansez sabots", doesn't get you on your feet then you're probably dead.
Poulenc
's earlier Sept Chansons are another great, although significantly more difficult, option – especially if you want to find out what happens (just before the end of the work) when you ask your altos to sing a top A.
4. Kodály: Táncnóta (Dancing Song)
This flirty miniature for unaccompanied female voices shows the fruits of
Kodály
's lifelong interest in Eastern European folksong, taking the simplest of musical materials and spinning them into an enjoyable sequence of tail-chasing refrains which build inexorably towards the work's exuberant high-clapping, foot-stomping conclusion. Try working in a few semi-choreographed power-moves along the way for maximum
effect.
Another traditionally inspired work, by Kodály's friend and fellow folklore fiend Bela
Bartók
. A gentle three-minute "wedding song" opens the set, followed by a fun trio of extremely short, increasingly up-tempo miniatures featuring Bartók's characteristic folk-inspired rhythmic and modal musical effects, as in the lilting 5/8 of the "Song of the Hay Harvesters" and the jolly rhythmic snap and perky Lydian melodies of the final two dances.
6. Seiber: Three Hungarian Folk Songs
Mátyás Seiber's three small but perfectly formed Hungarian folk songs remain a favourite of choirs everywhere, usually performed in its SATB version, although it also works well for female voices alone, as in the version below. The three songs offer a short and eminently singable musical romp ranging from the romantically bittersweet "Seven locks" through the melancholy "By the river" to the up-tempo finale – although the suggested defenestration of an elderly relative ("Throw old granny from the top floor") seems a bit harsh. Older readers look away now.
This gorgeous miniature by the young
Janáček
(written for his students at the Brno Organ School) is simplicity itself to sing and wrings the absolute maximum out of the very simplest musical materials – and could the F sharp in bar 10 be any sexier? More advanced ensembles might also want to look at some of Janacek's other brilliant but weirdly neglected choral music such as The Wandering Madman (for STB soloists and male chorus) and the wonderfully zany Říkadla ("Nursery Rhymes").
8. Stravinsky: Four Russian Peasant Songs
The most technically challenging and musically original piece on this list, these four songs were composed at the same time as Stravinsky's Les Noces and share many of that masterpiece's unique musical fingerprints, offering a good challenge for advanced singers with their constant rhythmic twists and crunching diatonic dissonances punctuated with exclamations of the word "Slava" ("Glory"). The original version, with its unusual scoring for female voices (SSAA) and four horns, is the go-to option if you can round up the required brass, although it works well with just piano – and can be sung by male voices too.
9. Tippett: Dance, clarion air
Tippett's soulful Five Negro Spirituals from his oratorio A Child of Our Time have been performed endlessly. Less well known is this contemplative five-minute "madrigal", written for the coronation of Britain's Queen Elizabeth II in 1952 and featuring Tippett's characteristic luminous diatonic harmonies and subtle word-painting. A good challenge for more advanced groups.
10. Piazzolla arr. Escalado : Libertango
Oscar Escalado's ingenious choral arrangement of Piazzolla's famous Libertango of 1974 is a guaranteed choir- and crowd-pleaser, transcribing the original instrumental showstopper into an instant Latin choral classic (and good luck getting that "parampam-piram-param" refrain out of your head afterwards). Usually performed with just piano accompaniment, although the Little Singers of Armenia's version below
(gotta love those orange dungarees) adds accordion and sax for an additional dash of sultry Argentine allure.