Free Claudio Monteverdi Violin Sheet Music
Free Claudio Monteverdi Violin Sheet Music
Sorry, no Free Claudio Monteverdi Violin Sheet Music available for at present.
Please try another option.



About Monteverdi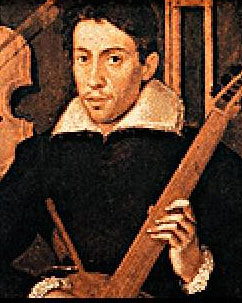 Italian composer, gambist, singer and Roman Catholic priest.
Monteverdi's work, often regarded as revolutionary, marked the transition from the Renaissance style of music to that of the Baroque period.
Monteverdi wrote one of the earliest operas, L'Orfeo, an innovative work that is the earliest surviving opera that is still regularly performed.

Read More
Sheet Music to Buy by Monteverdi
| | |
| --- | --- |
| | Vespers (1610) "By Claudio Monteverdi (1567-1643). Arranged by Jeffrey Kurtzman. For SSTTBB soloists, SATTB chorus, orchestra (2/3 violins, 3 trumpets in D, 1 trumpet in B flat, 2/3 violas, 2 cellos, 1 double bass, 3 trombones, 1 bass trombone, 2 recorders, 2 flutes). M |
| | |
| --- | --- |
| | Ecco Mormorar L'onde "By Claudio Monteverdi (1567-1643). Arranged by Conlon. For SSATB choir, a cappella. Octavo. Published by Alliance Music Publications" |
| | |
| --- | --- |
| | Canzonette a tre (selections) By Claudio Monteverdi (1567-1643). For SSA choir (a cappella). Secular. Medium. Choral octavo. Text language: Italian. Published by Treble Clef Music Press |
| | |
| --- | --- |
| | "6 Duets (2 high voices,Pf)" "By Claudio Monteverdi (1567-1643). Edited by Landshoff. Vocal Duets/Trios. For 2 High voices, Piano. Vocal. Vocal score. Text Language: Italian only. Published by Edition Peters" |
| | |
| --- | --- |
| | Vespro della Beata Vergine (Vocal Score). By Claudio Monteverdi (1567-1643). Arranged by Jerome Roche. Schott. Piano reduction. 175 pages. Schott Music #ED12602. Published by Schott Music |
| | |
| --- | --- |
| | L'Incoronazione Di Poppea "By Claudio Monteverdi (1567-1643). Edited by Alan Curtis. For Opera (Vocal Score). Music Sales America. Opera, Renaissance. 318 pages. Novello & Co Ltd. #NOV200184. Published by Novello & Co Ltd." |
| | |
| --- | --- |
| | 32 Madrigals Vol.1 By Claudio Monteverdi (1567-1643). For SSATB choir a cappella. Madrigals. Sheet Music. Text Language: Italian/German. Published by Edition Peters |
| | |
| --- | --- |
| | Vespro della Beata Vergine (Marienvesper (1610)). By Claudio Monteverdi (1567-1643). Arranged by Jerome Roche. Study Score. Eulenburg Taschenpartituren (Pocket Scores). Study Score. 292 pages. Hal Leonard #ETP8024. Published by Hal Leonard |
| | |
| --- | --- |
| | L'Orfeo (Score). By Claudio Monteverdi (1567-1643). Arranged by Claudio Gallico. Score. Eulenburg Taschenpartituren (Pocket Scores). Study score. 162 pages. Hal Leonard #ETP8025. Published by Hal Leonard |
| | |
| --- | --- |
| | Love Duet (from Poppea) By Claudio Monteverdi (1567-1643). For Voice & Piano. Masterworks; Part(s); Song - Secular. Faber Edition. Masterwork; Renaissance. Published by Faber Music |
| | |
| --- | --- |
| | Vespers "(Vocal Score). By Claudio Monteverdi (1567-1643). Edited by Denis Stevens. For SATB soli, SATB Choir, Organ (SATB). Music Sales America. Sacred, Renaissance, Choral. 222 pages. Novello & Co Ltd. #NOV070211. Published by Novello & Co Ltd." |
| | |
| --- | --- |
| | Per Cantare E Sonare/Pj342 (Amor-Lamento Della Ninfa/4 Vx Mxtes Instr/Ptition). By Claudio Monteverdi (1567-1643). For 4 mixed voices and Instruments. Score. Published by Heugel & Cie |
| | |
| --- | --- |
| | Il ritorno d'Ulisse in patria (Tragedia di lieto fine in un prologo e tre atti). By Claudio Monteverdi (1567-1643). Edited by Rinaldo Alessandrini. For 3 alto voice solos/3 bass voice solos/6 soprano voice solos/7 tenor voice solos/choir/2 violins/2 violas/basso continuo. This edition |
| | |
| --- | --- |
| | Messa a 4 voci (Keyboard/instrumental part) "By Claudio Monteverdi (1567-1643). Arranged by D. Stevens. For SATB Choir, keyboard or instruments (Mixed Voices). Mass. Choral. 32 pages. Published by E.C. Schirmer Publishing" |
| | |
| --- | --- |
| | Deus in Adjutorium (in original key of D) By Claudio Monteverdi (1567-1643). For Brass Quintet & Organ. Brass Ensemble - Quintet; Masterworks. Eighth Note Publications. Renaissance. Duration 00:02:00. Published by Eighth Note Publications |