Free Claudio Monteverdi Cello Sheet Music
1-1 of 1 Free Claudio Monteverdi Cello Sheet Music
About Claudio Monteverdi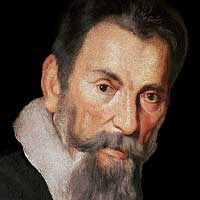 Italian composer, gambist, singer and Roman Catholic priest.
Monteverdi's work, often regarded as revolutionary, marked the transition from the Renaissance style of music to that of the Baroque period.
Monteverdi wrote one of the earliest operas, L'Orfeo, an innovative work that is the earliest surviving opera that is still regularly performed.

Read More