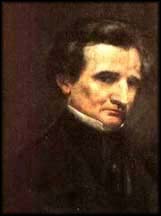 Hector Berlioz (1803-1869))


Hector Berlioz was born in 1803 to a doctor father and a staunch Catholic mother.

Age 13, he started his musical education, taking lessons in guitar, flute, and singing. He never studied the piano as a child. Hector's father enrolled him in a Paris medical school in 1821. After only a year of medical school, Berlioz became very excited with the field of music. Fueled on by attending operas in Paris, he abandoned medical school and enrolled in the Conservatoire under Jean- François le Sueur. In 1824 he wrote his Missa Solemnis, but it could not be performed until the following year when he got the money needed for the performance.

On a trip home in 1825, Berlioz's father agreed to keep his allowance unless he failed in music, at which time he would choose another career. His mother however cursed him for bringing shame on his family by choosing the evil life of an artist. In 1826, Dr. Berlioz finally did cut off his son's allowance.

In 1827, to make ends meet, Berlioz got a job as a chorus singer at a vaudeville theater as he was an excellent sight reader. He was not proud of this new job and took pains to keep it hidden from everyone.

In September, he went to see a production of Romeo and Juliet and saw the Irish actress Harriet Smithson. He fell instantly in love with her but she was famous and he was not, she only thought he was a madman. She would become a major part of Berlioz's life and music.

The same year he entered the Prix de Rome for the first time and had his allowance restored because his father admired his determination and worried about him. In 1828 he took lessons in English so he could read Shakespeare. In August he wrote a few articles on music but lost interest in writing because of the restrictions of journalism. Although he did write for a musical journal later he found writing to be boring.

After much planning and saving up, he gave a concert to show Harriet that he was a also an artist, only she never heard anything of it. Later he got his Waverley overture played at one of Harriet's performances but she never heard it.

In August 1830, he finally won the Prix de Rome. During 1829-1830 he wrote his Symphonie Fantastique, which he finished during the revolution of 1830.

I dashed off the final pages of my orchestral score to the sound of stray bullets coming over the roofs and pattering on the walls outside my window.

He finally got his symphony performed on December 5, 1830. After the concert, Franz Liszt, who he had met the day before, was very excited about Berlioz's music and dragged him off to dinner. The two became good friends.

Around this same time he met Camille Moke, who was out to prove her current admirer wrong by winning Berlioz's affections. So she won him over and then the games began. The following year Berlioz was to go to Rome for his obligation of winning the Prix de Rome. On his way to Italy he stopped at home for a month. Both parents were now proud of their successful son. In April he got worried because he had not heard from Camille who was catting around Paris, and left Rome to see her. En route, in Florence he received a letter from Camille's mom that said she was marrying someone else. Berlioz was only a promising young musician and Camille had bagged a rich older piano maker. Berlioz immediately left for Paris with plans of a murder/suicide. Fortunately, the trip was a long one; he cooled off and returned to Rome.

In November 1832, Berlioz returned to Paris and moved into an apartment that coincidentally had been occupied by Harriet Smithson only days before. When he found out, old feelings for her flooded back. In December he gave a concert of Symphonie Fantastique and its sequel, Lélio. He invited Harriet to sit in a box and she attended. Harriet's career was failing and she was in financial hardship so the next day she gave permission for Berlioz to meet her. She saw Hector as a way out of debt so on October 3, 1833, with Liszt as a witness, they were married.

When Berlioz gave a performance of King Lear in December, Paganini gave him great praise after the concert and they ended up developing a friendship. Paganini asked Berlioz to write a piece for him. The great violinist wasn't satisfied with the difficulty of the piece, so Berlioz turned it into Harold in Italy.

On August 14, 1834, Harriet gave birth to their son, Louis. Harriet's acting career had failed, her health and beauty were fading. She took to drinking and was turning into a shrew. She became so impossible that Berlioz moved out and took a mistress, Marie Recio, an opera singer.

During the next years Berlioz traveled a lot with great success in Germany (1841-1843), Russia (1846-1847), and London (1847-1848). In 1848 he started his memoirs and later that year his father died. Between 1848 and 1855, he traveled more with mixed results. In 1854 Harriet died.

By 1855, Berlioz was getting the recognition and appreciation deserved of the great composer. His works were affecting other composers and his Treatise on Instrumentation was becoming a standard textbook.

In 1862 Marie died of a heart attack and in 1867 his son died of yellow fever. In January 1869, Berlioz took to bed sick and died in March. A square in Paris now bears his name with a statue that overlooks it.