12 Easy Flute Solos That Sound Amazing (with links to our free sheet music)
1.
Beethoven Fur Elise
Originally for piano, the piece adapts beautifully for the flute, as you can hear in the performance by Sergio Zampetti (below).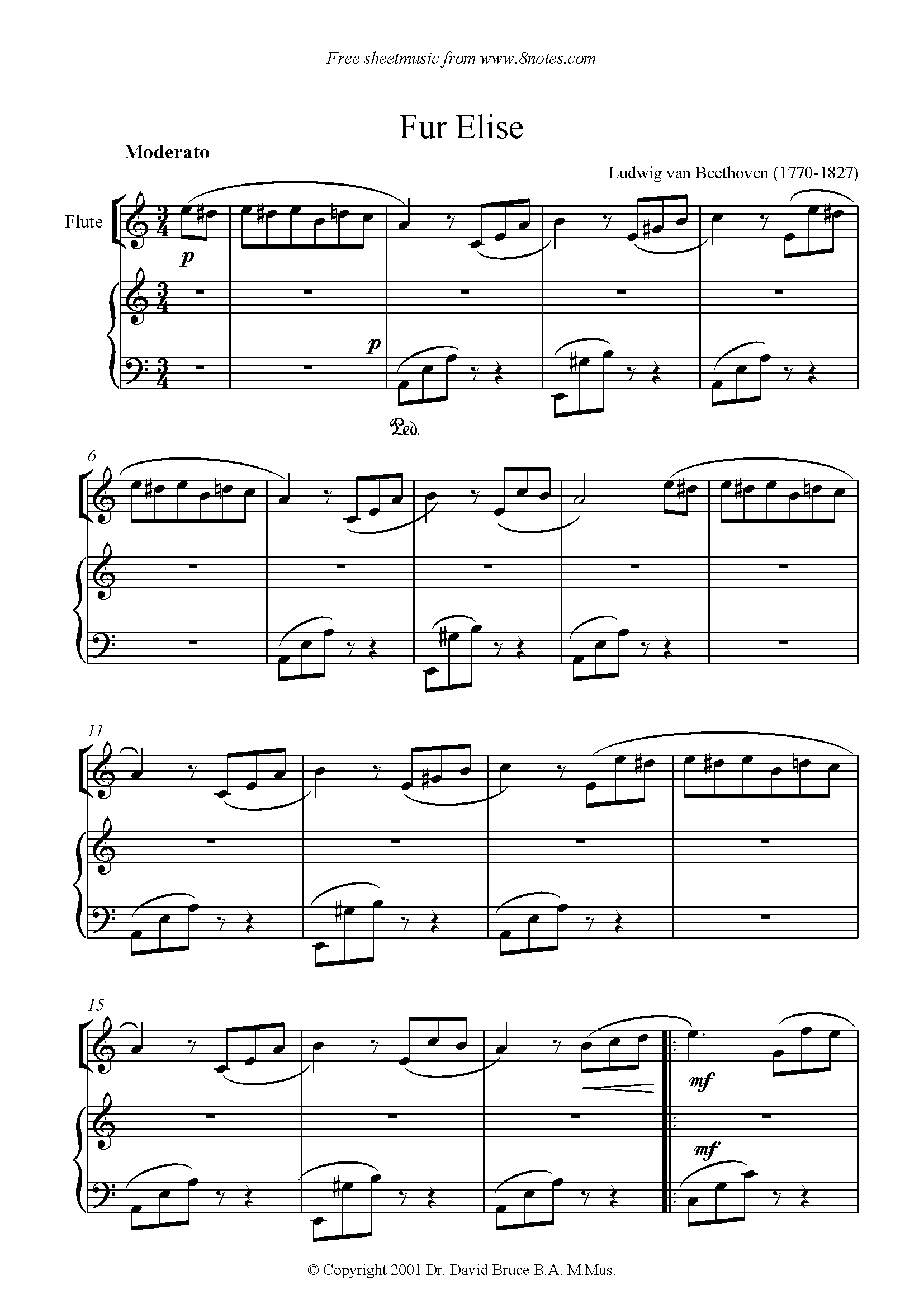 Beethoven - Fur Elise
2.
Fauré - Pavane
The most well-known version of this piece is for orchestra and optional chorus. It starts with this glorious flute solo, played in the rich lower register of the instrument. The piece has been used widely in film and television, most famously for the BBC television coverage of the 1998 World Cup.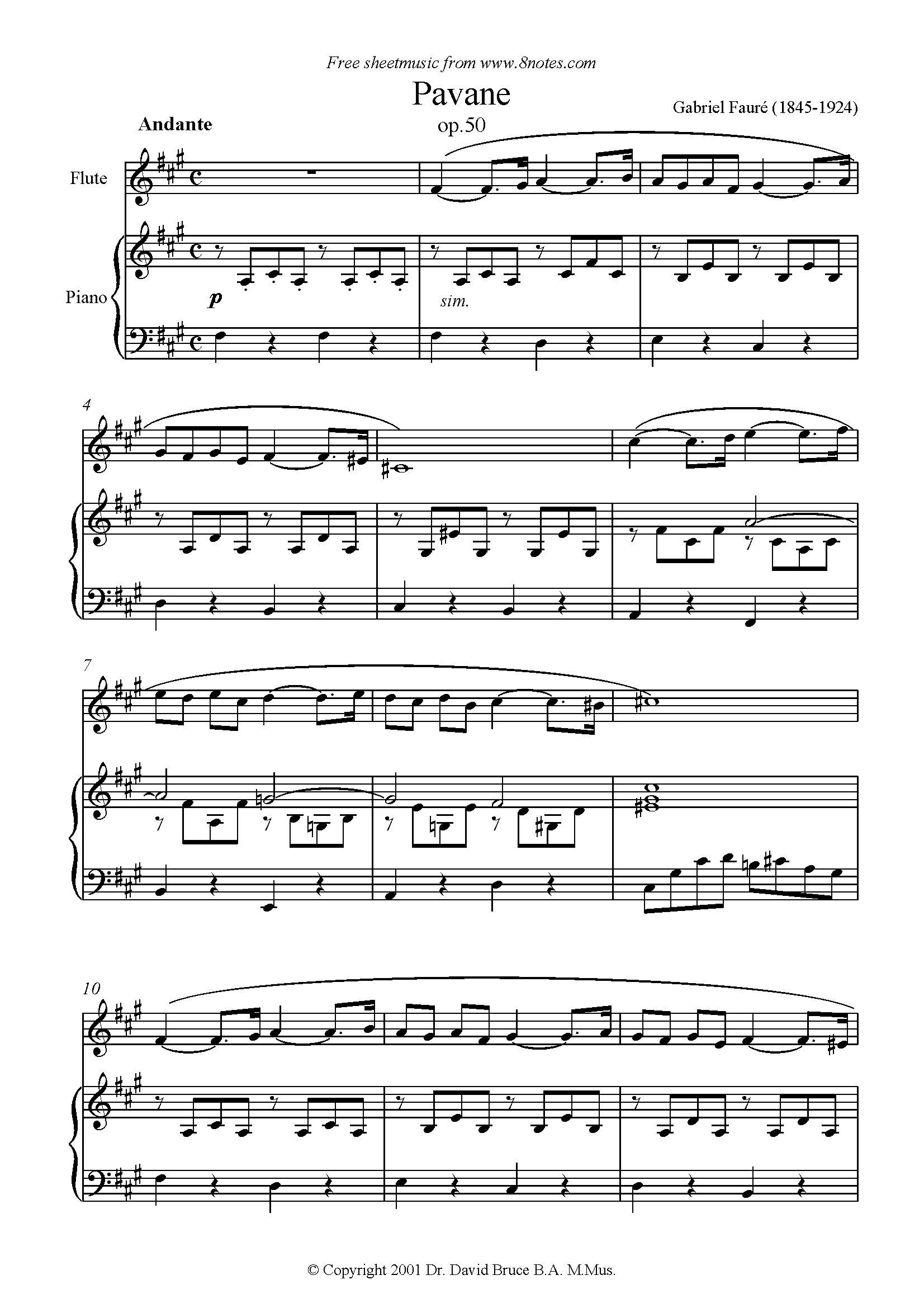 Fauré - Pavane
The composer's own tempo marking on this work is 100 beats per minute. This may feel a little fast but is, nevertheless, an indication that the piece should not drag. Take care not to breathe within the phrases.
3.
House of the Rising Sun
House of the Rising Sun is a traditional folk tune originating from New Orleans, USA. It was made famous by the Animals cover of 1964: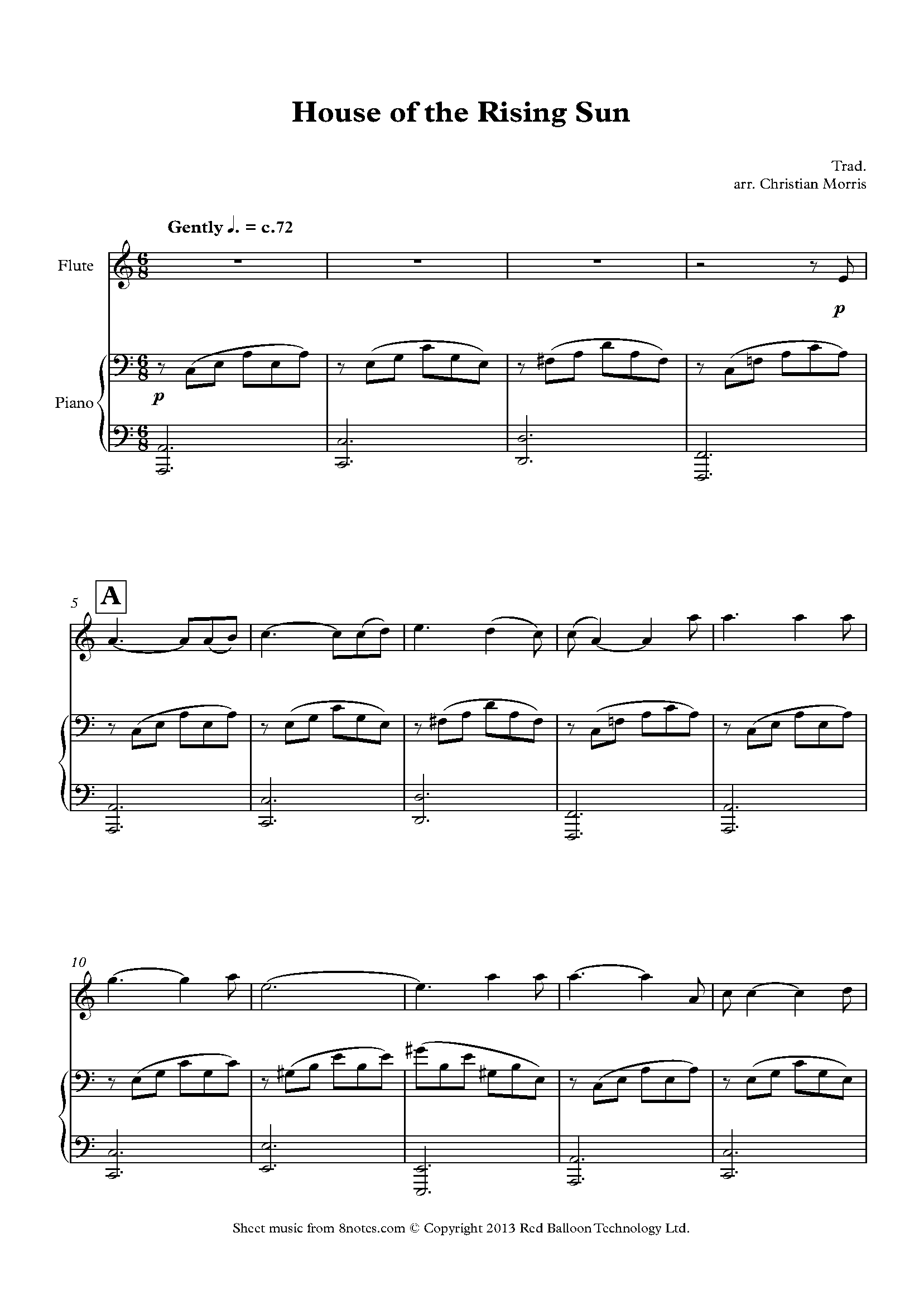 House of the Rising Sun
Listen to the original song before playing - it will help you to work out where the phrases are and thus where to breathe. Watch out for those duplets at bars 24, 26, 30, 32 and 34 - they should be played evenly against the triplet rhythms in the piano.
4.
Beethoven Moonlight Sonata
Originally for piano, the piece adapts beautifully for the clarinet: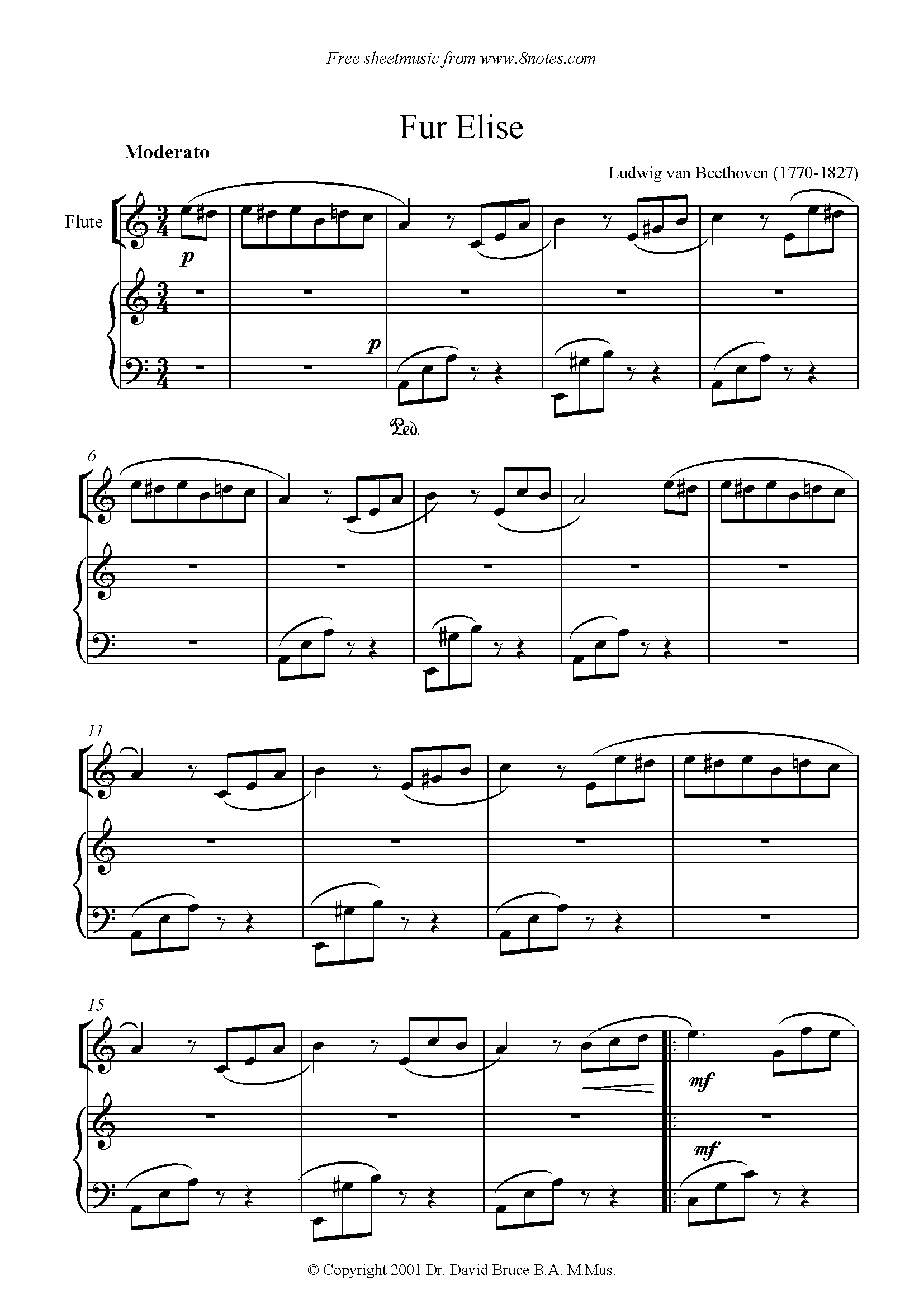 Beethoven - Moonlight Sonata
The opening of Beethoven's three movement Sonata No. 14 in C# Minor is another work originally written for piano (see video) that makes a great flute solo.
The key here is breath control - make sure you breathe in the places marked. The flute should remain quite even in tone throughout, almost as if it were floating in space.
5.
When the Saints Go Marching In
This tune became the quintessential New Orleans-style jazz piece, especially as played by Louis Armstrong and his Hot 5 and 7 groups.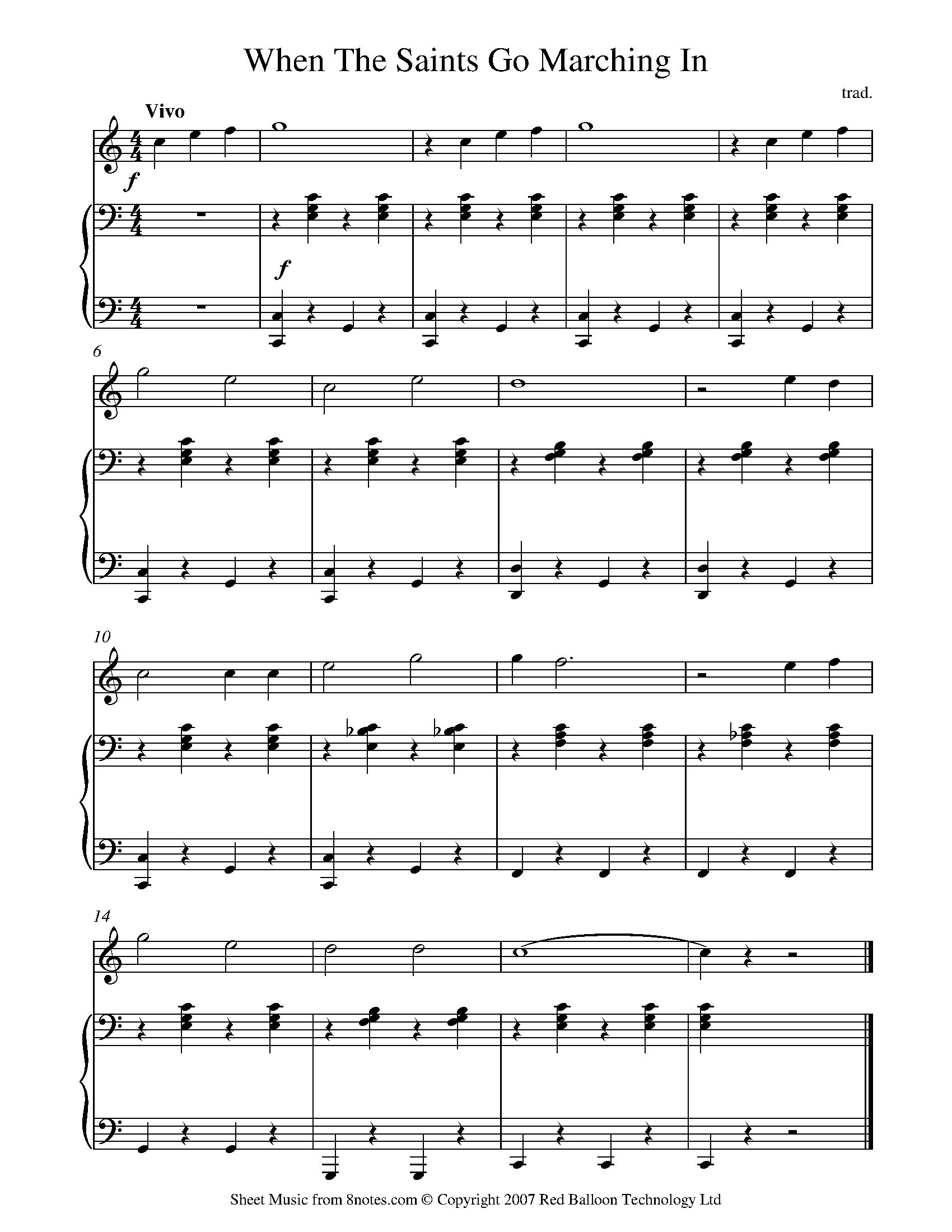 When the Saints Go Marching In
Have fun with it! The rhythmic feel should be very loose - you don't need to play it exactly as notated, it should be felt rather than read. It may be repeated a number of times. You can experiment with the tempo too, perhaps by starting slowly and gradually speeding up.
6.
Pachelbel - Canon in D
Originally written for three violins and basso continuo, it has nevertheless become hugely popular piece for the flute. The key here is to set a steady tempo at the beginning and stick to it - it gets tricky later on, so if you've started too quickly you will soon regret it!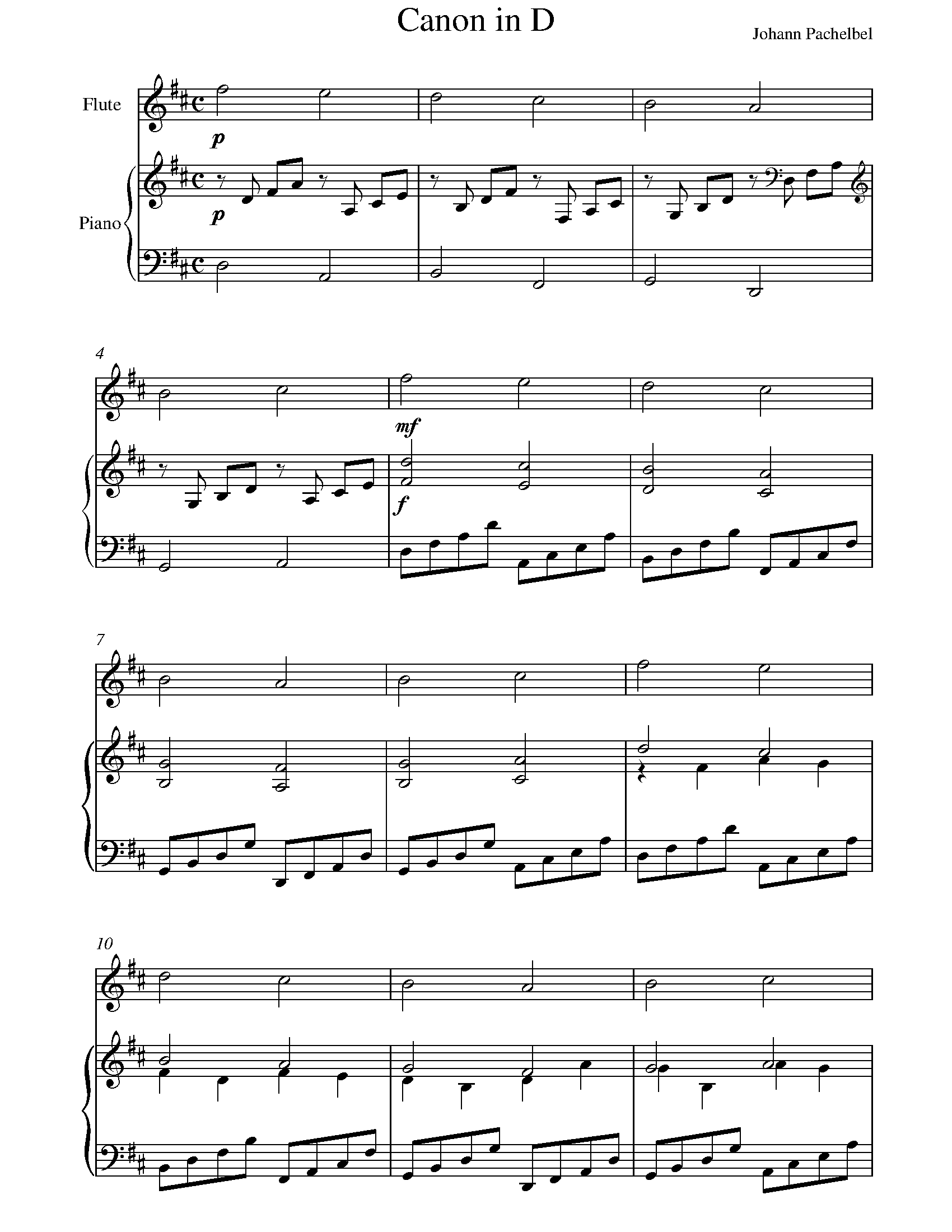 Pachelbel - Canon in D
7.
Hart Wand - Dallas Blues
This is Hard Wand's most well-known piece and possibly the first published example of a twelve-bar blues. Like When the Saints it is usually performed in the New Orleans Jazz style: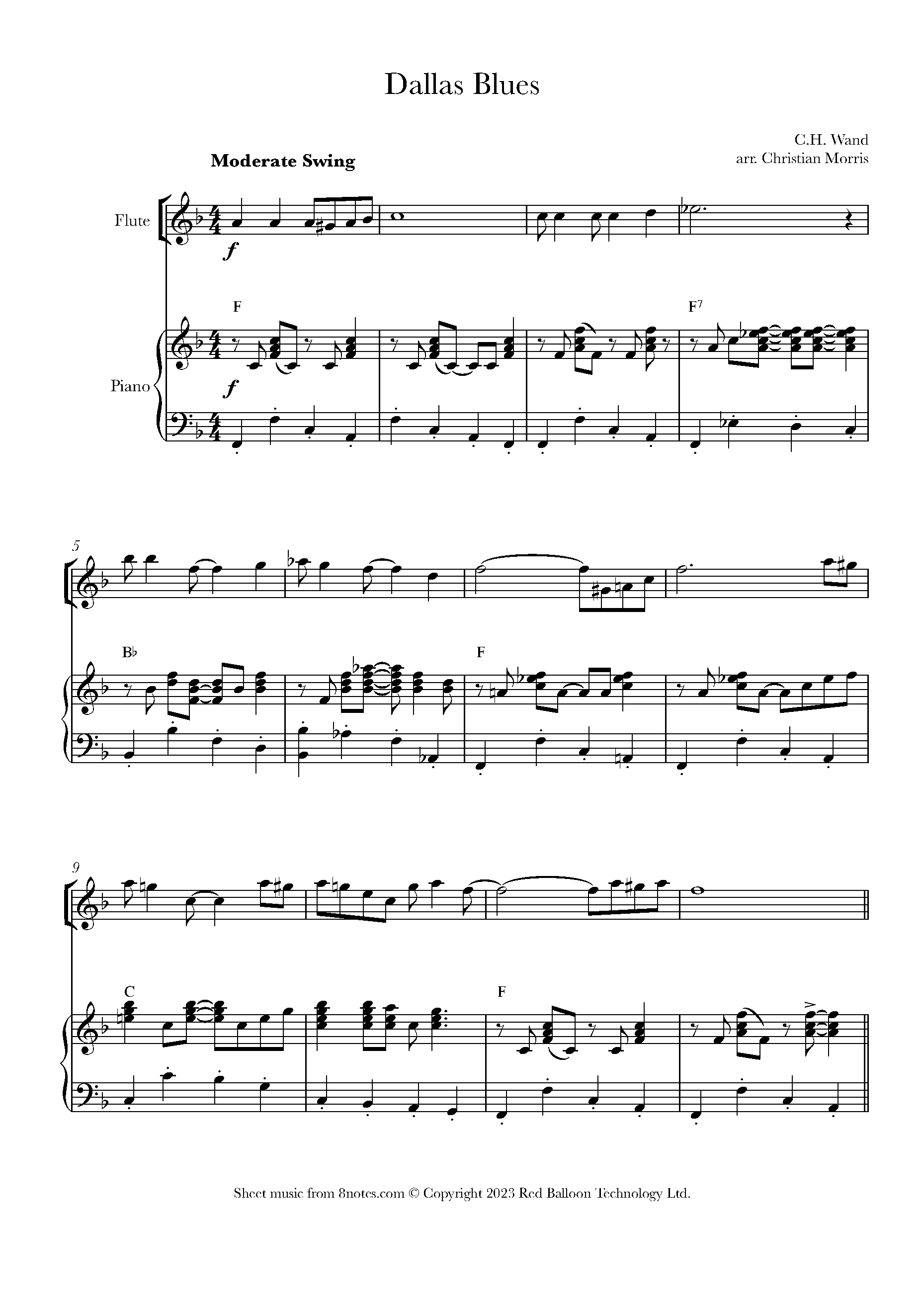 Hart Wand - Dallas Blues
This piece allows you to develop your improvising - the ability to 'make up' music rather than playing exactly what it written down. This may seem tricky, but in fact it allows you to show off your particular strengths as a player, because you decide what to play. The first twelve bars are played as written. After this use the notes suggested to try to work out a tune.
8.
Beethoven - Ode to Joy
From the last movement of Beethoven's Symphony No. 9, this joyful tune works well as a solo too. The melody was originally sung, so make sure that your playing reflects this, first of all by observing the phrase marks (especially imagine each phrase being sung in one breath), and by playing with a full but beautiful cantabile sound. Here are some more great tips from flautist William Dowdall: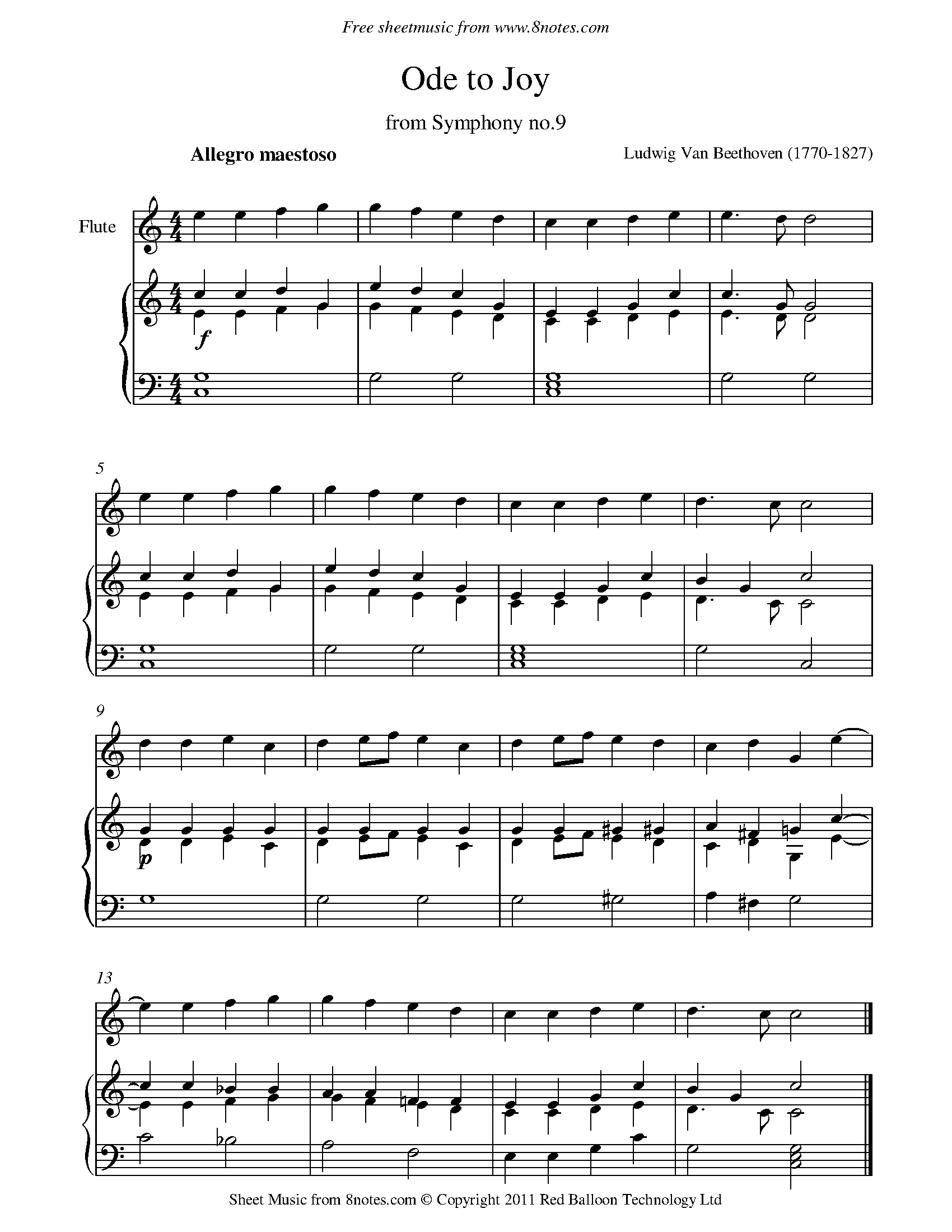 Beethoven - Theme from Ode to Joy
9.
Mexican Hat Dance
Probably the most well-known mariachi dance from Mexico. It makes a great encore piece! Be sure to observe the phrase marks when breathing but, at the same time, don't confuse them with slurs. Listen, for example, to Wang Tong's performance on flute - she uses quite an imaginative combination of tonguing/slurring whilst nevertheless observing the phrase structure.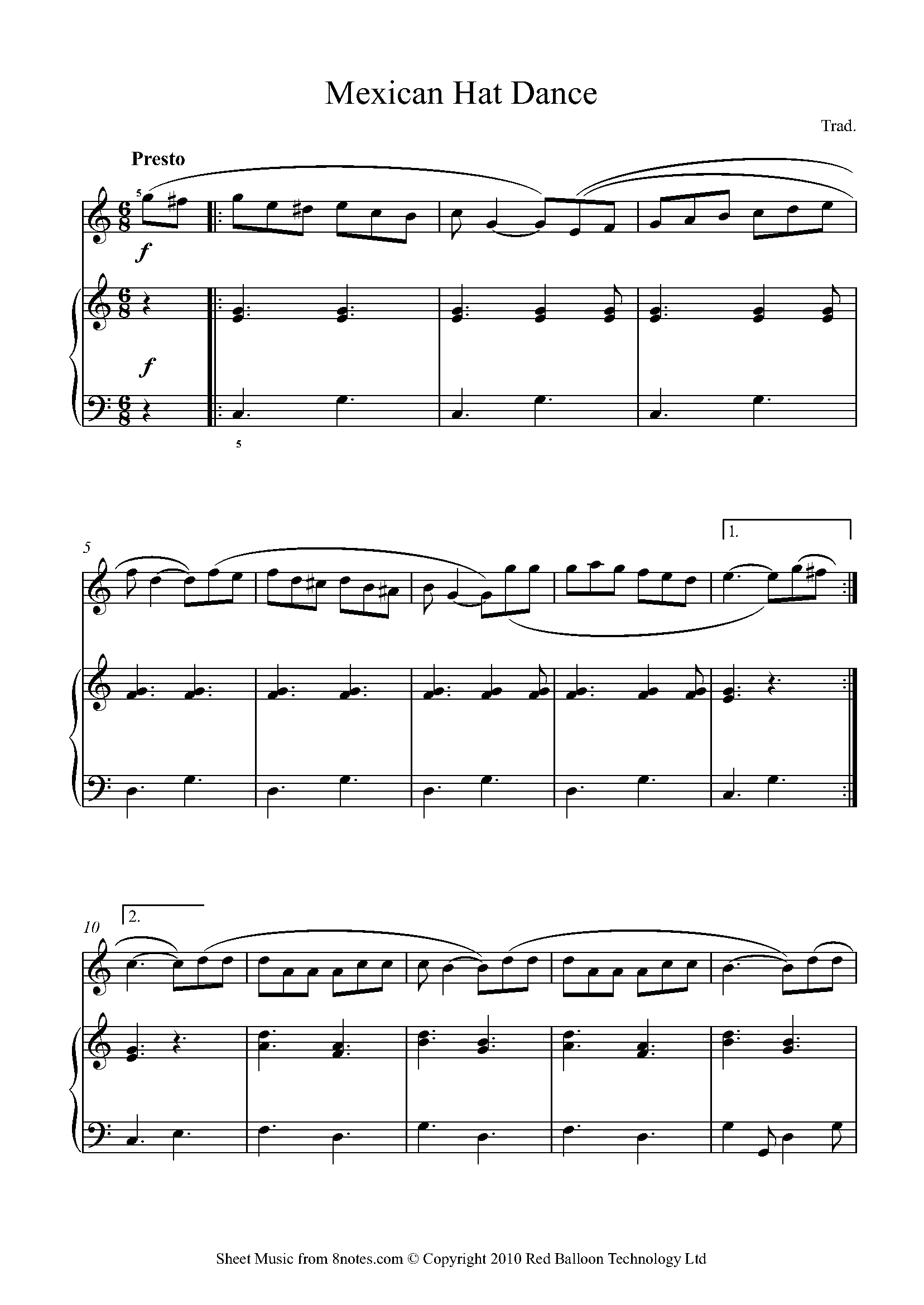 Mexican Hat Dance
10.
Strauss II - The Blue Danube
Strauss's melody was already hugely popular before Stanley Kubrick's used it in his seminal film 2001. You may also hear it being played as part of the Vienna Philharmonic's New Year's Day concert at the Musikverien, Vienna. Flute versions of the piece have also become very popular. If you want to make the piece sound truly Viennese you might consider playing the second beat a tiny bit earlier than it is notated - one of the defining characteristics of this type waltz.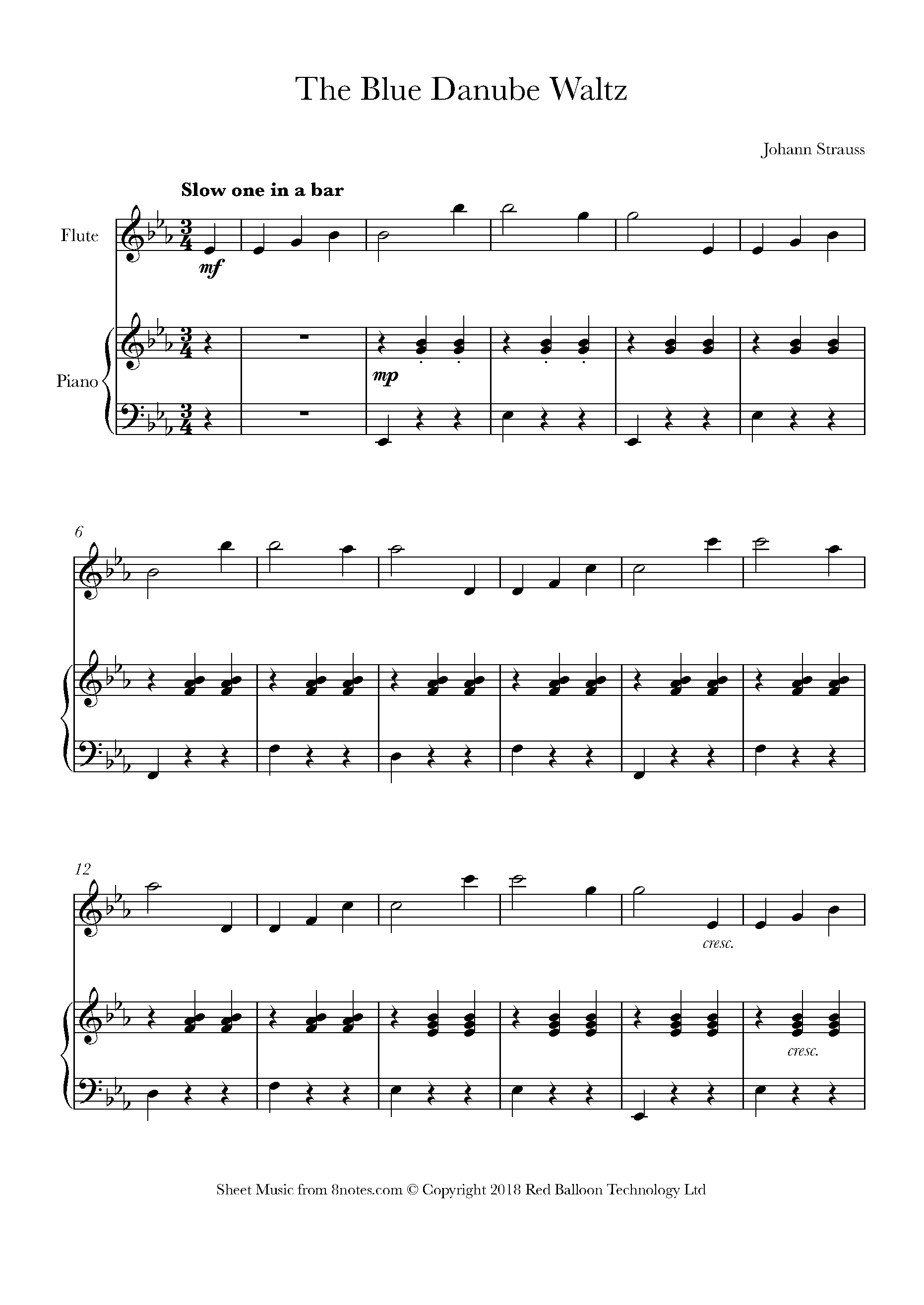 Strauss II - Blue Danube Waltz
11.
La Cucaracha
Another work from Mexico normally played by mariachi bands. It also makes a great solo piece - listen, for example, to Liberace's incredible reinterpretation of it.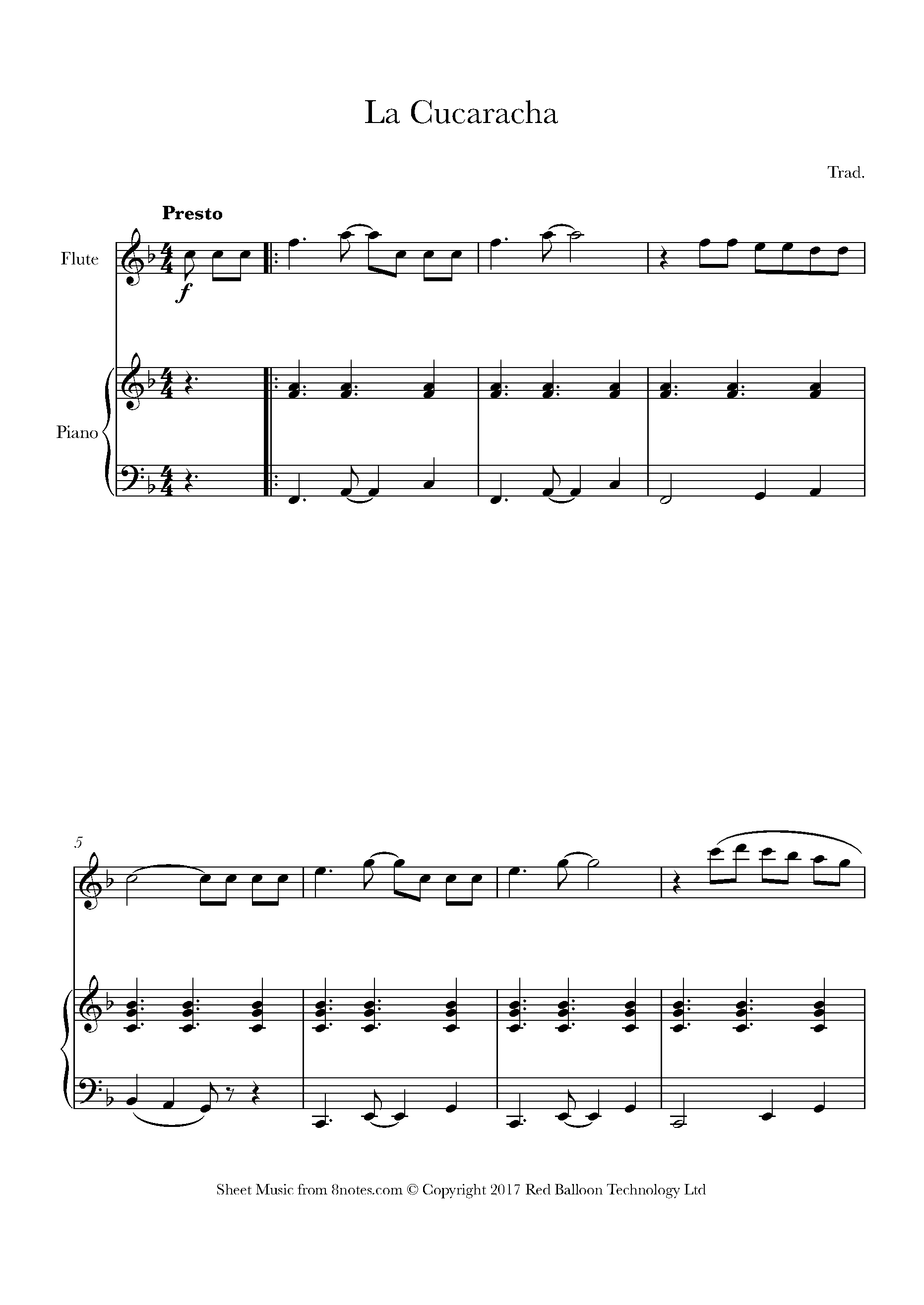 La Cucaracha
An important feature is the shift in accent between normal 4/4 bars (bars 4, 5, 8, 11, 13, 15, 17 and 20) and the other bars which are based on dotted crotchets, two tied quavers and a quaver. Make sure the difference is clear.
12.
Mozart - Concerto for Flute and Harp K. 299
Though a little trickier than some of the other pieces on this list, it is worth the effort because it is one of the most famous works for flute. Play this and people might well assume that you are a pro! The importance of a beautiful flute tone normally goes without saying, but in this work it is of particular importance. Listen to different performers and to try to mimic their approach, especially as regards the shaping of phrases.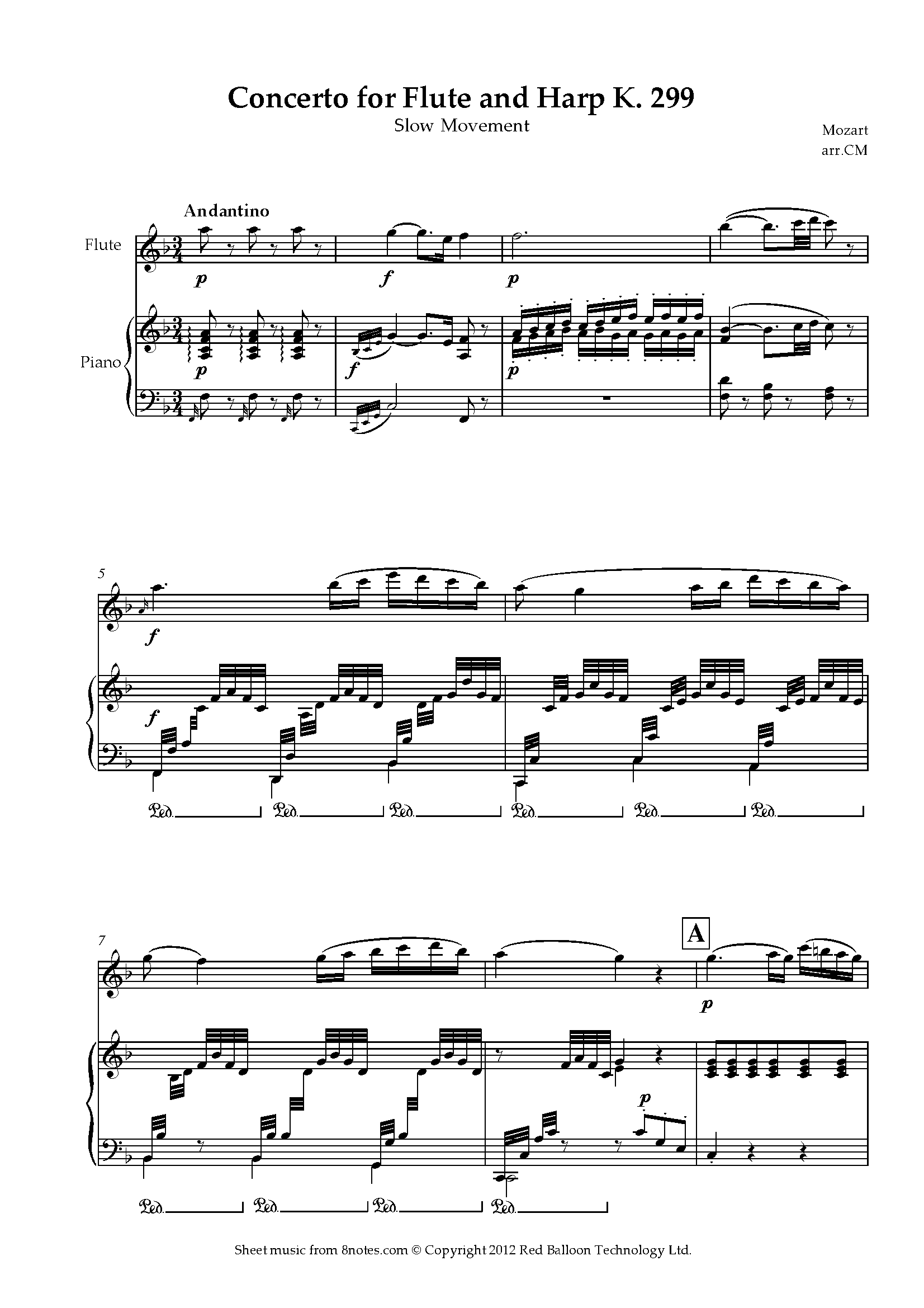 Mozart - Concerto for Flute and Harp K. 299