15 Easy Piano Solos That Sound Amazing (with links to our easy piano arrangements)
1.
Beethoven : Fur Elise
A piece that has inspired many to take up this beautiful instrument. It was not published until 1867, well after the composer's death. The title may have been an error on the part of the typesetter - it is believed Beethoven intended it for Therese von Brunswick.
It requires a very delicate touch. Also, make sure that the arpeggios separated between left and right hands (for example in the second full bar) flow together as one continuous idea.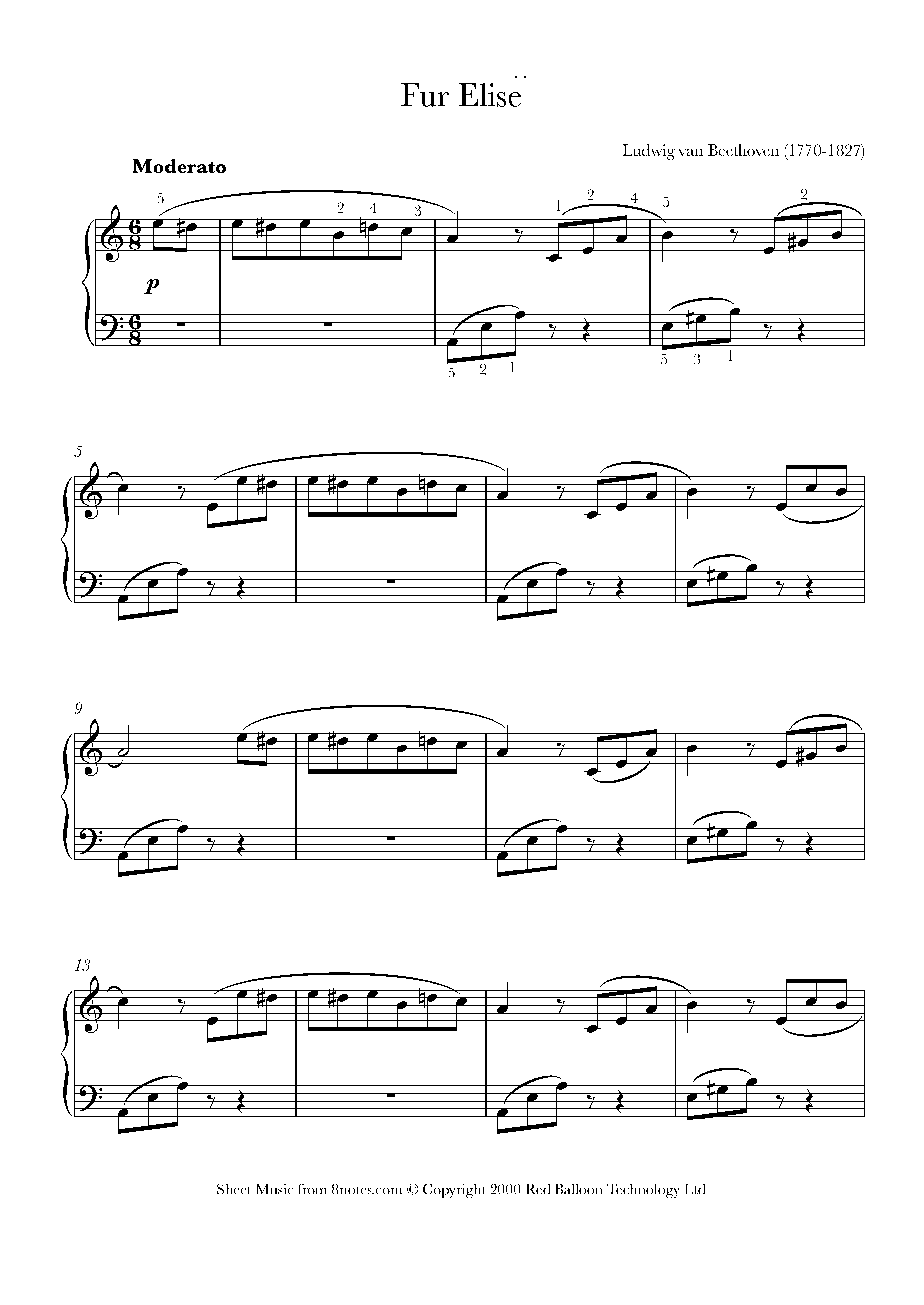 Beethoven Fur Elise (Easy Version)
2.
Beethoven : Moonlight Sonata
This is the famous opening of Beethoven's three movement Sonata No. 14 in C# Minor.
Play it slowly, without rushing. The quaver figure forms the stage for the melody, which may be played a little louder and with more dynamic variation.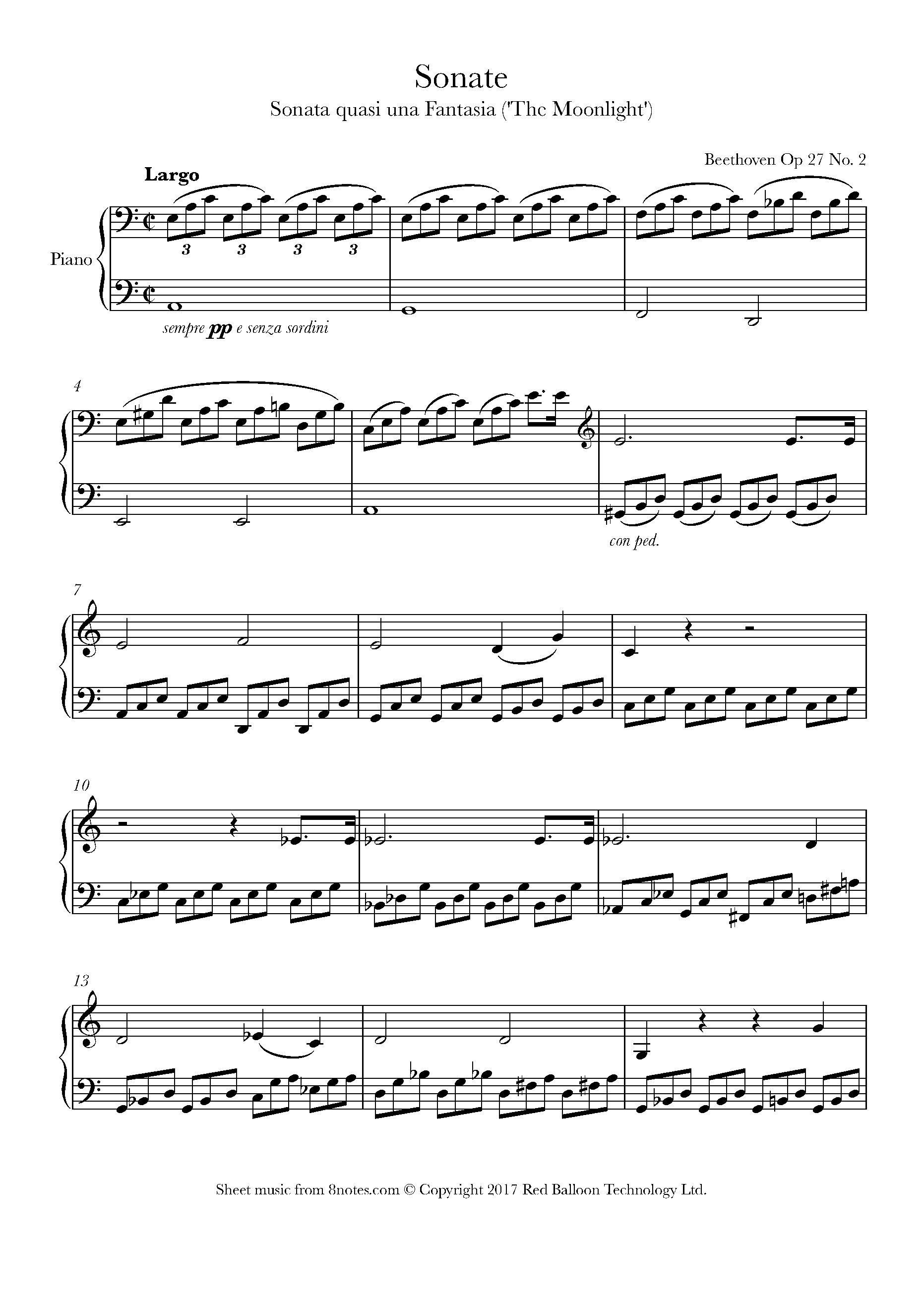 Beethoven Moonlight Sonata (1st mvt) (Easy Version)
3.
John Lennon - Imagine
There is no more classic riff than the opening of John Lennon's superlative song. Its effectiveness derives from its simplicity and use of repetition - fantastic for beginners wanting to display their burgeoning piano skills.

John Lennon - Imagine
4.
Scott Joplin - The Entertainer
Probably the most famous ragtime piece, written by Scott Joplin in 1902. One of the characteristics of piece is the 'um-cha' left hand. This can make it pretty tricky to play, because the left hand has to move around a lot.
Youtube:
Luckily 8notes has three versions, so you can enjoy the piece, whatever your level.
For beginners: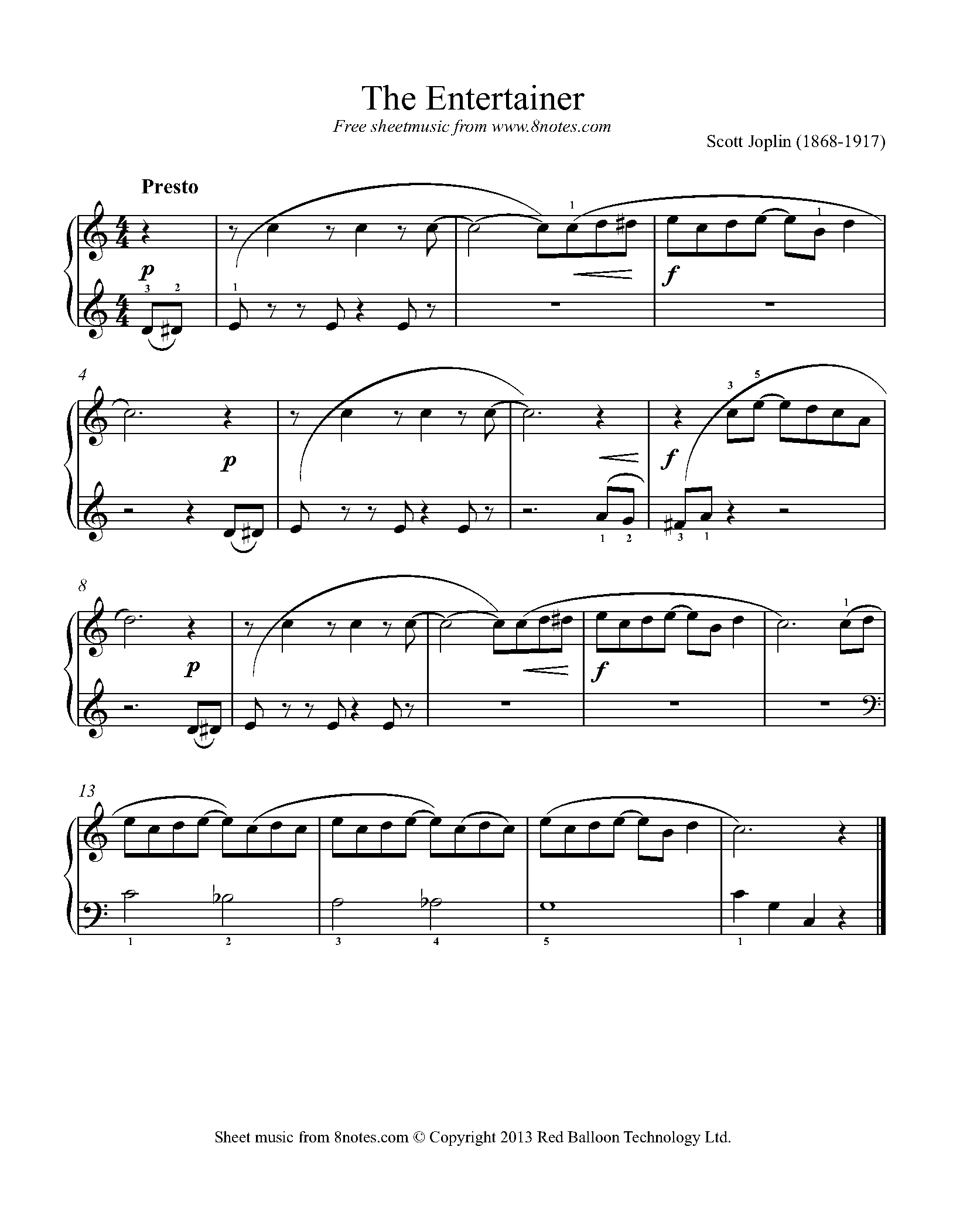 Scott Joplin - The Entertainer (beginner version)
Intermediate (but still pretty easy):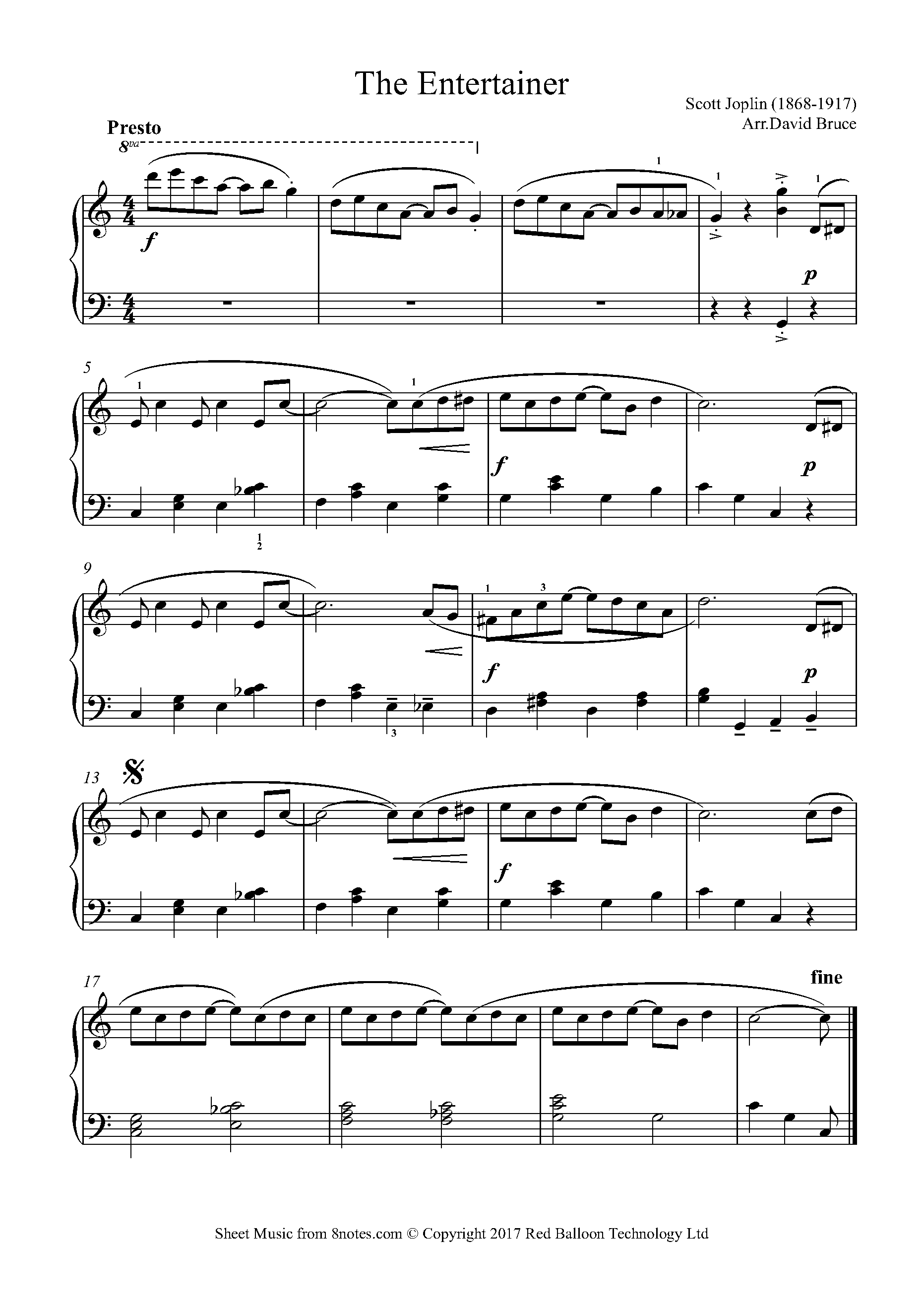 Scott Joplin - The Entertainer (Intermediate version)
Full version (very hard!):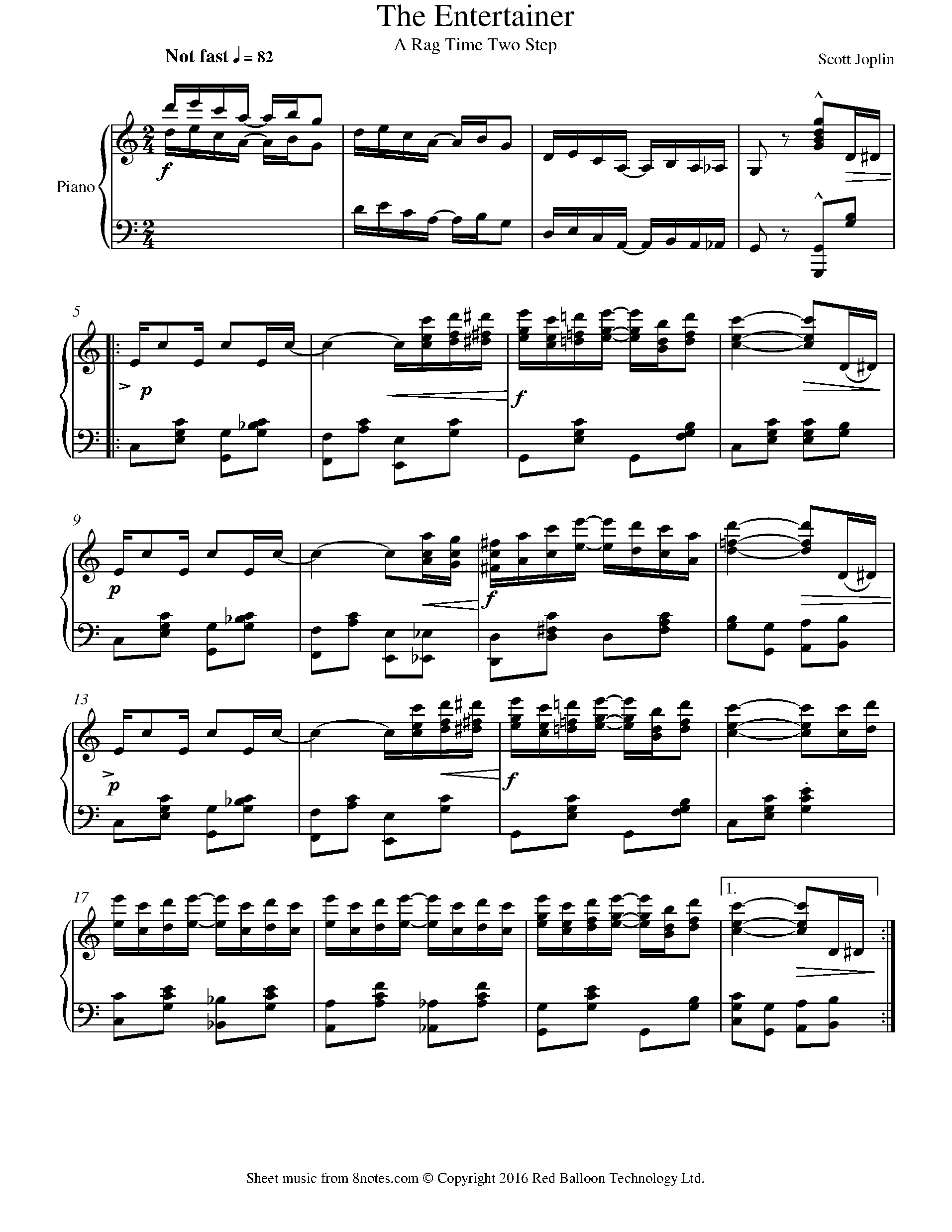 Scott Joplin - The Entertainer (Full version)
5.
Pachelbel - Canon in D
Originally written for three violins and basso continuo, it has nevertheless become hugely popular as a keyboard work. The key here is to set a steady tempo at the beginning and stick to it - it gets tricky later on, so if you've started too quickly you will soon regret it!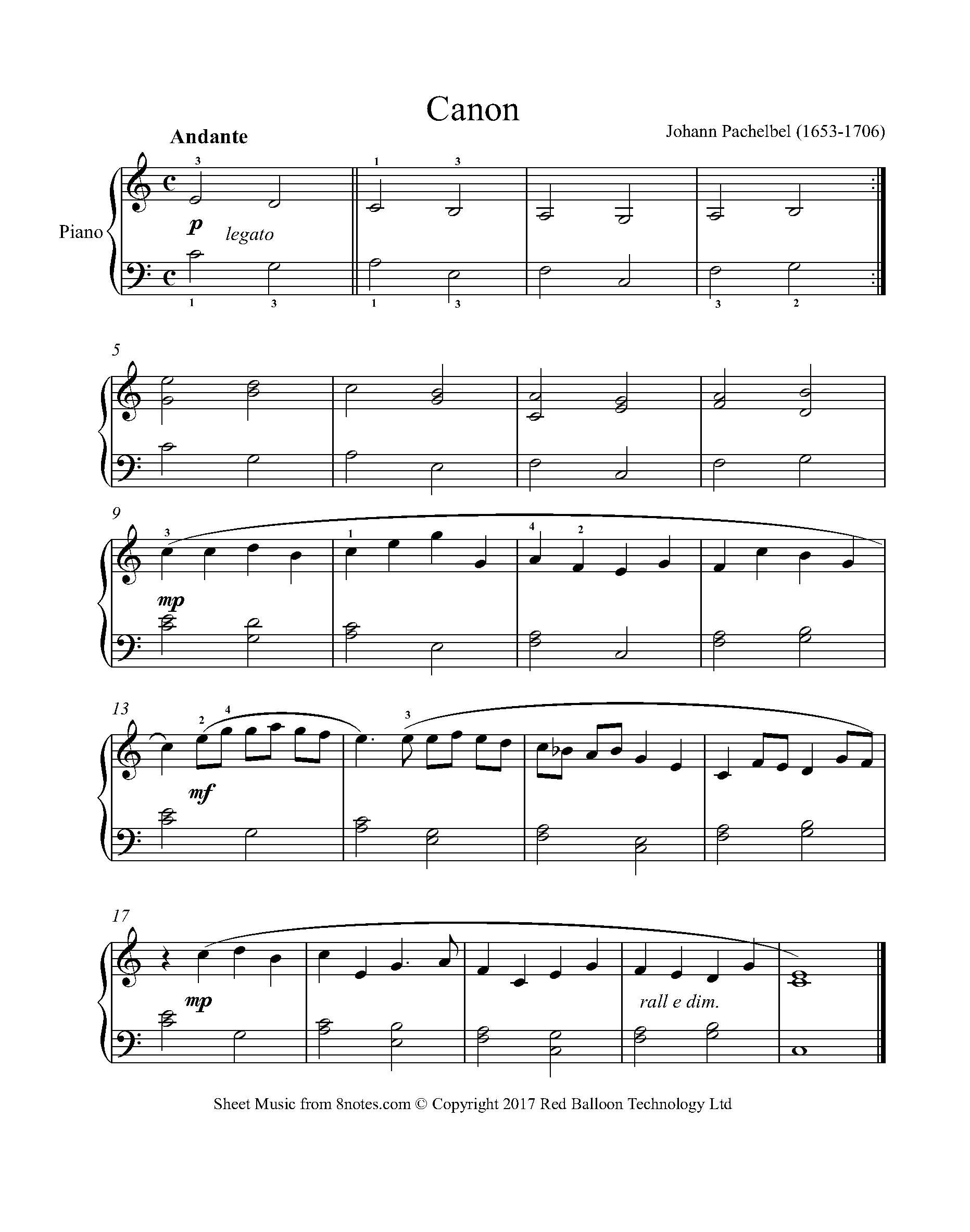 Pachelbel - Canon in D (easy version)
We also have a longer more advanced version :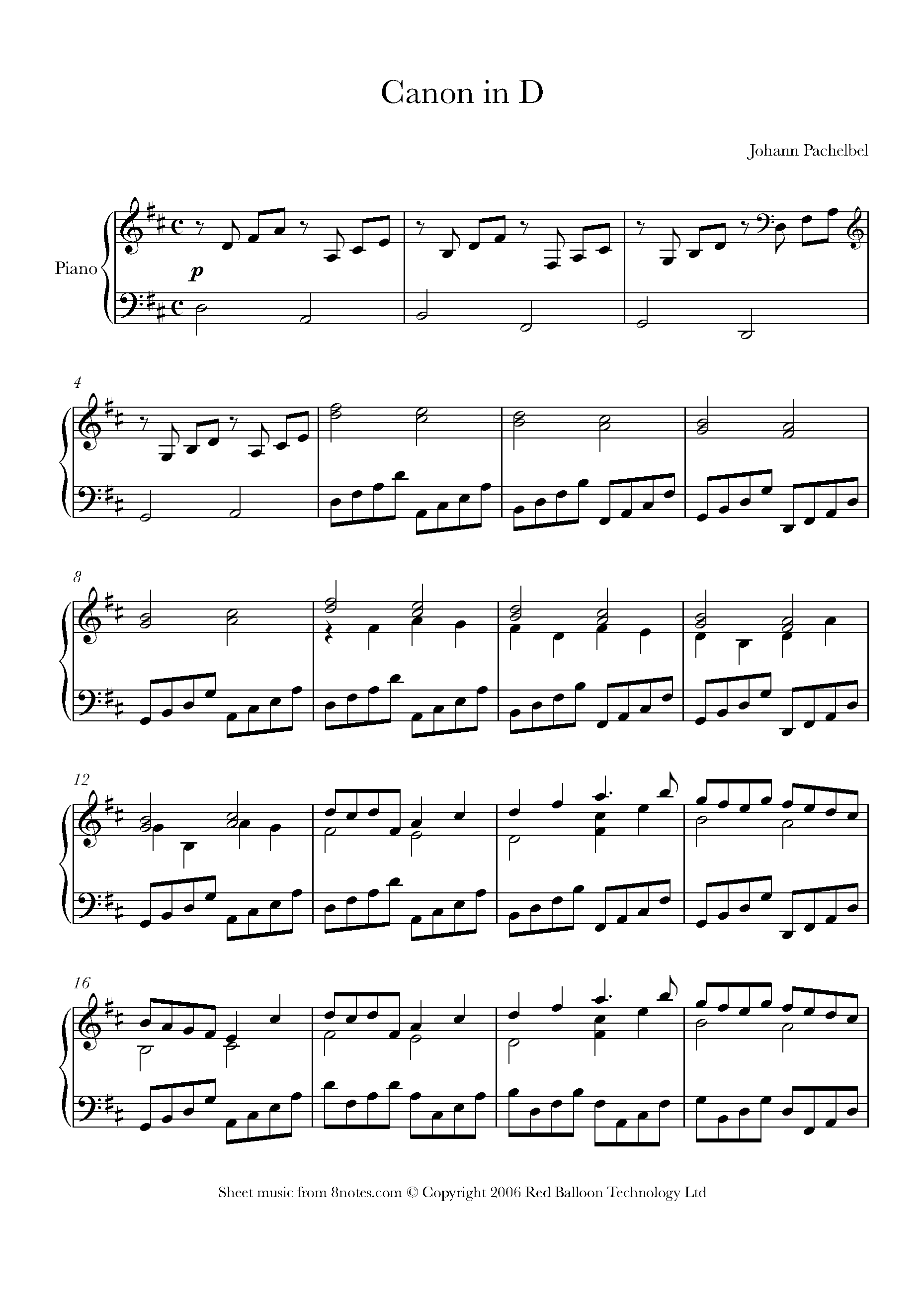 Pachelbel - Canon in D (long version)
6.
Bach - Prelude No.1 from the Well-Tempered Clavier
The first Prelude of Bach's Well-Tempered Clavier is music distilled to its most essential and beautiful qualities. So much so that another composer, Charles Gounod used it as the background to his famous
Ave Maria
.
Play this piece very slowly. Make sure that the arpeggio idea transfers smoothly from the left hand, where the notes are held, to the right, where they are not.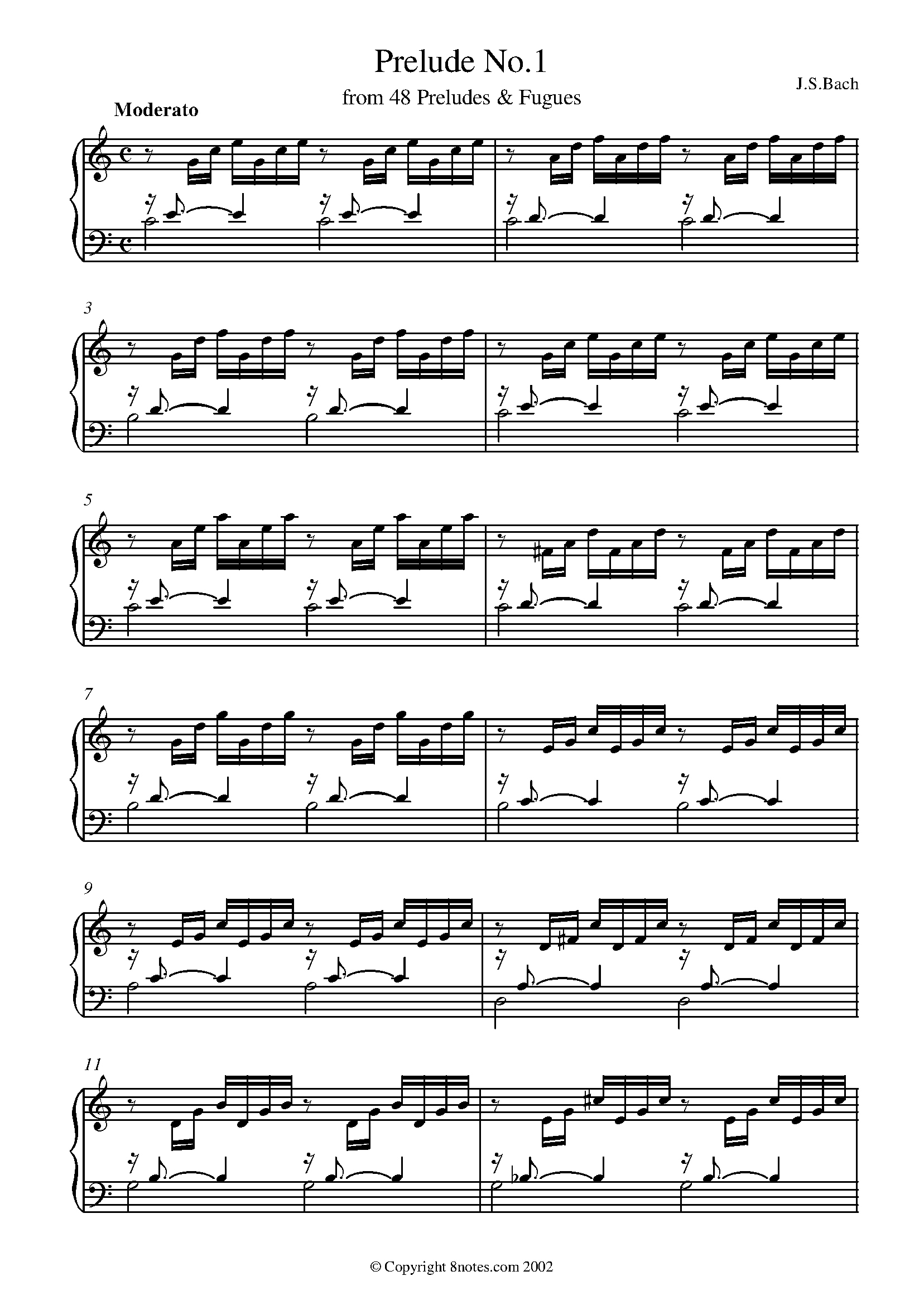 Bach - Prelude No.1 from 48 Preludes and Fugues
7.
Scott Joplin - Maple Leaf Rag
If Joplin's The Entertainer is the most famous ragtime for piano, this is probably the second-most. It can feel like a bit of a hand-twister, since the motion in left and right hands, especially in the opening bars, is both similar and different. The key is to practice slowly with a metronome, gradually speeding it up as your confidence increases.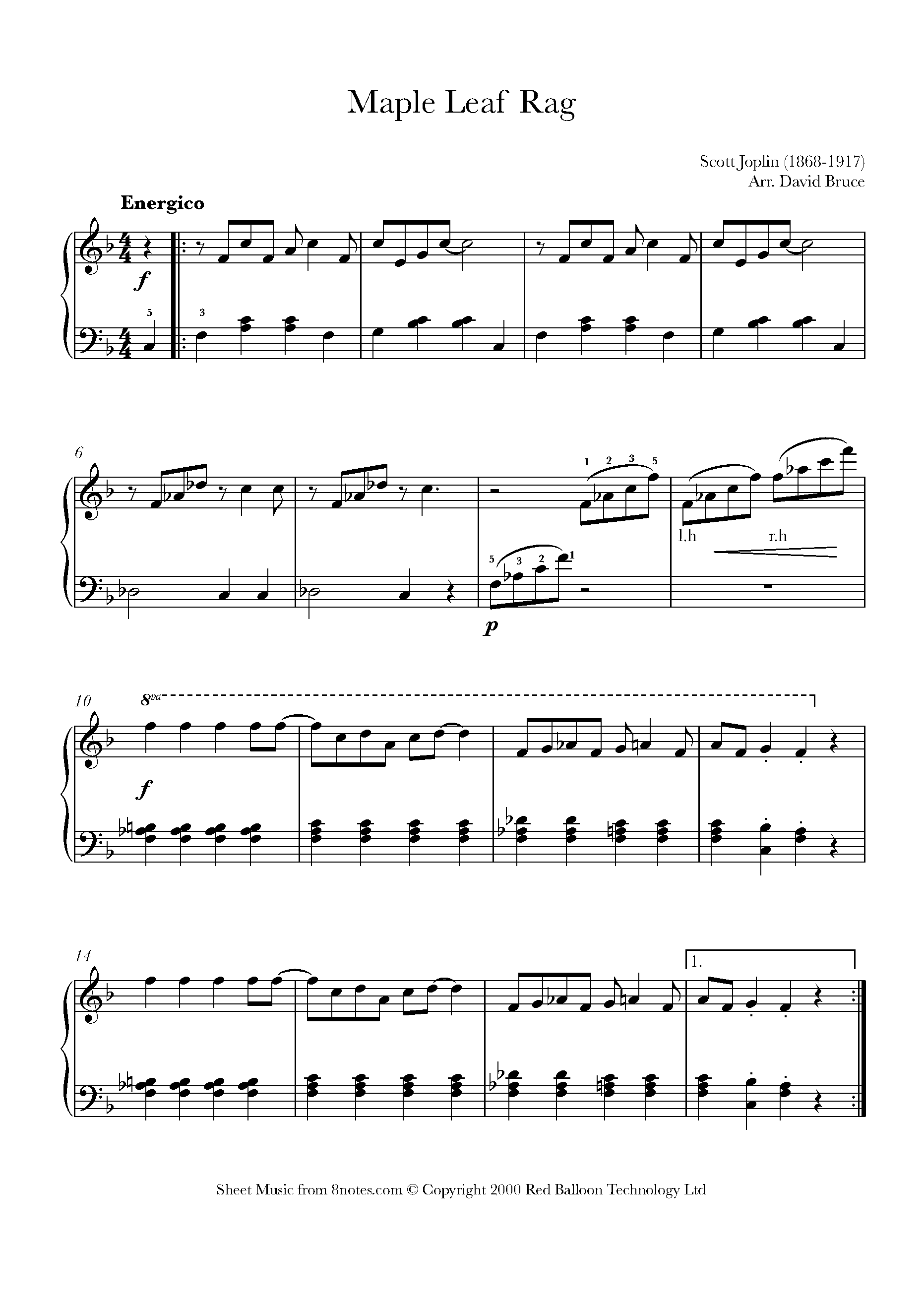 Scott Joplin - Maple Leaf Rag
8.
Beethoven - Ode to Joy
From the last movement of Beethoven's Symphony No. 9, this joyful tune has become popular with pianists too. The melody was originally sung, so make sure that your playing reflects this, first of all by observing the phrase marks (especially imagine each phrase being sung in one breath), and by playing with a full but beautiful cantabile sound.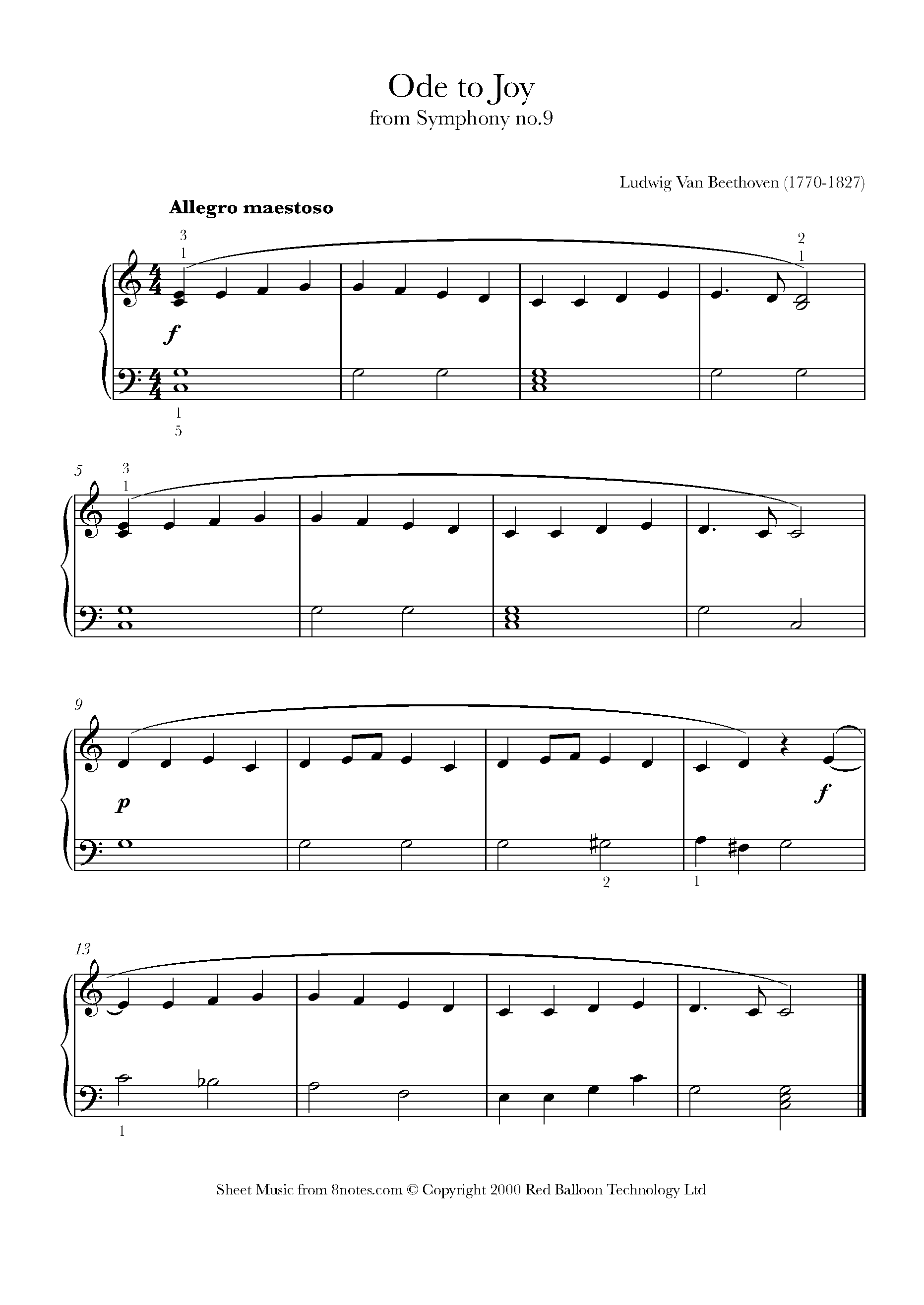 Beethoven - Ode to Joy (9th Symphony) Theme
9.
Grieg - Piano Concerto Mvt 1
This concerto has one of the most famous openings in the concerto repertoire, renowned for its use of the entire register of the piano. It is tricky to play, but not so much as you might suppose, especially since the opening ideas just repeat on different octaves - don't be scared by all those leger lines!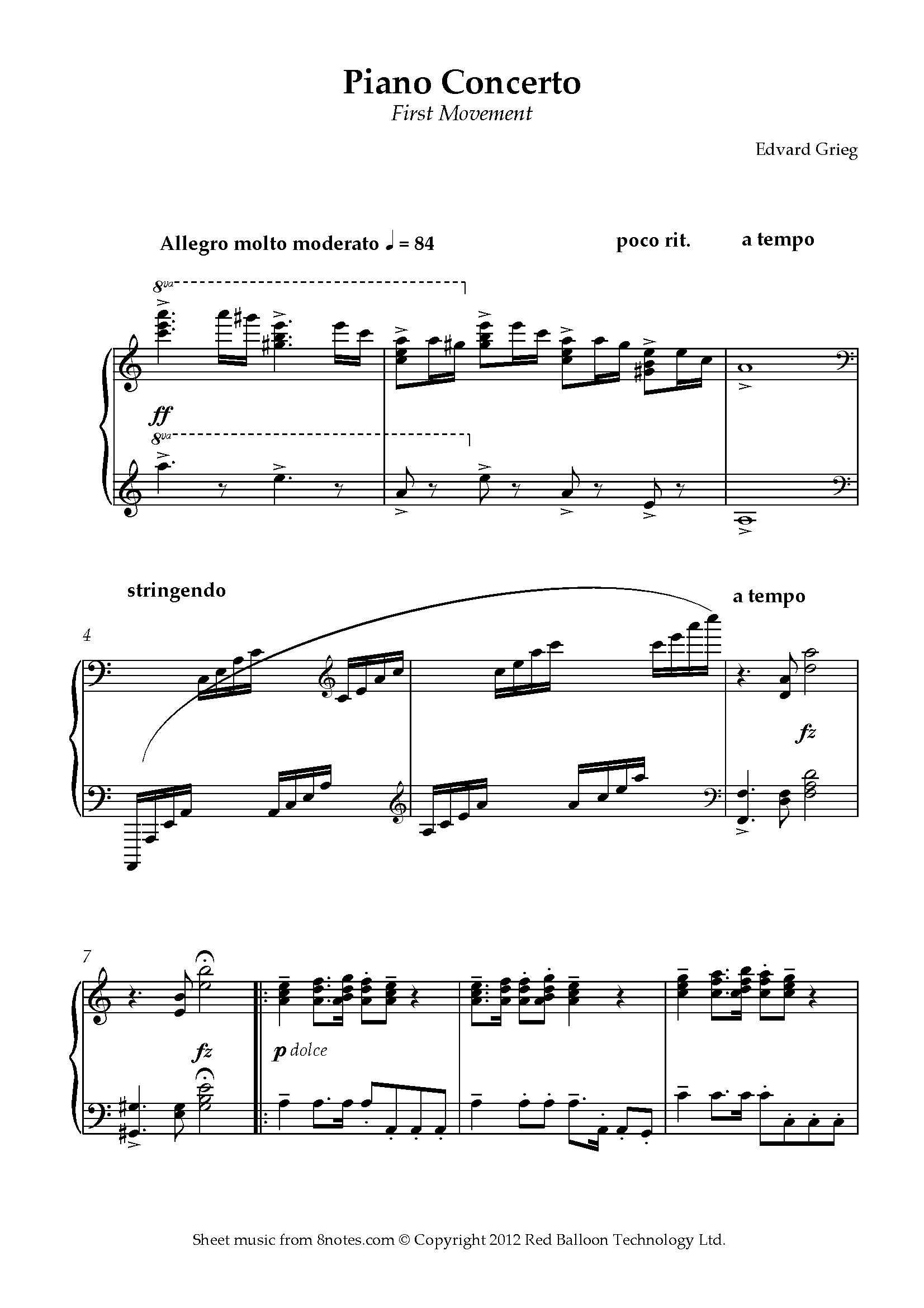 Grieg - Piano Concerto Mvt 1 Theme
10.
Rachmaninoff - Theme from Piano Concerto No. 3
Rachmaninoff's Third Piano Concerto begins with one of the most glorious melodies written for the instrument. It is also surprisingly easy to play, even if in the full concerto things get pretty tricky afterwards… The right hand may be played a little louder than the left. At all times imagine the melody is being sung. Keep close contact with the keys, cultivate a beautiful tone and make sure you observe all dynamics.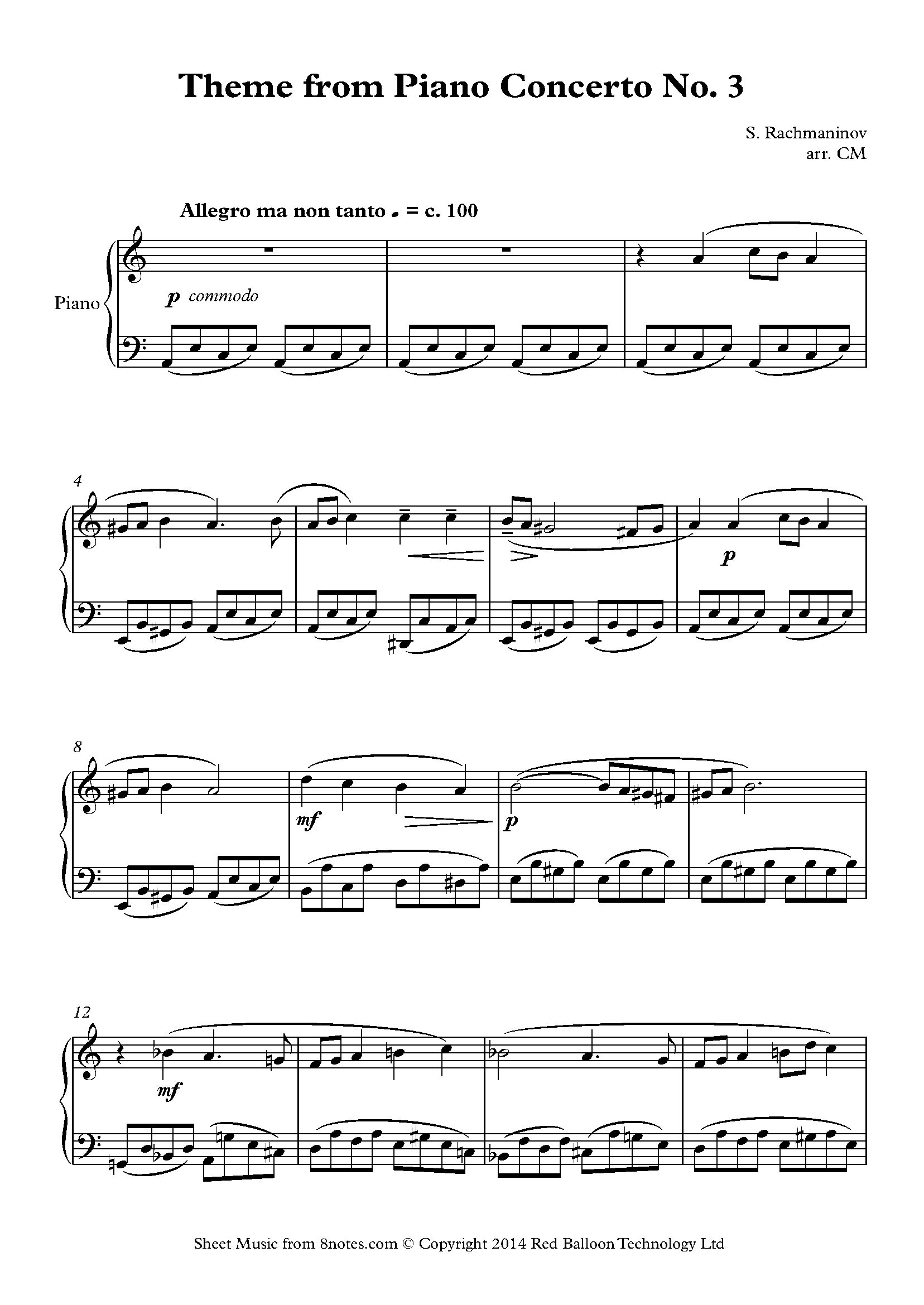 Rachmaninoff - Theme from Piano Concerto No. 3
11.
Mexican Hat Dance
Probably the most well-known dance from Mexico. Normally played by a mariachi band, it is also popular amongst pianists - it makes a great encore piece. The left hand is nice and easy, so you can concentrate your energy on that famous melody. Don't let that right hand get out of control, however - movements should be small and smooth and with the same fingering every time you play.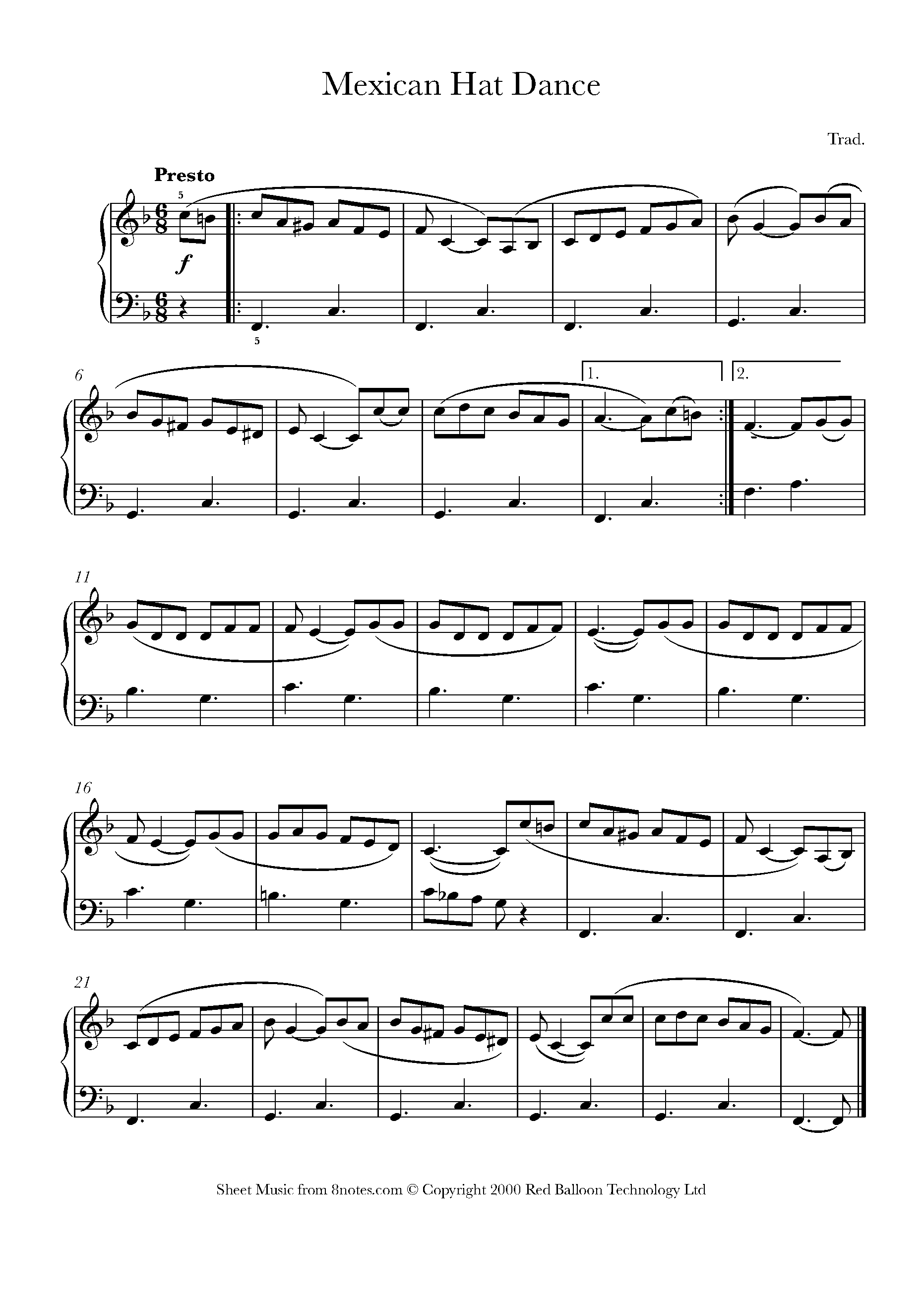 Mexican Hat Dance
12.
Chopin - Nocturne Op.9, No.2
No piano list would be complete without a work from Polish pianist-composer Frederick Chopin. This Nocturne contains one of his most achingly lovely melodies. Once more the key here is to imagine the melody being sung. You may also use some rubato (changes in tempo) to add an extra layer of expressivity, though don't overdo this - there should always remain a feeling of quiet simplicity.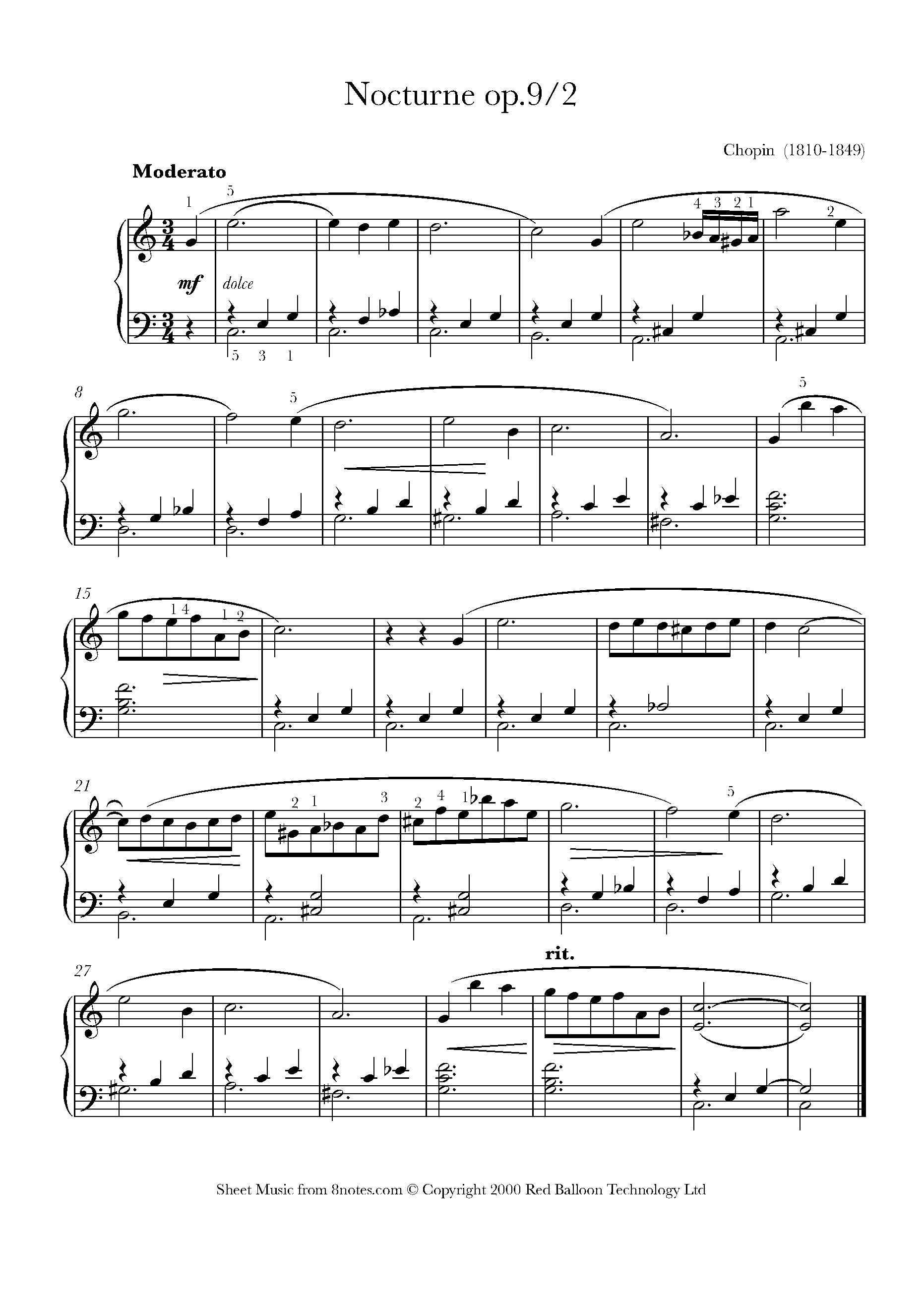 Chopin - Nocturne Op.9 No.2
13.
Strauss II - The Blue Danube
Strauss's melody was already hugely popular before Stanley Kubrick's used it in his seminal film 2001. You may also hear it being played as part of the Vienna Philharmonic's New Year's Day concert at the Musikverien, Vienna (see video). Piano versions of the piece have also become very popular. If you want to make the piece sound truly Viennese you might consider playing the second beat in the left hand a tiny bit earlier than it is notated - one of the defining characteristics of this type waltz.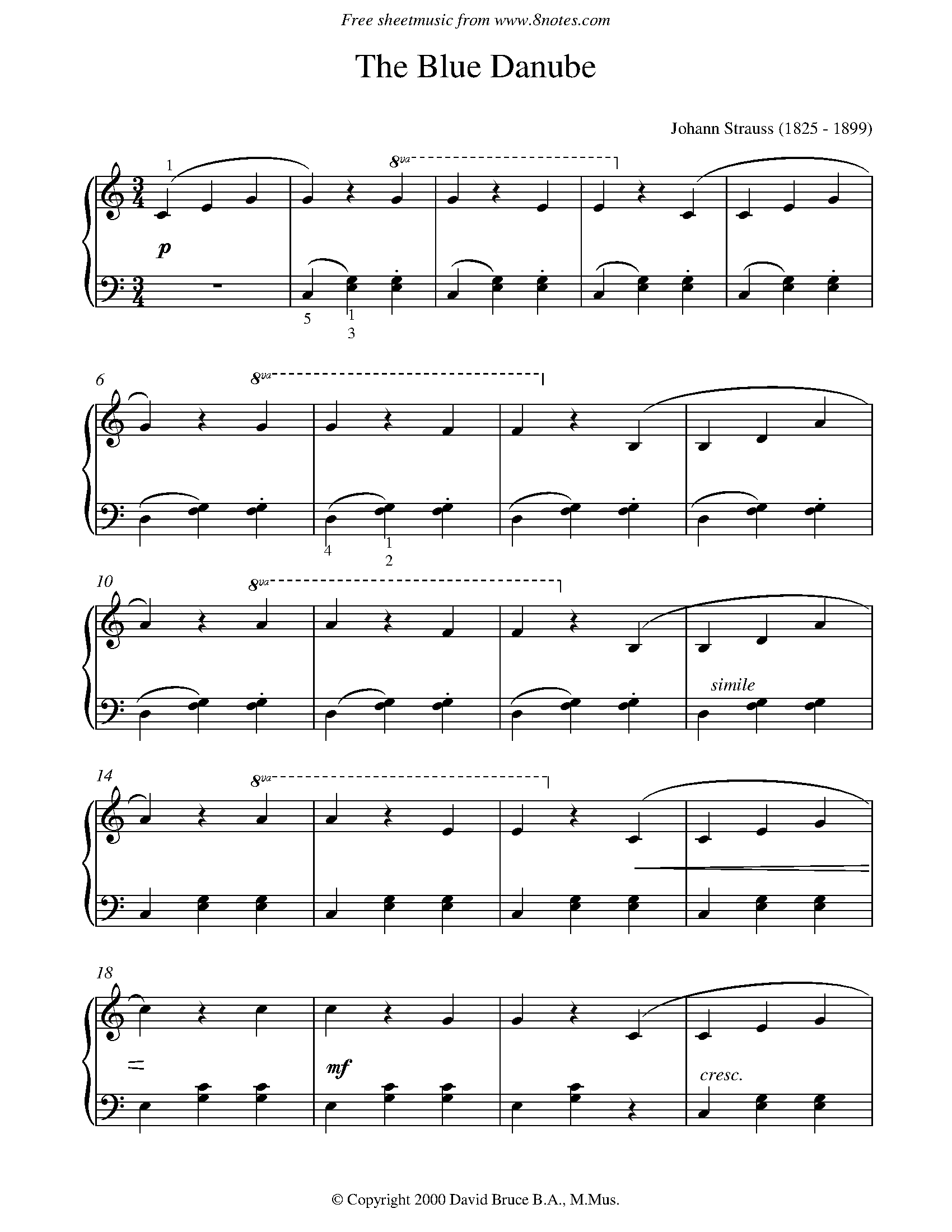 Strauss II - The Blue Danube
14.
La Cucaracha
Another work from Mexico normally played by mariachi bands. It also makes a great piece for solo piano - listen, for example to Liberace's incredible reinterpretation of it. An important feature is the shift in accent between normal 4/4 bars (bars 4, 5, 8, 11, 13, 15, 17 and 20) and the other bars which are based on dotted crotchets, two tied quavers and a quaver. Make sure the difference is clear.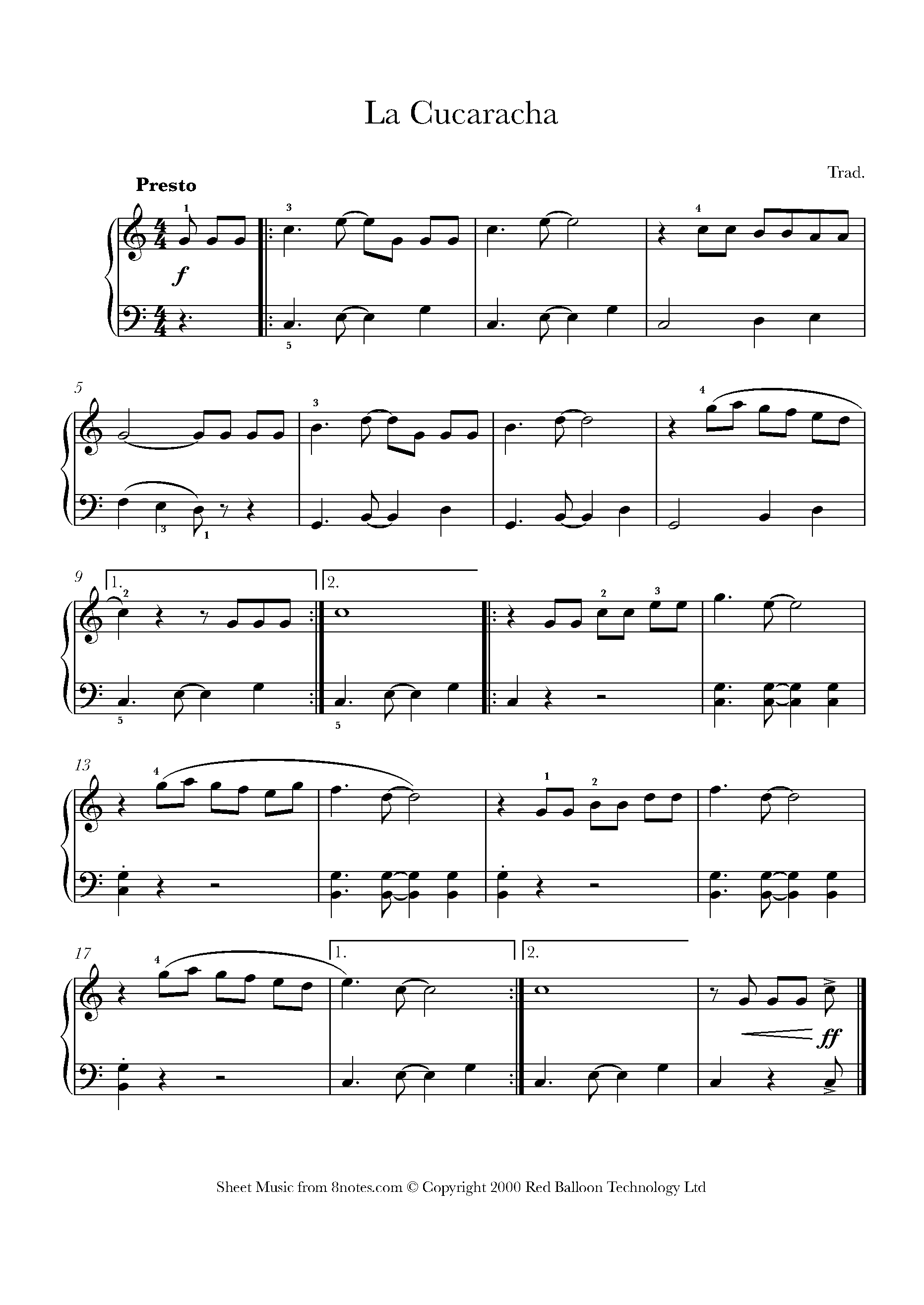 La Cucaracha
15.
Mozart - Turkish March
One of Mozart's most famous piano pieces, it forms the last movement of his Sonata No. 11. It is frequently performed independently of the rest of the sonata. Take care to practise it with the fingering indicated and - this can never be said enough - slowly to start with. It is certainly one of the trickier pieces on this list, but sounds extremely impressive when mastered.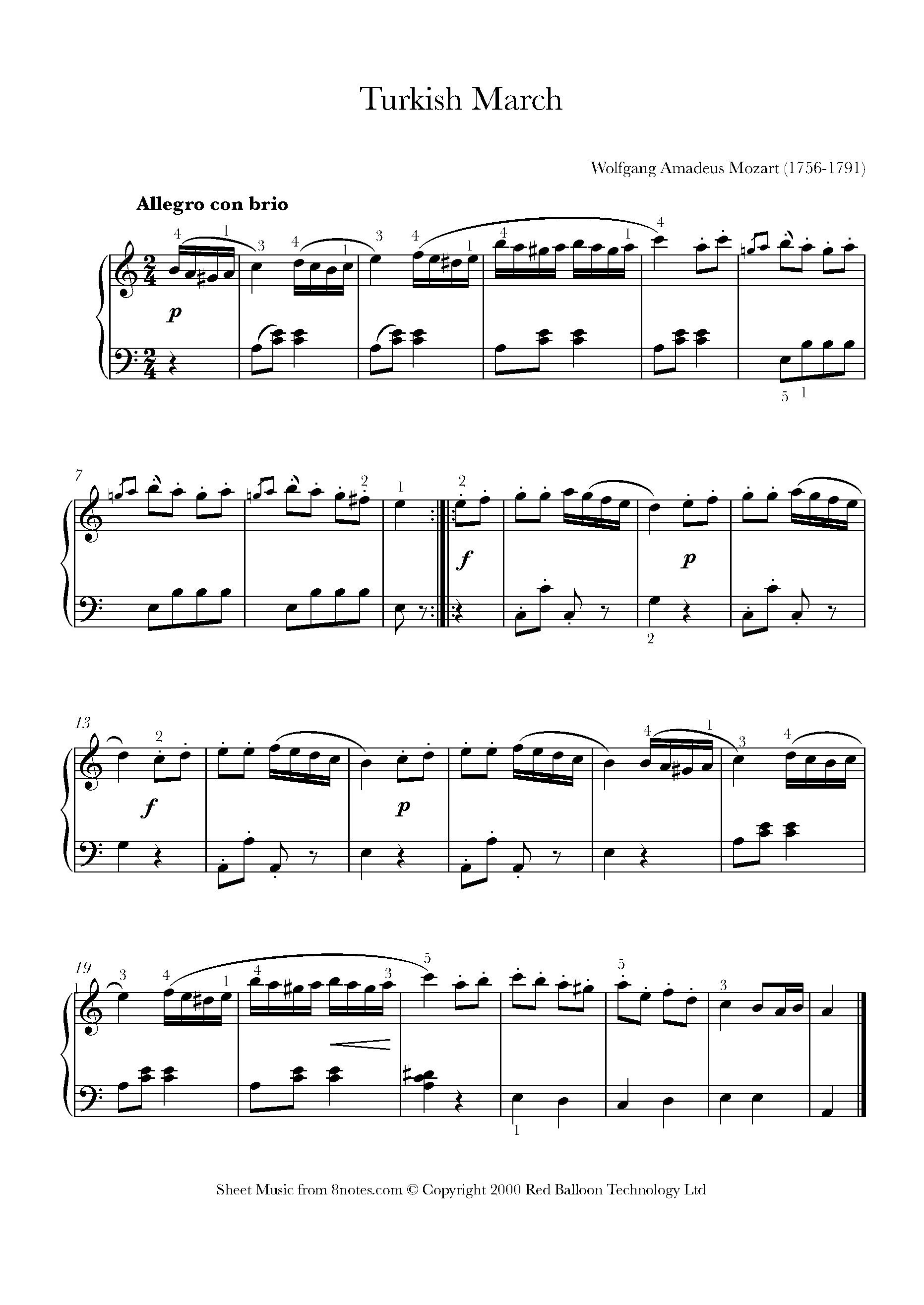 Mozart - Turkish March