Licks & Riffs : Robbie Williams - Supreme
Fancy practicing your arpeggios? Robbie's 'Supreme' shows how easy it is to turn an arpeggio into a cool riff. Just play the following and you'll see what we mean:




If you are a cellist, you could try playing them together with a friend for the full effect.

Have a go at working out a similar pattern to the following chord progression and you'll have taken a leaf out of Mr William's book: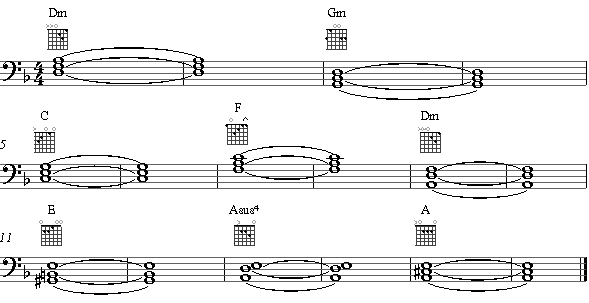 Robbie experts amongst you may know that the string solo in Supreme comes from Gloria Gaynor's Seventies disco hit 'I Will Survive'. It is no coincidence that the very same chord progression shown above also features in that song.

You can almost picture the scene as Robbie and co-writer Guy Chambers sit down and come up with the verse for Supreme...

'Hey, you know what that sounds like....', says one

'...I know, why don't we use that crazy string solo...' replies the other

- and the rest, as they say, is history.


Lyrics
Oh it seemed forever stopped today
All the lonely hearts in London
Caught a plane and flew away
And all the best women are ...

» View more lyrics for Robbie Williams : Supreme on Google





Chords Used in Robbie Williams - Supreme








Sheet Music to buy by Robbie Williams
Robbie Williams: Angels Performed by Robbie Williams. For voice, piano and guitar (chords only). Format: piano/vocal/chords single. With vocal melody, piano accompaniment, lyrics, chord names and guitar chord diagrams. Dance Pop and Britpop. E Major. 8 pages. 9x12 inches. Published by Hal Leonard. (HL.352108)
See more info...


Escapology Performed by Robbie Williams. Edited by Richard Martin. Songbook (Piano/Vocal/Chords. Arrangements for piano and voice with guitar chords). 103 pages. Published by Warner Brothers. (9809A)
See more info...