Licks & Riffs : John Mayer - No Such Thing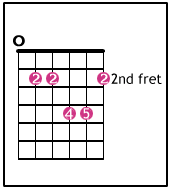 The central chord of John Mayer's 'No Such Thing' is the Major 9th. It's quite easy to play on the guitar using a bar on the second fret.

The introduction sets up a rhythm on this chord of 3+3+2. To get a good effect, try slightly releasing the left hand 4th and 5th fingers just after each chord is played. This has the effect of damping the strings and helps emphasize the rhythm.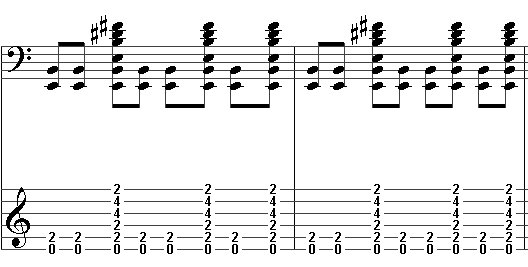 (In the third and fourth bars the D' is raised to an E)

***

Now let's look at a progression found in the chorus. Of particular interest is the F# chord which introduces a note outside the E major scale (A#) and gives the progression a nice sense of drive.




Lyrics
Freshman year,
Mom asks "What do you want to do
when you get out of here?"
I said, "Well, gee, I'm only 13,
...

» View more lyrics for John Mayer : No Such Thing on Google





Chords Used in John Mayer - No Such Thing




Sheet Music to buy by John Mayer
| | |
| --- | --- |
| | Continuum "(Music by John Mayer). By John Mayer. For voice, piano and guitar (chords only) (Piano/Voice/Guitar). P/V/C. Pop rock. Songbook. Vocal melody, lyrics, piano accompaniment, chord names and guitar chord diagrams. 78 pages. Published by Cherry Lane Music" |
| | |
| --- | --- |
| | Continuum (Music by John Mayer). By John Mayer. Guitar. Play It Like It Is. Softcover. Guitar tablature. 100 pages. Published by Cherry Lane Music |
| | |
| --- | --- |
| | Daughters "By John Mayer. For voice, piano and guitar (chords only). Piano Vocal. Pop Rock. Difficulty: medium. Single. Vocal melody, lyrics, piano accompaniment, chord names and guitar chord diagrams. 8 pages. Published by Cherry Lane Music" |
| | |
| --- | --- |
| | John Mayer Live (The Great Guitar Performances). By John Mayer. Play It Like It Is. Softcover. Guitar tablature. 124 pages. Published by Cherry Lane Music |
| | |
| --- | --- |
| | Room For Squares "(Transcriptions Supervised by John Mayer). By John Mayer. For guitar and voice. Play It Like It Is (Authentic note-for-note transcriptions). Pop Rock and Rock. Difficulty: medium. Guitar tablature songbook. Guitar tablature, standard notation, vocal melo |
| | |
| --- | --- |
| | Room For Squares "By John Mayer. For voice, piano and guitar chords. Piano/Vocal/Guitar Artist Songbook. Pop Rock. Difficulty: medium. Songbook. Vocal melody, piano accompaniment, lyrics, chord names and guitar chord diagrams. 103 pages. Published by Cherry Lane Music" |
| | |
| --- | --- |
| | Heavier Things "By John Mayer. For guitar and voice. Play It Like It Is. Pop Rock. Difficulty: medium. Guitar tablature songbook. Guitar tablature, standard guitar notation, vocal melody, lyrics, chord names and introductory text. 88 pages. Published by Cherry Lane Musi |
| | |
| --- | --- |
| | Say By John Mayer. Pop; Rock. Piano/Vocal/Guitar. 8 pages. Published by Hal Leonard - Digital Sheet Music |
| | |
| --- | --- |
| | Heavier Things "By John Mayer. For voice, piano and guitar chords. Piano/Vocal/Guitar Artist Songbook. Pop Rock. Difficulty: medium. Songbook. Vocal melody, piano accompaniment, lyrics, chord names, guitar chord diagrams and introductory text. 88 pages. Published by Che |
| | |
| --- | --- |
| | Waiting On The World To Change "By John Mayer. For piano, voice, and guitar (chords only). Pop; Rock. 6 pages. Published by Hal Leonard - Digital Sheet Music" |
| | |
| --- | --- |
| | Dreaming With A Broken Heart "By John Mayer. For piano, voice, and guitar (chords only). Pop; Rock. 7 pages. Published by Hal Leonard - Digital Sheet Music" |
| | |
| --- | --- |
| | "Friends, Lovers Or Nothing" "By John Mayer. For piano, voice, and guitar (chords only). Pop; Rock. 8 pages. Published by Hal Leonard - Digital Sheet Music" |
| | |
| --- | --- |
| | John Mayer Legendary Licks By John Mayer. Guitar Educational. Softcover with CD. Guitar tablature. 68 pages. Published by Cherry Lane Music |
| | |
| --- | --- |
| | The Wind Cries Mary "By Pat Boone, John Mayer, and Jimi Hendrix. For guitar. Pop; Rock. Guitar TAB. 6 pages. Published by Hal Leonard - Digital Sheet Music" |