Licks & Riffs : Evanescence - Bring Me To Life
We've covered this ground before here at 8notes, when we looked at the harmonies in pieces like Mark Snow's X Files Theme, but we've had so many requests to look at the piano opening to Evanescene's hit 'Bring Me To Life' we thought we'd take a look again.

The harmony in both pieces is remarkably similar.

Start by taking a minor chord, and adding a note a semi-tone higher:









Then in the right hand if you meander around on notes that mix Aminor and D minor (A C E - D F E) and you're left with a very Xfiles/Evanescence -like sound world.






Of course later in the Evanescene song the guitars kick in, but you still get a very good idea of the kind of chord progression used in the chorus here: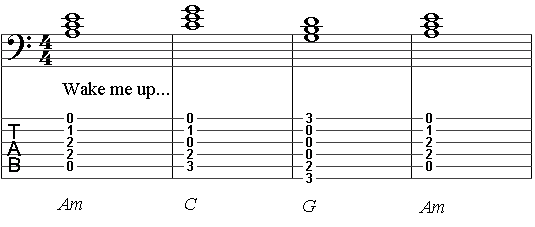 Thanks to our friends at SheetMusicPlus you can now view the entire first page of this piece:





Alternatively follow the links on this page to buy the original.


Sheet Music to buy by Evanescence
| | |
| --- | --- |
| | My Immortal "By Evanescence. For voice, piano and guitar chords. This edition: Piano/Vocal/Chords. Artist/Personality; Piano/Vocal/Chords; Sheet; Solo. Pop Rock and Hard Rock. Difficulty: medium. Single. Vocal melody, piano accompaniment, lyrics, chord names and guit |
| | |
| --- | --- |
| | My Immortal - Easy Piano "By Evanescence. By Ben Moody, Amy Lee, and David Hodges. Arranged by Dan Coates. For voice and easy piano. Artist/Personality; Piano Solo - Popular Sheet; Solo. Pop Rock and Hard Rock. Difficulty: easy-medium. Single. Easy piano notation, lyrics and chor |
| | |
| --- | --- |
| | Fallen "(Piano/Vocal/Chords). By Evanescence. For voice, piano and guitar (chords only). This edition: Piano/Vocal/Chords. Artist/Personality; Personality Book; Piano/Vocal/Chords. Pop Rock and Hard Rock. Difficulty: medium to medium-difficult. Songbook. Vocal m |
| | |
| --- | --- |
| | Bring Me to Life "By Evanescence. For voice, piano and guitar chords. This edition: Piano/Vocal/Chords. Artist/Personality; Piano/Vocal/Chords; Sheet; Solo. Original Sheet Music Edition. Pop Rock and Hard Rock. Difficulty: medium. Single. Vocal melody, piano accompaniment |
| | |
| --- | --- |
| | The Open Door "(Piano/Vocal/Chords). By Evanescence. For voice, piano and guitar (chords only). This edition: Piano/Vocal/Chords. Artist/Personality; Personality Book; Piano/Vocal/Chords. P/V/C. Pop Rock and Hard Rock. Songbook. Vocal melody, lyrics, piano accompanimen |
| | |
| --- | --- |
| | Evanescence -- The Piano Style of Amy Lee (Piano/Vocal/Chords). By Evanescence. For Keyboard; Piano; Voice. This edition: Piano/Vocal/Chords. Artist/Personality; Personality Book; Piano/Vocal/Chords. Rock. Book. 72 pages. Published by Alfred Music Publishing |
| | |
| --- | --- |
| | My Immortal By Evanescence. For Piano/Vocal/Chords. Pop/Rock. 5 pages. Published by Alfred Music. Digital Sheet Music |
| | |
| --- | --- |
| | My Immortal "By Evanescence. By Ben Moody, Amy Lee, and David Hodges. For Easy Piano. Pop/Rock. 5 pages. Published by Alfred Music. Digital Sheet Music" |
| | |
| --- | --- |
| | Hello "By Evanescence. For piano, voice, and guitar (chords only). Metal; Pop; Rock. 5 pages. Published by Hal Leonard - Digital Sheet Music" |
| | |
| --- | --- |
| | Good Enough By Evanescence. For Piano/Vocal/Chords. Pop/Rock. 7 pages. Published by Alfred Music. Digital Sheet Music |
| | |
| --- | --- |
| | Evanescence -- Fallen (Easy Piano). Arranged by Carol Tornquist. For Piano. This edition: Easy Piano. Artist/Personality; Book; Piano - Personality Book; Piano Supplemental; Sing-Along. Rock. Easy Piano. 56 pages. Published by Alfred Music Publishing |
| | |
| --- | --- |
| | Anywhere But Home "(Piano/Vocal/Chords). By Evanescence. For voice, piano and guitar (chords only). This edition: Piano/Vocal/Chords. Artist/Personality; Personality Book; Piano/Vocal/Chords. Pop Rock and Hard Rock. Difficulty: medium. Songbook. Vocal melody, piano accompa |
| | |
| --- | --- |
| | Lacrymosa By Evanescence. For Piano/Vocal/Chords. Pop/Rock. 9 pages. Published by Alfred Music. Digital Sheet Music |
| | |
| --- | --- |
| | Sweet Sacrifice By Evanescence. For Piano/Vocal/Chords. Pop/Rock. 6 pages. Published by Alfred Music. Digital Sheet Music |
| | |
| --- | --- |
| | Fallen "(Authentic Guitar TAB). By Evanescence. For guitar and voice. This edition: Authentic Guitar TAB. Artist/Personality; Authentic Guitar TAB; Guitar Personality; Guitar TAB. Pop Rock and Hard Rock. Difficulty: medium. Guitar tablature songbook. Guitar tabl |
| | |
| --- | --- |
| | Lithium By Evanescence. For Piano/Vocal/Chords. Pop/Rock. 7 pages. Published by Alfred Music. Digital Sheet Music |
| | |
| --- | --- |
| | Bring Me to Life By Evanescence and Paul McCoy. For Piano/Vocal/Chords. Pop/Rock. 5 pages. Published by Alfred Music. Digital Sheet Music |
| | |
| --- | --- |
| | The Open Door "(Authentic Guitar TAB). By Evanescence. For guitar and voice. This edition: Authentic Guitar TAB. Artist/Personality; Authentic Guitar TAB; Guitar Personality; Guitar TAB. Pop Rock and Hard Rock. Guitar tablature songbook. Guitar tablature, standard nota |
| | |
| --- | --- |
| | Going Under "By Evanescence. By Ben Moody, Amy Lee, and David Hodges. For Piano/Vocal/Chords. Pop/Rock. 7 pages. Published by Alfred Music. Digital Sheet Music" |